Review archive: c

C Spencer Yeh , Paul Flaherty & Greg Kel - New York Nuts & Boston Baked Beans reviewed on 2009-04-10



C. Fong & P. Hersey - Complete Violin|Viola and Piano Works of Morton Fe reviewed on 2011-02-02



C. T. D . - Orthorhombic Crystalline Phase reviewed on 2010-04-20



C.C.C.C - Chaos is the Cosmos reviewed on 2008-01-05



C.C.C.C - Early Works(cd boxset) reviewed on 2007-10-17



Cacoy - Human is Music reviewed on 2006-01-18



Café De L'Enfer - Marchant a quatre pattes au-devant de la redemptio reviewed on 2012-03-30



John Cage - Winter Music reviewed on 2018-02-23



Cages - Anti Realist reviewed on 2011-12-23



Cages - Folding Space reviewed on 2010-05-01



Caïna - Mourner reviewed on 2007-07-14



Caïna - Temporary Antennae reviewed on 2008-11-15



Cakewalk - Transfixed reviewed on 2014-09-21



Cakewalk - Wired reviewed on 2012-09-27



Bill Callahan - Woke On A Whaleheart reviewed on 2007-05-11



Ken Camden - Space Mirror reviewed on 2013-08-14



Camp Lo - Let's Do It Again reviewed on 2002-07-25



Candy Cane - Fay-ra-Doowra reviewed on 2008-07-17



Cannibal Meat Holocaust/Ataraxy - Split reviewed on 2016-10-14



Cannibal Ritual - Eating Guts reviewed on 2014-05-16



Cannibal Ritual - Nudo e selvaggio reviewed on 2014-04-10



Cannibal Ritual - Punishment of the Yacumos reviewed on 2014-01-14



Cannibal Ritual - Return Of The Shamatari reviewed on 2014-01-14



Cannibal Ritual - Still Thirsty for Revenge reviewed on 2015-01-27



Cannibal Ritual/ Dead Body Collection - Split reviewed on 2016-11-03



Canon Blue - Colonies reviewed on 2007-11-19



Jefre Cantu-Ledesma - The Garden of Forked Paths reviewed on 2007-03-30



Lucio Capece - Awareness About reviewed on 2016-06-08



Capricorns - River, Bear your Bones reviewed on 2008-09-20



Capricorns - Ruder forms survive reviewed on 2005-12-24



Captain Beefheart - Electricity reviewed on 2008-03-27



Carach Angren - Dance and Laugh Among the Rotten reviewed on 2017-11-07



Carach Angren - Death Came Through A Phantom Ship reviewed on 2013-08-21



Carach Angren - Where The Corpses Sink Forever reviewed on 2012-06-15



The Cardigans - Long Gone Before Daylight reviewed on 2003-09-15



Caress of My Fist - Etudes in Violence reviewed on 2008-09-13



The Caretaker - A Stairway To The Stars reviewed on 2002-06-09



Carl Michael Von Hausswolf - Perhaps I Arrive- Music for Atatürk Airport , Ista reviewed on 2008-08-10



Carlos Giffoni/ Prurient - Heavy Rain Returns reviewed on 2007-03-23



Carlton Melton - Aways Even reviewed on 2013-11-27



Carlton Melton - Photos of Photos reviewed on 2012-11-19



Angus Carlyle - In the Shadow of the Silent Mountain reviewed on 2017-06-30



Angus Carlyle - Some Memories Of Bamboo reviewed on 2013-07-09



Tomas Carnacki - Far Voyage From A Placid Island reviewed on 2007-02-07



Thomas Carnacki - The disappeara​nce of this terrible spool reviewed on 2011-02-18



John Carpenter - Assault on Precinct 13 (OST) reviewed on 2014-08-01



Carpre Noctem - In Terra Profugus reviewed on 2013-10-09



Carrie - Send An Army Of Angels reviewed on 2015-04-23



Carrion Black Pit - Anatomy Studies reviewed on 2011-11-03



Carrion Black Pit - Architect Of Ruins(Infinity series part 11 reviewed on 2013-01-29



Carrion Black Pit - Cupio Dissolvi reviewed on 2017-07-08



Carrion Black Pit - If These Walls Could Talk reviewed on 2013-09-30



Carrion Black Pit - Mythos reviewed on 2012-01-18



Carrion Black Pit - Necronomicon reviewed on 2013-06-19



Carrion Black Pit - Spirals of Black Smoke reviewed on 2016-07-08



Carrion Black Pit - The Iron Man reviewed on 2013-03-20



Carrion Black Pit - The Living Dead And The Dead Living Become All The reviewed on 2012-07-25



Carrion Black Pit - They Live, We Sleep reviewed on 2012-08-24



Carrion Black Pit/ Nascitari - The Conqueror Worm reviewed on 2013-04-10



Carrion Black Pit/Phantom Cadaver - Split reviewed on 2015-11-21



Christina Carter - Electrice reviewed on 2006-08-29



Christina Carter - Orignal Darkness reviewed on 2008-11-22



Tom Carter - Shots At Infinity 1 reviewed on 2008-10-18



Carved image of emptiness - Rust in Peace reviewed on 2007-10-15



Carved Image of Emptiness - Zinc Room reviewed on 2008-03-09



Carlos Casas - Pyramid of Skulls reviewed on 2017-12-19



Johnny Cash - American IV: The Man Comes Around reviewed on 2003-02-14



Micheal Cashmore - Sleep England reviewed on 2006-12-05



Michael Cashmore - The Snow Abides reviewed on 2007-02-13



Casiotone for the painfully alone - Town Topic Ep reviewed on 2008-06-25



Casket At The Altar / Dim Dusk Moving Gl - Curse Of The Baphomet reviewed on 2011-02-03



Catholic - My War (Tone Obsession I) reviewed on 2013-11-12



Cathy's Curse - Cathy's Curse( Blu-ray) reviewed on 2017-05-20



Cattle Decapitation - Karma, Bloody, Karma reviewed on 2006-10-20



Caustic Barricade - Rites of Passion & A Promise of Wild Ecstasy reviewed on 2011-01-16



Danny Cavanagh - A Place To Be reviewed on 2004-12-25



Nick Cave & the Bad Seeds - Dig, Lazarus, Dig!!! reviewed on 2008-07-16



Nick Cave and the Bad Seeds - No More Shall We Part reviewed on 2001-06-21



Nick Cave and the Bad Seeds - Nocturama reviewed on 2003-02-16



Cave In - Antenna reviewed on 2003-04-08



Cave In - Moons Of Jupiter & Lost In The Air / Lift Off reviewed on 2002-06-05



CDRX/Taklamakan - Sulphuric Lake/Ispod Zemljine Kore reviewed on 2010-08-04



Isaiah Ceccarelli - Bow reviewed on 2017-07-20



Celer - Akagi reviewed on 2016-04-05



Celer - Engaged Touches reviewed on 2012-10-19



Celer - Inside The Head Of Gods reviewed on 2016-06-16



Celer - Sky Limits reviewed on 2015-05-09



Celer - Without Retrospect, the Morning reviewed on 2013-02-06



Celestiial - Desolate North reviewed on 2007-03-23



Cellule Africaine - self Titled reviewed on 2014-02-07



Celtic Frost - Monotheist reviewed on 2006-05-30



Cementimental - Molecramp reviewed on 2010-09-08



Cementimental - We Are Commandments reviewed on 2007-08-27



Cementimental - Your Money; Moon Made reviewed on 2007-10-01



Cementimental/Fist Taker/Second Thought - Split reviewed on 2011-01-29



Centrozoon - Lovefield reviewed on 2008-01-15



Centuries Behind A Gate - No Hope reviewed on 2012-09-07



Centuries Behind A Gate - Part One- "Nervousness" reviewed on 2011-02-09



Centuries Behind A Gate - Searching For Paradise reviewed on 2011-09-13



Centuries Behind A Gate - The Flesh Room reviewed on 2012-03-22



Cerrone - Supernature - Cerrone III reviewed on 2013-06-04



Paul Chain - Ash reviewed on 2016-03-17



Paul Chain - Satan's Future - Dying Edition reviewed on 2017-01-29



Paul Chain - Violet Art Of Improvisation reviewed on 2016-01-14



Chains - Dancing With My Demons reviewed on 2013-04-25



Andrew Chalk - The River That Flows Into The Sands II reviewed on 2007-12-07



Chantal - A reviewed on 2012-01-24



Chantal - B reviewed on 2012-04-13



John Chantler - Still Light, Outside reviewed on 2015-11-18



Chaos Echoes - Tone of Things to Come reviewed on 2012-12-05



Chapter - Two - (the Biographer) reviewed on 2007-11-27



Charalambides - Exile reviewed on 2011-10-15



Charalambides - Glowing Raw reviewed on 2007-02-17



Charalambides - Strangle the Wretched Heavens reviewed on 2007-02-21



Charlemagne Palestine & Z'ev - Rubhitbangklanghear Rubhitbangklangear reviewed on 2013-07-05



Charlemagne Palestine + Rhys Chatham - Youuu + Mee = Weee reviewed on 2015-07-08



Charlotte Braun - Happy Being Sad reviewed on 2015-09-03



Charnel House - The Leprosy Of Unreality reviewed on 2011-09-01



Richard Chartier - Further Materials reviewed on 2008-11-19



Richard Chartier - Interior Field reviewed on 2015-07-10



Richard Chartier - Recurrence reviewed on 2014-02-13



Richard Chartier - Transparen​cy (Performan​ce) reviewed on 2012-08-20



Chasma - Omega Theorian reviewed on 2014-06-09



Budhaditya Chattopadhyay - Elegy For Bangalore reviewed on 2014-09-09



Sylvain Chauveau - Un Autre Décembre reviewed on 2003-04-19



Cheapmachines - Fulcrum/Hardwire reviewed on 2012-04-05



Richard Cheese - Lounge Against The Machine reviewed on 2003-11-18



Chefkirk - Purely Natural Abstract Radiance reviewed on 2011-11-07



Eric Chenaux - Dull Lights reviewed on 2006-07-27



Cherry Beach Project - Silo11 reviewed on 2007-02-23



Cherry Blossom At Night - A Vast Black Sleep reviewed on 2016-02-19



Cherry Blossoms - Cherry Blossoms reviewed on 2007-06-16



Cherry Blossoms At Night - Bulger reviewed on 2015-08-05



Cherry Blossoms At Night - Street Meat reviewed on 2015-11-10



The Cherry Point - Black Witchery reviewed on 2006-06-29



Vic Chesnutt - North Star Deserter reviewed on 2007-09-24



Chib - Moco reviewed on 2004-01-19



Chica & the Folder - Under The Balcony reviewed on 2007-09-29



Chier - Bliss reviewed on 2017-03-23



Chier - Cabaret Du Neant reviewed on 2016-07-13



Chier - La Veuve Au Vagin Denté reviewed on 2017-09-07



Chier - Nature Morte reviewed on 2016-04-22



Chier - Neon Heat reviewed on 2016-10-13



Chier/Gamiani - Snake Goddess reviewed on 2017-02-09



Chier/RRR - NaziSSexperiment reviewed on 2016-11-15



Hatakeyama Chihei - Minima Moralia reviewed on 2006-01-23



Jane Child - Surge reviewed on 2002-02-11



Chloë - Untitled reviewed on 2011-10-06



Chloë - Untitled II reviewed on 2012-06-13



Ian Cho - The Waking Woods reviewed on 2006-06-05



Choisir Le Pire - Représentation du Six reviewed on 2018-02-21



Chop Shop - Oxide reviewed on 2008-06-10



CHRA - On A Fateful Morning reviewed on 2018-01-19



Chris Abrahams & Anthony Patera - Music In Eight Octaves reviewed on 2017-08-01



Chris Watson & BJNilsen - Storm reviewed on 2006-12-09



Chris Watson & Marcus Davidson - Cross –Pollination reviewed on 2011-09-30



Christ - Cathexis (Motion Picture Soundtrack) reviewed on 2013-11-15



Christening Black Death With The Devourm - S/T reviewed on 2007-02-19



Christian Death - Only Theatre of Pain reviewed on 2012-07-06



Christian Winther & Christian Meaas Sven - WM reviewed on 2014-01-24



Christina Kubisch & Eckehard Guther - Mosaique Mosaic reviewed on 2014-12-19



Christina Kubisch and Eckehard Güther - Unter Grund reviewed on 2016-04-10



Christmas Decorations - Communal Rust reviewed on 2007-02-21



Christoph F. and the Black Sheep - Heathen Frontiers In Sound reviewed on 2010-04-12



Christoph Korn and Lasse-Marc Riek - Series invisible - Collection II( book) reviewed on 2015-09-11



Christophe​r Willits + Ryuichi Sak - Ancient Future reviewed on 2012-09-18



Christus & The Cosmonaughts - From Atop This Hill reviewed on 2007-09-07



Chrome - Alien Soundtracks I & II reviewed on 2016-06-22



Chrome Hoof - Beyond Zade EP reviewed on 2006-11-30



Thanos Chrysakis - Magma reviewed on 2012-07-21



Chuch - We You Never Know reviewed on 2010-07-20



Church - Faceless reviewed on 2009-12-20



Churner - Adhesive reviewed on 2010-10-08



Churner - Against the Grains reviewed on 2010-10-20



Churner - As the Eyes Starred Back At Me reviewed on 2011-05-05



Churner - Bone Yard reviewed on 2010-04-23



Churner - Coffin Angel reviewed on 2010-11-05



Churner - Dauerlärm reviewed on 2011-04-05



Churner - Eruption of the Missing reviewed on 2011-10-06



Churner - Florescent Bondage reviewed on 2010-07-07



Churner - Medicated reviewed on 2011-01-31



Churner - Methoddity reviewed on 2010-05-22



Churner - Murderabilia reviewed on 2013-10-22



Churner - Psalms Of Aggression reviewed on 2010-12-24



Churner - Sandstorming reviewed on 2010-02-26



Churner - Shadow Voyeurs reviewed on 2010-12-15



Churner - Static Beauty reviewed on 2010-09-10



Churner - The Pain Gallery reviewed on 2011-11-27



Churner - Vulturistic reviewed on 2010-01-12



Churner/Hostage Pageant - Selt Titled reviewed on 2010-11-08



Il Cielo di Baghdad - Export For Malinconique reviewed on 2009-03-01



Cindytalk - touchedRAWKISSEDsour reviewed on 2015-05-13



Cindytalk - Up Here in the Clouds reviewed on 2010-11-09



David Cintron - No On reviewed on 2012-11-12



Stelvio Cipriani - Mario Bava Original Soundtracks Anthology Vol 3 reviewed on 2006-07-03



Stelvio Cipriani - Un'Ombra Nell'Ombra(Ring of Darkness) OST reviewed on 2006-06-20



Circle - Andexelt reviewed on 2006-11-24



Circle - Arkades reviewed on 2007-10-15



Circle - Golem/Vesiliirto reviewed on 2013-04-24



Circle - Hissi reviewed on 2013-01-31



Circle - Hollywood reviewed on 2009-02-14



Circle - Leviatan reviewed on 2015-03-05



Circle - Manner reviewed on 2013-06-04



Circle - Meronia reviewed on 2008-02-23



Circle - Miljard reviewed on 2006-12-13



Circle - Panic reviewed on 2007-08-19



Circle - Prospekt reviewed on 2012-10-08



Circle - Rakennus reviewed on 2008-03-21



Circle - Rautatie reviewed on 2011-03-15



Circle - Soundcheck reviewed on 2012-11-01



Circle - Terminal reviewed on 2017-08-16



Circle - Zopalki reviewed on 2012-06-18



Circle Of Ouroborus - Eleven Fingers reviewed on 2012-01-28



Circuit Wound - Fight Or Flight reviewed on 2013-09-09



Cisfinitum - Nevmenosis reviewed on 2009-04-08



Cisfinitum - Tactio reviewed on 2008-06-04



Cities Last Broadcast - The Cancelled Earth reviewed on 2010-01-15






John Cage - Winter Music
Composed in 1957 Winter Music is piano composition from reviled & respected modern classical & Avant grade composer John Cage. Here we have a 2017 re...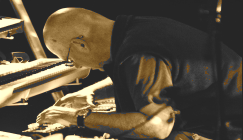 Robert Rich - A Return To Darker ...
To anyone who is even vaguely familiar with the ambient genre, Robert Rich will need little or no introduction. Since the early 80's this California artists ...