Chris Watson & Marcus Davidson - Cross –Pollination [Touch - 2011]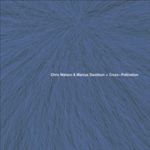 "Cross –Pollination" brings together highly respected British natural sound recordist & field recording arranger Chris Watson, and British chorister & composer Marcus Davidson for an album that blurs the lines between field recordings & music. The album features two twenty minute plus pieces of manipulated field recording sound art that focus in on the harmonic & rhythmic qualities of both animals and insects.

The first piece "Midnight At the Oasis" finds Chris Watson working on his on own. And the piece conists of a time compressed recording of Sunset to Sun rise in the Kalahari desert, which is located in Southern Africa and extends over 900,000 square kilometres to covering much of Botswana and parts of Namibia and South Africa. The twenty eight minute piece starts with a mixture of bird song twitter, fly buzzing, cricket chattering & distant wind buffeting. As the track progresses into first dusk then night time the sound map becomes more insect bound with stretched out buzzing, alien like chattering & hammerings, and insect drills which all build to a complex, alien & vibrate map of both harmonic & rhythmic sound. As the track passers it's halfway mark it becomes a deeper 'n' denser map of buzzing & humming insect texture's that are moved over by haunting animal bays, compressed bird chatter( I guess this is what birds sound like when there asleep?), and other animalistic like shrieks wails & calls. And of course as we come towards the end of the track & dawn the bird sounds get more chirpy, active & detailed as the desert world slowly lights up. Yet the piece really ends on quite a mysterious and haunting note as the desert wind takes centre stage as if we're walking away from the detailed sonic activity of the oasis & into the billow & buffeting loneliness of the desert it self. All told " Midnight At the Oasis" is a simply breathtaking, complex and muilt layered piece of subtle manipulated & sped up field recording sound art. Watsons recording equipment has picked up every little sonic detail of desert oasis life to create this captivating near on half an hour track that captures the deserts many harmonic, rhythmic and alien tinged musically sound scapes.

Track two is a twenty mintue picec entitled "The Bee Symphony" and this track explores the connection between human choral voices and the sound of Bees. The track finds Watson & Davidson bounding together field recordings of English honey bees, and human male & female vocal harmonise. The pair create this swooping, descending and building epic track that effortless blurs the line between bee & human sound- it mangers to sound both strange, spiritual, sombre and vast. The Bee sound really leads the tracks path with the choral elements descending & rising with the Bees joint amassed sound. The Bee sounds seem to magical shift between been harmonic & then been rhythmic.

So "Cross –Pollination" is a fascinating & wholly rewarding journey into a sonic world that blurs the boundary between insect/animal harmonics & rhythms, and there human counterparts.






Roger Batty