Peter Knight's Gigspanner - From Poets to Wives

Since leaving Steeleye Span in 2013, violinist Peter Knight has devoted all of his attention to his trio Gigspanner. The group have received a wealth of positive press and have developed a reputation as a hard-working and ground-breaking force for change in the UK folk scene. Maverick magazine described them as "pushing at the boundaries, expanding the possibilities and in the process making some of the most beautiful music the genre has to offer", whilst Spiral Earth described them as having "notes seemingly plucked from the stars and rhythms from the equator". Alongside Peter on violin the band are made up of guitarist Roger Flack and Sacha Trochet on drums.




Freindship's Death - Freindship's Death( Blu Ray & DVD)

Friendship's Death is a decidedly stripped back, yet quietly clever and intriguing Sci-Fi drama from the late 1980s. It features in its lead role Tilda Swinton, as Friendship, a woman who may/ may not be an android diplomat on a peace mission from another world. The film is set in the year 1970 in Jordan, during Black September/ Jordanian civil war-and largely takes place in a series of hotel rooms where Friendship interacts with jaded Scottish journalist Sulllivan( Bill Peterson). From BFI here we have a recent dual Blu Ray & DVD release of the film- talking in a 4k scan of the picture, newly recorded commentary, and a few other extras.




Bosses Hang/ VA - Once in a lifetime

Crossbreeds between noise and more formal music are always difficult propositions- either the noise elements are secondary, feeling like an afterthought. Or the noise elements overwhelm/ unbalance the musical elements- it's very difficult to get the perfect blend between the two, and more often than not releases that try to do this cross-blending fail or at least come away feeling somewhat disappointed. Once in a lifetime is one of the better/ more rewarding examples of noise/ music crossbreeding- though unfortunately, this sprawling double album does sometimes fall into either of the mentioned problematic camps.




Charlie Chaplin - 1921

Here we have the debut release from Charlie Chaplin, the new wall-noise project from respected euro -bleak drone maker/HNW creator Damien De Coene. The release appears as a double C60 release on Veil Tapes with the releasing taking in four side-long tracks.




Adoption - Adoption(Blu Ray)

Adoption is a Hungarian drama from the mid-1970s- it focuses on the relationship between a widowed middle-aged woman and a troubled teenage girl. Filmed in starkly moody black and white, the film is subtlety powerful, at points decidedly moving, and surprisingly undated- which you can't say for many films from the '70s. Here from Second Run is a region free blu ray release of the picture, which certainly stands as one of the quietly impactful and bleakly compelling dramas I've seen in some time.




Panta Rhei/ Thar Desert - Transmuter

Transmuter is a rather interesting split- bringing together glum- yet -often- machine churning black metal, and barrenly seared walled noise- all creating a great soundtrack for an oppressive and greyed future, where the machines have finally taken over. The release appeared last summer on Pittsburgh based Enforce Existence- coming as either a CDR (sadly out of print) or a digital download.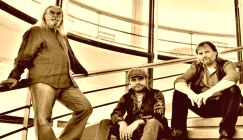 Peter Knight's Gigspanner - From...
Since leaving Steeleye Span in 2013, violinist Peter Knight has devoted all of his attention to his trio Gigspanner. The group have received a wealth of posi...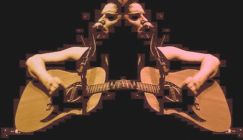 Martyn Bates / Kodax Strophes int...
Active since the late 1970s, Martyn Bates is one of the more distinctively creative figures to appear from the British post-industrial/ experimental scene of...