The Strange Vice Of Mrs. Ward - The Strange Vice Of Mrs. Ward( Blu Ray & CD)

In recent years The Strange Vice Of Mrs. Ward has come to be seen as one of the top tier Italian giallo films- up there with some of Argento & Fulci's classic additions to the genre- and it's easy to see why. We have everything you need for a great example of the genre- a creepy 'n' sinister black gloved killer, brutal-to-moodily jarring murders, lots of glamour & 70's camp, a big dollop of kinky sleaze, and an effective enough twisting 'n' turning plot with some great suspenseful moments. Here from Severin is a recent Blu Ray/ CD release of the film- taking in a new scan of the picture, a new commentary track from giallo expert Kat Ellinger, some new meaty interviews with the films key players, and a CD featuring the film's soundtrack.


Night Of Open Sex - Night Of Open Sex(Blu Ray)

One of the joys & wonders of wading your way through Jess Franco's truly vast filmography is your never sure what you'll get next- will it be glum-yet-trippy horror,will it be crazed & psychedelic-tinged classic monster camper?. Or maybe stark 'n' kinky WIP fare, possibly a soft-core period fare, or even off-kilter takes on either the cannibal or slasher genre. 1983's Night Of Open Sex is tonally & genre-wise all over the shop, making for one of Franco's most deranged & jarring creations- the film wildly swings from perverse strip 'n' tease, camp noir fed comedy, mystery-solving action, gruelling women-on-women torture fest, close to hardcore romp, and cheesy euro-camp- it literally at times leaves your head spinning. As part of their continued uncovering & reissuing of rare/thought-lost Franco films here on Severin is a recent Blu Ray release of the film- taking in a bright spanking new transfer, and a good selection of extras.




Echoes Of Fear - Echoes Of Fear( On-demand/ DVD)

Echoes of Fear is a 2018 film that moves from creepy J horror-to- tense thriller- and besides a few issues, it stands as one of the better-haunted house/ supernatural thriller in recent years. It features some good eerier atmospherics, well placed/ effective jump scares, and a neat hillside house setting.


Officer! - Yes Yes No No Yes No Yes

Yes Yes No No Yes No Yes was the 4th album from Officer!- the decidedly wonky 'n' sonic unwell project helmed by Brit Mick Hobbs( Half Japanese). The album originally appeared back in 1988, and it found Mr. Hobbs & his odd sonic cohorts covering a fairly bit of sonic ground. Moving from Syd Barret like pop rock child-like fare, onto general more deranged singer-songwriter fare, drop into off-key synth-pop, simmering art-rock, klezmer tinged jazz moments, strutting reggae, odd world music touches, and a few other fairly surprising genre diversions along the way. Here from the folks at Klanggallerie is a much-needed CD reissue of the late 80's oddity- adding in six unreleased tracks from the same period, bring up the total release playtime to sixty one minutes.




Bourbonese Qualk - Hope

Originally released back in 1984 Hope is a dense & often careering blend of rhythmic percussive work-outs- be they organic or electronic, soured industrial drifts, wayward sample sweeps, DIY electronica, sinister–to-funk bound bass tones, noise, and from time-to-time vocals that take in either shouty chants or wailing post-punk vocals. Bourbonese Qualk where are a experimental music collective with anarchistic leanings from Southport UK- and Hope was the band's fifth release. From Klanggallerie here we have CD reissue of the album.




Thecodontion - Supercontinent

As evidenced by the opening notes of "Gyrosia," Thecodontion is bass-centric, heavy, and propulsive. This start to their first full length, Supercontinent, shows how this Italian duo's sound and lyrical content both carry heavy, tectonic energy. Recruiting members from Seventh Genocide and Igor Mortis to round out this LP, Thecodontion bring forth fast and heavy black/death metal that would make a heaving Earth very proud.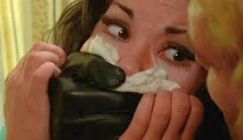 The Strange Vice Of Mrs. Ward - T...
In recent years The Strange Vice Of Mrs. Ward has come to be seen as one of the top tier Italian giallo films- up there with some of Argento & Fulci's cl...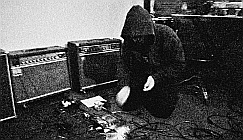 Perpetual Abjection & Unsignifie...
There has always been a close connection between the walled noise scene, and various themes/ obsessions- be it nihilism, giallo/ cult films, true crime, grim...