Simon Šerc - Bora Scura

Simon Šerc is a Slovene audio/ video artist, sound engineer, & owner of the Pharmafabrik label -he started his creative activity in the early nineties. And he is involved with a few other projects, such example Cadlag, PureH, Matrix441.


Barbed Wire Dolls - Barbed Wire Dolls(Blu Ray)

Barbed Wire Dolls stands as one of the moodiest, stark & grimly sleazed WIP films of the 1970's. It's also one of the most balanced & focused films Jess Franco made with Swiss exploitation producer Erwin C. Dietrich. Over the years it's been one of Franco films I've returned to again & again, when I've been in the mood for pacey-yet-bleak sleaze. And it's great to have this new digital restored & remastered version of the film in the form of a region free Blu Ray release on Full Moon Productions.


Son Of Unsung Horrors - Son Of Unsung Horrors(Book)

From the folks that brought us retro horror mag We Belong Dead, the excellent original Unsung Horrors, and Monsters?-We're British Y' Know!"-A Celebration of Peter Cushing. Here's a new glossy & fact-packed tome bringing together reviews/ features on around 200 lesser known horror films- moving from dramatic 30's/ 40's chillers, onto 60's/ 70's creature features. Through to garish & weird giallo's, onto flesh & moody vampire films, and beyond.


The Ebony Tower - Les Rougon-Macquart

This Greeley Colorado-based wall-noise project is no stranger to long/multi disc releases. But this six-disc DVDR set/ digital release really pushes things to new & extreme limits, with just over fifty-three hours of wall-craft. The set was a joint release between the projects own label, and London based digital HNW Netlabel. And like all of this projects releases this is based around literature – and this time it's the twenty novels in Émile Zola's Les Rougon-Macquart series, that focused in on France's Second Empire (1852-1870).


Leechfeast - Neon Crosses

Despite the fact that the Slovenian sludge/doom group Leechfeast have been around for almost 10 years, I was not familiar with their work until now. Since 2010, they have released one demo, three splits and two full-length albums, the latest of which, titled Neon Crosses, has been recorded after a 3-year pause. The album was released by Dry Cough Records on vinyl and still available for order on the label's website or on the band's Bandcamp.



Tuffo - Masones

Masones is searing 'n' intensely feasting slab of euro noise that brings together walled noise, with some wall-ish harsh noise elements. This release appeared in October of last year- as either a C49 tape or digital download.


Clavilis Muri - Clavilis Muri

This self-titled debut release brings together gloomy-to-often doomy solo piano with atmospheric static texturing/more subdued wall- making. It takes in ten tracks- coming as either a physical cassette/ or a digital download on German label Geraeuschmanufaktur.


Thomas Ligotti - The Bungalow House

Spoken arts powerhouse Cadabra Records returns with another strong release of weird fiction with Thomas Ligotti's The Bungalow House. The award winning American author's short story is passionately read by ventriloquist and author Jon Padgett. Running behind this reading is an inventive and synthy score by musician and filmmaker Chris Bozzone. Another excellent addition to their catalog, The Bungalow House is a well done piece of spoken art horror.


Phantom Cadaver - Realms of the Macabre

'Realms of the Macabre' from Phantom Cadaver is the 427th release on Altar of Waste. It comes as a CD in a DVD case, with luscious imagery on both the outside and the inside. The outside depicts a darkly lit room in a faint reddish hue, a lone bulb swings from the ceiling as a person sits in the foreground with their arm to their chest and eyes looking upward. The inside is a bright and surreal mess of dark colours - blues, reds and purples.


Havnes, Järmyr, Serries - Distant Curving Horizon. The Primal Broken Passag

The genesis of this album grew from two separate sessions recorded back in 2014. Tomas Järmyr had recorded duo sessions with both Eirik Havnes and Dirk Serries which led to discussions of the three working together on what was to become this album. Recorded in a single day in 2015 at Olavshallen, Trondheim, Norway on May 16th 2015. The album, a 55 minute improvised piece of jazzy, kraut/space/drone rock, was mixed & mastered by Dirk Serries.


Heart 2 Heart - Shared Bodies

Heart 2 Heart is the harsh noise / static noise project of the spouses Rossi, Mariela and Sisto (his most famous projects are Wallkeeper, Forecast and Foxhole).


SkyDive Trio - Sun Sparkle

SkyDive Trio is a jazzy instrumental rock outfit that immediately conjures up thoughts of 1970's krautrock, fusion and progressive LPs with their instrumental timbres and playing style. Their 2nd album "Sun Sparkle" was released on Hubro this year in 2018.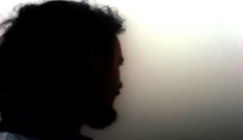 Simon Šerc - Bora Scura
Simon Šerc is a Slovene audio/ video artist, sound engineer, & owner of the Pharmafabrik label -he started his creative activity in the ea...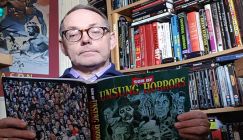 Eric Mcnaughton - Garish( yet inf...
When it comes to books or magazines focusing in on the horror film form it's always great to have a blend of informative, yet never stuffy text and lots colo...