Scream Theater Vol 9 - Scream Theater Vol 9( DVD)

Here's the ninth in VCI Entertainment's Scream Theater series, which brings together two ultra-obscure horror films. This time the focus is on the mad doctor side of the genre, with both films coming from the 1970's. Featured here is Night of the Bloody Transplant, a decidedly clumsy z-grade heart transplant horror thriller. And The House Of The Living Dead, a South African period set chillier, that focus in on a mad aristocratic doctor who believes he can catch & keep the souls of humans & animals. Both films are presented on the DVD with no extras, and (just) about passable scans.


Columbia Noir #2 - Columbia Noir #2( Blu Ray Boxset)

Here we have the second in Powerhouse's Columbia Noir boxset series, and once again the label offers up a wonderful selection of the noir film in its many forms. Going from a tight & twisting crime drama, onto a Cops Vs scammers noir, though to undercover cop mystery. Onto a mystery melodrama, though to a taut one location thriller, finishing off with a very distinctive hit-man based example of the genre. Featured on the Blu Ray boxset are new high definition prints of all six films, a good selection of extras, and the finished version of the set comes with a hundred and twenty-page book.


Bill Thompson - Ocean Into Light

American-British sound artist Bill Thompson hits Burning Harpsichord with his latest composition, Ocean Into Light. One, long form track, Ocean displays the interplay of synthesized layers, their birth, rise, fall, and decay. The oscillations here echo the waves in both oceans and light, and work as a semi-tangible way to bridge the gap between the two.


Coil - A Guide For Beginners & A Guide For Finishers

Transcendental pagan ambient duo Coil charted an incredible path of interdimensional psychedelic electronic journeys within their twenty three years, ending in the death of singer/poet Jhonn Balance in 2005. Since the death of the other half of the band, 'Sleazy' (Peter Christopherson) in 2010, I have been less than satisfied with the handling of their mostly out of print legacy. Most of what has come out has been compilations of unreleased material that was never intended for release, and many of the essential full-length albums remain out of print and quite rare (Constant Shallowness Leads to Evil and Moon's Milk, among others).




Paul Chain - Opera Decima (The World Of The End)

Here we have a double CD reissue of one of the more experimental/none rock-based albums by revered cult Italian musician Paul Chain( aka Paolo Catena). Originally appearing in the year 1990 Opera Decima (The World Of The End) focused on the more creepy-yet-theatrical ambient, to dark electronica/ industrial side of Mr Chain's sound, with none of the doom or dark psychedelic rock flavour he's most known for with either the group's Paul Chain Violet Theatre, Death SS, or as a solo artist.


Pulse - Pulse(Blu Ray)

Directed by Paul Golding (Beat Street and The Magical World of Disney) Pulse is a sci-fi horror movie originally released in 1988 starring Cliff De Young (Glory, The Craft and Rude Awakening), Roxanne Hart (Highlander, Letters from Iwo Jima), Charles Tyner (Harold and Maude, Planes, Trains and Automobiles, Cool hand Luke) and the Lawrence brothers, Joey (Blossom, Oliver And Company) and Matthew (Boy Meets World, Mrs Doubtfire).


Kadaver - Asphyxiation For The People

There's something intrinsically satisfying and comforting about a harsh noise release that takes in two ten-minute slabs of sound. Equally valid when- it comes to live performances in this field. Remember noise-sets? Then you should know that the ten-minute mark shines great in this context too. It's all it takes. If your craft can shift gears and alter gravity and/or possess some sort of threat to the all-encompassing time-continuum then TEN minutes/ 600 seconds is all you need..No more. And this C20 release from Kadaver is a prime example of this point.


Crag - Body Low

Body Low is a harsh noise release that blends together densely textured with moody-to-surreally searing noise matter. The C70/ digital download is both brutally thick, yet trippingly heady- which is certainly a usually/ difficult mix, but this release largely managers to carry it off in a compelling/ brain-twisting manner.


Amado & Serries - Jazzblazzt

Jazzblazzt is a jagged 'n' jerking example of edgy-to-fiery improv for tenor sax and guitar. It's a two-track CD release coming in at the fifty-five-minute mark- with each track been as darting, unpredictable, yet rewarding as each other.


Tarab - Housekeeping

I'd never heard of Tarab before Housekeeping, but this is a very accomplished release, of equal interest to ears tuned to field recordings, electroacoustic music, or noise. The CD has two long tracks, both past 15 minutes, accompanied by an insert that explains the album. Housekeeping is just that: a release that tidies up lots of discarded, neglected, and forgotten recordings - those files that lurk at the back of the computer - and combines them finally: gold from base metals.






Scream Theater Vol 9 - Scream The...
Here's the ninth in VCI Entertainment's Scream Theater series, which brings together two ultra-obscure horror films. This time the focus is on the mad ...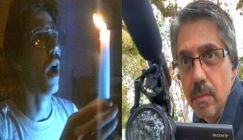 Mark Polonia - Of gore-bound far...
When one thinks of gore-bound, yet creative Short-On- Video films of the 1980's & 1990's- the first two names that come to mind are Mark and John Polonia...