Bruno Duplant/Reinier van Houd - Lettres et Replis

Lettres et Replis is a piano-based album that shifts between elegant harmonics and often discordant angularity. The release comes in the form of the six-track album- that's available as either a mini gatefold packaged CD( ltd to 500 copies), or a digital download- both can be purchased from Elsewhere's website.




Sihir - The Other World

The Other World is the first release from Sihir- a new project from highly prolific & multiple projects linked French noise maker Julien Skrobek. The release is presented in the form of a C20, which Julien self released himself- it takes in two side-long tracks, and the best description of what we have here is minimal/ stark noise with elements of lo-fi ambience. So really somewhat of a departure from the more wall/ static noise sound Mr Skrobek is known for- through there are still some textured noise elements present here.


Bardoseneticcube & Shinkiro - Beyond The Edge Of The Universe

Collaboration albums in the genre of experimental music have always been interesting proposition, as the blend between different sonic approaches-often create a distinctive one-off sound. Even though Dark Ambient, as a genre, is widespread and a huge number of projects work in this style, there are a certain number of the most respected artists whose work always deserve the close attention from fans of this genre. The Russian project Bardoseneticcube, working at the junction of Dark Ambient and Industrial, headed by Igor Potsukaylo, is one of such respected projects.


Tab In/Tab Out - Lighting Strike Scars

Lighting Strike Scars is a lengthy submersion in thick, whipping & battering storm like walled noise from this Portland, Oregon project. The release, a pro pressed CDR or digital download, appeared in April on UK wall label Void Singularity Recordings- it came in an edition of ten copies, and as of writing the label still, have copies which can be purchased from the labels Bandcamp.


White Slave - White Slave(DVD)

White Slave is a cheesy, but surprisingly engaging, and at times damn bloody 'n' brutal jungle adventure from the mid-1980s. Here we have a recent(ish) region free DVD release of the film as part of Full Moons Grindhouse series.


Double Face - Double Face(Blu Ray)

Following on from early Arrow Video releases this year, Double Face is another lesser-known, largely bloodless & more moody Giallo film reissued by the company. The Blu Ray features a new commentary track from genre expert Tim Lucas, some neat extras, and a new well-defined print.


Roger Doyle - The Electrification of Night

The recent announcement that Roger Doyle is to receive the honor of Saoi, the highest award open to an Irish artist, is recognition of a lifetime of musical creativity encompassing theatre, "cinema for the ear", the massive electro-acoustic project Babel, and most recently the electronic Opera Heresy, on the life and death by fire of the renaissance philosopher Giordano Bruno. In between these signal achievements Doyle has also put out a steady stream of records developing the possibilities of combining acoustic and software instruments, electronic processing and the human voice. He has retained a fascination for language (musical or otherwise), a facet of his work most expansively realised in the 5CD Babel project.




Alexandros Anesiadis - Crossover The Edge- Where Hardcore, Punk And Metal

For a period of time in the late 1980's my twin musical obsessions where Hard Core Punk( mainly American), and Thrash- so, of course, I had a great interest in where these two genres met- Crossover. Here from Cherry Red Books is a new, nearing five hundred and fifty- page book on the subject- and it certainly was a fascinating trip down memory line, with more than a revelations along the - as the book covers a lot of acts I'd never even heard of.


Those Darn Gnomes - Calling Whitetails to a Tuned Bow

I believe, that experimental avant-garde and improvisational music appeared a long time ago- Maybe a couple of hundred years ago. But the key developments occurred with the introduction of jazz, musique concrete, and experimental electronics, around the middle of the 20th century. Currently, there are a lot of bands and artists, to one degree or another, using these styles in their work.


Tape Dekay - Decadimento Del Nastro - Decadenza Di Tutto

Despite being on the scene and appearing on compilations as far back as 1999, Decadimento Del Nastro - Decadenza Di Tutto is the first album by Tape Dekay (BJ Nilsen of Hazard and Morthound). Noisy soundscapes riddled with musique concrete, Decadimento is a dark, sprawling full length available on CD and digital formats. Hopefully a harbinger of further releases, Tape Dekay's first album is much anticipated and certainly delivers.


The Passing - The Passing( Blu Ray & DVD)

The Passing is a dizzying, often disorienting, wholly idiosyncratic Sci-fi film that randomly darts between whimsical & felt, sad & morose, 1980's technology headiness, and trippy-to-horror fed surrealism. Original appearing in the first few years of the 80's- this distinctive & effecting oddity has been un-earthed by Vinegar Syndrome- been given a new 2k scan, offering up a new commentary track, shorts by the same director & more.


Geir Sundstøl - Brødløs

Norwegian guitarist Geir Sundstøl released his 4th album Brødløs in 2018, on the Hubro label. His style is tuneful, cinematic, psych-tinged folk, with a vibrant timbral range thanks to his use of a massive number of different instruments.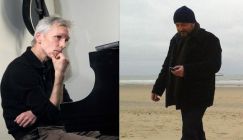 Bruno Duplant/Reinier van Houd - ...
Lettres et Replis is a piano-based album that shifts between elegant harmonics and often discordant angularity. The release comes in the form of the six...






Michael Ridge - From Tools Of To...
Norfolk Uk based noise maker Michael Ridge is one of the longer running denizens of the Uk wall-noise scene, been involved since around 2010. He may not be t...