Garden Tool Massacre - Garden Tool Massacre(DVD)

Now here is another rare/ largely unseen SOV gem mined up by the folks over at SRS Cinema. Garden Tool Massacre is a Brit 1990's slasher that features some nicely tense POV stalking, effective moments of gore, and a young and likeable cast. Sure, it's a little muddled in its structure, and somewhat of murky/ darkly shot in places- but hell this is SOV, and I'd go as far as to say this is one of the best low-budget 90's slashers I've seen.




Ignaz Schick & Oliver Steidle - Ilog2

Ilog2 is a decidedly manic and darting record that blends together elements improv, turntabling, layered/ dense percussive work-outs, and slurred-yet-glitched electro-acoustic texturing. The release comes in the form of a twelve-track CD on Berlin's Zarek.





Spookies - Spookies( Blu Ray)

Ahh, Spookies, the mother of all crazed 'n' campy 1980's horror films. It's a blend of folk-stuck-in-a-creepy-house caper, overpopulated creature feature and monster fed slasher- with loads of rubbery effects, red slashing gore, and a plot that barely makes sense or logic. Here from 101 Films is the UK Blu Ray release of the film- with the two-disc set taking in a bunch of extras including two feature-length docs- one about Spookies troubled production, and the other about cult British nasty video label Vipco.




The Chalk Garden - The Chalk Garden(Blu Ray)

The Chalk Garden is a drama, come low-key mystery from the 1960's- that features father and daughter acting team John and Hayley Mills in two of its lead roles. Here from Powerhouse is a Blu Ray release of another difficult to peg/ bracket film- with the disc featuring a new crisp and clear scan of the picture, a new commentary track, and a good selection of extras.




Citalopram Shunyata & Vomir - Elle Vide ses Tripes


Elle Vide ses Tripes is a decidedly sleazed and nasty C60 split- it brings together forking 'n' grinding Japanese scat-porn themed harsh noise of Citalopram Shunyata, with the unrelenting walled noise craft of Vomir. Each project takes up a side, and each severs up its distinctive take on the noise form.




Der Blutharsch and the Infinite Church o - The Cosmic Trigger Re-Triggered

Der Blutharsch are an Austrian industrial/neofolk band formed in 1996 by multi-instrumentalist Albin Julius. The band's sound is diverse and goes way beyond the industrial/neofolk tag, incorporating influences from kosmische music, dark ambient and psychedelia into their sound. The Cosmic Trigger was originally released in 2013, however this version has been revisited, rearranged and reconstituted for a modern audience.




Dosis Letalis/Beggin For Oxys - Split

Here is a short tape from Mutual Aid, featuring a five-minute track each from Dosis Letalis and Beggin For Oxys. A tape this short might not look like a good purchase - particularly factoring in postage if it's being sent from abroad - but I've always enjoyed hearing short noise pieces: they focus the artist/project, especially if they would normally produce much longer recordings. Whilst Beggin For Oxys is a new name for me, I've heard some Dosis Letalis before, and they are certainly an artist who more usually record longer works.




Niks & Uitgeschakeld - Split

Here we have a C60/ digital download walled-noise split, which brings together a selection of grinding 'n' baying HNW brutality. The split finds two fifteen-minute tracks from UK based Niks, and one thirty-minute head-grinder from Dutch project Uitgeschakeld.




Karl-Henrik - Karl-Henrik

Karl-Henrik is a recent(ish) collaborative project bringing together Sean E. Ramirez-Matzus ( theNIGHTproduct, Black Leather Jesus, Thewhitehorse, Last Rape) and Thomas Puopolo(Scarlet Diva, Celebrity Sex, Black Leather Jesus)- it's a wall noise project, which is themed around the work of Ingmar Bergman. This self-titled C32/ digital download is the projects first release, and it brings together two around fifteen-minute examples of aggressively spluttering 'n' roasting roaming walled noise.




The Rita - Macha Vs. Knife


Macha vs. Knife is a CD reissue that highlights two of the lesser heard sides of respected and high influential noise project The Rita( aka Canadian Sam McKinlay). Both tracks run around the half-an-hour mark, so we have a total runtime of one hour on the disc- and as we've come to expect from Mr Mckinlay it's top-drawer noise craft.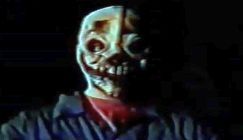 Garden Tool Massacre - Garden Too...
Now here is another rare/ largely unseen SOV gem mined up by the folks over at SRS Cinema. Garden Tool Massacre is a Brit 1990's slasher that fea...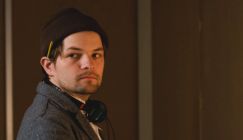 Patrick Picard - Geek-bound fear...
Recently released via Arrow Video The Bloodhound stands as one of the more classy, distinctive, and subtle uneasy psychological thrillers to appear in some y...