Presence - Masters and Following

Presence are a progressive rock band from Naples in Italy. Formed in the late 1980s, the group are a three piece, featuring vocalist/pianist Sophya Baccini, keyboardist/ percussionist Enrico Iglio, and guitarist Sergio Casamassima. They are augmented on this album by drummer Sergio Quagliarella, and bass player Mino Berlano. "Masters and Following" is their latest studio release, and comes with a bonus disc of live material from the band's back catalogue.


Machinefabriek - Assemblage

Machinefabriek's latest album Assemblage is just that, an assemblage of rare material originally recorded for compilations, collaborations, unreleased film and installation soundtracks, and the Nerf EP that received a limited release as a 3" CD. The brain child of Rutger Zuyderveldt, Machinefabriek have been around the block and have released a number of proclamations of their intent since their inception in 2004.


Mudboy - Night Eyes

Night Eyes is the tenth full length album by the reclusive mudboy, and his first in seven years. A key member of the early 2000's free-folk and experimental music scene coming out of Providence, Rhode Island, mudboy is largely identified with modified analog electronic keyboards and a live shows featuring shamanistic performances and DIY pyrotechnics.


The Greasy Strangler - The Greasy Strangler (DVD)

The Greasy Strangler is a recent shot of bad taste/ quirky cinema that falls somewhere between awkward comedy & campy horror movie. Bringing together John Waters like shock traits, a selection of odd characters, lo-if eye-popping horror effects, and synth soundtrack that sounds like a meeting between The Residents & 8bit electro-core.


Claudio Simonetti - Opera OST

Here we have the 30th Anniversary reissue of the soundtrack for Dario Argento's arty & Gothic 80's Giallo based in an opera house. The release blends together the dramatic & often sleek synthetic score from Claudio Simonetti, a few slices of 1980's metal, and a selection of eight bonus tracks.




Slomo - Transits

Transits is the fourth full length releases from this UK two piece, who have been creating drone/doom matter since 2006. I've been following the project since their debut, The Creep which saw them brew-up an extremely rewarding blend of folk horror themed bass tones and sinister ambience. For this new release, they are very much departing from the murky & earthbound themes of their past releases, for a distinctly more space & star bound drone trip split into three twenty-to- twenty five minute tracks.


RRR - Back At Hole

Back At Hole offers up four slices of bass seared & intense walled-noise nastiness from this French project. The release comes in the form of four CDR, and appeared on Minneapolis-based label Altar Of Waste.


Emmanuel Mieville - Juryo: Durée de la Vie de L'ainsi​-​ve

Here's a sombrely presented CD (pro-pressed and printed) on Crónica. The imagery, and explanatory notes on the back cover, suggested to me that Juryo: Durée de la Vie de L'ainsi​-​venu koxx might be an album dominated by field recording, and whilst it very much is, in one sense, sonically it's really quite different. The album is largely constructed from field recordings from across Asia, sometimes processed, sometimes raw. The second, third, and fourth tracks are inspired by a chapter of the Lotus Sûtra - a famous text of Mahâyâna Buddhism - whilst the first, Tanit Astarté, 'is a quotation from Antonin Artaud's book Héliogabale, and refers to the moon goddess, as described in Phoenician myths.'


Tamtam - Urban Dialog

Crónica Recordings presents Urban Dialog by Tamtam. Tamtam is the Berlin based duo of Sam Auinger and Hannes Strobl who, in their own words, refer to their music as a "practice where the environment becomes the instrument and instrument becomes the sound environment." While artist blurbs can often mislead, in the case of Tamtam, it's a description that's fittingly accurate.


Anvil Strykez - Anvil Strykez

Finnish, one-man synth act, Anvil Strykez (nope, that's not a typo...unfortunately) brings its 80's inspired, retro synth attack to Wolf Force Corporation. The eponymous debut sees seven tracks of propulsive, synthwave fury. Put on your louvered shades, tighten your wristbands, and hit the floor with Anvil Strykez.


Trevor de Brauw - Uptown

Trevor Shelley de Brauw's 20 year musical career has manifested as an exploration of the vast sonic possibilities of the guitar. Best known for his work with post-rock mainstays Pelican and other projects of varying frequency and notoriety, Uptown is his debut as a solo artist.


Steve Roach - Spiral Revelation

Synth ambient pioneer Steve Roach has continued with a relentlessly prolific stream of releases since the early 80's.








Presence - Masters and Following
Presence are a progressive rock band from Naples in Italy. Formed in the late 1980s, the group are a three piece, featuring vocalist/pianist Sophya Baccini, ...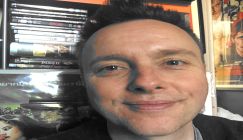 Justin Kerswell - Mr Slasher-man
If you have more than a passing interest in the slasher genre you will be aware of Justin Kerswell- he's a UK writer/ commentator- he wrote one of the few bo...