Mats Gustafsson & Andreas R°ysum - VindögŠ

Norwegian musicians Mats Gustafsson (saxophone) and Andreas Røysum (clarinet) have joined forces for this freeform improvisational recording, Vindögæ. While I'm hitherto unfamiliar with Røysum, Gustaffson ranks among my favorite modern jazz players, someone truly capable of elevating the free jazz form into something consistently expressive and interesting, with his semi-melodic, heavily textural and harmonic-laden performances. The album is a typical LP length of forty minutes, split into sides A and B.




Whose Child Am I? + Weekend Murders (Dri - Whose Child Am I? + Weekend Murders (Blu Ray)

Here's the 18th release in Dark Force Entertainment's Drive-In-Double Feature series. The Blu-Ray takes in two films from the 1970s. We have The Weekend Murders- a crossbred between an Agatha Christie mystery and gialli. And Whose Child Am I?- which awkwardly sits between trouble conceiving drama and softcore porn. Both films get a new scan, and we also get a few extras.




The Haunting Of Julia - The Haunting Of Julia( Blu Ray & CD)

From the late 1970's The Haunting Of Julia is a mix of drama, low-key mystery, and very slow-burn horror. It's a film that often drifts with a feeling of unease & subtle dread- with a few moments of jarring shock, be they visual or plot revelation-wise. Here from Australia's Imprint is a double disc release of the film- taking in a Blu-ray of the film, and a good selection of extras. And a CD featuring the film's soundtrack, including never-released material. It comes presented in lenticular slip, with a forty-four-page booklet.




Pork Chop Hill - Pork Chop Hill( Blu Ray)

Pork Chop Hill is a late 1950s war film that focuses on the futility of conflict. The black and white captured affair is a gritty, sweaty & dusty affair- with the cast led up by Gregory Peck as Lt, who is sent to capture an area that either side is interested in. It's a stark, and often hopeless film- which highlights how on-the-ground troops are purely disposable pawns in the game of war. Here from Australia's Imprint Films is a Blu-ray release of the film- taking a new scan of the picture, a new commentary track, and an archive doc.




Olivier Alary - Apparitions (Vol. 1)

The first volume in a series of acoustic pieces, Olivier Alary's Apparitions (Vol. 1) sees the composer utilizing acoustic compositions to touch on the subject of memory, specifically the ephemeral, ghost-like nature of it. Alary's three tracks were written and developed with each group of musicians, each piece split over different instruments (violas, vibraphone & marimba, and bassoons) and specially worked to express these unique qualities. This leads to the work having a near classical feeling, but also shifting the focus into a new and exciting realm of sound and composition.




Two Orphan Vampires - Two Orphan Vampires (Blu Ray)

Released in the late 1990s Two Orphan Vampires was the forty-third film directed by France's Jean Rollin. The film feels very much like a summing up of the key/ celebrated themes & tropes from his forty-plus-year career- so we have female vamps, fleeting nudity & traces of blood, and debates about endless life. There are graveyards, crypts, and arty dwelling in sombreness & melancholia. Here from Powerhouse Films is a reissue of the film- coming either as a UHD or Blu-Ray release. It features a 4k scan of the picture, a new commentary track, and a fair selection of both new & archive extras- which is all topped off with an eighty-page book.




Enys Men - Enys Men( Blu Ray)

Enys Men is a folk horror film set in the early 1970s on an isolated island just off the Cornish coast. The 2022 film sits somewhere between arthouse & post-horror, and I think it's fair to say it's a picture that needs a fair bit of patience. Yes, it certainly reproduces the feeling of light dread touched 1970s, and at points is decidedly chilling & even unnerving. But to begin with, it has a very repetitively structured, and takes just a little too long to get to its horror point. Here from the BFI is a Blu-Ray release of the film- featuring a commentary track, and some worthy/ interesting extras.




Lee "Scratch" Perry - Battle of Armagideon (Millionaire Liquidator)

Released in the year 1986, Battle of Armagideon (Millionaire Liquidator) found the infamous & often highly creative reggae producer/artist offering up an eleven-track album. It blended together dense, instrumental detailed and entrancing production, with playful genre-blending- all topped with wacky at times stream-of-consciousness focused lyrics. Here from Doctor Bird- Cherry Red's reggae sub-label, is a very much-deserved double CD reissue of the album- featuring a selection of fourteen bonus tracks, many never been released before on CD.




Koobaatoo Asparagus - Bond Girl

Bond Girl servers up two dense and relentlessly pummelling examples of the walled noise form- from this ultra prolific/long-running California-based project. Each track comes in at dead on the forty-two-minute mark, and each is as unforgiving as the other.




Roel Meelkop - Viva In Pace

Hailing from the Netherlands, Roel Meelkop is a prolific sound artist, whose musical venture began in the 80s with THU20, a project in the realms of electronic/experimental music. Moreover, he has worked with artists like Kapotte Muziek, Frans de Waard, Howard Stelzer, Detlev Hjuler & Andrea Göthling (Kommissar Hjuler Und Frau), Wieman and Pierdrie among others.




Lull - That Space Somewhere

That Space Somewhere is the 8th full-length album from UK ambient/ drone venture Lull. The project has been active since 1992 and is all the work of Mick Harris (ex-Napalm Death, Scorn, etc). The CD album is Lull's first release in fourteen years, and it appears on Cold Spring Records. Featured are four lengthy tracks that will send the listener slowly but surely into its expanding & shifting sonic terrains, which are as vast, as they are bone-chilling/ darkly hued.




Earl Klugh - Dream Come True/Crazy For You/ Low Ride

Here's a recent two-CD set from BGO Records bringing together three 1980s albums from African American guitarist Earl Klugh. He plays a light 'n' easy blend of Jazz fusion and smooth jazz, with touches of other genres blended into the mix here & there. The three albums featured are Dream Come True (1980), Crazy For You( 1981), and Low Ride( 1981)




Organ Donor - MalplacÚ

Organ Donor's brand of improvisation extends from compositional spontaneity to genre-hopping, which is something that might be new to some listeners (at least it was to me).




GO - GO( Blu Ray)

Originally released in 2001 GO is the fifth feature film from Japanese director Isao Yukisada. It's a coming-of-age tale about Korean-Japanese student Sugihara (Yōsuke Kubozuka) as he enrols in a Japanese high school to escape the oppressive systems of his life in North Korean education. During his time he becomes close friends with the son of a Yakuza boss, a fellow student from his North Korean school, and mostly importantly Sakurai Tsubaki (Ko Shibasaki). The pair hit it off but Sugihara decides to hide his true nationality from Sakurai, fearful of the xenophobia he could fall victim to.




Accion Mutante - Accion Mutante( UHD /Blu Ray)

Accion Mutante (aka Mutant Action) is a 1993 dystopian sci-fi/comedy from Spanish director, Alex De La Iglesias (The Day of the Beast, Perdita Durango and Witching and Bitching). Heavily influenced by comic book creator like Marvel's Stan Lee and Flash Gordon creator Alex Raymond, De La Iglesia brings a hyper-violent comic book style to his movies and Accion Mutante sits alongside Peter Jackon's Bad Taste and Brain Dead or Frank Hennelotter's Basket Case and Brain Damage as one of the finest exponents of the art of bringing comic book violence to our screens. Starring Antonio Resines (Cell 211, Lucky Star and Los Serrano), Álex Angulo (Pan's Labyrinth, Day of the Beast and Live Flesh), and Frédérique Feder (Three Colours Red, Steven and Swept from the Sea).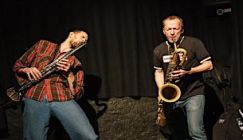 Mats Gustafsson & Andreas R°ysum ...
Norwegian musicians Mats Gustafsson (saxophone) and Andreas Røysum (clarinet) have joined forces for this freeform improvisational recording, Vindo...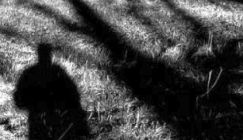 TenHornedBeast - Into The Deep & ...
Forming in the early 2000's TenHornedBeast is a British project that creates a rather distinctive blend of black ambience, doom, dark soundtracking ele...