Enter Santo: The First Adventures of The - Enter Santo( Blu Ray Boxset)

Enter Santo: The First Adventures of The Silver Masked Man is a Blu-Ray boxset bringing together the first two big screen 1960s appearances from the infamous bad guy 'n' monster fighting Mexican masked wrestler Santo- who landed up appearing in fifty-two features between the early '60s and early '80s. The two-disc set appears on Powerhouse Films and features new 4K scans of both films, some neat extras, and an eighty-page book.




Matthias Puech - Mt. Hadamard National Park

Composer, programmer, and instrument designer Matthias Puech brings his "audio-naturalist noise" to Hallow Ground with Mt. Hadamard National Park. With a five-part title track and two additional compositions, Puech looks at nature and noise both mathematically and artistically, using chaos theory as one of his inspirations. Utilizing electro-acoustic and varied electronic styles, Mt. Hadamard National Park presents an intriguing look at nature's visual beauty, auditory wonders, and intriguing chemical processes.




The Working Class Goes to Heaven - The Working Class Goes to Heaven(Blu Ray)

The Working Class Goes to Heaven aka La classe operaia va in paradiso or Lulu the Tool is an Italian political drama from 1971 written and directed by Elio Petri (The 10th Victim, A Quiet Place in the Country and Investigation of A Citizen Above Suspicion) and starring Gian Maria Volonté (For A Few Dollars More, A Fistful of Dollars and La Strega in Amore), Mariangela Melato (Flash Gordon, The Seduction of Mimi and Love and Anarchy) and Gino Pernice (Django, D'Artagnan and The Hell Benders) in the lead roles.




Luer - Constant

Luer is one of the projects of Montana-based noise maker Matt Taggart (40 Watt Womb, PCRV Quartet, Pop Culture Rape Victim). Constant is its third release, and takes in two twenty-minute plus tracks that sit somewhere between moody noise scaping, and hovering droning synth scaping. All making for a release that is both rewarding active/ shifting, but equally atmospheric.




Shaun Robert - Swan Song For Tape Recorder

Here's a release that takes us on a textural journey inside a breaking tape recorder. It features eleven tracks in all, and as expected these all fit into the decidedly wrapped 'n' noise-bound side of things.




!T.O.O.H.! - Premiant

!T.O.O.H! ("The Obliteration of Humanity") is a Czech experimental metal duo that creates extremely dense, non-repetitive music that should appeal to fans of groups like Krallice, Behold the Arctopus or Atheist. This eleven-minute EP, Primiant, is the latest in a discography of sporadic releases dating back to the 90's, making them one of the pioneers of avant-garde technical metal.




loscil/Lawrence English - Colours Of Air

The history of electroacoustic music has a few well-worn narratives, some more reliable than others, with each in its own way embracing the revolution that electric sound production had on the course of music as we know it. One such tale is that of the increasing discretization of the smallest, controllable element of a sound wave into parts that are simultaneously concrete (irreducible) and fully expandable, through synthesis, and waveform modification. Frequency is the common denominator, and collects chromatic scale and sine wave oscillators under its umbrella. With this in mind, we should be able to give frequency expression to anything in the world, like, for example, the colours associated with that most ephemeral of elements, air.




Inanition - Trampling Iris

Trampling Iris is a new hour-plus work from Chicago based walled/ drone noise project Inanition. It moves from a decidedly eerier and cryptic begins, through to thick 'n' bone grinding HNW.




RJ  Myato - Excavations Of Being

Excavations Of Being finds Pittsburgh's RJ Myato serving up two twenty minute examples of walled noise. One 'wall' has a ghost in a machine-type vibe, as we have a densely packed track that's alive with eerier mechanical-like drift 'n' hover. And the other 'wall' has a decidedly nasty cluttering 'n' shredding quality to it.




Martin Iddon - Naiads

Naiads features five examples of atmospherically taut, and often brooding-to-uneasy modern chamber works from Leeds-based composer Martin Iddon. The works featured are all played with wonderful depth, flair and moody clarity by the respected modern ensemble Apartment House.




Run, Man, Run - Run, Man, Run(Blu Ray)

Run, Man, Run is a late 1960's Spaghetti western that is both playful and humorous, and gritty at times bloody. The film is centred around scruffy, short, and roguish Mexican knife thrower Cuchillo- who along with a selection of other characters, is trying to track down $3,000,000 in gold. Here from Eureka, as part of their Masters Of Cinema series, is a two-disc release of the film- taking in two cuts of the picture, commentary tracks, and other extras.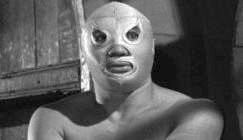 Enter Santo: The First Adventures...
Enter Santo: The First Adventures of The Silver Masked Man is a Blu-Ray boxset bringing together the first two big screen 1960s appearances from the infamous...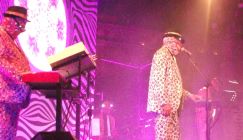 The Residents & Support - Live re...
On the 31st of January 2023, The Residents played the fourth date in their Faceless Forever / Dog Stab! Tour at the Union Chapel. It was all part of the proj...