John Cage - Winter Music

Composed in 1957 Winter Music is piano composition from reviled & respected modern classical & Avant grade composer John Cage. Here we have a 2017 release of a 2014 recording of the work, and I must say I was both pleasantly surprised & taken by this wonderfully jarring & angular work.


Visitation / Transgresia - S/T

The self-titled split between Visitation and Transgresia came out on Ominous Recordings late December last year on a black c60 cassette tape. Visitation is the HNW project of Shaun Mara from Australia, who runs amazing labels such as Needle & Knife and Palinopsia - offering a veritable range of all things delicious noise. Transgresia is the relatively new and positively industrious project of Marko Šiljeg from Serbia - since birthing the project Marko has knocked out wall after wall like he's making up for lost time!


Dosis Letalis - Confronting The Inhuman

Confronting The Inhuman is a recent two track CDR from Serbian based walled noise/ static texturing project Dosis Letalis. The two 'walls' enclosed are both densely weaved, creatively texture, and rather mysterious & a little unsettling in their make-up.


Nar/Vomir - Split

This untitled HNW split has one of the more artily brutal & primal presentations I've seen- the shell scratched cassette comes wrapped in a black piece of ripped fabric, and this comes inside a bent, battered & scratched sheet of steel. The C46 brings together two of the most darkly intense, brutal unforgiving, and nihilistic focused HNW projects on the planet- Frances Vomir, and the USA based Nar- with each party offering up a similar nasty & unrelenting example of HNW roasting.


Bruising Pattern/She Destroys Hope - Split

Here we have a C30 spilt that brings together two euro-based walled noise acts. Each artist takes up a side of a tape, with each offering a single fifteen-minute track, which leans more towards structure shifting wall-making. And for the split, we have Austrian based Bruising Pattern, and German-based She Destroys Hope. The release appears on the always worth Russian based wall label Reason Art Records.


Choisir Le Pire - Représentation du Six

French power electronics project Choisir Le Pire brings forth the grimy funk on the limited tape, Représentation du Six. Consisting of one near twenty minute track, this no frills, ripping approach is a refreshing taste of blistering, throbbing noise. Recorded live (the best way), the lack of overdubs gives the listener a front row seat to scathing static in is glory.


Vesperal - Conqueror of Emptiness

Conqueror of Emptiness is the debut release for this French Neofolk outfit, consisting of ten tracks dark ethereal music.



Phurpa - Rituals of Bön II

I think Niklas Göransson said it best in his 2016 article for Bardo Methodology when he described Phurpa as being like a Tibetan monastic choir that use a "specific kind of overtone chanting […] based on the principle of the singer's transmogrification during the chanting meditation". Hailing from that great Eastern European superpower Russia, little is known of the origins of Phurpa other than they are based Moscow and record and perform under the leadership of artist Alexei Tegin. The band have developed a fascinating contemporary take on the art of throat singing. Doing for this style of music, what Sunn 0))) have done for doom metal. They take it, strip it back to its base form and rebuild it with minimal instrumentation and use immense amounts of atmosphere and ambience to create something that at times sounds menacing and yet is beautiful.


Genetic Transmission / Moan - Collaboration 1

Continuing the GT archive series, Zoharum offer this collaboration with Moan. Once again in a strict limited edition of 200 copies, given the quantity you have to ask yourself "why bother?", just do it as a download. GT are one of those bands you either liked or loathed, personally I always liked GT, but I still have the gripe that a 200 run isn't sufficient and really under sells the outfit


Rapoon - My Life As A Ghost

Today I have the pleasure of reviewing the 2017 Zoharum re-issue of a Rapoon album I had never previously listened to, 2004's My Life As A Ghost. The original version of this album was a single CD, expanded here to include another disk of material remixed from the original source recordings.


Pinkcourtesyphone - Indelicate Slices

Richard Chartier's Pinkcourtesyphone project is now six years old and has become a reliable source for some of the best dark ambient music around. Yearly releases on vinyl or CD and distinctive pink artwork help make the project stand out from legions of producers of dull, gloaming, drone music. Indeed the highly defined aesthetic of the project is one of its enduring facets and is rooted in a very particular notion of femininity within the context of modern consumer capitalism and pharmacologically modulated states. That this feminine aesthetic is evoked by a man is of course problematic and worth examining. Also of note has been Chartier's occasional use of Pinkcourtesyphone's music to raise funds for transgender and LGBTQ causes. All of which is indicative of a creative depth and social engagement rarely found in the genre. Indelicate Slices follows on from 2016's lush Taking Into Account Only A Portion Of Your Emotions and features seven tracks ranging from three minute vignettes to half hour epics.




The Devils Honey - The Devils Honey(Blu Ray)

The Devil's Honey is sleazy, cheesy, and at times wonderfully deranged blend of sexploitation, thriller, and romantic drama. This 1986 sleaze feast is one of the later films from Lucio Fulci- most known for his gory & surreal zombie films of the 1980's, and it's fair to say if you dig your smut littered with what-the-hell moments- you'll get a kick from this. On Severin Films, this is late 2017 all-region Blu Ray release of the film.


Scalpel - Scalpel(Blu Ray)

From Arrow Video here we have a Blu Ray reissue of Scalpel- A tight-as-drum & twisted-as-a-snake 1970's thriller with southern gothic edges & subtle horror touches. This is the first Blu Ray release of the film, which I believe has only had a VHS release in the past.






John Cage - Winter Music
Composed in 1957 Winter Music is piano composition from reviled & respected modern classical & Avant grade composer John Cage. Here we have a 2017 re...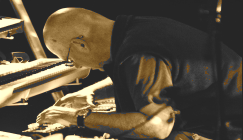 Robert Rich - A Return To Darker ...
To anyone who is even vaguely familiar with the ambient genre, Robert Rich will need little or no introduction. Since the early 80's this California artists ...