VA - Earthen

Legendary industrial label Cold Spring recently unleashed their 250th release, and to celebrate, they've put out a 2xCD sampler stacked to the roof with 29 awesome tracks. Showcasing their wide breadth of current material, Cold Spring's Earthen compiles artists playing anything from noise to neo-folk, doom to torch songs, and dark ambient to death industrial. Limited to 4000 copies in a gatefold ecopak, this is a sampler that goes above and beyond the standard "ten track disc in a cardboard sleeve."


Piles - Una Volta

Hailing from the French cities of Nancy and Avignon, Piles are a trio of vastly experienced drummers, Anthony Laguerre, Guigou Chevenier and Michel Deltruc. Laguerre adds guitar and keyboards to help flesh out the bandís sound.


Alien Sex Fiend - Possessed

Possessed is the first album of new material from Alien Sex Fiend in eight years. It sees the two-piece craving out an often rough 'n' ready blend of snapping electro beats, retro synth grooves, chugging punked-blues guitar, and waveringly coarse-yet- ghoulish male vocals. Itís an album that certainly sees the band hanging onto its fairly unequal blend of Goth, psychobilly, punk, & electro-fired shock rock- but sadly for most of its runtime, it rather lacks the more tongue-in-cheek humour, and sense of quirky experimentation that makes their best work so rewarding.


Dosis Letalis/ Extreme Kindness - Split

Hereís a Baltic two way split CDR split bringing together two half-an-hour slabs of walled noise- we have often creative & respected Serbian project Dosis Letalis, and Russian based Extreme Kindness. The release appeared on UK wall-noise label Void Singularity Records .


Ben Bertrand - NCC 1999

Ben Bertrand's "NGC 1999" is a largely solo recording of ambient improvisations with bass clarinet and electronics. Though the title makes it sound like a live gig from 1999, it's actually a live (in studio?) recording from 2017. "NGC 1999" is also not the release's catalogue number, as the album was released by Les Albums Claus, and the catalogue number is 'lac011'.


The Forest Of The Lost Souls - The Forest Of The Lost Souls(Blu Ray)

The Forest Of The Lost Souls is a Portuguese horror film with arty intentions- filmed in classily scoped black & white. The film brings together elements of moody & bleak drama, brooding nature footage, and later elements of home-invasion/ slasher elements. Here on Wild Eye Releasing is an either Blu Ray or DVD release of the 2017 film- and I believe both of these are region free- Iím reviewing the Blu Ray version.


Swedish Gas Pump Girls - Swedish Gas Pump Girls(DVD)

From Full Moon Features hereís another reissued slice of Euro-sleaze. This 1980 ís film a bright, breezing, and decidedly leering sex comedy from infamous Swiss director/producer Erwin C. Dietrich, who of course produced a fair few Jess Franco movies in the í70s.


Malamorte - Hell For All

Malamorte is one of the projects of Italian musician Alex Nunziati, also of Lord Vampyr, Cain, Nailed God, Shadowsreign and Sepolcrum. The project started in 2014 with an EP titled The Fall Of Babylon, which was black metal with heavy elements. In 2016, the first full-length album, titled Devilish Illusions, was released, made in the spirit of the debut EP. The next album, Satan Goes to Heaven to Destroy the Kingdom of God, released in 2017, showed a change of style towards Occult / Doom Heavy Metal.


Officer! - Earlier Music

Earlier Music is a collection of material from the early 1980s recorded by Officer!- the decidedly wonky & sonically unwell British project helmed by Mick Hobbs( Half Japanese). The CD offers up twenty tracks in all- these move from unbalanced singer-songwriter fare, very off-kilter 80ís pop, unhinged folk rock, world music touches, and generally avant tinged genre blending. The release appeared late last year on Austrian experimental music label Klanggalerie, who in the past have reissued works by the likes of The Residents, Renaldo And The Loaf, and Un Drame Musical Instantanť- so itís the perfect label for this release.


Asmus Tietchens - Linea +

Originally released on cassette in 1988 (and reissued on CDr in 1999), Asmus Tietchens' Linea has been once again reissued for a modern audience. This time, though, Klanggalerie has reached out to Asmus and obtained two extra, unused tracks from his original sessions. This new, special edition CD breathes new life into an old Musique Concrete release.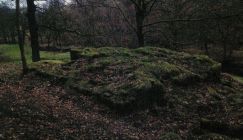 VA - Earthen
Legendary industrial label Cold Spring recently unleashed their 250th release, and to celebrate, they've put out a 2xCD sampler stacked to the roof with 29 a...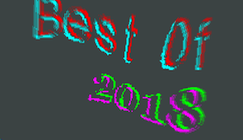 Best Of 2018 - Sound & Vision 2018
Another 12 months past, and another year is near over so itís best of the year lists for 2018. Below youíll find lists of releases that made this year ...