Jo Berger Myhre & Ólafur Björn Ólafsson - Lanzarote

Norwegian multi-instrumentalists Jo Berger Myhre and Ólafur Björn Ólafsson have teamed up again for Lanzarote, their 2nd collaboration following The Third Script, released in 2017 on quality jazz/instrumental music label Hubro, which has really opened my eyes 'n' ears to the vibrant Norwegian art music scene.


Wreckord - Self Titled

Wreckord sounds like it could be maybe a grim-yet somehow groove bound BM project, or possibly a bombastic 'n' crushing doom band. But in reality, the projects present us with blend shifting noise texturing, wallish moments, and modified-to-melted choral/ gospel/ easy listening music elements. This self-titled release is the first offering from the project- coming as either a C60 or a digital download.


William Fowler and Vic Pratt - The Bodies Beneath(Book)

The Bodies Beneath is a recent-ish book that digs deep into the more bizarre, quirky, and strange side of British film & television. The four hundred page paperback selects, then thoroughly dissects around forty titles- with the twin authors nicely balancing well-researched facts, personal observations, sly humor & scholarly critic of these oddities- that come from both the large & small screen.


Resurrected - Resurrected(Blu Ray)

Resurrected is an often moodily lulling, at times fairly harrowing-to-disturbing British drama about the effects of war & institutionalized bullying. From Powerhouse here we have a recent Blu Ray release of the film- featuring a new scan of the film, and a handful of extras.


Paul Hegarty and Mick O'Shea - Easy Perfection Salad

Farpoint Recordings have since their inception in the mid 2000s quietly been releasing a series of quality records pirouetting through the hinterlands of improvisation, electronic experimentation and performance. Paul Hegarty is better known as a writer an academic working in aesthetics, and has authored books on modern French philosophy as well as the history of noise music. He puts theory into practice as a member of both SAFE and Maginot. Here he collaborates on a suite of live recordings made on Sherkin island and the city of Cork with Mick O'Shea, who is predominantly known for his live homemade electronics.




Hellehond - Verslonden

At the tail end of 2019, German label Iron Bonehead Productions released the debut album from Dutch Black Metal band Hellehond- entitled Verslonden it severs up crude 'n' primitive, if not very original BM.


Cannibal Ritual - Wild Holocaust

From May last year, Wild Holocaust is a three-track CDR release from this German walled noise project. And it's very much of a statement in battering monotone wall-craft, that's very old school, unforgiving & brain rattling in its attack.


Negativa - 01

Originally released back in 2014 as a cassette, 01 was the first album from Negativa- a Depressive-Black Metal duo from Alicante, Spain. Now, nearly 5 years later, a new version of the album appears on Nebular Carcoma Records, as a single-sided LP, which is limited to 120 copies


Black Slaughter - Sadistic Murder

Sadistic Murder is a 3inch CDR that brings together crude & nasty noise texturing, darkly purring synth focused noise, and darts into more vocal-less PE territory. Black Slaughter is a new/recent-ish project from German noise maker Ron H, who is most known in noise circles for his blunt & brutal wall noise project Cannibal Ritual.


Volhnn/Sihir - Split

Here we have a self-titled CDR split- which finds two of the more known, prolific & respected figures in the French walled noise. Each severs up a twenty-minute track of moody & drone-based walled matter, that has often subtle grey industrial edges to it. Featured here are Mathieu Wagner with his project Volhnn, and Julien Skrobek with his project Sihir. This release appeared only as a CDR, with no digital option- so if you fancy this you'll have to go old fashioned & track down a copy of this.


Rien & Zachary Ledsinger - Split

From late spring last year here we a two way split that severs up two wonderful taut & sly creative examples of textured noise texturing- we have Stockholm based Rien, and USA's Zachary Ledsinger. The release appeared on Spanish noise label Marbre Negre- coming as either a C20 or digital download.


Savage Magic - Myth, Magic and Steel

Myth, Magic and Steel is the third full length album from Savage Master, an old school NWOBHM inspired Heavy Metal band from Louisville, Kentucky. Formed in 2013 by vocalist Stacey Savage and guitarist Adam Neal the band have developed a cult following, fuelled not only by their old school tunes, but through their larger than life image and a succession of crazy live shows. Myth, magic and Steel is the band's first album for new label Shadow Kingdom Records.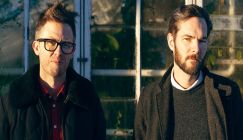 Jo Berger Myhre & Ólafur Björn Ól...
Norwegian multi-instrumentalists Jo Berger Myhre and Ólafur Björn Ólafsson have teamed up again for Lanzarote, their 2nd collaboration following The Third Sc...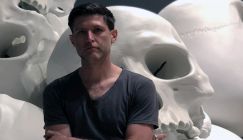 Spectrum Zine interview - The Ful...
Being a fan of experimental or extreme music, sound, or, film was certainly a lot more tricky /time-consuming proposition before the onset of the internet in...