Spectrum Zine interview - The Full Spectrum Of Post Industrial Sound

Being a fan of experimental or extreme music, sound, or, film was certainly a lot more tricky /time-consuming proposition before the onset of the internet in the late 1990s, which changed pretty much everything - for better or worse. In those pre-net days, the only way to find out about such things was by picking up fanzines, smaller print underground magazines, or wait for the next catalog mail out of your favorite cult mail-order company. One of the last great and far-reaching publications of the last days of underground printed zines was Spectrum- it covered a huge amount of sonic ground under the banner of Post-industrial music- which takes in the likes of dark ambient, noise, neo-folk, martial and industrial music. The zine was all the work of Melbourne based Richard Stevenson- who turned his passion for post-industrial sounds into one of the important/ impactful zines of the scene. This year Cult publisher Headpress released a wonderful compendium of the zine- bringing together the five published issues, the unpublished 6th issue, and new interviews/ insights. We caught up with Richard for an email interview.



Best of 2019 - Best Of 2019

2019 was another great year for all things experimental, odd, extreme, quirky & bizarre- and once again we at M[m] offering you up a selection of 'best of list' from writers that are both varied & wide in their genre coverage- taking music, sound & film.





Joli project & Lost Light label interview - Traumatic & deeply pained walled noise

One of the more harrowing and terminal bleak walled noise acts to appear in recent years is Joli. The project is from Spokane, Washington and is all the work of one Jason Wolpert. The focus/ theme of Joli is suicide, self-harm, and self-doubt. It's been active since around 2013- putting out around thirty releases- taking in stand-alone tapes, split release, digital releases, a few single CDR releases, and compilation tracks. Jason also runs the largely walled noise label Lost Light Records, he started the label in 2015- and it's so far put around fifty releases- taking in both known and lesser-known names in the walled noise scene. Jason kindly agreed to give us an interview discussing both Joli, and the label.



Molly Harvey - Of Eyeballs 'n' top hats, Hog cuts, & Quilt Making.

Molly Harvey will be known to fans of Avant pop collective The Residents as one of the key vocal collaborators with the project in recent years- been a big part of the Icky Flix tours, Demons Dance Alone album & tour, and other releases/tours. Molly kindly agreed to do an email interview with m[m]- discussing not just her work with the Residents, but her personal art & sonic collaborations- all making for hopefully one of the more rounder & balanced interview conducted with Ms Harvey thus far.



Museum Of Death - Death-Tripping

Here at M[m] we cover a fair bit of extreme fair- be it sonically, visually, or thematically. And one of the most used themes to shock has always been death-related matter- be it serial killers & their MO, dead body & autopsy photos, or the processing of the dead though morticians & funeral directors. One of the few places in the world where people can literally face death, it's impact, and those who use it as an addiction is the Museums Of Death in the USA- at present, the museum has two locations- one in LA, and one in New Orleans. Early this year on a trip to LA I was lucky enough to visit the Museum- and I must say it was one of the highlights of my trip to the City. After coming back home I decided to contact the LA Museum manager Erek Michael for an email interview- below we discuss how he first came to work at the museum, key artifacts the museum holds such as John Wayne Gacy clown shoes & GG Allin's stage ware, and general Museum related chat.





Vomir - Completely 'Walled-In'

HNW( Harsh noise Wall) is the most intense, and at times hypnotic of sound genres- and one of the most influential, prolific and unflinching brutal projects in the scene is Vomir. Since 2005 this project ,of Frenchman Romain Perrot, has released a steady-to-rapid flow of releases, and at present Discogs list around 304 release- but this probably doesn't include ever Vomir release, as the project often releases on tiny labels, so I'm guessing the truly total must be moving towards 350. I first became aware of Vomir, and the wider walled noise scene, around 2007- and since I've followed the project fairly closely- to date we've reviewed 90 Vomir releases on M[m], and 12 years later the project's releases still remain as searing, crude, and oddly hypnotic as they always were- with one of the more recent and larger releases been a six-CD box set on Italian noise label Urashima. I caught up with Romain for his fourth interview with the site.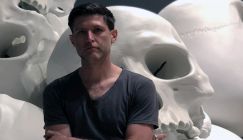 Spectrum Zine interview - The Ful...
Being a fan of experimental or extreme music, sound, or, film was certainly a lot more tricky /time-consuming proposition before the onset of the internet in...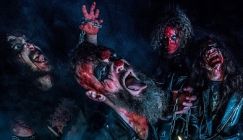 Bȕtcher - 666 Goats Carry My...
Every once in a while, a band comes along who challenges the natural order of things, Bȕtcher is one such band. 666 Goats Carry My Chariot is the band's...