Simon Reynell - Distinctive Sonic Qualities- 10 Years Of Another Timbre

Sheffield based improvised and contemporary music label Another Timbre is now in its tenth year. And over this time itís slowly, fairly quietly, yet consistently released a slew of quality bound sonically experimental fare- going from creative & sub-bass lined improv, though to fragile & angular piano compositions, onto changeling-yet- creative chamber works, and beyond. Itís fair to say itís now one of the most respected labels in both improvised and contemporary fields- and with each new batch of releases from the label, itís building on its impressive sonic legacy. I tracked down Simon Reynell the label's owner & curator for an email discussion- discussing the labels ten-year existence, present releases & its future.



Trepaneringsritualen - Sound As Ritual

For those unfamiliar, Trepaneringsritualen is the moniker of Swedish noise terrorist Thomas Ekelund. Also sometimes referred to as T ◊ R ◊ P, Ekelundís project has been rather prolific since itís inception in 2008, with a number releases on such labels as: Hanson, Harsh Head Rituals, Malignant, Release the Bats, and now U.K. mainstay Cold Spring. Through TxRxP Ekelund explores religion, the occult, and other esoteric themes through a caustic blend of death industrial, power electronics and industrial noise. Iíve been a fan of the project for quite some time, so I appreciate Thomas taking the time to share some of his insights.



Frederick R. Friedel - Stepping Outside Of The Box

Itís fair to say much of exploitation cinema has little depth, memorability, or flare- as a genre exploitation does pretty much what it says box it exploits, be it horror, sex, race, etc. Frederick R. Friedel is one of the more note-worthy, creative & distinctive directors to come out of the 1970ís exploitation scene- releasing just two films in this decade- Axe & Kidnapped Coed ( aka Date With A Kidnapper)- both of these where thoughtful, well-conceived films- taking exploitation genre traits & twisting them to create memorable & often haunting cinema, that stands head & shoulders above run-of-the-mill exploitation. In 2015 Severin Films released both films( and their soundtracks) in a two disc Blu ray & CD release, so hopefully, both films will now get the praise & appreciation they truly deserve. Mr Friedel kindly agreed to give M[m] a rare email interview- discussing his films, influences, and of course the Severin reissue.



Dosis Letalis - Not Just Another Cog In The Machine

Dosis Letalis is one of the up & coming names in the worldwide walled noise scene. This Serbian project started in 2015, and since has released around 50 releases. Sound-wise they moved from standard-though- entrancing wall craft, onto more creative textural compositions. And much of the project's output thus far has been themed around anti- capitalism/ anti- system rhetoric. I tracked down Nemanja Nikoliś- the man behind the project for an email interview.



Jimmy Screamerclauz - Disturbing Behaviour

Jimmy ScreamerClauz produces some of the most disturbing animation ever seen; he also brews up a fairly unpleasant & unsettling sonic work too. I first became aware of Jimmyís work with last years Where Black Birds Fly- this feature-length animated film blended together eye-scorching psychedelic imagery with all manner of depravity. This was his second animated feature- his first 2012's Where The Dead Go to Die is simply put one of the most unsettling things Iíve seen in some timeÖlulling you into a false feeling of safety with itís basic & crude animation- then feed you one unsettling act after another. Sonically Jimmy creates a disturbing sample heavy blend seared electro beats, industrial unpleasant-ness & soured ambience, heís also created some unsettling blends of industrial noise & psycho ambience for a few underground horror films, including the soundtrack for the American Guinea Pig series. Jimmy kindly agreed to give M[m] an email interview- first discussing his visual work, then moving onto his sonic workÖbut please approach this interview with caution, as a lot of Jimmyís answers are as unsettling as his work.



Justin Kerswell - Mr Slasher-man

If you have more than a passing interest in the slasher genre you will be aware of Justin Kerswell- heís a UK writer/ commentator- he wrote one of the few books on the genre Teenage Wasteland. He runs & writes for hysteria-lives, a renowned slasher focused website, thatís been active since 1998. And lastly, but hardly least heís part of The Hysteria Continues- a group slasher fans/ experts whoíve recorded commentaries for a whole host of slasher reissues put out by cult film labels such as Arrow Video & 88 Films. Justin very kindly agreed to give M[m] an email interview, discussing every-side of his passion for the slasher film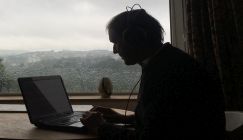 Simon Reynell - Distinctive Sonic...
Sheffield based improvised and contemporary music label Another Timbre is now in its tenth year. And over this time itís slowly, fairly quietly, yet consiste...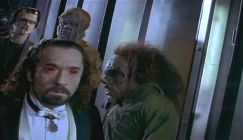 The Creeps - The Creeps( Blu Ray)
The Creeps is a late 90ís slice of classic monster fun, & here it's reissued for the first time on Blu Ray by Full Moon Features. It sees Dracula, Franke...