Vinegar Syndrome - The Peddlers Of Sleaze, Horror, And Exploitation

Of all the genre film reissuing labels / film distribution Vinegar Syndrome is one of the most prolific, respected, and varied in its output. Since 2012 the label has released a host of rare/ thought- lost films, with often impressive scans/ re-mastering, and extras. Moving from hard-core & soft-core porn, horror, various types of exploitation, the odd comedy, and often quirky genre cross-blends. This year is the labels 5th anniversary, and they're still going as strong as ever with its release schedule. I tracked down co-founder Joe Rubin for an email interview- discussing the labels beginning, highlights over the label's existence, favorite films released, their forays into soundtrack releasing, and more



The Rita - The Dance Of Noise

The Rita will need no introduction to fans of HNW & the wider noise genre - as since 1996 the project has earned both respected & influence wide & far within the greater noise genre and it's sub-genres. Behind the project is Canadian based Sam Mckinlay, though in 2016 long running Canadian harsh noise artist Arlo Doyle also began working with McKinlay, and via the project's large discography THE RITA has moved through various themes / obsession - going from horror / creature feature B movies, Giallo films & black-gloved killers, sharks & scuba divers, and in more recent years nylon tights, female feet & legs, women's make-up & the ballet. Sam kindly agreed to give M[m] an interview discussing his recent obsession with classical ballerina physicality, his recent tape box set release Toe Cleavage, & his influence & thoughts on today's HNW/ static texturing scene.



Robert Rich - A Return To Darker Waters

To anyone who is even vaguely familiar with the ambient genre, Robert Rich will need little or no introduction. Since the early 80's this California artists & composer has created a respected & influential body of work- his early work often had more of a darker & brooding tilt, though as his career progressed his work embodied lighter, ethnic, and world music elements. Over the last few years he's once again returned to the dark side of things- so I caught-up with Robert late last year to discuss this return to darker ambient waters.



Intervision Picture Corp - Killer scarecrows, murderous satanic children, & lo-fi dreamstalkers

Over the last few years, Intervision Picture Corp has released a great crop of obscure & odd films to DVD – mainly focusing in Short On Video/ Z budget films from the past- taking in horror, sci-fi, soft-core, and comedy genres. It started up as a sub-label of Severin films- the LA-based film production and distribution company but has very much grown to take on its own beast- with the type of films it releases, the package presentation, etc. It's fair to say over the last year the labels become one of my favorites, and I'm always keen to see what great obscure item they've un-earthed & put-out. I tracked down one of the key minds behind the label David Gregory, for an email interview.



The Residents - Eyeball Orphans

For nearing a quarter-of-a century the collective known as The Residents have created a wholly unique & distinctive back catalog of work. Their recorded work has blended & dipped into many genres over the years- taking in elements of pop, avant-garde composition, rock, electronica, musical theater, ethnic- ambience, and beyond. 2017 saw the project release of their 34th studio album The Ghost Of Hope, it also saw the release of a four-CD anthology entitled 80 Aching Orphans, and they've also managed to fit in a tour too. The collective never give interviews direct- so I tracked down the project's manager Homer Flynn & last remaining member of the Cryptic Corp for an email interview.



Best Of 2017 - Best Of 2017- Sound & Films

It's that time of year again- best of the year lists- below you'll find lists of releases that made 2017 special for our writers. And in keeping with our sites focus they span a large and varied selection of different musical & non-musical genres. On a few lists you'll see the addition of a film list, and this is in-line with us featuring more film reviews on the site…. And in 2018 we hope to expand this even more.











Vinegar Syndrome - The Peddlers ...
Of all the genre film reissuing labels / film distribution Vinegar Syndrome is one of the most prolific, respected, and varied in its output. Since 2012 the ...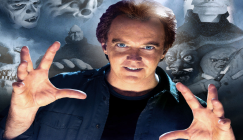 Dave Jay, William S Wilson, & Tor...
Any B-movie or cult film fan worth their salt will know the name Charles Band. Since the 1970's this director, producer, writer, and publisher has been heavi...