Vomir, Maginot, Red Hook Grain Terminal, Kenosist, - live report-Friday 23rd November, The Old Police, Gateshead

Last month, on Friday 23rd November, I made the trek up from London to Newcastle to go to a noise event put on at The Old Police House in Gateshead (also known as Workspace Gallery) where Vomir, Maginot, Red Hook Grain Terminal, Kenosist, Shurayuki-hime and Monocrete were all performing that evening.



Void Singularity Recordings & E.E.E.E. Interview - Brick-By-Brick

Set-up in early 2018 Void Singularity Recordings is a Uk based label specializing in walled noise/ HNW/ ANW, with the odd dabblings in more noise-bound experimental waters. The label has been CDR based thus far, and to date has released an impressive 28 releases thus far this year- taking in CDR's from both more known wall-noise projects such as Vomir, Chier, & Dosis Letalis. As well as lesser known, yet equally worthy wall projects- all making it one of the labels to watch with-in the worldwide walled-noise scene. We got in contact with the man behind the label Tom Rushton for an email interview discussing both the label & his own personally HNW project E.E.E.E.



Klanggalerie - A label without boundaries- 25 years of Klanggalerie

Since 1993 Austrian experimental music label Klanggalerie have released a wide & varied back catalogue of releases- going from early post-industrial & noise tape releases. Onto reissuing rarer/ classic albums from all manner of experimental artists such as avant pop artists The Residents & the Renaldo & The Loaf, ethnic ambient innovator Rapoon, and respected ambient sound artist Asmus Tietchens . Through to more recently new albums from ex Resident songwriter Hardy Fox, & former Coil Synth wizard & multi-instrumentalist Thighpaulsandra. Below is an email interview with the label's owner Walter Robotka discussing the labels twenty-five years of existence.



Cadabra Records - Abra-Cadabra: The Magic of Cadabra Records

With its first release in 2015, Cadabra Records blasted onto the world stage with one mission in mind: release the best-spoken arts records on the planet. Focusing on classics of the horror genre, Cadabra has been on a relentless clip of recording and releasing gorgeous records in both aural and visual design. At M[m], we've reviewed most of the label's output, thus far- so it seemed a prime time to do an interview- so we tracked down one of the key minds behind the label Jonathan Dennison for an email interview.



Dmitry Vasilyev - Musical Activist- A tribute to Dmitry Vasilyev

On September 7, 2018, Dmitry Vasilyev tragically died. Dmitry was an integral part of not just the Russian experimental scene, but the worldwide scene. He was not an artist in the truest sense of the word; his art was the promotion of experimental music to the listeners and this he did with real passion & commitment- moving from publishing fanzines, onto running a respected label, through promoting shows, onto writing to the definitive book on Italian experimental music, and beyond



The Hysteria Continues - Down With The Cutting Crew

The Hysteria Continues are a slasher loving transatlantic foursome who do both a regular podcast, and record commentary tracks for slasher film reissues- and these can be found on the releases from such companies as Arrow Video, Vinegar Syndrome, and 88 films. They've been active since 2011, and have so far amassed 170 plus podcasts, and recorded over twenty commentary tracks- all making them one of the most known & respected figures in slasher-fandom. The collective brings together British writer & slasher expect Justin Kerswell- who wrote one of the few books on slasher films Teenage Wasteland; as well as running & writing for the hysteria-lives, a renowned slasher focused website. Irishman Erik Threlfall- who is a lifelong fan of slasher films, & who also writes for the hysteria-lives. And Tennessee based Joseph Henson & Nathan Johnson- who have also been lifelong horror & slasher fans. All four members of the collective kindly agreed to give M[m] an email interview.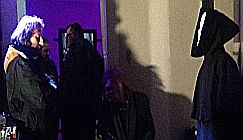 Vomir, Maginot, Red Hook Grain Te...
Last month, on Friday 23rd November, I made the trek up from London to Newcastle to go to a noise event put on at The Old Police House in Gateshead (also kno...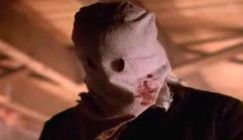 Malevolence - Malevolence(Blu Ray...
Originally released in the early 2000's Malevolence stands as one of the more effective, though sadly lesser known/ celebrated of modern slasher films. ...