Eric Mcnaughton - Garish( yet informed) terror- We Belong Dead & related publications interview

When it comes to books or magazines focusing in on the horror film form it's always great to have a blend of informative, yet never stuffy text and lots color stills. And that's exactly what you get from We Belong Dead magazine, and it's related books. I first became of the output of the collective with 2016's Unsung Horrors- a 448 page glossy & colorfully, yet informative book focusing in on lesser-known horrors films. And have since eagerly looked forward to each new release from them. Below is email interview I did with Eric Mcnaughton who is the editor/ one of the key figures behind the collectives releases.



Hardy Fox - Leaving The Residents & New Paths

Early on this year, Hardy Fox revealed himself as one of the key songwriters behind avant pop collective The Residents. He had left the project in 2015 due to ill health, going on to 18 release worth of solo material under the pseudonym of Charles Bobuck. Recently he's released the first album under his own name- Hardy Fox(or Heart) this offered up a selection of emotional & at times quite fraught electronica/ minimal synth pop; which are very much of a departure from the sound he did with The Residents. Hardy kindly agreed to do an email interview.



Geisst - Spectral Wall-making

Seattle Washington based Geisst (Geißt) create decidedly moody & creepy take on walled-noise- with their ghost & spirit themed releases. The project is one of sonic ventures of long time noise maker/ experimental artists Peter Keller- Condo Horro, Bacillus, Dirac Sea, PTRKLLR, & Unser Verhängnis. Geisst started in early summer of 2017, and its first release was Unstable Spirits- a 3CDR set on Altar of Waste. This stood as one of my highlights of last year- with each of the ten tracks offering up fairly varied sounding selection of textures that perfectly blend together taut tension with unsettling/haunting mood. Peter kindly agreed to give M[m] a email interview.



Vinegar Syndrome - The Peddlers Of Sleaze, Horror, And Exploitation

Of all the genre film reissuing labels / film distribution Vinegar Syndrome is one of the most prolific, respected, and varied in its output. Since 2012 the label has released a host of rare/ thought- lost films, with often impressive scans/ re-mastering, and extras. Moving from hard-core & soft-core porn, horror, various types of exploitation, the odd comedy, and often quirky genre cross-blends. This year is the labels 5th anniversary, and they're still going as strong as ever with its release schedule. I tracked down co-founder Joe Rubin for an email interview- discussing the labels beginning, highlights over the label's existence, favorite films released, their forays into soundtrack releasing, and more



The Rita - The Dance Of Noise

The Rita will need no introduction to fans of HNW & the wider noise genre - as since 1996 the project has earned both respected & influence wide & far within the greater noise genre and it's sub-genres. Behind the project is Canadian based Sam Mckinlay, though in 2016 long running Canadian harsh noise artist Arlo Doyle also began working with McKinlay, and via the project's large discography THE RITA has moved through various themes / obsession - going from horror / creature feature B movies, Giallo films & black-gloved killers, sharks & scuba divers, and in more recent years nylon tights, female feet & legs, women's make-up & the ballet. Sam kindly agreed to give M[m] an interview discussing his recent obsession with classical ballerina physicality, his recent tape box set release Toe Cleavage, & his influence & thoughts on today's HNW/ static texturing scene.



Robert Rich - A Return To Darker Waters

To anyone who is even vaguely familiar with the ambient genre, Robert Rich will need little or no introduction. Since the early 80's this California artists & composer has created a respected & influential body of work- his early work often had more of a darker & brooding tilt, though as his career progressed his work embodied lighter, ethnic, and world music elements. Over the last few years he's once again returned to the dark side of things- so I caught-up with Robert late last year to discuss this return to darker ambient waters.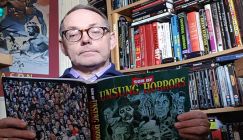 Eric Mcnaughton - Garish( yet inf...
When it comes to books or magazines focusing in on the horror film form it's always great to have a blend of informative, yet never stuffy text and lots colo...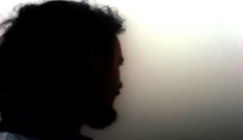 Simon Šerc - Bora Scura
Simon Šerc is a Slovene audio/ video artist, sound engineer, & owner of the Pharmafabrik label -he started his creative activity in the ea...