Martyn Bates / Kodax Strophes interview - A Strange Sonic Solstice

Active since the late 1970s, Martyn Bates is one of the more distinctively creative figures to appear from the British post-industrial/ experimental scene of the period. He's most known as one half of Eyeless In Gaza- who blended off-kilter English pop, post-punk, new wave, and more. He's been sonically active pretty much constantly throughout the last 40 plus years, and his most recent venture is Kodax Strophes- which nods back/ connects with his early sonic dabblings of the '70s. The project has just recently put out its debut release It Doesn't Matter Where It's Solstice When You're In The Room on Klanggalerie, and it's a wonderful unbalancing record that mixes ambience, psychedelic electronica, field recordings, and general experimental texturing. I tracked down Martyn for an email interview.





David Gregory - In The Land Of Franco- Jess Franco On Severin

One of the most prolific, versatile, compellingly distinct, and at points artily creative directors to appearing from euro-exploitation was Jess Franco. Between the 1950s and the 2010's, he directed over 200 films- with these running the gamut of genre cinema-going from black and white gothic horror, exotic horror, Women In Prison films, surreal and dread tinged softcore, jungle adventures, Zombie films, cannibal pictures, and slashers. In recent years many Franco films have received reissues- one of the more extra focused and classy reissues of Franco's work has been Severin, to date they released nineteen of his films, with more planned this year. We tracked down one of Severin's co-owners David Gregory(who has also interviewed Jess many times) to discuss the labels Franco releases.





Root Cellar, Monolithic Torment, & Submachine Gun - Walls For Sleaze, Moody Landscapes, & Gun-Play

Cory Adieen is an American trans-gender noisemaker, who has been creating some of the more impressive and entrancing walled noise I've heard in some time. Cory is behind projects such as Root Cellar, Monolithic Torment, and Submachine Gun. She kindly agreed to give M[m] an email interview.





Patrick Picard - Geek-bound fear 'n' dread

Recently released via Arrow Video The Bloodhound stands as one of the more classy, distinctive, and subtle uneasy psychological thrillers to appear in some years. The films based loosely on Edgar Allan Poe's The Fall of the House of Usher. It focusing in on Jean-Paul Luret(Joe Adler)- an awkward, rich & glum twenty-something man, who lives with his largely unseen sister, in a glass, wood & grey blinded secluded large house. He's visited by his school friend Francis (Liam Aiken) - who is equally awkward, though slightly more devious. The film slow, but surely unfolds blending together creepy awkwardness & lulling unease. It nods back to grim and troubled thriller/ horror films of the 1970s, with a side order of early 2000's awkward geek-ness- which is what makes the whole thing so distinct. Most impressively this is the debut feature from LA-based Patrick Picard- who wrote and directed the film. After been most taken by The Bloodhound we arranged an email interview with Patrick, and below you'll find said interview- where he discusses not only his chilling debut film, but art and music- both his own & others.





Dosis Letalis - Walled Noise For Many Sonic Seasons

Dosis Letalis stands as one of the more respected & known projects of the second wave of walled noise. Since forming, just over five years ago, Dosis Letalis has put out over one hundred and fifty releases, with the projects sound moving between more straight 'n' intense wall-craft, and more experimental fare. Behind the project is Serbian born Nemanja Nikolić, who moved from his homeland to France a few years back. I caught up with Nemanja for an email interview, and below you'll find a lengthy and far-reaching interview discussing Dosis Letalis five-year existence, the project's set-up, many collaborations he's been involved with, and much more.





Shatraug - Into the Finnish Black Metal Death Spectrum

One of the most respected & prolific names in Finnish black metal is guitarist & songwriter Shatraug. He has been highly active in the scene since the early 1990's- in 1993 he formed Horna, which quickly became one of the Connor stone bands of the Finnish BM scene. Then in 1999, he formed Sargeist- first as a solo project, then later as a band which for a time featured members of fellow long-running BM band Behexen- with the project creating a distinctive blend of grim & darkly harmonic elements. As well as these two key projects he's linked to a few others too such as Mortualia, Striges, Finnentum, Gand, Hoath, Necroslut & Sinisterite. I caught up with Shatraug for an email chat- discussing his influences, the recent 10th album from Horna Kuoleman Kirjo, last years surprise first full-length release from Striges Verum Veterum, and the future.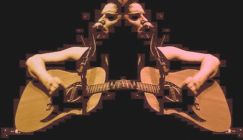 Martyn Bates / Kodax Strophes int...
Active since the late 1970s, Martyn Bates is one of the more distinctively creative figures to appear from the British post-industrial/ experimental scene of...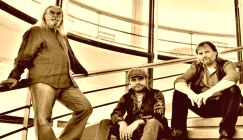 Peter Knight's Gigspanner - From...
Since leaving Steeleye Span in 2013, violinist Peter Knight has devoted all of his attention to his trio Gigspanner. The group have received a wealth of posi...