Perpetual Abjection & Unsignified Death Intervie - Hand-made Nihilism

There has always been a close connection between the walled noise scene, and various themes/ obsessions- be it nihilism, giallo/ cult films, true crime, grim nature, etc. Sometimes the low-fi/ nihilistic artiness of the walled noise genre has been expressed through releases packaging, and one of the more recently label to focus in on the more arty presentation is Bangkok based Perpetual Abjection- the label started in 2017, and has so far put out eighteen releases- each of which features a distinctive, & at times lo-fi elaborately presentation. We tracked down the label's owner Polwach Beokhaimook- who kindly gave us an email interview discussing the label, and his own wall noise project Unsignified Death that creates an often crude & industrialized take on the genre.



William Fowler & Vic Pratt - On The Celluloid Flipside

Both William Fowler and Vic Pratt are seekers of strange, wonderful & bizarre Celluloid- in 2006 the pair started up the BFI Flipside imprint- this has seen both screenings of obscure TV and film fare, as well a series of DVD & Blu Ray releases of similar titles. Last year they got together to release their first joint publication The Bodies Beneath(on Strange Attractor Press) it saw the pair digging deep into the more bizarre, quirky, and strange side of British film & television. Both Will & Vic kindly took time out of their busy schedule to give us an email interview- discussing the Flipside imprint, The Bodies Beneath book, and more.



Melaine Dalibert - Quietly creative, yet atmospherically entrancing

Over the last few years or so, French pianist Melaine Dalibert has put out a series of sparse, atmospheric & at times memorable piano-based albums- making him one of the more consistent & appealing artists to appear from the modern classical/ minimalism scenes in the last ten years. I've closely followed his career since around 2017, and now as he has five albums under his name, and is gaining the wider respect he deservers I thought it a fitting time to set up an interview with him.





Barry "Schwump" Schwam - Frog-hopping

Barry "Schwump" Schwam is a Californian based outsider musician/ DJ, who on & off since the 1960s has been creating his own brand of sonic oddness. He's most known for his great bizarre single 1976 Aphids In Hall, which was put out by The Residents label Ralph Records, and the track also featured members of the eyeballed ones playing on it too. Recently Barry has completed his Magnus opus The Frog Opera- a rather splendid example of sonic oddness/ audio playfulness- the CD's just shy of forty-minutes moves between warbling theatrical organ jaunt-ness & unhinged cartoon vocals, camp & soaring female operatics, jolly kids tunes slowly going wrong, weird vocoder jiving outs, & loads of frog sounds. I caught up for an email interview with Barry, who is sadly very ill with terminal cancer- and we discussed the beginnings of his career, moving onto his time on Ralph records, and the recent release of his Frog Opera album that appears on German label Psychofon Records.



Nico Mastorakis - The Greek schlockmeister

Nico Mastorakis, is a veteran of the B-movie circuit- since the late 70's he's produced thirty films, written twenty-four, and directed thirty- taking in the likes of taboo-breaking nasty Island Of Death, which at one point was banned in most countries around the world, 1980's slasher meets action blend The Zero Boys, and many others. In recent years labels like Arrow Video & Vinegar syndrome have reissued a growing list of his films- the most recent of these been his Greek island set moody thriller with slasher touches 1986 The Wind which has just been released by Arrow Video. We track down Nico for an email interview- discussing his beginnings in Greek TV, and his film work of the '70s, 80's, and 90's.



Paul Dever/ Blood Eagle - Years Inside These Walls

Paul Dever is one of the longest-running & respected names in the Harsh Noise wall - he's been active in the scene since 2005, with his most known project been Griz+zlor which ran between 2006 and 2012- and offered up dense & dark monolithic wall craft. His most recent/ active project is Blood Eagle- this stared in 2015, and has so far put out around seven release- the last of these been the double C90 set All Out War on respected Swedish noise label Ominous Recordings- it was another uncompromising set from Dever's highlighting his skill for creating dense and atmospheric wall matter. We've already interviewed Paul twice on M[m]- once in 2010, and once in 2012- so it now felt like a prime time to re-interview this important figure in the worldwide wall noise scene once again- and the interview was contacted by email.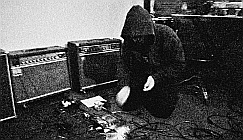 Perpetual Abjection & Unsignifie...
There has always been a close connection between the walled noise scene, and various themes/ obsessions- be it nihilism, giallo/ cult films, true crime, grim...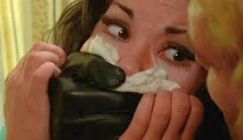 The Strange Vice Of Mrs. Ward - T...
In recent years The Strange Vice Of Mrs. Ward has come to be seen as one of the top tier Italian giallo films- up there with some of Argento & Fulci's cl...