Bütcher - A Bestial Fukkin Warmachine for our time

I don't think you'd find any argument that the golden age for Thrash and Speed Metal was the 1980s, and whilst a host of great bands have followed very few of them have ever managed to capture the raw unadulterated power of the albums recorded during that period. As much as I like bands like Havok, Gamma Bomb, Vektor and Toxik Holocaust they have never quite managed to rival the likes Kreator, Slayer or Exodus at their pinnacle, Bütcher may well be the exception to that rule. With the release of their second album 666 Goats Carry My Chariot they have taken huge steps towards filling the shoes of those aforementioned bands, if we add Iron Maiden, Celtic Frost, Sodom, Destruction and Mercyful Fate to the list of influences you know exactly the sort of thing I'm talking about. The thing is Bütcher are not some tribute act, you can hear their influences, but they have their own sound. We here at Musique Machine were lucky enough to catch up with band leaders R Hellshrieker and KK Ripper to discuss their new album, the band's history and their future plans.



The Rita,Black Leather Jesus, Vomir & JSH - Us Tour Diary March 2020

In early March this year, there was somewhat of a classic line-up walled-noise/ Harsh noise tour taking place in the US for a week or so- the tours line-up was Canadain HNW/ harsh noise legend The Rita, US notorious noise collective Black Leather Jesus, French king of crude walled noise Vomir, and noise bound nastiness from Stockholm JSH….with some special guests along the way. Johan Strömvall Hammarstedt( of JSH, Rien, and Ominous Recordings) kindly agreed to chart this classy & important tour- and below is his tour diary with a good selection of pictures.



Horrible Reviews - Visually nasty, yet personally charming

For twelve years Dutchman Jeroen B ran the Horrible Reviews channel on youtube- over this time he reviewed all manner of extreme, notorious & cult film fare- he did it in a bright, playful, yet informed manner. The channel had an impressive following of 140K viewers, but in a recent cull of more edgy/ extreme fare, youtube decided in their wisdom to take his channel down with no notice- which was a great, great loss- as his show was certainly one of my favorites on youtube. Luckily he had backups- so slowly but surely he's re-publishing back episodes on Vimeo. I caught up with Jeroen for an email interview- where discuss his passion for odd/ extreme film, the channel, and Horrible Reviews future.



Striations - War-Torn Noise

One of the stand out noise releases of last year was Vietnamization by Oakland based Industrial/ Power Electronics project Striations. The release originally appeared back in 2018, but was reissued last year as a 2 CD that added in a whole disc of bonus material- the fascinating, engrossing and meaningful noise release blended elements of moody noise-scaping, harsh noise, and PE, with keen & cleverly placed weaves of news footage/samples based around the Vietnam war- all very much focusing on the how the American army both brutalized, maimed & destroyed both the landscape, the counties people, and their soldiers. I tracked down the man behind the project Mike Finklea for an email interview.



Spectrum Zine interview - The Full Spectrum Of Post Industrial Sound

Being a fan of experimental or extreme music, sound, or, film was certainly a lot more tricky /time-consuming proposition before the onset of the internet in the late 1990s, which changed pretty much everything - for better or worse. In those pre-net days, the only way to find out about such things was by picking up fanzines, smaller print underground magazines, or wait for the next catalog mail out of your favorite cult mail-order company. One of the last great and far-reaching publications of the last days of underground printed zines was Spectrum- it covered a huge amount of sonic ground under the banner of Post-industrial music- which takes in the likes of dark ambient, noise, neo-folk, martial and industrial music. The zine was all the work of Melbourne based Richard Stevenson- who turned his passion for post-industrial sounds into one of the important/ impactful zines of the scene. This year Cult publisher Headpress released a wonderful compendium of the zine- bringing together the five published issues, the unpublished 6th issue, and new interviews/ insights. We caught up with Richard for an email interview.



Best of 2019 - Best Of 2019

2019 was another great year for all things experimental, odd, extreme, quirky & bizarre- and once again we at M[m] offering you up a selection of 'best of list' from writers that are both varied & wide in their genre coverage- taking music, sound & film.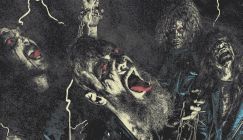 Bütcher - A Bestial Fukkin Warmac...
I don't think you'd find any argument that the golden age for Thrash and Speed Metal was the 1980s, and whilst a host of great bands have followed very few o...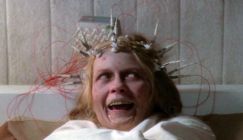 Beyond The Door - Beyond The Door
Beyond The Door is a prime slice of demonic focused euro-schlock, think a crazed collusion between The Exorcist & Rosemary Baby, with a huge quota ...