Article Archive: tTaylor Deupree - Northern Gold posted on 2008-10-05


Tchando - Africa is beautiful! posted on 2004-10-13


TenHornedBeast - Shape Of The Beast posted on 2010-10-20


Terry Edwards and James Johnston - Making nightmares- The making of I was Dora Suarez. posted on 2008-07-10


TFT - A different kind of 'wall' posted on 2010-09-30


Tha Blue Herb - Blue notes in Sapporo posted on 2003-07-24


The Absent Present Resonates - Hauntology: A Primer posted on 2010-10-30


The Early Years Of Allerseelen - Darkly Moody Beginnings posted on 2019-09-04


The Ebony Tower - Walls & Words posted on 2015-07-26


The English Heretic - Stange & Sinister Encounters posted on 2008-04-01


The Extreme Rituals: A Schimpfluch Carnival - festival report posted on 2012-12-11


The Gathering - Free Psychonauts posted on 2002-07-23


The Hysteria Continues - Down With The Cutting Crew posted on 2018-10-26


The Kittiwakes - Land Ahoy! posted on 2010-02-07


The Last Supper – Steve Ignorant presents Crass So - Show report Shepherd's Bush Empire, London 18/11/11 posted on 2011-11-23


The Lux & Ivy Compilations Interview - Down 'n' Dirty, Yet Cheesy 'n' Camp posted on 2020-09-22


The Melvins - They act like idiots and people like it... posted on 2003-10-18


The Melvins - vs. Cameron Jamie posted on 2004-11-16


The Mole - How MC Jay became Hawaii most hated... posted on 2003-05-02


The Necks - Live report- 08 Oct14, Cafe Oto, London [2014-10-13] posted on 2014-10-13


The Paper Chase - Heading for Disaster posted on 2009-05-03


The Psychogeographical Commission - Myths Behind The Maps posted on 2012-06-01


The Residents - Eyeball Orphans posted on 2017-12-27


The Residents - Icky Flix, 7 june 2001, Paradiso, Amsterdam posted on 2001-06-12


The Residents - Old Dog's Still Snap 'n' Break Bone posted on 2020-07-22


The Residents/Hardy Fox - Swamp-Bound posted on 2012-06-06


The Rita - Of Frogmen, Sharks & Black Gloved Killers posted on 2010-02-06


The Rita - The Dance Of Noise posted on 2018-02-26


The Rita - Wall to wall Noise posted on 2007-02-05


The Rita,Black Leather Jesus, Vomir & JSH - Us Tour Diary March 2020 posted on 2020-03-26


The Skull Defekts - Four way chaos posted on 2007-11-09


The Starving Weirdos - Soundtracking Fear- The Sudden Fear project posted on 2008-02-23


The Third And The Mortal - A playground for musical development posted on 2003-01-29


TheTangent - Well Read posted on 2008-06-24


Thinguma*jigsaw - Folk Murder & Mayhem posted on 2008-05-28


Tissa Mawartyassari - A More Feminine Take On 'Wall' Making posted on 2010-03-20


Tissa Mawartyassari - The Red Angel Of Wall posted on 2015-10-07


Tom Carter - the Root King posted on 2007-04-17


Trepaneringsritualen - Sound As Ritual posted on 2017-07-17


Tromba - Storm Bound Noise posted on 2011-09-30


Truchsess - Armour Plated Wall-Making posted on 2013-02-05


Tujiko Noriko - Lullabies from the other side posted on 2002-11-30


Tuluum Shimmering - Unbroken, Shifting Tradition posted on 2010-08-04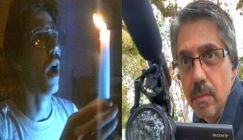 Mark Polonia - Of gore-bound far...
When one thinks of gore-bound, yet creative Short-On- Video films of the 1980's & 1990's- the first two names that come to mind are Mark and John Polonia...






Scream Theater Vol 9 - Scream The...
Here's the ninth in VCI Entertainment's Scream Theater series, which brings together two ultra-obscure horror films. This time the focus is on the mad ...