Walled Noise Born From Shadows & Dread [2021-08-17]

One of the more chillingly atmospheric textured/ walled noise projects to appear in the last 10 or so years is theNightproduct. Behind it is respected US noise artists Sean E. Ramirez-Matzus, solo -Thewhitehorse, A Week Of Kindness, Red Hook, and projects with his husband Richard Ramirez Black Leather Jesus and Last Rape. theNightproduct has been active since 2012, only releasing 6 releases thus far- but it's very much quality over quantity, with all of it's back catalogue been up to a very high standard and damn creepy to boot too!. Sean kindly agreed to give me an interview from his home in rural Pennsylvania

M[m]: theNIGHTproduct started life in the year 2012- please discuss how/ why the project came about, and how did you decide on the projects name/ what it means to you?

Sean: I often start projects as a direct response to a test-run of a piece of equipment. In the case of theNIGHTproduct, it was my first Crank Sturgeon Plug SP contact mic. I made a joke when I was testing it that the mic was so sensitive I could make a project using only that with no effects. And like many of my jokes, it stuck in my head and became almost like an intrusive thought until I had to put up or shut up. COULD I do it? I ran a splitter from the mic to two gained channels on my small mixer, then ran that to the recording mixer to warm it up a little with some additional EQ and a little onboard reverb to fill out the sound. One thing I always feel the need to clarify is while I emphasize that I do not use distortions, I do cheat a little by using the mixer's built-in reverb.
The name, as well as many of the references in the titles, comes from Thomas Ligotti. It is a simplification of something from "The Night School," "the nocturnal product," which is what the mystical professor calls waste. Literally sewage, human waste, excrement. There is a grotesque physicality to it that I felt fit the project.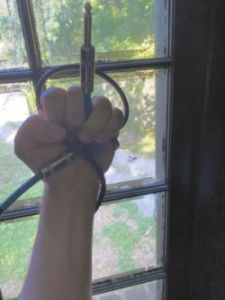 M[m]: One of the more curious things about the project is that all of the releases use body manipulation and body movement as a source, to creating its often minimal and moody walls. Please could talk about how you go about capturing these sounds, and how much manipulation/ alteration do you do to the source material?
Sean: As I said above, originally it was done with the contact mic into a splitter that plugged directly into two gained, EQ-ed channels on our small "live" mixer, which was then plugged into our studio mixer and recorded directly to the computer. The power-supply has died on that "live" mixer, so now I plug into a Boss Compressor Sustainer that is not turned on which still boosts the signal and split into two gained channels on the studio mixer. I don't do any post alteration on the sounds, what makes it to the recordings is exactly what I release.
M[m]: with all of theNIGHTproduct releases there is often a keen sense of dread & creepy atmospherics- please discuss what you see as the projects themes/ influences?
Sean: I love to create a haunting atmosphere and strive to imbibe my wall material with a sense of something haunted. I joke the the H in my HNW is for Haunted Noise Wall. The sense of dread that you mention is just a natural part of the work that I do. When I was a kid I wanted to be a horror author. I think I have simply carried that into the work I do as a noise artist. I believe strongly in imprinting and the power of intention when it comes to creating sounds. I fully intend when I am crafting my walls to create an abstracted horror story, and I hope that comes through in the work that I create. As I mentioned above, theNIGHTproduct is dedicated to the horror of Thomas Ligotti, though I have also referenced Stephen King's Dark Tower universe at least once (in the release "Thinny.")

M[m]: you talk about using Stephen King's Dark Tower universe as an influence for one of your releases- any thoughts of using the Dark Tower again as a theme?. I've always considered the book series Kings greatest work, and it's just not used enough as an influence/theme.
Sean: You know what's funny? I kind of originally intended "THEY Whisper" by Red Hook to be a Dark Tower Universe release. I referred to it in a couple of Facebook posts as "noise from the Todash Darkness." I actually used artwork referencing Todash and the Deadlights to make the cover, but somewhere along the line Todash and the Elder Gods got mixed together. Which is a completely fair mix, honestly. I agree that The Dark Tower and its many arms is King's masterpiece. I would totally consider dedicating a project or releases to it. Wouldn't necessarily need to be its own project even. Maybe I could do it with something like Hanging Rock. I don't know about anyone else, but Appleyard College and it's Victoria very much feel to me like they might exist in one of the Inner Baronies or on the border of In-World and Mid-World.
M[m]: As the project uses horror fiction as its influence- have you ever considered adding in spoken word elements, or do a collab with a horror writer?
Sean: No. For me personally, I feel like adding spoken word to a project like that would be gimmicky. I have nothing against artists and projects for whom it works—for example, Scott (Kindberg) made excellent use of spoken elements on his Lethal Temple project, A Woman's Glove. It's just not something I have an interest in pursuing in my wall work. I would, however, consider collaborating on a book and tape project with a horror writer if someone was into the idea and there was a mutual appreciation of the work. There is an A Week of Kindness project in the works that may well incorporate some spoken elements, but AWoK isn't wall and has always been open to spoken elements. It seems like I'm just talking in circles and splitting hairs now, so I'm just going to leave the answer as it is.
M[m]: By wall noise standards theNIGHTproduct discography is fair small- taking in only six releases thus far. Why have you ltd what you've put out, and what stands as some of your favourite releases from the project thus far & please explain your choices?
Sean: I don't do any project unless I am inspired to do it. It might get frustrating to some fans, but I never force a project. So there have been fairly long periods where theNIGHTproduct just doesn't percolate to the top of my mind. Combine that with the fact that the process, without going into any particular detail, is physically demanding and frankly kind of painful and we have a formula for a relatively small discography. As far as your second question, I know it is kind of a cliche to call your latest release your best, but I truly think "The Showman" is the closest I have come to creating the sounds I have in my head when I think of theNIGHTproduct.

M[m]: I know you've done a few live performances with project- how do these work, and does your set up vary in a live setting?
Sean: The live performances are where I learned the trick of using the not-turned-on compressor/sustainer pedal to boost the signal. Beyond that, the process is very similar live to in the studio, except that I have the additional challenge of controlling feedback.

M[m]: Talking of set-up, please could you discuss what your present kit set-up for the project is?. And how has it changed since you first set up? And do you still have any original bits of kit your using?
Sean: The only thing from the original set-up that I am NOT using is the small mixer, and that is simply because the power supply died. And I have gone through several Plug SP's since I started, but I just replace them.

M[m]: theNIGHTproduct like a few of your projects is very much about creating a fearful and uneasy atmosphere- when was the last time you were general creeped out by something?- be it a film, book, or encounter?
Sean: Since I'm always being creeped out by films and books, and since some of the recent encounter situations have to do with my property and family and are a little personal, I'm going to tell you a story from a few years ago. About two weeks after Richard and I moved to Southwestern Pennsylvania, where we live now, I was taking him on one of the many backroad drives that we went on in those early post-move days. We were coming off of the mountain ridge at twilight, about three miles from our house but just at the edge of some pretty deep forest. We crested a hill and just as the road began to curve to the left my headlights fell on an abandoned two-story house almost hidden against the treeline. I stopped the car and sat looking at it, because in that split second I recognized that house as one that had been turning up in my reoccurring dreams for as long as I can remember. I have no real-life memory of the house, and nobody in my family can provide me with a reason why that house would be something I would have in my mind. We have no familial connection or any distant friend connection. But there it was. It gave me the weirdest feeling I can remember as an adult, and it still does. To this day I won't look that way when we are on that road. I couldn't even tell you if that house is still there—part of me feels like I remember my brother joking with me a couple of years ago that "my house" was going up for sale and that I should buy it. But I don't know. I can't bring myself to face up to the nightmare house now that I know where it is.

M[m]: you mentioned reoccurring dreams of the creepy house- do you often get unsettling dreams/ nightmares, and do any other relate/ connect with reality?
Sean: I do, but over the past few years they tend to be either dreams about my parents—who have passed away—or dreams as "movies." I have a lot of dreams that start as something I am watching where I shift continuously between watcher and participant. The other factor in my dreams is that for the past couple of years I have had trouble sleeping without sound, which I've allayed by wearing headphones and listening to horror fiction podcasts at night. My dreams during periods of more light sleep have become representations and extrapolations of whatever random story is being pumped into my brain at the moment. It's honestly a pretty interesting experience, but I can't really intentionally do it, like lucid dreaming. It just happens.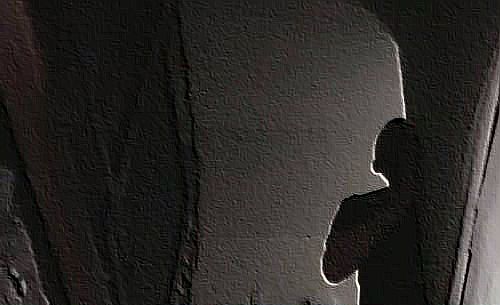 M[m]: I know you're a huge. Huge horror fan- please talk about recent films/ books that have had a real impact on you, and could you see any of these been a theme for upcoming releases from the project?
Sean: I've been reading a lot of short work. "Houses Under the Sea" by Caitlin R. Kieran is wall to wall creep-outs, as is Michael Wehunt's "Greener Pastures." I honestly listen to tons of horror-fiction podcasts. The NoSleep Podcast is pretty much the gold standard there, and have remained remarkably consistent in quality.
I'm completely obsessed with the work of Jon Padgett, so much so that I started a project—Thin Mountain—born out of the obsession. I think his reading of his own "20 Simple Steps to Ventriloquism" is perhaps the second-best bit of audio horror—behind "I Have a Special Plan for This World." I've read and re-read Padgett's collection "The Secret of Ventriloquism" a handful of times and I feel like I find something new every time.
I think there is a ton of great new horror coming out in the cinema—really, I've discussed with a few people how I think this is kind of a golden age of indie horror—but my hands-down favorite of the past few years has been "In Fabric." I think it is the best representation of "Weird Horror"—capital W, capital H—I've seen on film. It is also the closest we have seen to the corporate nightmares of Ligotti. I really love it, and yes, it inspired a project (Dentley&Soper's, a minimalist, textural wall project that I do with Richard).

M[m]: Talking of horror- have you ever come across a film that you'd like to re-score? Or is this something you've ever attempted?
Sean: I did a rescore of the first murder scene from "The Child" for a VHS compilation the name of which escapes me at the moment. For the most part, I'm not interested in the whole rescoring trend. I'd love to work with a filmmaker to contribute noise to a new project though.

M[m]: What are you working on at the present release wise in general? And any plans for new a theNIGHTproduct release?
Sean: I have a few releases that I've been asked for from a number of labels, including Thin Mountain VIII, IX, and X. There is a Thewhitehorse split-release coming up shortly. I have an idea for a series of releases from A Week of Kindness that are planned to culminate in a chap-book/lathe-record about a town with several houses that kill. I don't have any solid plan for a new theNIGHTproduct release shortly, but when I do I will probably give the next release to Petite Soles, since Scott (Kindberg) has been such a huge supporter since day one of the project. Like I said before, I don't force anything. I don't record a project until that project tells me it is time. So, when theNIGHTproduct starts whispering in my ear again, I'll know I need to get to work.

Thanks to Sean for his time- head over to Seans Bandcamp https://thewhitevisitation.bandcamp.com, where you'll find samples of theNIGHTproduct, along with his other projects.
Roger Batty