How MC Jay became Hawaii most hated... [2003-05-02]Jonah is The Mole. He does some fine hiphop, is a cool guy and has his own label. He releases cool stuff on it. He looks beautiful, so girls get ready for him! By the way he is also very nice and has answered a few questions of mine...
Do not forget to try his music...

m[m]: Who is The Mole?

m: Well, I live in Maui, Hawaii; I'm a preschool teacher; I hitch-hike for transportation; I have a vegan, organic diet; and I believe in anarchy.

m[m]: When did you first hear or got into hiphop? Who was the artist?

m: I lived in the middle of nowhere, in the whitest county in California, so I sort of missed the beginnings of hip hop, but when I was 10, in 1988, I was introduced to the Fat Boys, and from then on I'd spend every dollar I had on whatever hip hop tapes I could find at K-Mart. I wrote my first rap song during the same year. I think my first rap name was MC Jay - heehee.

m[m]: What has been your personal musical evolution. Anything you liked but wouldn't want anyone to know now (and yet you are going to tell us ;-)...

m: Well, hip hop was the first music I ever enjoyed, aside from the soundtracks to Goonies and Top Gun. Some other corny stuff I liked includes Jazzy Jeff/Fresh Prince, Bell Biv Devoe, MC Twist, Paula Abdul, Yo-Yo, Vanilla Ice, MC Hammer, and so on... I was easy to please.




m[m]: Did you get some musical education?

m: I took piano lessons for a few months when I was 8 or 9, and I took a guitar class in high school. That's about it. As far as recording education, I have a degree in audio production/music recording from San Francisco State U. and also a music recording/business certificate from SFSU Coll. of Extnd. Lrng.

m[m]: You did a whole album on North San Juan, California (review here). That's where you grew up. After the sounds, a few words about that place and about the album?

m: That album was sort of thrown together. The instrumentals weren't actually made with North San Juan in mind. I had an idea of making a sort of musical represntation of my town because I think it's a special, unique place, but then I got lazy and decided to just use some old instrumentals I had, add some sound effects, give them descriptive titles, and make that the album. So it ended up being an album that I'm not very happy with. That's why it's now unavailable to the public. Hopefull some day I'll make a real album about North San Juan, and I also plan to make a better instrumental album.

m[m]: What caused your move from California to Hawaii? What did surprise you the most when you got to know the place?

m: At the time, I had finished college in San Francisco, and all I was doing was waiting tables while making music and running the label online. I wasn't playing live at the time, so I figured that my location wouldn't matter that much. I was tired of the cold weather and the contagious insanity of the city, so when my two roommates moved to Hawaii I came with them. I guess the most striking thing about Hawaii is the general change in attitude. People are more open, friendly, and relaxed. I feel pretty lucky to be living here.

m[m]:What are the advantages and disadvantages of being located in Hawaii and not on mainland USA?

m: The two main disadvantages are that it's far away from everything,and that the local scene around here isn't very happening. Me and a lot of other people around here are working on changing that though, and it's definitely been improving in the past year. There are a lot of MC's, breakers, graffitti artists, and potential audiences out here - they just need events to attend.

m[m]: Would you say your style evolved a lot from North San Juan to Beloved retard babies? If so, tell us more about what did bring these changes.

m: Actually Beloved Retard Babies spans a period of 4 or 5 years, and North San Juan was made somewhere in there, but it too spanned a few years, so it's hard to say that I've evolved between the albums.

m[m]:Tell us more about your lyrics? What themes do they deal with? How important are they? What do you think of Sage Francis' personal journalist concept?

m: In general, my lyrics deal with communion - human interaction and evolution, basically. I feel like this is what life is all about, so all of my songs are about it, in one way or another. I try to take a variety of different approaches. Sometimes I just start writing without knowing what it will be about and sometimes I sit down with a certain topic in mind. For a while, most of my lyrics came from piecing together words and phrases that I found in newspapers and books. Sometimes I make up the lyrics - as few as one or two words at a time - right before I record them. As far as Sage Francis' Personal Journalist concept goes, I think that it's basically the same concept as almost any other hip hop album, although it's more purposefully realized. A hip hop album is a snapshot of a person's consciousness, and Sage's snapshot is an extremely detailed and clear one.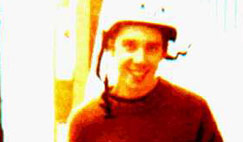 m[m]: You seem to collaborate with a lot of artists. There is even a collaboration album in the works. Could you tell us more about it? How did it work, how did you get in touch with the people involved, where do they come from?

m: There are a few collaboration projects in the works, although some of them have fallen apart due to lacking motivation. But basically, collaboration is what I think life is all about - it's a form of communion. Through collaborating I've become closer to alot of people, we've all evolved through each other's influence, and our art has gained energy and momentum because of both individual and group efforts towards it (in other words, having multiple people concentrated on the creation and distribution of a project can increase its effectiveness). Thanks to the internet, collaborating with artists all over the world has been relatively simple. No matter who you are, I'll bet that you can find some like-minded artists online that have the means and the drive to collaborate.

m[m]: You're releasing your music on your own label, Motion Recordings. When did you start working on it? What did convince you to set up Motion recordings?

m: I started Motion Recordings in late '99 because, after learing all about the tricks and traps of the record industry, I decided that I could help myself best by starting my own label and promoting myself that way. I made up alter-egos to add to the label, so it would seem more real, but it was only me. Soon I added my friend, S. Winter Fifield to the roster (who has yet to record an album for Motion) and in 2001 I released Thesis Sahib's album as my first release by someone other than myself.

m[m]: Do you rate a DIY attitude as important? Do you see yourself as applying that way of working, much in the same way as punk or hardcore bands?

m: I think that Doing It Yourself can be a very powerful tool, although some people may be better suited to get help. Personally, I began doing everything myself from the beginning, and the idea was that my foundation would be stable that way; I wouldn't be relying on anyone else, so it would be impossible to get dropped or anything like that. Also, I've never liked the idea of supporting a faceless corporation which, more likely than not, is responsible for plenty of evil doings. I still do everything myself, but it's become overwhelming, and now I'm to the point where I feel like I need help in order to continue growing. But instead of trying to get signed to a label I plan on forming an artist community, so we can help each other. I feel like community organization is more important and can be more powerful than the DIY philosophy.

m[m]:What do you aim to reach with your label?

m: From the beginning my idea has been to put an alternative viewpoint into the system of mass media, which is full of horrible messages. On a small scale, I'd like to influence hip hop culture by promoting a more complex and creative brand of music, lyricism, and vocal delivery; on a larger scale, I'd like like to influence the world in general by introducing new ways of thinking, thereby promoting the evolution of humanity - heheh. That's a pretty lofty goal, I know.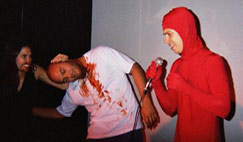 m[m]: How hard is it for you to make both ends meet with your label? Do you think you will ever be able to make a living out of your music?

m: I don't make crap from my label, especially since the artists get 75% of profits. I recently quit waiting tables to work with little kids. I do substitute teaching at a couple preschools, I work for a babysitting referral sevice, and I do some other odd jobs, like right now I'm acting in a play. Of course it would be nice to make a living from music, although I do enjoy working with the little kids too.

m[m]:Could you introduce some of the other Motion recordings artists?

m: I mentioned Thesis Sahib, who's also a member of Bending Mouth, a Canadian duo which also includes Selfhelp. Demune is my roommate, and he's from here. jdwalker, who has also recorded as Loganprojects, is from Maine, along with nomar slevik. Joe Rath is from New Jersey, prologo are from Michigan, and ...of Proliteariots are from all over the place.

m[m]: How is the Hawaiian scene?

m: Like I said above, it could use some help but it is growing. Also, there are a lot of very talented folks hiding in the islands. MC's that stand out in my mind include Oahu's Omega6 and Staplemouth, and from Maui there's Demune, Joe Nathan, and Juha. There's also some really good beat makers on the island including Tyconichi, Orphan, Adam Capriccio, Will The Moore, and plenty others.

m[m]: What are your main influences?

m: I have a lot of influences, since the music I listen to changes a lot. My main influences have been the following: DJ Jazzy Jeff, The Fresh Prince, Run-DMC, Beastie Boys, Chuck D, The Bomb Squad, Eazy-E, Dr. Dre, Beck, Ween, Kool Keith, New Kingdom, DJ Shadow, Dose One, El-P, and Daedelus.

m[m]:Are other arts important for you? Tell us the names of a few artists you like?

m: Yeah, I enjoy all kinds of other art. As far as authors go, I enjoy Chuck Palahniuk and William Cooper; some of my favorite film directors are Harmony Korine and Paul Thomas Anderson; and I also admire comedians including Jim Carrey, Andy Dick, and Andy Kaufman.

m[m]:If you had to define hiphop to some bloke coming from outer space in a few words/sentences, what would you say?

m: It's just a meaningless word used to describe something which is indescribable.

m[m]: Musically speaking, what do you think is worth checking out these days?

m: The artists I'm most excited about right now are Demune, Bending Mouth, nomar slevik, Sole, Mike Ladd, Dose One, Clouddead, El-P, Big Jus, Mike Patton, Jel, pedestrian, Busdriver, Daedelus, Truckstop, Sebastian Laws, Puppetmastaz, Automator, Onedae, Scott Harding, Staplemouth, Jean Grae, Sixtoo, Restiform Bodies, Passage, Circus, and Rob Sonic.

m[m]: What does the future hold for you?

m: I don't know. Motion Recordings will be transformed into a co-op label, meaning that it will be artist-owned and hopefully easier to manage. In general, I plan to make Motion bigger and better. Other stuff I'd like to do includes TV/video/film production/directing/writing, forming one or more artist communes, and who knows what else - I'm sure some awesome ideas will come to me.

m[m]: Last words?

m: Go read William Cooper's Behold A Pale Horse...and of course visit my web site. Thanks a lot for the exposure, François.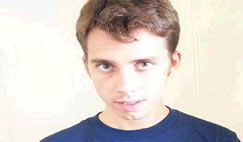 http://www.motionrecordings.com

François Monti