Swamp-Bound [2012-06-06]

The Residents have spent most of their forty years in existence releasing albums & creating art that breaks or twisting the rules. Their most recent album "Coochie Brake" sees them once again pulling the rug from under the listener, with one of the biggest twists in some years. They have replaced their normal & constant singer (Mr Skull or Randy, as he now likes to be known) with a Spanish singer called Carlos, who of mumbles, whispers & sometimes sings in Spanish through-out the albums entire length. We caught-up with Hardy Fox, from The Residents long time management & media voice 'The Cryptic Corporation', for an email interview to discuss the new album.

m[m]:When did the idea for 'Coochie Brake' first come about & how long did it take to reach fruition?
Hardy The people who populate The Residents grew up in the South and were always subjected to the influence of "swamp music" so to push the sound of an album in that direction required a minimum of thought. It is part of their heritage. The actual writing for Coochie Brake, which is the name of a swamp in Louisiana, took about a year. It was a time when the group was touring so the writing was on and off over a long period..

m[m]:How did The Residents come across Carlos, the lead singer on 'Coochie Brake' & what made them decide to use him on the album?
Hardy Long time member, Carlos, was pulled to the front because he is Mexican and the decision was made early on that the vocal sound should be either French or Spanish. The fact that Coochie Brake was within land disputed with Mexico during the Louisiana Purchase acquisition made Spanish the better language choice. The decision to forgo English and work with a different language would give the album more of a sense of mystery and heighten a sense of the unknown. At least if you don't understand Spanish. If you do understand Spanish then you miss some of the power of the album

m[m]:What part did Carlos play in The Residents before the Coochie Brake album , and how long has he been connected to The Residents?
Hardy There has always been a "Carlos" but his role has often been subdued because of his conflict with Randy. But I don't feel comfortable talking about that in print.

m[m]:Coochie Brake is meant to be based around the legends & myths of a large swamp in the middle of Louisiana. Can you tell us a bit about the legends & myths from this area that attracted The Residents most to the project?
Hardy That could be a very long answer. Coochie Brake is one of those places that should not exist, geographically. It makes no sense that a dense circular swamp should exist in the center of the state. The fact that it was located in a triangle of land that was under dispute as to who owned it, the USA or Mexico, meant that no one had the right to be the law, so it was lawless and dangerous place to pass through. The swamp was home to slave traders, a band of murderous highwaymen, and voodoo rituals.
m[m]:How different is this swamp area now from when The Residents where teenagers? And did they re-visit the swamp in the making of the album?
Hardy They did not revisit it. I have heard that the local people have been working on ways to make the swamp accessible, adding paths and picnic tables. I don't know if that has happened. In the old days it was respected as a place to fear and the only people who entered it were gold hunters (much gold was supposedly hidden there) and occasional hunters.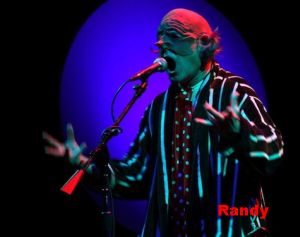 m[m]:Why did the Residents decide to recorded most of the albums vocals in Spanish & are there any plans a foot to put up translation of the lyrics?
Hardy It is in Spanish but there is not any attempt to say anything in any language so there would be no reason to publish the lyrics anymore than there might be for "Louie Louie." The sound of the voice was the important element and as I mentioned earlier, was not to be understood any more than the swamp is understood.

m[m]::Are there any plans to do live shows with the Coochie Brake album/ concept?
Hardy None. Randy was not on Coochie Brake and Randy is an essential element of any performance.

m[m]:The Resident's have recently started using names for each other i.e. there now called Randy(the singer, who was called Mr Skull for many years), Chuck & Bob- why have they decided to do this now? And will they ever fully reveal their true identities?
Hardy You are kind of walking on thin ice when you talk about "true identities." To start with no one in show business uses their real name. The stage name IS who they are. More importantly, the work always reveals the person. We know people by what they do, not by what name is on the birth certificate.

m[m]:Recently Chuck/ Charles Bobuck- The Resident's primary composer has released a solo album 'Codgers On The Moon'. How & why did this come about?
Hardy Charles Bobuck did recently come out of the "Residents closet" as their composer. But he has been working independently for a while but not necessarily under his name. Even back to Pollex Christi and High Horses. More recently he released the CD's Postcards from Patmos, Dolor Generar, and God-o. The Residents have opened up under a new plan with "The Residents presents" which allows for project development that doesn't require the entire group. Coochie Brake was one of those as well.

m[m]:Do any of the other Residents have plans to do solo albums too?
Hardy Very likely.

m[m]:The Residents iconic Top hat & huge eyeball get-up has not been used for a few years now in publicity or band photos. Why have The Residents decided to distance themselves from this image?
Hardy For many years The Residents went along with the record company need for a marketing image. As the concept of a "record company" became less relevant the image was reduced to an icon. The Residents still use it as an icon, a short hand way of saying "Residents." Also The Residents is not a static thing. The group grows older and changes and it is important that their image also update. Musicians have to be pretty desperate to try to maintain the image of their youth once they have gotten over 50. Though after seeing Mick jagger on SNL recently, I wondered if he had missed that memo.

m[m]:In recent years The Resident's have release their more ltd release often in download only format- why have they gone down this route instead of the ltd physical editions of the past?
Hardy The entire music business has changed. Nothing works like it used to, so we are all constantly scrambling to try to figure out how to market in todays environment.

m[m]:Over the last year or so The Resident have reissued some of the most known & respected titles such as 'Not Available', 'Meet The Residents', 'Third Reich 'n' Roll' & 'Fingerprince'- what are they going to put out next & are their any of their releases they'd never like to reissue again?
Hardy The Residents are celebrating their 40th anniversary and as such are getting offers to re release old titles. You will see more of that over the next year. The decision on what to release is not theirs, of course. Releasing music falls largely within the business end of things and what a record company wants to put out.
m[m]:Can you tell us if The Resident's have anything special planned for their 40th anniversary? i.e. any plans for ltd releases or merchandising attached to the anniversary much like they did with their 30 th anniversary.
Hardy They have gotten older. It is difficult to have a 40th Anniversary without that happening. They really do not care so much about marketing anymore especially if it requires them to put on a cute face. They have told the agents they would tour again. But that is out of their hands entirely so it is just waiting to see if agents can come up with anything they would be willing to do.
m[m]:What is The Resident's next big project & when do they hope to put it out?.
Hardy Can't say.

m[m]:What have been some of The Residents favorite releases put out by others over the last year or so?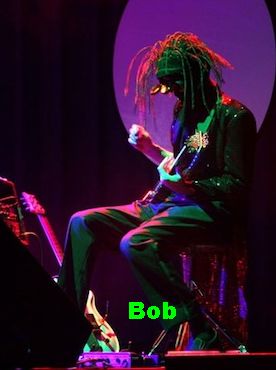 Hardy You mean other musicians? It may be a little known fact, but musicians rarely listen to music by other people. Musicians have so much sound around them all the time that they like to have a little bit of escape from all the noise. They cannot help but analyze what they hear so it is not relaxing. This is generally true. Directors do not go to movies for fun, winemakers drink beer.
m[m]:In the last ten or so years video games/ gaming consoles have become more popular & used by all facets of society now. The Resident's were very interested in the whole concept of video games back in the late 80's early 90's when they collaborated to create 'The Freak Show' & 'Bad Day On The Midway' games. Do they have any interest in the modern world of gaming & would they like to be involved with-in the gaming field again?
Hardy I am not aware of any interest in developing games now. If some idea was presented it could happen but there is no pursuit of that direction.
Thanks to Hardy for taking time out of his busy schedule to give M[m] an interview. The main web site for all things related to The Residents can be found here .All photos used are © The Cryptic Corporation, and are used with kind permisson
Roger Batty