Blue notes in Sapporo [2003-07-24]Tha Blue Herb came to my attention through DJ Krush. He made me want to check out more and I'm glad I did... You should too! After a few months spent discovering their music, I decided to make the big jump and contact Ill-Bosstino to arrange an interview.

One thing surprised me: while some of his lyrics have an undeniable political content, Boss did not wish to comment on that particular subject. I guess that, at this point, it was more important for him to talk about the music. He is 100% right: let the music do the talking, but first read those few words the man has to say about it...

Don't forget to check the 3 songs we have for you to download in the mp3 section.

Text translated by Yuko Asanuma

m[m]: Few people have heard of you, so who are you?

b: I'm the rapper, Ill-Bosstino. O.N.O. is my partner.
Reside in Sapporo City. Formed in '97.

m[m]: What was the first hiphop stuff that left a big impression on you, that made you want to do some rapping?

b: Nas Illmatic

m[m]: Your sound has evolved a lot from the beginnings to Sell our soul. Was there anything that proved crucial in your evolution? Could you comment a bit on the changes from Stilling, still dreaming to Sell our Soul

b: I'm not O.N.O., so I can't articulate the influences on the sound side, but what I can point out is that in our early days, we were only listening to hip hop. As we discovered the depth of music and the magnificence of the world, we began to open our minds to all genre of music..

m[m]: Sell our Soul has a strong electronica vibe. Is it fair to say that the electro scene has had a big importance on your evolution?

b: I suppose Electronica was one of the extensions of our music journey. Maybe.

m[m]: Most people would call what you do "abstract hiphop". In the lyrics to one of your songs, you refused to be considered as such. Could you explain your views on this?

b: Abstract hip hop, NY hip hop, Belgian hip hop... they are all hip hop. If you declare it's hip hop, then it can't be anything else. That's all. When it gets too cluttered, record shop clerks want to tidy them up and place them in some kind of order. And abstract hip hop is just a little container for those cats - who are scared of changes - to put away something that's different from what they know.

m[m]: You put a strong emphasis on Sapporo / Hokkaido. How important is it to you? Why?

b: 'Cause it's the city I live my life in with my loving firends.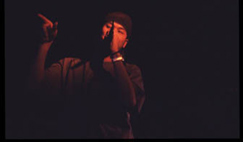 m[m]: There seems to have been a rivalry between you and the Tokyo scene...

b: When it comes to selling records and bringing people to the shows, you realise that not everybody listens to hip hop. The market is limited. When you try to be the number one, everyone else becomes your rival. Tokyo is a big city, and there are plenty of people and money. You have to go for that. So, that inevitably put us and our colleagues in Tokyo in rivalry.

m[m]: What do you think of people like Shing02 or other Japanese hiphop acts?
b: Nothing. If I would need to say something, I would just tell them: "Do your best".
m[m]: How important are your lyrics?
b: That's what I exist for. What my life stands for. My pride. Everything.

m[m]: Could you tells us a few of the themes you use in your lyrics?

b: Money and success; Darkness of hearts; My skills; Reason of my being; Meaning of life; Pride.

m[m]: How different do you think your lyrics are from other Japanese hiphop MC?s?

b: Deeper.

m[m]: People say that in Japanese hiphop there are too many people want to look like gangsta, to be real American b-boys...

b: I do get irritated by those so-called "music journalists" and shitty fashion magazines that create and induce such phenomenon. However, I have nothing to say to the actual kids. I have nothing to do with them.

m[m]: You once said that your lyrics were "lyrics of pain" and that TBH was made of "painful words, painful beats". Could you tell us more? What does pain means to you? What's your attitude towards it?

b: For example, I have somebody I hate. But that person says he/she likes me. I ask myself, "Then why do I hate him/her? What do I hate about him/her?" He/she hasn't done any harm to me. But I still hate that person. That means I'm the one who's having a problem. That fact makes my heart wrench. It's a small pain. I don't know what my attitude towards it is. I'm trying to figure it out everyday.

m[m]: What about brotherhood? Your song Brothers on SOS is about that, right? It is something you often insist on...

b: I have my blood brothers, but there are some men and women among my friends in Sapporo that I have a lot of respect for.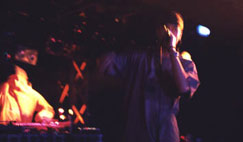 m[m]: You once said that your music and hiphop in general was not made to dance on, that there was an important message in it, so people should listen to it and think, rather than dance. What are your views on those American hiphop acts whose sole purpose seems to make people dance? People like Nelly or Ja Rule... Would you consider what they do as hiphop?

b: I guess it can't be anything else but hip hop as long as the artist himself claims it so. We have enough of those pop rappers who are like junior high school kid's idols in Japan. They give me enough headache. I don't have a room to be concerned with American ones. If you wanna dance with hip hop, dance. All I'm saying is that there aren't that many people who would dance to our hip hop, because they listen to the words. If the words have enough power, fright and depth, people stop their body movement and concentrate on their ears. I know they have all sorts of crazy actions going on with their emotions in the head.

m[m]: You have worked with DJ Krush. How important is he in Japanese hiphop? Your thoughts on him?

b: At least, undoubtedly, we wouldn't be here now if he was not there. I could have put down the mic. You may not have met us. Like many others do, we always have a great deal of love and respect for him.

m[m]: What are O.N.O main musical influences? What are yours?

b: Music that is unique, serious and makes you high.

m[m]: Is literature important for you? If so, could you tell us a few writers you like?

b: Kenji Miyazawa.

m[m]: Do you consider yourself as being "underground"?

b: My idea of "underground" is not just about being unknown, broke and only wishing for a chance that never comes. That's only at the primal stage of your career. We were at that stage six years ago, but you are just a loser if you end there. We knew it. To me, being underground is about producing your own stuff without enslaved to record companies; Not to get exploited by TV or radio but exploit THEM; Make money with your own ideas and be responsible for what you do; Play some maddening music loud as you can with the like-minded heads in various regions. From that perspective, I can say that what we are doing now is the best example of Japan's most powerful underground.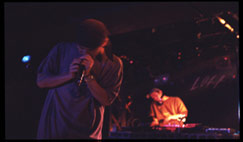 m[m]: In one of your songs, you said "MTV is turning hiphop into porn flicks". What do you think are the real values of hiphop? Who do you think still respect those values in the US?

b: Something that can never be broadcasted on TV.
People like EL-P.

m[m]: Only for the mindstrong is very different from your other releases. Could you tell us more about it?
b: It may sound a little complicated, but we have Tha Blue Herb Recordings. Tha Blue Herb belongs to this label, and it's a group in which we represent our interpretation of hip hop spirit, its method, and its rules. But there's a lot more than hip hop in the world of music. And if hip hop can only be viewed within the frame of hip hop, then there's no future for such music anyway. No evolution. Tha Blue Herb Recordings consists of a bunch of people, who love unique music, serious music, and the music that makes you high. So we make instrumentals, and listen to instrumentals too. We listen to funk, techno, dub, Fela Kuti, and The Beatles. From The Clash to DJ Krush. Curtis Mayfield to 4Hero. The Orb to Cassandra Wilson. Whatever that makes us high. Whatever that takes us to the uncharted realm. We have no restrictions. We listen to anything. I try to express the scapes I see there by rapping for Tha Blue Herb. I try to express it in instrumentals for Herbest Moon.

m[m]: What are your aims with TBHR?

b: It's a low-end organisation for GOOD MUSIC.
m[m]: How hard is it to promote your music outside Japan? Isn't it frustrating to have so much problems to distribute your sounds overseas?
b: I'm trained in waiting for long time, so it doesn't bother me. I would rather make good songs while I'm waiting.
m[m]: What are your ambitions with TBH for Europe and the USA?

b: To win deep understanding.

m[m]: Could you tell us a bit more about the other people signed on TBHR and your own side-projects?
b: Herbest Moon - another unit of ILL-BOSSTINO
Naohito Uchiyama - techno, electronica
Jun-Gold - breakbeats
Shuren the fire - rapper

m[m]: Could you recommend a few Japanese artists?

b: Goma, a didgeridoo player.

m[m]: Politics seem to be important to you. On your website, there is an essay you wrote which features photo of Che Guevara and John Lennon, in one of your songs you said "the Tokyo conservative government will surrender". Tell us more.

b: No comments.



m[m]: Japan is in crisis. A writer I really like, Murakami Ryu, has commented a lot on this. Here are two things he said. What do you think?
"I think most teenagers get bored with their daily routine.They (those born or brought up after the collapse of the bubble economy) can't enjoy the benefits of Japan's past success. Nevertheless, they will have to live in this (post-bubble economy) world for a long time. It is very
tough and hard to bear. "
"Compared to those days, I feel that Japanese society has become far better, even if we are in the grips of recession. Why? Because people are worried about the current situation and the future, and are trying to do something about it. And that is important."

b: I agree with what he's saying. However, whatever changes the society may go trough, good music always manages to survive.

m[m]: What are your projects for the future?

b: A Shuren the fire album (November) and a Herbest Moon album (February 2004).

m[m]: Last words?

b: It's crazy music from today's Japan. Lyrics come with English translation. Enjoy.



Many thanks to Yuko Asanuma for the translation of this interview. She is the journalist behind what i think is the only other TBH interview in English (very good one). Check it out on Tha Blue Herb's official website: http://blueherb.go.to/
François Monti