Walls & Words [2015-07-26]The Ebony Tower mergers an interest in literature with walled noise, which is a rather unique idea for the genre. The project started in summer of 2014, and has so far got a lot of respected & praise from with-in the scene in general. It's based in Greeley Colorado, and behind it is one Mitchell Rotunno. In a short time it has amassed quite a large discography. Taking in coming on for 30 + releases, which feature a lot of multi disc CDR sets, cassette releases, a few split releases, and one or two digital only releases. The project takes itís name from 1974 John Fowles book of the same name- which is a collection of five novellas and short stories with interlacing themes, each of which is based around a medieval myth. Mitchell was kind enough to agree to give M[m] a email interview, where he discusses the projects origins, itís themes, and his love of modern classical minimalism.

M[m]:What was your first introduction to the noise genre, and is there any one track or release that made you want to start creating your own walled noise?
Mitchell Honestly, I cannot pinpoint the exact introduction to noise for me. I was listening to a lot of modern classical music at an early age, and I think the album that had the most distinct influence on me was AMM's AMMMusic. The radical sounds and the idea that anything can be used to make sound, outside of structure or conventionality, was appealing and effective for me. There is one particular release that made me start wanting to create walled noise. It is Vomir's Claustration.


M[m]:You mentioned Vomirís Claustration as an influence in you starting to create walled noise- what in particular effected you with this release? And do you have a favourite disc out of the six disc set? Mitchell I think what struck me so much by Vomir's Claustration initially was its length. I heard it from start to finish, while out in public, and afterwards, I came to see the genre as the apex of what minimalism can do sonically. I wouldn't say its my favourite, but it was instrumental in helping me form a context to shape my own thoughts regarding HNW.

M[m]:Your first walled noise project was called Toxic Bliss- tell us a little bit & how/when this project came about? Mitchell Originally, Toxic Bliss was created as an exploration of what a minimal set up, and a minimal sound could create. I became fascinated with HNW a few months earlier, and I wanted to see what I could do. I believe it came about summer of 2012. The intent was never very finely focused, and so a lot of it was recorded without much thought behind it all. Nonetheless, the project served as a great way to be introduced to the static minimalism present in HNW.

M[m]:Why did you decide to stop using the Toxic Bliss name in 2013, and how do you think your sound changed when you stared The Ebony Tower project?
Mitchell I stopped using the name Toxic Bliss for of a lot of reasons. I stopped liking what I was doing, and so I decided to spend a lot of time studying the craft. My sound changed when I started The Ebony Tower because I started paying a lot more attention to the way the textures of the sounds mixed, and the overall effect that the unrelenting sound of it all had on me. I was also going through a lot of change in my personal life at the time, and I was very much loathing what I had previously created artistically, so a complete rejection of everything I had done prior was necessary. I still had the urge to create, but I needed to think more about what it was I was doing.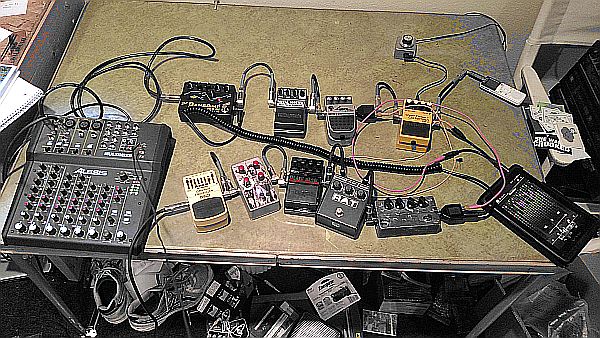 M[m]:Your present/most resent project is The Ebony Tower-it takes itís name from 1974 book of the same name, which was one of the works of the celebrated works of English modernism/ postmodernism author John Fowles. Why did you select this name from the project? Mitchell I selected the name The Ebony Tower for this project because I wanted to combine my two greatest obsessions- literature and HNW- into a single expression of fascination for me. John Fowles has long been a favourite author, and having just re-read The Ebony Tower, I thought the name served as the best way to combine the monolithic nature of HNW with a sense of well deserved thought behind it. After a year of listening to HNW, I found that it, for me, is a highly intellectual activity. I listen to a plethora of genres of music, but HNW is the most challenging to dissect and understand for me. I enjoy the challenge of discerning the minute changes in the walls. It is also emotionally charged for me, so the combination of those two things makes the impact the genre holds for me that much more pronounced.
M[m]:All of The Ebony Towers work are themed around works of literature- tell us a little bit about how/why you decided this as the projects central theme?
Mitchell I have been, since I was a young child, an avid reader. I sought to give context to the world as I was experiencing it, which seemed to differ from those I had regular interaction with at the time. During the period of drastic change, I dove back into the obsession with literature that has always been present in my life, and I found that the best way for me to get the most out of the novels I was reading, which generally are classic literature and philosophy, was to listen to HNW. The two things became so entwined that I had a desire to combine the two. What I have discovered, after the initial flurry of early releases under this name was that a surprisingly high percentage of those who create HNW are avid readers as well.

M[m]:How do you go about selecting which book youíll cover with a release? And what have been some of the more challenging books youíve attempted thus far?
Mitchell For solo releases, the books I select are whatever I happen to be struck by recently. I have been reading a lot of Haruki Murakami, so the interest has been with him a lot. Not everything I read I want to explore sonically. There has been wonderful books I've read recently, such as Despair by Vladimir Nabokov, or Demien by Herman Hesse, or anything by Albert Camus, that I simply do not think I have it in me to try to work with. As for split releases, I usually let the other artist pick the books. Most often, I have read them at some point, or can do so very quickly. I believe the only artist I approached about a split was Richard Ramirez, and that was working with Peter Sotos' The Annotated Lesley Ann Downey. I had talked about the importance and visceral qualities in Sotos' writing with him, and he was the one person I think would put a lot of thought and detail into translating that into HNW. I'd say the most challenging book I've attempted thus far has been Breakfast At Tiffany's, by Truman Capote. It is a work that is brief (a mere 85 pages) and it strikes a lot of people as not having much to do with extreme sound. But the novel is very dark, in my opinion, and expresses a sense of nihlism that translates well to HNW. The unrelenting maliciousness of Holly Golightly, combined with profound suffering in her past life, is something that deeply resonates with me. That character is the one I've most identified with in popular culture, and I am honoured to pay tribute to her in such a way.
M[m]:You mention not wanting to cover ever book you read, are there any genres of literature you would not want to cover? And are there any literature genres youíve not covered but would like to cover? Mitchell I think I wouldn't want to tackle any philosophical text, be it written in narrative form, or otherwise. While I really enjoy reading Neitszche, Camus, and Sartre, it would be impossible to create an appropriate sound to reflect the text. And ultimately, it would detract from the author's intent. My works serve as companion pieces to the original novels, and I am showing my listeners what I read. There is the hope that it would illicit the listener to read the book as well. I'd love to glorify the active interest in philosophy, but that is a genre of literature that is best found on one's own.
I would love to work with the Russians. I went through a heavy period in high school of reading classic Russian literature (Doestoyevsky, Gogol, Tolstoy) and their length and depth would be wonderful challenges. I do not, however, think I am sufficiently ready to tackle such monumental works as those yet.
M[m]: Many of your releases take the form of multiple CD box sets, which feature lengthy tracks- what attracts you to the longer form of wall making & would you ever attempt shorter works? Mitchell I enjoy releasing multiple CD box sets because the genre lends itself so well to complete immersion. I think I am attracted to long form HNW because its the biggest challenge for me. Often, there are subtle shifts that I employ during the creation of a track, and even the slightest thing can go wrong. So I spend a lot of time really listening to the way that the various gear I have interacts with each other, and trying to best understand how a little change can alter the sound. My early interest in the genre led me to pick up large sets, too, and I found that the longer I listen to a particular track, the more disorienting and more profound the overall impact is. So I seek to explore that in my own work. It reminds me of longer form minimalist pieces by Morton Feldman and Christian Wolff, who both have had profound impacts on the way that I approach listening to music. I was 14 when I first heard Morton Feldman- String Quartet II, which is, on average, 7 hours long. It is pure minimalism in sound, and proved to be instrumental as an endurance test of intellect. I've heard it multiple times since then, and ultimately, is the point of reference I use when creating a minimalist piece of art, regardless of the medium.
M[m]: you talk about modern classic minimalism having a great effect on you. What are some of your favourite works with-in this genre?
Mitchell Aside from String Quartet II (Morton Feldman), there are a few others that have affected me deeply. Christian Wolff- Edges (which I've had the pleasure of seeing live, with him performing); Morton Feldman- For Samuel Beckett; AMM's entire catalog, Stockhausen, Boulez. the list really is endless. Their discourses on minimalism are also quite the pleasure to read.
M[m]: still on the subject of modern classic minimalism- would you ever attempt to create wall work influenced or based around one of your favourite works from this genre?
What a challenge that'd be! Yes, I do think I would like to create a wall work based around a modern classical piece. I would probably work with another composer as well, to fully realize the piece. As so much of modern classical is sparse, with large spaces of silence in between notes or sounds, it would fun to work with!
M[m]:The Ebony Towers sound is very dense yet often detailed in itís feel- tell us a little bit about the process you go through to create a track? And on average how long would you work on a single track? Mitchell The process is deceptively simple for me. After finishing a novel, I spend some time picking out specific themes and ideas that I'd like to capture in sound. Maybe a particular character in a novel had a lot I could relate to, or a philosophical idea about social interaction seemed to jump out at me. I end up spending only a few minutes setting my gear up in a way I feel I haven't explored prior, and listen for a few minutes to see if the impact is the same as the initial one. If I like it, I just press record and go. Even with the tracks that have shifting and slight variance, there is no editing, no mastering, and all are recorded live.
M[m]:How has you set-up changed from when you started & now? And is there any piece of kit you still use now from the start? Mitchell My gear has changed a lot since I started. Ive acquired a Rat pedal, and a couple Digitech pedals as well, but the most important piece I own is a Graphic Equalizer. The contrast between higher end and lower end textures are accentuated with it. I've used it since the beginning. Having a mixer has been essential as well to employ multiple channels, each of which I enjoy separately, to run at the same time. It allows for the shifts, when I choose to employ them, to be a lot more smooth and precise.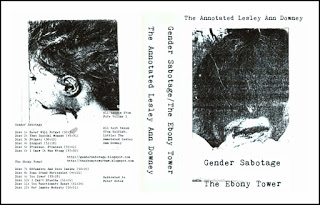 M[m]:I believe youíve played at least once or twice with The Ebony Tower- how does this work in a live context? And does you set-up change?
Mitchell I have played once live with The Ebony Tower, at Eyes Behind The Wall V. I had an idea of how my gear would be set up beforehand, and I tested it shortly before I performed. I did have a few slight shifts, but for the most part, my gear was untouched. I have since acquired a lot more gear, so in November when I return to houston for the 6th annual EBTW, it will be an entirely new gear set up.
M[m]:Still on the subject of playing live as youíre a fan of more lengthy composition- would you ever considered playing a lengthy Wall live, say an hour plus Or even longer? Mitchell I would love to perform an hour or longer wall set live. That would be ideal. As I see the effect of HNW reaching its peak about 30+ minutes in, having this overwhelming cascade of sound for that long would be the most effective way to experience it. However, I do not forsee an option to do just that quite yet.

M[m]:With both Toxic Bliss & The Ebony Tower you have released a lot of split release- please pick a few of your favourite splits from both projects, and explain why they are? Mitchell It is hard to me to pick out a favourite split from Toxic Bliss because I still don't enjoy what I did with that project very much. I think the only one that stands out for me is the split with Abyzm. The other artists' material has always been great, but for me, a good split is both artists doing something great, and I don't think I did that much with Toxic Bliss. With The Ebony Tower, three splits in particular jump out at me. The split with Phantom Cadaver based on A Clockwork Orange, the split with Small Hours based on One Flew Over The Cuckoo's Nest, and the split with Gender Sabotage based on Peter Sotos.
M[m]:How do the splits come about- do you approach projects or do they approach you? And who else would you like to do a collaboration with?
Mitchell the splits come about both ways. As I've mentioned, a lot of us read voraciously, so unwittingly I've stumbled across a point of connection we have together as artists. I had no intention of being particularly innovative, or doing something unique in combining literature with HNW, although I hadn't seen it before. I was simply expressing my love/obsession for both. I think I would love to collaborate with Phantom Cadaver the most. I thoroughly respect what he does with the genre.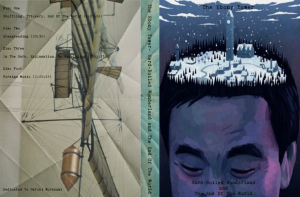 M[m]:You mentioned early that Claustration influenced you, but itís not your favourite HNW release, please select five of your favourite HNW/ANW/Static noise releases, and explain why?
Mitchell As I am a tad obsessive when it comes to collecting HNW, it is difficult to pinpoint my 5 favourite releases, but I shall give it a go:
- Werewolf Jerusalem- Pripyat 20xCDr: A fully immersive set, totaling just over 13 hours, this is easily my favourite work Richard has ever done (and I own quite a lot). Each disc, in their own right, could be considered a brilliant piece of HNW, but combined, the effect is devastating. I would love to, at some point, listen to the entire thing in one shot.
-V/A- Wallwhores 3xc90- Usually, I am not too fond of HNW compilations. But this set, with a c90 each from Insurgent, Un, and Missing Girls, is phenomenal. The pinnacle of minimalist static, and my favourite release i own on HFFL. I'd say the most enjoyable tape in the set is the one provided by Missing Girls. This set, more than any other, cemented the link between modern classical minimalism and HNW, and the confrontational ideas present in the Insurgent tracks are a great example of how sound and ideology can be combined.
- Panic/Opaque/Female Harakiri- Down c60- Radically different from the typical HNW releases I listen to (this features each project contributing a separate 10 minute track per side), each project is a great example of how diverse the genre can be. Projects like Opaque are great because it combines a seemingly unrelated interest (Down jackets) with HNW, proving how purely obsessional HNW is to a lot of us. Each track is wonderful.
-Love Katy- Have You Ever Been So Lost c20- My favourite tape from one of my favourite projects, although it was only available as part of a year long tape swap i participated in. As someone who listens to modern pop music regularly, and thoroughly enjoys it, the combination of a beautifully sung pop star with crippling crackle is sublime. The fact that both tracks have multiple shifts in texture and volume, also, give rise to idea that HNW doesn't necessarily remain static (and I would argue that even the most "unchanging" pieces still offer subtle changes, say, in the looping patterns of static texture that seem to repeat throughout). This is a master in peak form.
M[m]:Whatís lined up next for The Ebony Tower?
Mitchell Currently, I am working on a 12 disc set with Cory Strand based on Franz Kafka's The Trial and another 12 disc split with Sean E. Matzus (Thewhitehorse) based on Thomas Pynchon's Gravity's Rainbow. The latter is one of the most engaging and difficult pieces of literature I've read in a long time, so it has been wonderful to work with Sean on this.

Thanks to Mitchell for his time effort with the interview- the projects website can be found here, where it's full discography is listed & you can find out how to buy direct.
Roger Batty