Storm Bound Noise [2011-09-30]Tromba is the HNW/ambient HNW project of Puerto Rico born & based Jorge Castro. The project is at the forefront of newly developing ambient HNW genre, yet the project also utilizes elements of both HNW & standard Harsh noise to create it's searing yet epic and shifting sonic tribute to storms & dangerous/ violent weather. Jorge kindly agreed to give M[m] an email interview.

m[m]When did you first become interested in noise and in particular HNW? And is there any one HNW release that captured your imagination & made you want to start making your own noise?
Jorge It was sometime in the mid-nineties. I was a into metal and ended up being really interested in Merzbow and Macronympha, because they were written about in a magazine that Relapse Records published back then. I was blown away by Merzbow. I also enjoyed noise and experimental music which was based on restraint and letting sounds go on for a while. I'm a big fan of Francisco López, and I think he represents HNW more than many artists who claim to do so. To me HNW itself can be traced back to mid-nineties noise like Woe Is Me, Bacillus, Jennifer Wolski and others acts related to Mother Savage Noise Productions from that time. I started Cornucopia in 1996 and initially, I wanted to make the cut-up noise style but I ended up doing what came naturally after a couple of years, which was about letting the sounds breathe a little.


m[m]Tell us a bit about how the Tromba project came about?, how did you decide on the name? and is it your first project?
Jorge As explained above it's not my first project. Cornucopia projects/albums/tracks take a long time to come to fruition. We (Claudio Chea -the other member- and myself) work separately most of the time, so it takes a while to finalize tracks and such. Tromba is just me doing stuff by myself. It's a lot like HNW but I'm really not interested in the no-change, no movement aspect of HNW.

Jorge The name came about because waterspouts are quite common where I live (Puerto Rico). And like hurricanes, it's a type of weather phenomena/situation that's always in the back of our minds. They're hard to predict (unlike hurricanes) and can be as destructive as a tornado. I think it fits the sound.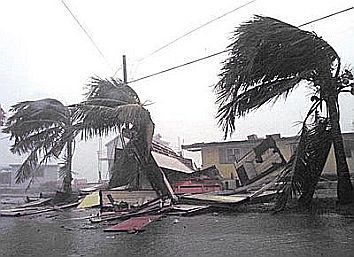 m[m]How does the sound of Tromba & Cornucopia vary? And do you go about constructing the sound for each project in a different manner?
Jorge The sound or style of each project is different in terms of sound sources and "composition". While Tromba is more of a straight ahead Harsh "Wall Noise" which is based on restraint and extended passages, Cornucopia is made up of two people, so there's different criteria and we use a ton more sound sources and equipment, and our tracks can often be very intense. There's usually some sort of build-up leading into the intense parts. With Cornucopia we also recycle some older sounds and make something new and completely unrecognizable out of them. It sounds conceptual but it's more of a necessity. We don't have a proper room/studio where we can work in, so we need to take advantage of whatever is around. There's a lot more time put into a Cornucopia track, including various versions and edits of each track. With Tromba I work spontaneously and only make small edits here and there.

m[m] All of your work is themed around weather/storms - what triggered this interest ?
Jorge Living in the caribbean, definitely. It's something that's embedded in your consciousness from a very early age. And interestingly, it is a major social event when one approaches our area. Schools close, the government shuts down, people scramble for the supermarket in order to stock up on non-perishable foods (and mass quantities of alcohol, of course). Total traffic chaos all around. But we're all used to it. It's sort of the same relationship which Californians have with earthquakes. It scares the shit out of you but you learn to live with it.
m[m]Tell us a bit about how you going about composing/ arranging a piece? And how altered/ changed are the weather samples you use?
Jorge I haven't even begun to use weather samples yet! That's something for the future. I work very methodically but I pretty much improvise all of the material. The editing is where things get interesting.
m[m] So you don't use any field recordings?!- wow that's impressive- how long does it take for you to get an authentic storm based sound? And tell us a bit about how you'd like to add field recordings to your future work?
Jorge It's interesting what you say about "storm sounds". I guess it's something that people hear in there because of the album names. My intention is not to re-create storm sounds. I just want an intense experience. To feel the incredible rush of sound and it's physical effects.
Jorge In the future, I'd like to incorporate field recordings in many different ways. Wind, water, harsh rainfall, thunderstorms, etc produce beautiful sounds which are very common and second nature to the caribbean lifestyle. People often despise harsh weather but we welcome it and it's part of our fabric as humans. I just want to use it as I'd use anything else

m[m]Tell us a bit about your set-up & how often you record tracks?
Jorge Not often at all. I have a space to work at my house but I'm usually very busy with work and my family. I haven't worked on anything now for months. But it's always like that. I go through intense periods of recording every three months or so, then just stop and concentrate on something else. My setup is simple. I'd much rather have a 3 band EQ than a complicated synth or something. For me it's more about the way I do things rather than the tools I use.
m[m] Would you like to play live with Tromba & how would you like to have you stage set up?
Jorge I would, but it's very difficult for me to even think about playing live these days. And touring? Forget it. It's incredibly expensive to travel anywhere from Puerto Rico. So it's out of the question for now. If I ever play live I'll do what we do in Cornucopia, which is to ask to turn off all the lights in the venue. I think that's how it works best for this type of performance.

m[m] Tromba is one of the innovators in the newly growing ambient HNW scene- what first attracted you to this sound & do you think your future works will go deeper into the ambient HNW sound or will it become more locked/ battering HNW bound?
Jorge Definitely. But I wouldn't say that Tromba is exclusively ambient HNW, or HNW at all! I like to explore restraint, which can be done with Harsh sounds or quiet sounds. I really don't want to corner myself up in a style. I just want to do what comes natural. Whatever it's called.

m[m] What the most scary/ impressive storm you've encounter in person?
Jorge Probably hurricane Georges in 1998. Maybe because I was much older than when the previous major storm hit (hurricane Hugo in 1990) but this was pretty massive and lasted for quite a while. 250km/h winds and such. You're pretty much trapped in your house for the duration. I used to live in an urban area which wasn't badly damaged but it must have been incredibly scary for people who live in the country and mountains. There were a lot of people who lost their homes but there were no casualties.

m[m]Your based in Puerto Rico- whats the HNW and noise scene in genreal like there?
Jorge There isn't any HNW projects that I know of. There's many other noise and experimental artists but very few follow through with international contacts and such. I've pretty much stopped playing live for now, so I might be missing out. I also live far away from the metropolitan area of San Juan, where most live shows happen.

m[m] what have you got lined up next & where do you see Tromba sound going next?
Jorge I'm not sure where the sound is going next. I'm interested in doing more material in the vein of "Torrential" release. I love doing field recordings so that will eventually find its way into Tromba. As I said I'm not into the no-change thing so that will never happen. I want to record more "meditative" material. Long form works. It's a blank canvas, really. I don't have a plan. If someone asks me to release something, I'll just go for it and see what happens.
Thanks to Jorge for his time and effort with the interview. Tromba blog can be found here here and Tromba's soundcloud page can be found here here where you can sample one of his lengthy works. Photo credits: 1st photo Bill.T.Miller, 2nd photo is of the effects of hurricane Georges & 3rd photo Nestor Rivera
Roger Batty