Of Frogmen, Sharks & Black Gloved Killers [2010-02-06]The Rita is one of the most well known, respected & recognizable names in the Harsh Noise scene. The project was started by Canadian based Sam Mckinlay in 1996 & since then he has released over sixty releases & becoming one of the most talked about & each release anticipated artists in the scene in general. Sam was kind enough to give me an email interview(please note-this is my second interview with Sam for M[M] my first interview from 2007 can be found here)

m[m]A compilation of your early work with the project BT.HN. Came out on Pointless blank records this year. Can you tell us a bit about the origins of BT.HN?And what does the projects name mean?
Sam BT. HN. started purely as an experiment around Halloween, 2004. There is a group of skateboarders in Vancouver, BC that militantly only skate highway barriers and they are called appropriately the BARRIER KULT or BA. KU. They also maintain an obsession with ritual, black war metal, and black arts to keep their dedication to only skateboarding barriers pure; based on parallels to black arts practices - and again, the violence and controlled chaos of black war metal. I skateboard with the 'group' occasionally and one day I was asked to do a soundtrack to the extras portion of their upcoming DVD "Horde Video". They knew that I do harsh noise, so they asked if I could possibly do a Power Electronics styled track to compliment the rest of the black war metal that makes up the soundtrack during the various members' parts of the main portion of the DVD. I took it as a great opportunity to delve into PE vocals and full on 'old school' Iugula-Thor violence to see if I can replicate and further understand my interest in black war metal and how the techniques of harsh noise and PE can parallel the style and punishing nature of black war metal bands such as Mystifier, Sarcofago, and Beherit. When the DVD was completed, I mailed a copy to Phil Blankenship / The Cherry Point / Troniks and he was impressed with my PE material; enough to give me the idea that I should continue the project under the title BA. KU. The first few releases were under that moniker and were themed after ritual and the black arts to continue the black war metal chaos stylizations, but the name was eventually changed to BT. HN. (which is the abbreviation of La Bete Humaine - named after the Emile Zola novel and Jean Renoir film of the same name) to avoid any confusion with the Barrier Kult and my PE project as they were 'initially' from one and the same project. BT. HN. is now themed more directly around social violence and early industrialized society and its tendencies around the turn of the 20th century, hence the La Bete Humaine reference.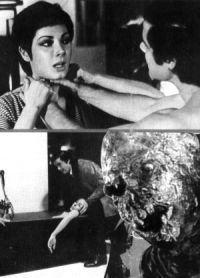 m[m] what do you think are the sonically differences between each project? And how does your equipment differences between the two projects?
Sam The earlier BA. KU. work was much like the earliest of The Rita works; based around feedback and heavily distorted mic and live source abuse. As the focus of the The Rita slowly turned to heavily meditated lines of audio texture and distortion lines, I use BT. HN. to express my wants for creativity in other areas of analog noise. The last few works have involved the talents of Josh Rose of Sick Buildings fame and the great label Rundownsun, and I can safely say that BT. HN. is now officially a two man operation. I take the direction of The Rita and BT. HN. very seriously as two different entities - so I never want to cheapen the values of either with any 'style crossovers' for entertainment value. I can say that The Rita, again, is a heavily focused and thematic project that uses different source sounds and filtered white noise to generate it's different studies of dirty analogue harsh noise and it's textural tendencies, while BT. HN. is more controlled PE dynamism; from crashing feedback and steel abuse, to throbbing lines of electronics and vocals.
m[m]BT.HN. seem to use distorted vocal textures which don't appear in The Rita work- were there any lyrics or words written for each track or was it just the texture of the voice you like more?
Sam Most of the vocals from the early BA. KU. / BT. HN. material was taken from Clark Ashton Smith writings and various extended samples from various European 70s black arts genre films. Some lyrics for the Troniks CD 'Her Serpent' were written by a friend of mine who is a porn performer and filmer. The lyrics were then vocalized by Keith Brewer / Taint who had also done vocals for one of the earlier tapes. All of the other vocals are performed by myself. There are actually a lot more vocals in the BA. KU. / BT. HN. works then some people think as they are sometimes hardly noticeable as I bury them with waves of cascading distortion; which answers your question about the textures of the vocals and my subtle interest in their own quality when heavily distorted. When mastering - it's 'The Rita' in me that sometimes makes it hard to hold back on the overdriven harsh noise qualities. The more recent works with Josh Rose have been even more directed, letting me step back to see what lines of sound can move around without always burying it in gravel with most of the vocals' lyrics taken from Emile Zola writings or Italian neo-realism film scripts.
m[m]I came across a YouTube film of you doing Skateboarding & it seems your quite a respected Skateboarded in your own rights too- do you still Skate now? And did you ever get to competition level? And who & when did you first get into Skating?
Sam I really started out as a kid on BMX bikes, but I have been seriously skateboarding since around 1983/84. I was lucky enough to impress the right people in contests growing up in the interior of British Columbia, Canada so I had good shop sponsors and product flow deals from the late 80s onward. As time went on, my brother and I owned a store for a few years in the 90s, and continued to have product flow deals and various hook-ups into the 2000s, so I have always tried to be around on a skateboard even now as I begin to reach my late 30s. My younger brother Mike McKinlay took over the 'skate career' moniker in the late 90s and 2000s - so he has obviously also been a great hook-up for scene exposure and product, etc. The late 90s and 2000s have been great as I seem to be finally skating for myself and my involvement with the Barrier Kult has led to so many more levels of transition skating purity; leading to a BA. KU. deck on the legendary Skull Skates, a shoe and clothing 'line' on Emerica, and various other skate related glossy magazine writing projects that keep me inspired outside of the usual fanatical obsession with frontside grinds on pool coping and concrete barriers.
m[m]2008 saw you form the new HNW project Vice Wear Black Hose with Richard Ramirez- how did the project come about? And how do you compose & work on pieces together?
Sam I have always been a fan of Richard's work - most especially his Werewolf Jerusalem project. When we did the Werewolf Jerusalem and The Rita split and collaboration cassette, we really liked the output of the material, myself always being excited and anxious to see what Richard has come up with my source material as my respect for his work and his ear for sound is profound. Finally we decided to simply start a collaborative project; that being Vice Wears Black Hose. I was lucky enough to be allowed to pick the title (Vice Wears Black Hose is the title of one of my all time favorite giallo films and the connotations of the wording is perfect) and design the large logo for the project. More than ever, I really sat back and manipulated the sound for the tracks and the imagery for the official logo alike as sternly as possible to evoke the serious manner of a solid collaborative effort. All of the tracks were traded off via mail collaboration with either myself working with Richard's sources or Richard making use of my source sounds.
m[m]Were did the idea to release different formats on different labels for each release with the project? And is there any plans to release all the 3 parts (so far) as a box set?
Sam Due to Richard's heavily prolific nature as a harsh noise artist in the past, he managed to systematically have three different labels releasing the works one after another. With the nature of the collaboration, the one rule I articulated was that the releases had to be on pro-cassette, proper CD, and then vinyl with the large logo / or Vice Wears Black Hose 'brand' being highlighted on each release to give the collaboration series a sense of linkage and to eventually highlight the sound rather than the possible imagery.
m[m]Are there any plans to release the 3 Vice Wear Black Hose as a boxset?
Sam No plans as of yet. I'm still just letting the great quality of how the three releases turned out to sink in. Maybe after a few years and some other works with Richard as VWBH we'll think about something if we get an offer.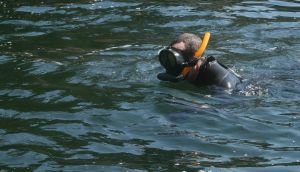 m[m]Can you tell us a bit about the live snorkelling recordings that help make up your new work 'The Voyage of The Decima MAS' on the Troniks label? over what period were they made, how much editing & movement did you make for the finshed picec? And how long were the original source recordings?
Sam The live snorkeling recordings were incredibly important to me personally and on a creative level. Having loved the idea of diving and the aesthetics of diving for a lifetime due to my obsession with sharks, again, from childhood I have always snorkeled and tried to participate in forms of 'reef' diving - be it in Maui, the Northwest coast, or any possible eerie and deep lake. I remember vividly as a child constantly manipulating fire-fighter toys; attaching the tank equipment to other action figures as divers to be eventually submerged and attacked by various rubber sharks. With skateboarding and other interests in my teens, I never took the time to get my diver's certificate, but took the 'free diving' route as I gained interest in the vintage world of spear fishing and underwater knife work. The aesthetics of the snorkeling spear fisherman took over from the diving tanks as the purity of a human underwater with just a wetsuit, fins, gloves, snorkel, spear, and diving knife took precedent. I have been able to scuba dive on a few occasions though - for a couple of weeks in high school and again when my girlfriend and I went cage diving for great white sharks at the Isle de Guadalupe years ago (the precursor to the THOUSANDS OF DEAD GODS WORK) but all the time it was supervised, so no official certificate was required. Last year, my parents moved to the Sunshine Coast which is north of Vancouver, BC and this gave me the opportunity to take my time and snorkel in the various harbours and off the islands in Northwest Coastal waters and really have a look around some of the areas that are celebrated diving spots. Many of the spots were off the edges of cliffs, so the idea hit me that an underwater contact mic would be extended directly over the cliff face and into the water to get recordings of the various movements and textures of the objects down there. I had Ryan Bloomer of Trauma Tone make me an ocean safe contact mic on a 25 foot cable that could be hooked into an on shore recorder and then taken down to depths of over 20 feet as I scratched and moved around the rocky cliff face messing around in and with small caves, seaweed, crabs (some of the recording actually features small live crabs scratching their claws on the mic), barnacles, coral, etc. The recording time in total was eventually around an hour as the tapes were messed with and we got some photographs for the insert. The scariest part was listening to the works afterwards to see what turned out, and I was taken aback as I found that the mic not only picked up the various deep water scrapings, but also vividly the tendencies of the ocean surface splashing as I repeatedly came up for air. The editing process was unlike much of my earlier THE RITA material as there were weeks of concentration on the RAW field recordings mixed with gained and manipulated recordings, but always keeping the focus on the qualities of the raw sounds and not to bury them in effects as the deep and dark water nature of the analogue tape recordings was doing the job for the usual various gated fuzz effects. It was nice that the recording plan went over better then expected, thus being able to appreciate and utilize the untouched diving sounds themselves.
m[m]On the same subject were does the albums unusually name come from?
Sam On the subject matter of spear fisherman / underwater hunters and their aesthetic, the common thread was an interest in WW2 frogmen, their roles in the war, and ultimately their equipment, as the gear itself plays a major role in the technique and ominous nature of the divers. Obviously the interest in the diver as a weapon, be it a spearfishing diver after sharks (which references the SHARK KNIFING 7" works) or a WW2 frogman, is a massive culmination of interests for me as the nature of apex predators such as sharks in the ocean is directly paralleled with men dressed to damage and kill under the waves of the dark Atlantic ocean. After years and years of reading about frogmen and accumulating as many books and imagery as I could, I began to really focus on the Italian 'Sea Devils' of WW2, commonly known as the Decima Flottiglia MAS. Without getting really into the depths of their role in WW2 and turning this into a Laurence Olivier narrated war documentary series, the Decima MAS were some of the, if not the earliest practitioners of WW2 frogman warfare and acted as drivers of underwater chariots, or 'Maiale' ('Pigs') which carried on their noses explosives to be set underwater on the hulls of parked Allied ships. They were very successful in sinking many Mediterranean sea parked Allied ships in this fashion, even eventually inspiring the Germans in their own underwater human torpedo assaults. The thing that really got me about the Decima MAS was their gear and breathing apparatus. Virtually looking like they are wearing WW1 gas masks that have been altered to be diving equipment, the overall fearsome aesthetic of the divers in their Model 49 Rebreathers was/is immensely fascinating - especially for someone with my interests in predatory underwater practices. So fascinating, that virtually all interests in diving for me (other than vintage shark spearfishing and knifing) has been directed toward the Decima MAS and their WW2 frogman practices. I was able to attain a vintage Italian rubber full face mask that I wore for some of the underwater recordings and photographs in the insert and plan to also wear it when I eventually perform the material live this spring with a small stage tub of water (big enough for me to lie in) and contact mic'd full snorkeling gear. I think it would be very atmospheric to lurk around a dark stage with the full face mask, diving knife and snorkeling gear, dripping with water, eventually arriving at a table to effect the raw contacted movements; a nice extension to the ocean recordings.
m[m]Are there any source materials you'd like to work with next? And what has been the most difficult and problematic sound source you've thus far?
Sam Strangely enough, I want to continue to work with sampled percussion and singing. The most recent examples would be the drumming source elements in HEADLESS WITH LEOPARD SKIN and an upcoming 7" that samples two very certain European genre actresses' brothel songs from two different Nazi SS exploitation films from 70s France. I want to continue working with the textures of women's stockings and nylons - extending the qualities of the Utmarken THE NYLONS OF LAURA ANTONELLI box set with actual leg movements; hoping to gain a different tactile quality from the sounds that has more of a dynamic 'human' quality (thank you to VOMIR for making me think more of the possibilities). I am also constantly trying to manipulate the sounds of knife culture into mic'd works, so I want to continue the recordings of various forms of sporting and combative knife use. The sound source that has given me the most amount of grief has easily been working with sampled spaghetti western gunfights. After recording gun scenes from over 25 films, I was sure that the manipulation and cracking quality of the firing would be smooth to work with. The quality I didn't expect to impede me was the high tinging of the ricochet that I completely underestimated. I've never spent so much time digging into the mechanics of pitch shifters and octaves until I worked with the gunfight samples. I finally got it to where I'm happy, but not until after months of making colleagues listen to the material to see if they can also recognize the unattractive 'pinging' of the various gun shot ricochets - a high pitched sound that I could not sincerely condone coming from my own work and tastes.
m[m]In the last year or so you've very much become the leading light & influence on the whole rapidly growing HNW scene- what are your thoughts about the scene at present & you place in it?
Sam As opposed to some of my respected peers' opinions that most of the contemporary wall noise artists are simply following scene, I have heard a lot of the newer material and have read many of the writings by the artists on the internet and have come to the conclusion a while ago that most of them ARE incredibly sincere about the SOUND within the movement. Some of them have possibly become hung up on the politics of the movement, and I can partially take blame for that myself with the namesake of my first label effort - 'Militant Walls' and the nature of the imagery in the first Total Slitting of Throats CDr release. I have discussed this in the past, but my colleagues and I were originally using these 'tactics' to keep us in tune with the capacities, qualities, and eventual thematics of the solid blocks of sound. Not unlike propaganda imagery that works outside the box; to keep a movement on a strict course as they investigate a single premise. I, for one, didn't want anything making me waver from concentrating on the details of deconstructed 90s Americanoise as I took my journey through evaluating for myself what qualities I am obsessed with and what details I can eventually manipulate further.
m[m] what are some of your favorite HNW projects from the last year or so?
Sam Off the top of my head: Seagull, Sick Buildings (his minimalist studies live and otherwise), Nervous Corps, Taskmaster, Vomir, Remlap, Ryan Bloomer, Being, Infirmary, Paranoid Time, Alo Girl, Tissa Mayartyassari, and Richard Ramirez's projects: Werewolf Jerusalem, An Innocent Young Throat-Cutter, Last Rape, Shining Sex.
m[m]You've formed your own label in 2008 Lake Shark Harsh Noise- why did you decided to this & what can we expect in the near future on the label?
Sam This early 'press release' text still describes the label name change from 'Militant Walls' to 'Lake Shark Harsh Noise' best:
"The bull shark, Carcharhinus leucas, also known as the bull whaler, Zambezi shark or informally Zambi in Africa and Nicaragua shark in Nicaragua, is common worldwide in warm, shallow waters along coasts and in rivers. The bull shark is well known for its unpredictable, often aggressive behavior. Many scientists agree that since bull sharks often dwell in shallow waters, they may be more dangerous to humans than any other species of sharks."
I grew up on Okanagan Lake and remember snorkeling alongside giant carp and wishing one day that, with some miracle, a freshwater shark would one day cruise by the wharf (not to mention the Ogopogo).
After much thought, I decided some months ago to make my label contributions much more personal and a little less 'political'(?) in regards to presentation and theme work - so I am announcing the new label: LAKE SHARK HARSH NOISE. The CD reissue of the DEAD BODY LOVE cassette 'Low-Fi Power Carnage' left a heavy mark on the label, and therefore I felt that I couldn't easily do much more with MILITANT WALLS as the CD marked an apt ending for what I was trying to do with the small label."
Sam Future plans for Lake Shark Harsh Noise include a collection of audio from Sick Buildings which includes a detailed written overview of Josh's past amazing live and interactive sound presentations. I also want to hopefully venture even further into the deconstruction and fetish of the female form(s) via releasing PE and 'early industrial style' material from certain very obsessive sound artists.

m[m]As your works becoming more talked about & respected outside the normal noise scene- have you been approached to do a box set of out of print Rita Work & would this be something you'd be interested in doing?
Sam The limited edition 8 cassette The Rita 'Retrospective' box set released by Harsh Head Rituals in 2006 is to be reissued on DVD this year from Pointless Blank. It will come with a large card set and the 'Shin OCD' recordings from 1998 as an extra.
m[m]Can you tell us a bit about the eight titles on the new on 'Retrospective' box set & why did you decide on those recordings? and what other out of print work would you like to see reissued in the future?
Sam The eight titles on the Retrospective box set were simply selected as eight of my older 90s works that included tapes from labels such as Almos, Spite, and Labyrinth, but also some very limited self released titles that many people missed back in the day. There are definitely some other titles post-2000 that I'd like to have some more exposure as some people missed them as were only available in limited quantities. Anything after 2000 still has some 'aging' to do before it is reissued in any larger quantities, but there are a few exceptions like the REPTILIAN CORPSE AND DIRT cassette whose original was found to not only be limited, but also as 'artifacts' as some of the cassettes were unplayable due to the packaged dirt they were immersed in.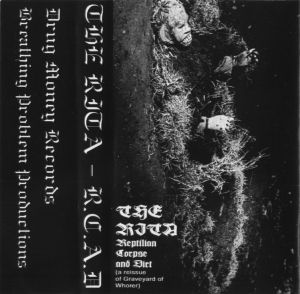 m[m] You've recently done two fairly high profile interviews more mainstream publications & media (Rue Morgue horror magazine & radio interview with Canada radio station CKUW)– how did these come about?
Sam The article for RUE MORGUE magazine, was written by a good friend of mine named Kier-La Janisse. She ran the Cinemuerte International Horror Film Festival here in Vancouver for years and I got to help her program some of the nights. After Cinemuerte, she went on to program for a few years at the famous Alamo Drafthouse in Austin, TX before coming back to Canada to focus on her historical genre film writing. Her most recent major work is a masterpiece of a book entitled A VIOLENT PROFESSIONAL: THE FILMS OF LUCIANO ROSSI which was published by FAB press. I never new that she was secretly one of my biggest fans; shelling out big $$ behind my back for some of my old releases, thus her coming up with the idea to do a piece for the glossy horror magazine RUE MORGUE on the horror themed tendencies of THE RITA. She has written for RUE MORGUE now for some time and I had a CD review in the magazine years ago, so the possibility for the article came together fairly easily. Kier-La also conducted the 'high profile interview' with myself on the Winnipeg, Canada radio station CKUW as promotion for the 2009 send + receive festival of Sound which is also in Winnipeg. I didn't participate in the festival, but I got to discuss my own career as well as the state of Canadian harsh noise artists as a precursor to what the festival entailed.
m[m]What's next release wise for the Rita, Vice Wear Black Hose & have you got any new projects lined up?
Sam - A THE RITA 7" on Spacelessjam that involves the Spaghetti Western samples mentioned above; themed around shooting sharks from the decks of boats and on the beach.
- A THE RITA 7" on Ketchup Cavern that I sampled and themed around the SS brothel genre film singing mentioned above.
- A split LP with Clew of Theseus. My THE RITA side of the LP utilizes source sounds from Daniel Menche.
And still in the works is a collaboration cassette with Aaron Dilloway focused on vintage rubber monster mask source sounds and a 7" collaboration with Prurient.
Thanks to Sam for his time & effort with the interview & supplying the pictures for the interviews. Check out The Rita's Blog here for up-to-date info on releases etc.
Roger Batty