Well Read [2008-06-24]The Tangent are a prog rock band through and through showing nods towards the great prog masters such as Yes, Rush, King Crimson, etc, yet they've also twisted their own identity and modern edger's into their sound such as electronica and other rewarding genre twists 'n' turns too. Early on this year the band brought out their superb forth album Not as good as the book, main songwriter, vocalist and keyboard player Andy Tillison kindly agreed to give MM an email interview.

m[m] You've all been in other fairly high profile bands- how did it come about the idea of the Tangent as a project? Who approached who etc? And where does the name come from?
Andy: Parallel or 90 Degrees - a "high profile band"?? - not sure about that at all!!! The band was exceedingly low profile as far as I am aware. But yes, the Tangent group has had some higher profile musicians in it... Jonas Reingold, Theo Travis and Jakko are still in the band, and Roine Stolt and David Jackson have both played a part. It all started when I, (the lowest profile) was put in touch with Roine Stolt by the guy who is now our manager - Ian Oakley. Originally it was to find musicians to help me with a "prog rock" solo album. In the end the project became the first Tangent album, a supposed "one off" affair which has now spawned 4 studio albums, 4 tours, 2 live albums and a DVD. As for the title... it's just a pun on the old band name "Parallel or 90 Degrees" which is a geometrical reference to the music... the idea there being that we could run in Parallel with the mainstream or cut right across it. The Tangent is another geometrical phrase that is often used as a phrase to describe "doing something different". So the name stuck.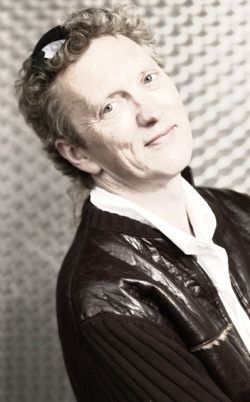 m[m]What are some of your earliest memories? & how did you decided to with keyboards and was it your first instrument?
Andy: My early life was full of music because my Mum played the piano and sang. Our house was full of amazing classical records and we had good equipment to play them on. I used to make up my own stories about the music I heard, and go to places in my mind when I listened. For this reason, a lot of the Pop culture around me at the time didn't leave much of a mark, because I couldn't find stories to go with 2 minute pop songs. It wasn't until some older kids came around to my parents' house with a copy of Close To The Edge that I found out that rock bands were making music you could become embroiled in. I was 12 years old, and I spent all my pocket money on buying the record. It was my first album, and 37 years later it still takes me places.
Piano was a natural place to start because we had one! At first my mum used to stop me from playing my own compositions, she's rather I concentrate on learning how to play music by the great masters. But it wasn't long before she realised I could make my own melodies, and she was very helpful and encouraging. What I do now is a long way from what she envisaged I would do, and although she's nearly 80 now, she has a copy of all my albums, and she really has listened to them, and she's proud of what I've done. That's a happy ending!

m[m]How do you going about writing material- will you all jam together to come up with ideas or do you write separately?
Andy: In Effect, the Tangent is a single composer band, although there are a few exceptions where I have collaborated with one other member at a time, or where another person has written a song. The "Jamming together" method is not really a part of our makeup at the moment, as we are too far apart, and when we ARE together we usually have something important to do which doesn't let us really have time to Jam. There are some sections in Tangent music which are like jams, and this is usually caused by me having a jam with myself early on in the writing procedure. I will write a few bars of Drums and Bass, and then do long jams with these on the organ and piano, and usually record them. Then i can ask Jakko, Theo etc to join in afterwards... so, long distance jams -yes, altogether in one room - no! On the new album all the songs were penned by myself, but that doesn't mean it will always be like that.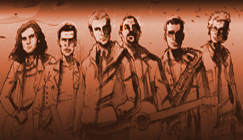 m[m]: All of your albums have a very modern English feeling running through lyrics and imagery- Has this always been an important side of the Tangent? & can you see your self moving more towards sci-fi or fantasy elements that are hinted on Not As Good As The Book?
Andy: I think you are right about the "Englishness", and this was a very important part of what we wanted to achieve in the band. One of the most apparent things about the renaissance of Progressive Music in the 90s was that most of the exponents came from either the USA or..Sweden. Looking at the various groups around, like Anglagard, Sinkadus, Flower Kings, Spock's Beard and Glass Hammer, I found myself really enjoying their music but rather envious of the fact that these countries had a real scene in a music form that has its roots here in England. The Scandanavian bands had lots of "Scandinavianity" about them and the US bands sounded very American. I obviously wanted to have a band that featured more of the original English spirit; being English myself it's hard to disguise that fact. As for the SCI FI... it's another area that interest me, sure, but the Sci Fi used on our new album and the book that comes with it is very English too... it's mostly a humorous take on Sci Fi from a very cynical point of view. I don't see Sci Fi/Fantasy as the future for the Tangent. I am much more interested in "Real Life", and the Sci Fi elements on "Not As Good As The Book" are really only there as a different way of observing real life NOW.

m[m]: Talking of Sci-fi do you have any favourite Sci-fi Writers & have you ever thought of making either a sci-fi novel or any other book into a concept album?
Andy: I enjoy science fiction a great deal, on all levels from the Western style Star Wars, through Star Trek to the most weird and wonderful stuff. Love Ian M Banks, Arthur C Clarke, Isaac Asimov. At present I've been amazed by the current TV remake of "Battlestar Galactica" a programme that has managed by its fictional stance to ask very many deep questions about today's real world in a way that an American produced show could not do were it to be set on the Real Earth. Such is the job of artists, and of course I strive for this effect when writing songs myself. As for concept albums, I've never wanted to really go in for the "obvious concept" of taking a story from a book or film, and I prefer to make my albums "thematic" rather than overtly conceptual. Remember that on the new Tangent record/book, the book is based on the music... not the other way round as many people assume!

m[m]: You're clearly all huge old school prog fans- list you top ten favourite from the 70's and 80's prog albums and the reason why there on the list?
Andy: Van Der Graaf Generator - Pawn Hearts. A dark and cobweb laden masterpiece that totally outperforms Pink Floyd, The Doors and Joy Division for atmosphere. Full of imagination and dark melody.

Yes - Tales From Topographic Oceans. An album that never ceases to amaze me, take me on journeys, fire my imagination. I never get sick of it. It's real inspiration and music, images and ideas all gloriously mixed up. For exactly the same reasons I have to use my next two choices on the same band....

Yes - Close To The Edge
Yes - Relayer

Emerson Lake And Palmer - Brain Salad Surgery. Unbelievable contrapuntal music, this is like a fireworks display. I can sing all the organ parts to Karn Evil 9. My fave keyboards playing of all time.

Peter Hammill - The Silent Corner and the Empty Stage. Listen to "Modern" - there isn't another track like that anywhere in the history of music.

Peter Hammill - A Black Box. Hammill's best ever songs on a really badly produced record and I just don't care. This is fabulous song writing, a man possessed by inspiration. Lucky bastard!! "Flight" features IMO the best lyrics he wrote. That's saying something.

2 albums by National Health - Both their first two albums are among my all time favourites. Totally wonderful compositions, amazing playing and so much better and more innovative than the supposed masters of jazz fusion like Weather Report and Return to Forever. What Dave Stewart never forgot, was that composition is King, and National Health was the jewel in his crown.

I think RED is my favourite King Crimson album... Dark, thrashy, distorted, threatening, serene, brilliant.

m[m]: How did the idea come about to make the novel connected with your recent album not as good as the book? And can you tell us a bit about the books development along side the album & what came first?
Andy: While recording in Sweden with Jonas and Jaime, I had the idea of somehow linking the stories that were already in the songs into one story for the album sleeve. I just found myself writing and writing until it became apparent I was going to need more room in the cover... and by the time I'd finished I'd written a book. It's a humorous Sci-Fi fantasy, where a man "frozen in time" recalls events from his life in our time... some 90,000 years into the future. Many of these memories can be found in the songs too. The book was written AFTER the music, so its based on the music, not the other way round. I asked Antoine Ettori to illustrate the book and the CD cover, because a piece of his work had inspired me to start the whole project... Bizarrely, the music is some of the most serious we've written in subject matter, and the book isn't serious at all!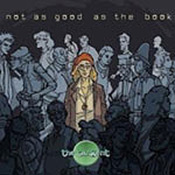 m[m]: Not As Good As The Book seems to be weaving in more modern elements such as electrionca traces etc to the mix than you pervious albums- is it important to you to now adding in new and different elements? And what can you see weaved in to future projects?
Andy: We are a progressive rock band, and as such I do not see limits. I don't think we're going to go into Country music yet (but Dixie Dreggs do a fine job), but I don't see any STYLE as "off limits". After all, as a Prog band, we deal already in Jazz, Rock, Classically influenced music, folk and metal, we've done a disco track, and who knows what else we'll do. What we won't do is cheat. Every sound we put on our records is US, just instruments and voices. No drum loops, (even though we have things that sound like drum loops... we play them), no "found sounds", all our sound effects are real, and (like the motorbike on Bat out of Basildon) played into the song in real time. The Radio Comms noises on "Four Egos" are also performed in real time by band members, not recordings loaded from elsewhere. The nearest we go is Arpeggiators, automated sequences of notes, you can hear one right at the beginning of the album. So when we use modern sounds and styles, really we are just doing our job as progressive musicians. The original bunch in the 1970s used as much state of the art technology as they could get their hands on. And so do we... but our only limitation is that we will always PLAY what you hear.
m[m]: Not As Good As The Book seems you most complex and dense story both musically, story wise and packaging wise(it's available in four separate formats) will this trend follow on to live playing of the album & have you made plans to just play the whole album as a concept show?
Andy: As for LIVE, well we will be playing a tour in May and this will be very much centred around the album... but no, it won't be a full concept show. the Tangent is not about big shows or costumes, we are about just being a band onstage. We won't be doing a Rick Wakeman, or even an IQ!! When IQ set up for a show they spend as much time on the lighting effects as they do on the music. (Not a criticism of IQ by the way - just a comparison) For us, that's not what we're about. We go onstage in whatever we happen to be wearing that day and we don't care about the lights at all, as long as they aren't in our eyes!!!.
The album is only available in 2 formats... a special edition (with a book) and a Standard edition (no book). Anything else doesn't exist... but is simply a misunderstanding of some of the publicity material which we released... my fault!.

m[m]: what made you decide to move away from the more surreal and fantasy based artwork of your first few albums towards the more doomy cartoon type artwork of Better than the book?
Andy: Well... we had already made 5 albums using Ed Unitsky as our designer. We had no problems with him at all, he's great, but Manning got on the bandwagon and used him as well, then the Flower Kings, and hey, we just thought "Time For A Change". The Tangent's overall mission is to be a leader in Progressive Music, (which bearing in mind waht I just said... seems to be working) to come up with new ideas, and Antoine Ettori's artwork is another part of our development. It's a fabulous job he did for us, we are very pleased with the package in general.

m[m]: Not As Good As The Book seems your most memorable and complex (structure and musically genre wise) release thus far- was this a difficult balance to achieve?
Andy: Although some of the album is more song orientated than previous albums, there is a good deal of complex material on the record, and the way the albums themes tie together and the lyrics mesh along with it, well these things make (for me at least) our most complex album so far. It was certainly the hardest to make. We don't make records that are easy, that wouldn't be much fun for us. In the end, the idea of NAGATB, as with all Tangent records, was to create memorable songs, memorable lyrics, good compositions and exciting instrumental sections that are as listenable as they are self indulgent. Only the listener can decide if we succeeded!!!
Thanks to Andy for all his time and efforts with the interview. To find out more about The Tangent, hear tracks ect go to their website here
Roger Batty