Darkly Moody Beginnings [2019-09-04]

For over 30 years Allerseelen has stood as one of the most innovative, genre-eccentric and creative projects within the European experimental & post-industrial scene. In the last few years the project has been slowly–but surely reissuing their early more crude, though no less distinctive and creative material form the late 1980's to 1990s. I caught up with Gerhard Hallstatt- the projects forming member & key songwriter to discuss these early releases.

M[m]: What are some of your earliest musical/ sonic memories, and did any of these later inspire you to make music yourself?

Gerhard I always liked sounds, as baby, in my childhood, in my youth. In my youth, I wanted to become a poet. I was inspired by writers like Arthur Rimbaud with his symbolistic poetry and William S. Burroughs with his vanguard cut-up method. I got a noisy type-writer and wrote my surrealistic texts after school. These sounds of the type-writer - like the fire of a never-ending machine gun - led in a certain way directly to the path of industrial music which I got to know in Berlin when I was there at an age of sixteen. An experience for me was also the noisy and rhythmic underworld of the Berlin U-Bahn, the first metro of my life. I felt like inside a type-writer or inside a cassette recorder. I also was at a concert with ten-thousands of people: Tangerine Dream performed live in front of the Berlin Reichstag monument. Two years later, I was again in Berlin, I saw there SPK on stage. Inspired by Einstürzende Neubauten, Test Department, Throbbing Gristle, SPK, Z´EV, and others - the whole pantheon of industrial and ritual culture - I started playing with sounds. Inspired by books on alchemy and other magical topics, I always had the idea of sounds as symbols. The early Allerseelen cassettes have been the first results. I still like most of these tapes and many people have asked in the last years for these recordings - which is the reason why we started re-releasing most of them. The funny thing is that we - the Russian label Indiestate and my own label Aorta - started re-releasing them on CD - but now we also plan cassette re-releases. A very specific Back-to-the-roots, Back-to-the-tapes. The early cassettes were C60. But now we plan to re-release them as C90 with exclusive additional tracks.
M[m]: When did you start attempting to make your own sounds, and was Allerseelen your first project?
Gerhard I recorded my sounds on cassettes and started selling them and trading with people all over the world. With some of these people, I am still in contact. When I was at the age of 19 in the military service in Vienna, I already had two cassette recorders with me in the dormitory as I had some huge orders from North America. I was the only soldier who came to the barracks armed with two cassette recorders and dozens of blank tapes: There was much to do. So in the daytime, I was a soldier, but the free evenings were dedicated to the world of underground music. While the cassettes were copied and the comrades spent their time in pubs, I stayed like a monk in the barracks, taking care of the cassettes and reading about alchemy and magic. I felt at this time already quite attracted by Psychic TV and their combination of military and spiritual ideas. Allerseelen was not my first project. There were some projects with names that changed almost every month. I forgot about them as they are not that important. Then the project Allerseelen was still in an embryonic state of existence. Some of these recordings disappeared, some of them I still have but I am not certain if they will be re-released in one or another way.
M[m]: Allerseelen first-ever release was 1988's Morgenröte- tell us a little bit about how this release came about? And sonically what was this release utilizing?, as the discog page only mention the use of Human bone on the first track. Also, are there any plans to reissue this?
Gerhard I am not certain if this was the very first recording by Allerseelen. But this is not that important - at least for me. More important for me, in general, is that some of this music has a certain timeless quality. Everything in art basically should be timeless - music, paintings, poetry. At the time of the recordings, I studied some books about alchemy and there was a ritual mentioned that took place at dawn with the use of morning dew. Morgenröte means Dawn. Some recordings on Morgenröte had song-like structures, there were electronic sounds, synthetic sounds, a kind of industrial pop spirit. On the other early cassettes I avoided exactly this: On Schwartzer Rab, Requiem, Autdaruta, Lacrima Christi (the recent CD editions Frühgeschichte I, II, III, IV) - I concentrated on "organic" instruments, "real" instruments, real kettle-drums, real violin, real fire, real bones, real flutes, real wood. Yes, Morgenröte will be re-released too, very probably as Frühgeschichte V - as CD and sometime later also as C90.
I plan to re-release everything that I still like after all these years. I did not think about chronology when we started the re-releasing: I wanted to start with the recordings that I like most - and these are the cassettes Schwartzer Rab, Requiem, Autdaruta, Lacrima Christi.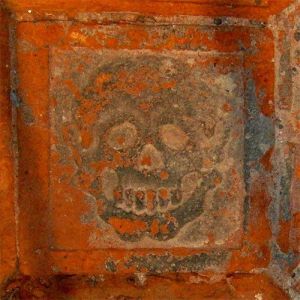 M[m]: The next two Allerseelen releases appeared in 1988 and where Schwartzer Rab & Requiem- both of these are also the two releases first in the series Frühgeschichte- which has seen you over the last few years reissue older releases in CD form. Both releases are very primal, murky & grim release using a very sparse sonic pallet of Violin, Kettle drum, sampled raven sounds, minimal bass & guitar, and samples of Ravens, bone & flame. What do you see as the theme/ meaning behind these two recordings, and can you anything about their recording?
Gerhard Schwarzer Rab means Black Raven. The raven is a frequent symbol in alchemy, especially the black part of the opus with its dangerous moments, with its symbolism and identification with death. Morgenröte was a "red" cassette - inspired by the red part, the second part in alchemy. I recall very well the recording process of the early Allerseelen cassettes, drumming on old kettle-drums, scratching on a second-hand violin, making percussion on human bones, recording strange sounds like fire, metals, ravens. All these sounds and melodies and rhythms were combined in a very strange way. But the ravens were not real ravens. I imitated them with my own voice and added some effects. I was already in my youth fascinated by Hugin and Munin, the two ravens of Odin who whispered in his ears what they knew and saw and remembered. In my recordings, I wanted to be both ravens at the same time.
Gerhard Requiem was less inspired by alchemy but by death. I had traveled various times to Sicily and when I passed by in Rome, I was impressed a lot by the Capuchin cemetery with its artworks that consisted solely of the bones of hundreds of unknown monks. Even Marquis de Sade visited this place, and I am almost certain that I saw the first photo of this in a book by Georges Bataille - maybe its title was The Tears of Eros. I wanted to record some music inspired by these manifestations of death. On the cassette, I did not write about this experience - but I wrote about that in the liner notes for the CD re-release. A couple of months ago I also wrote a narration about this Coemeterium Capucinorum in Rome for an Austrian magazine named Etcetera. But this narration has only been published in German so far. On the release Requiem there is maybe more shamanic inspiration combined with the experience of black Catholicism - whereas Schwartzer Rab was more influenced by alchemy. As one day Requiem might be published again as C90, we may add for this a spoken word performance with this narration in German with some dark soundscape.
M[m]: The next release was Autdaruta( also from 1989)- this saw you progressing the primal/ murky of early Allerseelen sound adding in more subtle ambient elements, the odd suggestion at electro beat edges, and a more focused composition. Tell us a little bit about how/why this progression happened?
Gerhard Nothing was really planned. Everything happened more or less by chance. The artist imagines too often that it is him creating his art on his own will. But too often everything seems to take place the other way round: As soon as the work on something has started, it appears as if the artwork tells the artist how to continue. So sometimes the artist becomes a tool or even a toy. And this seems to have happened to me from time to time too. The actual question is if the best or most successful songs were those where the songs decided themselves what I as tool and toy should fulfill as next step.
Actually, my passion was to record music, and then my obsession was to release it as soon as eight or ten tracks were finished. I wanted to have full control and did not have the patience to wait for a label to release something in a couple of months. So I made everything on my own. I do not perceive any change or progression myself as I am too close to my music. I do not have the distance that maybe some listeners have to hear the differences.
Gerhard The main difference to Morgenröte, Schwartzer Rab, Requiem is that Autdaruta is inspired by a specific human being, the Greenlandish shaman Autdaruta with his magical and tragical fate. I read about him in a book about shamanism by Joan Halifax. He had a lot of power when he still lived in a perfect union with the cosmology of his tribe. Many years later, he for some reason decided to become a Christian. His spirits warned him not to convert to the new religion. They told him that they would leave him forever. But he did not listen to them. When he became a Christian, he realized that with the baptism all his magical power had gone. So this cassette deals with loss - the loss of tradition, the loss of power. Autdaruta also seems to have been a murderer in his youth. The researcher Knud Rasmussen got to know him on one of his Thule expeditions to Greenland. Autdaruta was one of his guides as he was familiar with the many fjords and the strong currents in the region. Knud Rasmussen spent a lot of time with him and wrote down many of his narrations for his book The People of the Polar North.
There is a close connection to the recent Allerseelen CD Chairete Daimones as there is a song named Autdaruta too. But this song has musically no connection to the early recordings on the cassette. It is an industrial composition with violins played by our friend Erich Zann. It has the vocals of Thomas Bojden of Die Weisse Rose reciting the words of Knud Rasmussen who sometimes seems to have been almost afraid of Autdaruta. If one day we re-release Autdaruta again as C90, there definitely will be re-mixes of this new Autdaruta version.
M[m]: All of these early releases were put out on your own label- first AK, next Sakristei, and lastly Aorta. Please talk about some of the challenges of running a tape label during this time, & what kind of responses you got from record shops when you took the tapes around?
Gerhard I often changed the names of my projects and also the names of the small magazines that I was publishing then. I am glad that after a certain time I came across names - like Aorta, Ahnstern, Allerseelen - that I still like and love and use today. Everything was very different then. I personally was quite different. I even used a different name, I had a pseudonym, and almost everyone called me with this pseudonym. Kadmon.
These days and years before the internet were exciting. Nowadays it is hard to imagine that it was not easy to find out, for example, the birth date or death date of a writer or film-maker. Then there were almost no computers. I had friends all over the world, and we sent cassettes and little magazines to each other. In the magazines that I received - I bought them or traded them against my cassettes - there were sometimes ads or flyers - and if I felt attracted by a special cassette release or magazine, I contacted these persons. And this happened the other way round too. Each day, it was a wonderful and exciting moment when the postman arrived with a handful of letters, little parcels. Then we had time for long letters. And we had patience too - waiting for an answer. All this appears to me now not even like the twentieth century but like late nineteenth or even eighteenth century. Some kind of steampunk aera - the electricity of course already existed. Basically, everything appears quite prehistoric. This is why we call the series of re-releases Fruehgeschichte: Early History.
M[m]: Have you plans to reissue anymore of your early releases in the Frühgeschichte series?
Gerhard Yes, everything I like. We will also re-release the first CD Cruor with additional tracks. And there will be very probably also a C90 of Cruor - which did not exist in the past. The first editions of Frühgeschichte appeared on Ahnstern / Steinklang but they stopped their activity. Now I am glad to work with Indiestate in Russia - I know the organizers well because they organized several concerts of Allerseelen in the last years in St. Petersburg and Moscow and other Russian cities. Recently we are working on the re-release of Morgenröte, Flamme und Asche, Auslese. For these re-releases, we use another font. Basically, there are two Allerseelen groups at the moment – the old one and the current one.
Thanks to Gerhard for his time & effort with the interview. Here is the bands bandcamp page: https://allerseelen.bandcamp.com/music, and here's the facebook page of Indiestate who have co released( with Aorta) the recent Allerseelen reissues with the projects own label https://www.facebook.com/indiestateofficial/
Roger Batty