Making nightmares- The making of I was Dora Suarez. [2008-07-10]There are very few albums that are as disturbing, gut wrenching and macabrely compelling as I was Dora Suarez, Originally released in 1993 it has just a received a well disserved reissued on Sartorial records. It brings together the considerable sonic talents of Terry Edwards and James Johnston's (both from Uk band Gallon Drunk) with gritty and disturbing uk Crime writer Derek Raymond who reads segments of his most disturbing and gory serial Killer novel I was Dora Suarez over the top of Edwards & Johnston's murky, dark and at times beautiful sound tapestry that weavers together blacked drones, grim 'n' smoky jazz tones, darkened rock elements ect. Terry and James Kindly agreed to give me an email interview about I was Dora Suarez.

m[m] How did the idea come about to do I was Dora Suarez in the first place?
Terry Geoff Cox put the idea together. Geoff obviously had a good eye for collaboration.

m[m] where you fans of Derek Raymond before hand and was he a fan of your work?
Terry Neither Derek nor I was aware of each other at the time.
James I'd read The Crust on its Uppers which is an early one. My brother had recommended Suarez to me. He'd heard From the Heart of Town and really liked it. The last track on the LP was heading in the direction of the Suarez album.

m[m] When did you first meet Derek Raymond and what was your impression of him - do you think if he hadn't passed away you would have worked together
again?
Terry He was good fun, very 'old school' Soho, could drink anyone under the table and tell a good story. Who knows what might have happened if he'd lived on for a while? The posthumously published "Nightmare in the street" is a novel I'd have liked to do something with, but maybe it's
good that 'Dora' stands alone.
James. I'm sure we would, we all got on fine.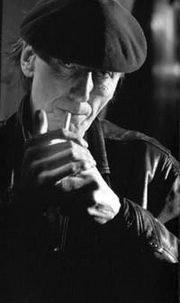 m[m] Were you surprised how disturbing and gut wrenching I was Dora Suarez was and did Derek Raymond feel uncomfortable reading it back at anytime?
Terry I didn't know what to expect from the book and hadn't read anything like it. Raymond's recordings were made and edited separately from the music. I think he'd exorcised all his ghosts in writing it, so wasn't uncomfortable reading it. He did a very professional job when we performed "Roatta" at the National Film Theatre with him. He was in his element.
James We knew what we were in for. The recording was quite peculiar, as the text is fairly harrowing we'd usually end up in hysterics at the end of a take a some sort of release from the claustrophobic intensity of it all. Mixing it was where it started to get to me.
m[m] how much musically was planned before you recorded it? And how much input did Derek Raymond have into the musical side of the project?
Terry It was all mapped out with the drones etc for some tracks, I programmed the Chopin piece (I can't play it!), and James spent a lot of time on the first piece and one or two of the 'cute' tunes that intersperse pieces. Derek had no involvement in the musical side.
James Terry and I did a lot of preparation on the music before the recording. It was momentarily discussed with Derek in the pub, but he trusted us to do the right thing. He loved the record when it was finished. His only criticism was that he wished the music was louder as he wasn't overly fond of the sound of his own voice.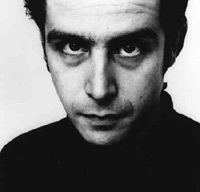 m[m] How many takes did Derek Raymond do reading the texts?
Terry I've no idea as we weren't present. Not too many I'd have thought.
m[m] How long did it take to record? And where was it recorded?
Terry I don't recall how long it took - maybe 7 - 10 days? It was recorded at Elephant Studios in Wapping where we made "From the heart of town" and the "Traitors Gate" EP.
James Once we'd agreed on the direction for the music, a lot of it was semi-improvised to the recording by Derek Raymond, so it was comparatively swift to record. It was done in Wapping, where the Gallon Drunk LP From The Heart Of Town had just been recorded.
m[m] As I mentioned in my review of the reissue that I read a review back when it was first released saying how disturbing and gut wrenching it was - what was the general feed back at the time? And what did Gallon Drunk fans think to it?
Terry It received very good reviews in music mags like the NME and also in the broadsheets, The Independent etc. It did pretty well with our fan base, I think.
James I haven't the faintest idea what people made of it. But the original performance with Derek Raymond went well
m[m] Why did you decide you reissue the disc now?
Terry It's been out of print for a while and it seemed a good idea to get everything out again through Sartorial as we'd reissued the Gallon Drunk back catalogue pretty successfully last year.
James Having re-released the Gallon Drunk albums from the early 90's, it was the logical thing to do. The book's being re-released too.
m[m] Tell us a bit about what you've got planned at the Horse Hospital when you're going to be playing I was Dora Suarez live for the first time and who will be replacing Raymond talking/ acting out the texts?
Terry Well, we're re-enacting the performance we did with Raymond at the NFT, so it has been performed before (just the 'Roatta' piece). Actor & musician Richard Strange is narrating, there'll be a documentary of Derek screened and an interview/question & answer session with Geoff Cox and associated others.

m[m] Have you thought of doing any similar work to I was Dora Suarez? Is their any particular text you'd love to put music to?
Terry I set the music to the Wilfred Owen poem 'Dulce et decorum est' some years back using tape/cut-up techniques. That's worth checking out (on "No fish is too weird for her aquarium") I've worked with Lydia Lunch since 1998 which has quite a few elements of the work we did on 'Dora'. James has also worked with her in more recent years.
James Maldoror by Lautreamont has lots of potential for some very over-the-top musical interpretation, although everyone seems to have had a bash at it now. Guignol's Band by Celine would be great.
m[m] Are you both fans of the macabre, horror etc?
Terry I enjoy the occasional Hammer film, but I can't say that it's a regular part of my life!
James Film wise I used to love Universal horror movies from the 30's, as well as movies like Hexen, and Vampyr by Carl Dreyer. I've always loved the 'soundtrack' to the Texas Chainsaw Massacre, and Eraserhead was a favourite. Herzog's remake of Nosferatu has a great Popol Vu soundtrack, and the film itself is tremendous.Otherwise I'm not a particular fan of Horror as a genre, and Most Haunted drives me spare
Thanks to Terry and James for all their time and efforts with the interview. The disturbing yet wonderfully compelling reissue of I was Dora Suarez(my review here) is out now on Sartorial records - their myspace been here The upcoming live performance will be on Thursday the 17th of July at the Horse Hospital which is just off Russell Square in London- for more info go here
Roger Batty