A playground for musical development [2003-01-29]After a 5 year silence, at least outside their home of Trondheim, The Third And The Mortal released Memoirs. The album showed a more 'urban' sound that was hinted at on In This Room but was not as obvious. Almost a year after the release The Third And The Mortal played in Mexico City and did a small tour in Europe. Guitarist Trond Engum answered a few questions about the activities and whereabouts of the band: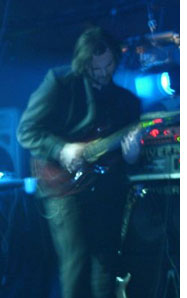 m[m]: How did the tour go?
Trond: There was one gig in Mexico City: it was one of the most inspiring experiences we have achieved until now. It was a very dedicated audience and the whole arrangement made it unforgettable. The European tour was great as well. We had a lot of great moments both musically and otherwise. I think the best concerts were in Essen, Zwickau and Berlin, but all in all every gig was OK. Hopefully we can do a new tour in autumn, but it depends how long we will be in the studio. m[m]: I was in Rotterdam where you played only 45 minutes, which was a bit short for me.
Trond: The reason for the short set of about an hour was that there where 3 other bands playing before us. It is hard to have the audience concentrated for 4-5 hours, we think. Hopefully we can do a longer set next time without so many other bands.m[m]: There's a gap of about 5 years inbetween In This Room and Memoirs. What have you all been up to?
Trond: After In This Room we did a lot of touring and without any kind of vacation we started practising and recording for a new record. We started using more technology in order to take the musical expression further. Then Ann-Mari (vocals) and Bernt (bass) left the band. When we finally had material for the new album we didn't feel the music was satisfying enough. We threw everything away and started all over again. During this period we played with a lot of different musicians in our region in order to get new inputs. After finding the expression that we wanted, we went in the studio. There we had a lot of different musicians over to colour rhe material in their own special way.m[m]: How does this work and who are all these people and how did they contribute?
Trond: The basic line-up creates all the songs and arrangements, during this process we always find room for different instruments, including ones we can't play ourselves, but which could take the songs to a different level. This is why we use all the additional musicians instead of using 10 years to learn new instruments. Among these people are for instance Øyvind Brandtsegg from Krøyt, Snorre Ruch from Thorns, Ingrid Tolstad from Phy and producer Lars Lien who has worked with many bands including Motorpsycho. Just to name a few.m[m]: With the exception of vocalists the basic line-up has been pretty stable. Do any of you have side-projects?
Trond: Everyone in the basic line up has always had and has other musical projects. This in order to use the music that doesn't fit within the concept of The Third And The Mortal. This is also very important for the development of the The Third And The Mortal because we get new impulses and angles in how to approach both our playing as well as our composing abilities. We all play live and record with other projects and people. We are very privileged to do what we love most of all and even as a living.m[m]: Are you lucky or critical when it comes to vocalists? Are the ones I saw live permanent members now?
Trond: We are very critical when it comes to chosing the musicians to work with. We are in the lucky situation that there is a music conservatory in our city and also many great musicians in general in Trondheim. Both Kirsti Huke and Andreas Elvenes have had their education at the conservatory. Kirsti also sings on several jazz recordings. Both their voices suit our music very much, they have been touring with us as well, and we consider it a permanent co-operation at least for the next album.m[m]: What was the reason for Ann-Mari Edvardsen (currently in Tactile Gemma) to leave the band?
Trond: The main reason were disagreements on the musical direction. She wanted to do more classical, while we went more into electronica. So it had nothing to do with her fabulous voice or person.
m[m]: The music has slowly moved from a 'nature' feel towards a more urban feel. How did that come about? Did original singer Kari Rueslåtten (now operating as a solo-artist) take nature with her?
Trond: Not really, we see it more as a progression from album to album always trying not to repeat ourselves and making the same record twice. Another big factor is the calm 5 year period, before it we released music quite frequently. Now the gap between the last two records seems bigger.m[m]: Do you feel (or have you ever felt) a connection to the Norwegian metalscene? Or is it more a coincidence that your music seemed to appeal to (black)metal-fans in the beginning?
Trond: We have never felt a connection to the metalscene, we have always tried to take our expression further. But of course as the first fanbase was founded in this scene, so the connection has been strong anyway.m[m]: Generally speaking Scandinavian music seems to get more attention from Europe lately with the Jazzland clique, Jaga Jazzist, Röyksopp and of course Motorpsycho. Do you think The Third And The Mortal can profit from that?
Trond: Of course, if there is a positive focus on the norwegian scene every band that works outside Norway can get some sort of profit out of it. m[m]: For a relatively small town like Trondheim, I know quite a few bands from that particular place. Would you call it a scene?
Trond: In a small city like ours we have had some cooperation with bands or some members of bands like Gåte and Motorpsycho. All these projects and bands have different expressions, they worked hard to find their own special identity but the similarities make that you can call it a scene in a way.m[m]: The bands with whom you toured Europe recently are obviously gothic/metal bands. Do you feel 3rd has a 'stigma' when lumped into a category?
Trond: In many ways: yes. I think the band could appeal to a much wider audience, but for the time being this is the main platform so we have to take it frome this stage.m[m]: The video Lars Hegdal made for The City has been on the site for quite a while. Would like to do more audio-visual things?
Trond: Lars has been with us on tour set up as a live video and animation technician. He has been busy working with the visual expression for several years.
m[m]: Do you have an idea in which direction The Third And The Mortal will evolve with coming albums? Do you have an aim or is it just coincidence?
Trond: One of the main goals is to take the music further, there is a lot of room for doing new things and we never limit ourselves to boundaries of a certain genre. We are not finished with the soundscapes which are present on Memoirs, there is a lot we can do better both individually and as a band in order to come closer to the essence. As for the new album it's not really expanding the Memoirs sound but more the working method we use in the writing-process.This includes new technology, different guestmusicians but also some of the musicians present on Memoirs like Kirsti, Andreas, Sander and Frank. I think the new material will be a bit more free in the arrangements, loosen up the frames of a typical song structure. But there will be some other changes as well.m[m]: What are your inspirations as a musician? What are your aims as a musician and but also of the band?
Trond: The inspiration is taken from many different sources: movies, paintings, photos, design, architecture, other music, new technology, other members in the band but also from things that happen around us in the world. Music is a channel to get rid of everything frustrating. My aim as a musician is to never stop the progression of my own development. I want to learn more instruments, get musically wiser, never be sceptical to new music and at least give it good chance. The bands aim is only to be a playground for personal and collective musical development. We try to do what we feel is correct and never what we think people want to hear.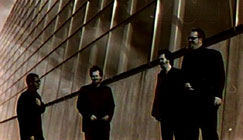 A playground for musical development
After a 5 year silence, at least outside their home of Trondheim, The Third And The Mortal released Memoirs. The album showed a more 'urban' sound that was h...






Christoph Dahlberg - Blackforms
The fugue is a musical structure and a mental state, the latter describing an existential sense of disconnectedness, a loss of one's identity or grounding. I...