Folk Murder & Mayhem [2008-05-28]Thinguma*jigsaw are a two piece original from Norway now residing in Ireland, they play their self moniker style of music called splatter-folk.Their debut awakeinwhitechapel is one of the freshest, strange yet memorable takes on folk music your likely to have every heard mixing together banjo, musically saw and flute. The pair kindly agreed to give me a email interview for MM.

m[m]How did you both meet & who when and why did you decided to form Thinguma*jigsaw?
TJ We met trough a mutual interest in the grotesque and horror movies and of course in music – we were united in a quest to come up with a combination of our shared extremities. Thinguma*jigSaw was formed on the 6th of January 2007 at Sound of Mu in Oslo. By then we had done a few casual gigs together, including a tribute concert to Daniel Johnston, but it wasn't until the 6th of January that we came up with our chosen moniker (Thinguma*jigSaw), and decided to venture on a more serious collaboration and to find out what «splatter-folk» is....

m[m]Is this both your of first musical project?
TJ Well, yes and no. As Little Myth Epiphanymph and The Severed Headmaster this is our first musical project.

m[m]Where does the bands name come from?
TJ Thinguma*jigSaw is a portmanteau we came up with (a word combining several words). We wanted a word that was mysterious, yet had a child-like and grim touch to it. This kind of wordplay is inspired by our fascination with James Joyce and Lewis Carroll.

m[m]You mention one of your influencers as Lewis Carroll- has you ever thought of doing something with Alice in Wonderland Or Jabberwocky? I could really seeing you doing something very interesting with either of those two.
TJ Jabberwocky is one of the most important poems to us - and we also love the TJ Svankmajer film of Jabberwocky. Perhaps maybe one day we will do our own version of the poem. Time will tell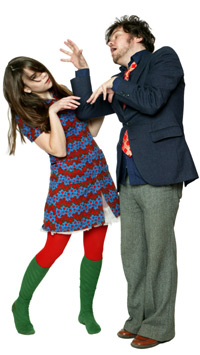 m[m]what prompted the move from Norway to Ireland? and where do you both original come from in Norway?
TJ We felt an urge to move out of Norway and to challenge ourselves in an environment where folk music is firmly established as an art form, also in the contemporary music scene. We felt Ireland was the natural choice, also because we have great love for so many of the Irish writers, especially Joyce, O'Brien and Beckett.
And we both hail from the Norwegian woods
m[m]How are your songs written- does one of you concentrate on the music and the other on the lyrics? Or is it a mix?
TJ Oh, there's a lot of different ways a Thinguma*song can be conceived. We both know Thinguma*jigSaw and how the Thinguma*beast thinks and lives, so it comes quite natural to us to make music for the duo - both together and apart. But most of the lyrics are from the head of the The Severed Headmaster.
m[m]Your first album awakeinwhitechapel is loosely based around Jack the Ripper and the Whitechapel Murders- what trigged you interest in the subject?
TJ The theme just found us.
m[m]Who do you think Jack the Ripper was? What are your theories on the case?
TJ We have no theories whatsoever about this, and the album doesn't suggest any answer to the riddle (or the jigsaw if you like), instead we focused on the metaphorical qualities of the Whitechapel murders. Hence it is a work with psychological and erotic dimensions, rather than an attempt to solve the crimes in question.
m[m]Your music is a wonderful balance of been approachable and yet still experimental- is this as difficult balance to maintain?
TJ Oh, that's very kind of you. It comes quite natural to us, it's how we are; we are subtle, we are brutal, we're bits of both. It's a blessing and a curse.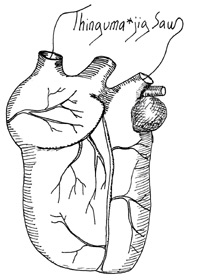 m[m]Coming from Norway original- did have any interest or connection with Black Metal?
TJ No, not really.
m[m]Your clearly big fans of horror and the macabre; can you give a list of films, writers etc that you've enjoyed and our an influence on your work & why?
TJ Our favourite films are probably «Koyaanisqatsi» and «Who's afraid of Virginia Woolf?». But in terms of horror films we do enjoy the classic zombie films of Romero, the early splatter-comedies of Peter Jackson, and the classic horror films by Raimi and Carpenter (like «Evil Dead» and «The Thing»). We're also into the «dark art-dramas» like «The Tenant», «Equus» and «Persona».
When it comes to writers, both Edgar Allen Poe and the grotesque stories of Roald Dahl and Edward Gorey is of great inspiration to us. And why? That's for us to know and you to find out.
m[m]Name 10 records that have influence/ inspired you & why?
TJ We in Thinguma*jigSaw are highly inspired by the following artists and musicians; Agitated Radio Pilot, Cian Nugent, George Worrall, Sharron Kraus, Al Duvall, Arlt., Spook of the 13th Lock, Alpine Those Myriads and United Bible Studies, but if we have to choose 10 records that have had an influence of the duo Thinguma*jigSaw, these 10 records will be the ones:

Sport Murphy - Magic Beans (fantastic lyricist and songwriter! He is the epitome of being acessible yet highly experimental)

Alice Cooper - Welcome to My Nightmare (Alice was a true pioneer for theatrical, filmatic horror-rock!)

Philip Glass - Koyaanisqatsi soundtrack (what to say, what to say, what to say, what to say, what to say etc)

Michael Mantler - The Hapless Child and other inscrutable stories (perfect combination of the lyrics of Gorey, the voice of Wyatt, the wailing guitar of Rypdal and the piano of Bley)

Scott Walker - The Drift (he's best album yet! But this recommendation comes with a warning; do not listen to it alone after dark)

Maja Ratkje - Voice (true eccentric genius in full flight)

Daniel Johnston - Songs of Pain (the reason we met! To not know this album is to live inside a dark cave. We recorded his song "Walking the Cow" for our album (awakeinwhitechapel))

Peter Delaney - Duck Egg Blue (possibly the finest new song-writer of our time. We've had the honour of playing with him several times, and we do a cover of his song "Pariah Chimes")

Ludwig van Beethoven - the 9th (a bit of the glorious 9th! Essential)

Deerhoof - Apple' O (beautiful frenetic pop)
m[m] Any plans for your next album yet? And will it have a macabre theme?
TJ Oh yes, we have plenty of plans for new releases. And a theme...hmm...perhaps «Songs from the Autopsy room»...?
m[m]You mention songs from the Autopsy room as a possible name for your new release, have you started work on this yet? When do you hope to put it out? And can you give us any more info about the project?
TJ Nothing is decided yet. We are currently working on several releases - and they are all just fumbling in the dark at this stage. You have to wait and see.
But one will probably be an extremely limited release on a small Norwegian label - on transparent vinyl... perhaps.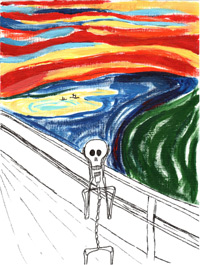 Thanks to Thinguma*jigsaw for all their time and effort with the interview and supplying and letting me use photos and drawings for the piece – thier credits are as follows; front page picture by & © Olav Olsen, first picture in interview by & © Ole Christensen, long picture by & © Ranveig Boe and the drawing and painting Thinguma*jigsaw ©.
Their debut album awakeinwhitechapel is out on Deserted Village and can be brought direct here.
The bands my Space website is here
Roger Batty