They act like idiots and people like it... [2003-10-18]

The Melvins. No introduction needed. I got the opportunity to hook up with Dale Crover at Dour Festival last summer in Belgium. Things didn't go smoothly...

Because the other journalists didn't turn up, we were 5 minutes late at the meeting point. Ipecac's (Melvins label) tour manager told us "you're late, I don't know where they are, come back in an hour." Ok. One hour later. "Still want to do the intie? I can get you Duane (Tomahawk's guitarist)". Uh. It's the Melvins I want to interview. "Ah, ok. Well, let's see what kind of Melvin we can get you..." He got me Dale Crover, drums. "10 minutes, not more". Not alone either. With another journo... We asked our questions in turn. Here is the transcript of most of them. Not very informative, but fun.

I credited all the questions to m[m] although half of them were asked by the other journalist. Many thanks, Sir.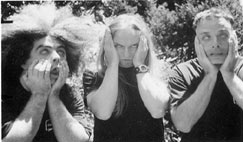 m[m]: Do you enjoy playing in big festivals, with loads of bands, amongst which a good bunch are plain crap?
d: It's kinda interesting I guess but… I don't know… It's weird playing big stages, and you don't even get soundchecks at all. We usually don't get asked to do this kind of stuff too often, and one of the main reasons we're here is because Tomahawk got offered a bunch of festival shows, so we're just kinda tagging along. I don't mind a big audience at all, it's just that festival in general are full of hippies and people with dirty feet, drum circles, that kind of stuff, it's like the Grateful Dead were playing today. Not my kind of stuff.
m[m]: You opened for Kiss… How did you manage to get such an opportunity?
d: They asked us, believe it or not. Somehow, they knew about us… Maybe because of the solo records we put out. And we gave Gene a t-shirt which he actually wore… Unbelievable…
m[m]: Any other band you would love to open for?
d: I would open for somebody like Kiss again, or somebody weird, you know, Madonna or Michael Jackson, just for kicks. But generally none of us are that thrilled about those kind of shows. We played a bunch with Tool because they've asked us, they're friend of ours, and they paid us really good but we're not out on the look for opening for big bands. It's kind of a drag that people aren't there to see you. We don't feel like we have anything to prove, we don not try to sell the band so we try to play our own shows, it's much more fun. We act like idiots and people like it.
m[m]: Do you feel a responsibility for the rise of grunge music and bands like Soundgarden?
d: No! Nah! Those bands might like us and we may influence them in some way but no. We're not even from Seatlle. We got associated with them because we used to play there a lot, we were friends of some of those bands, Nirvana used to talk about us a lot. The paradox is that pretty much none of those bands exist anymore and we're still around. We got through all that shit and now we're here. We survived that horrible decade.


m[m]: What about stoner?
d: It's just those bands being influenced by one element of Black Sabbath and basing their whole band on that. It's not very exciting, I was listening to that kind of stuff when I was 15, I heard it all, as jaded as that sounds. It doesn't make me wanna rock.
m[m]: So what makes you wanna rock these days?
d: I saw Black Dice, that was pretty cool. Loads of smaller bands you probably haven't heard of, from the US: Friends forever, we've played with them a few times, they play inside their van in front of the club. The biggest band that I can say that I like is The white stripes.
m[m]: I met a girl who spent some time on your tour bus ten years ago and she said you were only obsessed by antiques and not by partying and doing rockstar stuff…
d: Who was this girl? I'm sure it wasn't me talking about antiques, but I don't doubt it.
m[m]: Buzz said in an interview "I'm pretty right-wing when it comes to drugs and that kind of stuff".
d: I guess he probably is. He says no to drugs.
m[m]: What about you?
d: I don't care. You can shoot all the dope all you want or smoke dope, I don't care.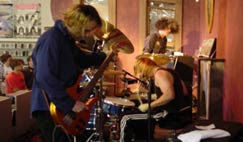 m[m]: Talking about life on the tour bus, and talking about Buzz, I read many interviews in which he was dissing Mike Patton and vice-versa. We know there friends, so what's up? A game?
d: They're just both a bunch of big assholes. They suck. Both of them. Buzz fights all the time, the busdriver always has to pull over and let somebody out so they can have a punch out. And then you get back on the bus and get ready for a show. Everybody has its separate dressing room… I have to be the furthest away from John (Stanier, Tomahawk's drummer - FM) because he is just loud and obnoxious and dumb.
m[m]: Just like every drummer…
d: Hey!
m[m]: Are you involved with Ipecac in any other way that being one of their bands?
d: We've definitely suggested bands that they could sign. It hasn't worked. Well, Buzz told them about that country band, The lucky stars. We're kinda A&R man without the cocaine, the girls. It's kind of a low budget label.
m[m]: You've been on many labels. How do you like it on Ipecac?
d: Some labels have ripped us of, others not. I really like being on Ipecac because I like those guys a lot. I hope we can have a long working relationship together. We can record when and what we want, release it when we want… We would give them a fart album, they'd be happy and release it. And we would probably sell ten thousand copies.

François Monti