Sound As Ritual [2017-07-17]For those unfamiliar, Trepaneringsritualen is the moniker of Swedish noise terrorist Thomas Ekelund. Also sometimes referred to as T × R × P, Ekelund's project has been rather prolific since it's inception in 2008, with a number releases on such labels as: Hanson, Harsh Head Rituals, Malignant, Release the Bats, and now U.K. mainstay Cold Spring. Through TxRxP Ekelund explores religion, the occult, and other esoteric themes through a caustic blend of death industrial, power electronics and industrial noise. I've been a fan of the project for quite some time, so I appreciate Thomas taking the time to share some of his insights.

M[m]:What was your introduction to experimental music/noise and at what point did you leap into crafting your own music? Was Dead Letters Spell Out Dead Words your first foray into creating your own sounds?

TE I really dislike both those terms. Any music that isn't formulaic dreck is in essence experimental, so the term is pretty pointless. And I've never had much interest in noise as a genre. I've always been drawn to non-musical sounds in a music context though. No clear starting point really, it's been a fascination for as long as I can remember. I would have to say that perhaps Crass where the first band I discovered that incorporated those elements to any larger extent.

Dead Letters was the first project of any note I did, but I've been involved in music ever since I was very young.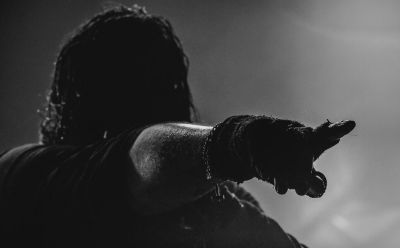 M[m]:You've said that the intent and purpose of Trepaneringsritualen is even obscure to you. As you've continued on has that purpose become clearer?
TE Quite to opposite, it's getting more and more confusing. Every time I think I've come to any sort of understanding, it becomes apparent that there are yet further layers to explore. But in this confusion lies my motivation. It holds the seeds of ecstasy, and in ecstasy is the seed of dissolution. I venture to guess that T × R × P is something I will never be free of, nor ever fully understand, because its purpose lies beyond the created worlds, but this is a yoke I willingly bear.
M[m]:Sonically, there's something very primal and elemental that attracts me to Trepaneringsritualen. How would you say your sound has evolved since you first started performing and recording?
TE I think T × R × P is approaching the eternal through the atavistic. Tapping into the primal energy of creation, in order to put into form that which is beyond form. There's ferocious sensibility that become manifest when you approach the incorporeal, and I believe that is what you're sensing in T × R × P.
TE T × R × P is constant evolution, because stagnation is spiritual death. The basic impetus remains the same, as stated above, even if there have been superficially aesthetic development.
M[m]:Since Trepaneringsritualen's inception, you've released albums on a number of different labels. However, more recently you've been associated with Cold Spring Records. How did you build a relationship with them?
TE If memory serves me correctly, they came to a ritual in Birmingham some years back, and asked to release an album, simple as that. It has certainly been a fruitful collaboration, and one that will persist.I have nothing but praise for CSR both professionally and personally. The next album — Kainskult — will however be on Tesco Organization. It still makes sense to me to be a free agent, in terms of whom I work with. Different labels bring different energies into any given project, so for the foreseeable future this will be our modus operandi.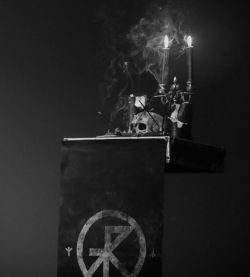 M[m]:The occult appears to be a strong theme with Trepaneringsritualen. What attracts you to this subject matter?
TE Illuminating that which is hidden in darkness is the sole purpose of T × R × P. Reaching beyond the unreality of creation to approach our true state of being, which is formless and timeless. This is a quest that I believe is essential for any being to undertake, so calling it a mere theme isn't doing it justice. T × R × P IS occulted, and I attempt to unveil it.
M[m]:Most recently, I reviewed the reissue of Deathward, To the Womb. Lyrically, it is based on writings by Frater T.O.P.A.N. about the goddess Babalon? What in particular inspired you about these writings to incorporate them into your release?
TE Deathward is a very special work to me, in that it was the first time I truly realized that there was something greater at play than just my own creativity and curiosity. Before Deathward, T × R × P seemed more a venture of research. In these ventures, the hands of chance guided me to the workings of T.O.P.A.N. and was intrigued by his character, more than the actual workings. It was somewhat of a passing fascination, but it was quite rewarding to revisit it for the bonus track on the reissue, if only to realize how much more engulfing the curse of T × R × P has become since the initial recordings were made. It became very apparent that I've have grown considerably both as an intellectual and as a spiritual being. T.O.P.A.N.S Will seems to have been to redeem Man, and usher in a new Aeon. What I believe he failed to realize is that the true nature of BABALON is two-fold, and essentially contradictory. She is the loving mother, but she is also the spiteful harlot. Her ultimate purpose is to nurture the perilous flame inherent in Man, and through this usher in the annihilation of creation.
M[m]:I see that you have some shows coming up in the U.S. over the summer. Will this be a full tour? Is this you first time in the states?
TE Yes, we're doing a east-coast tour of the US in August/September, opening for our brothers in Bölzer. Our particular energies have proven to compliment each other well in the past, so it will be a rewarding experience
M[m]:What's next on the horizon for you?

TE The finalizing of Kainskult is imminent, release date is still to be announced, but during 2017. There's a number of reissues in the works, in various stages of completion, to be released during the year. Tesco just released the Ev To Παν working on 10" through their Archaic Documents series, the Spanish label Bestiarie is giving Martyrium its intended form of a CD and 7" set, and Old Europa Café are releasing an LP combining the two split LPs we've done onto one disc entitled »Yours Is A Kingdom of Death«. On top of this we're working on a few different projects that will be revealed when the time is right. There's an abundance of rituals planned as well, so it looks to be a pretty hectic 2017 all in all
Thanks to Thomas for his time & effort with the interview. The projects bandcamp can be found here. Photo credits: All taken at 2016's Maschinenfest, and used by kind permission of by Stefan Alt, S. Alt Photography.
Hal Harmon