The Red Angel Of Wall [2015-10-07]Tissa Mawartyassari is the solo wall noise project of Monica Isabel Sanchez. An important component of the world renowned Texas noise scene, the project emerged close to 10 years ago and has been creating dark and creative sounds ever since. We interviewed the project back in 2010 & now 5 more years have passed and with a slew of fantastic releases coming out recently we felt it was high time for a 2nd Tissa Mawartyassari interview. so Monica kindly agreed to a email interview.

M[m]:I always felt there was a difference between the Texas scene to which you belong, more open about what sounds can constitute noise wall, about movement within the wall, and « HNW » which would be more typically European. Do you feel it too ? Isabel Yes, I don't concern myself with the differences though. I do what I do; I like texture and layered sounds.

M[m]:OK but would you label what you do « HNW » ?
Isabel If I had to label what I do, then yes, absolutely. I do static wall, as well as "modular" walls. Those walls that have different textures within itself. I do not do anything different, I believe, from what Sam from The Rita or Ramirez is doing. Both have these textures that they play within their walls.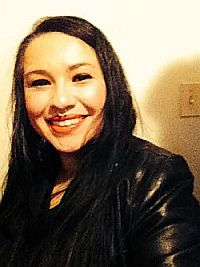 M[m]:Has your set-up or methodology changed since your last interview for Musique [Machine] (back in 2010) ? Isabel Not much. These days I use contact mics against metals, fabrics, concrete, etc. I utilize the space I'm in to create the sound textures I want. I have a few contact mics that were made for me, I'm always looking for new contact mics.
M[m]:Does the use of contact mic entail continuous movement on your part when you're recording ? How do you manage when you're doing long pieces ? Also, what's special about your custom-made mics ?
Isabel Sometimes I do continuous movements. It depends. When playing live, I opt for shorter sets and a bigger impact with the movements. All of which have been received really well by the audience.. When recording, I use a standard mic that I can turn off and on when playing against textures or sheet metal.
M[m]:I suppose horror movies are still a major influence on you. Are you still a fan of J-Horror ? Can you tell us about some movies that have inspired you to make noise recently ?
Isabel Yes, I love J-Horror. Lately I have been into giallo films and american horror from the 70's and 80's. I'm inspired by ghost stories and the supernatural. I recently read Peter Straub's 'Ghost Story' and saw the film and that is inspiring a current project in the works.
M[m]:Why do you think Giallo films in particular have such an impact on the wall noise community, beyond the fact that Richard Ramirez and Sam McKinlay lit the spark ?
Isabel That's a good question. I'm not really sure why, but I can only say that it could be because our genre of music is mostly male dominated. The fact that both giallo & sexploitation films show beautiful women being slashed into pieces or abused could have something to do with it. Or maybe the images are beautiful or shocking enough to communicate something about the project.
M[m]:You have just done a U.S. Tour. Can you tell us about it ? How did you approach this string of live performances ?
Isabel My project, SERPENTINE (myself with guitarist Dan Miñoza) recently did a 9 city U.S. tour with Richard Ramirez, The Rita and A Week of Kindness. We played for some really great crowds. We met some really great friends old and new. The road can be a grind with challenges. Every sound system is different, every room is different but its so much fun. We plug in, turn it up and floor it.
M[m]:The sound system difference can have a real impact on your sound when you play live, especially since you're using contact mics. Do you have an idea of what you're going to play beforehand or do you improvise on the spot ?
Isabel Both. I have an idea of what I want to play, but there is always room for improvisations to be done on the spot. You just never know how it is all going to sound when you use the house's sound system. it is all a very intuitive process for me, but it can also be a form of frustration for me (laugh).
M[m]:You are a member of Spider Labyrinth with Richard Ramirez and Sean E. Matzus. While there are many mail-based collaborations between two people in wall noise, it's unusual to have trios. Can you explain how you work for this project, and how do you function as a live unit ?
Isabel Richard, Sean and I have several projects together. Another project we work on together, An Innocent Young Throat Cutter just released a record with Signora Ward Records. Another project we do, All Of Them Witches (also with Dan Miñoza) has just released a record with Unlimited Drift Recordings. None of our project collaborations are mail-based, we are all live.
M[m]:And so do you each agree on working a specific frequency-range for instance ? Or is it more free ? Can you describe a typical recordings session for Spider Labyrinth or AIYTC ?
Isabel Well, the recording sessions are always a lot of fun. We are all friends, and when we get together we do nothing but talk & laugh. We set up, find the note & volume to our liking, then we let it rip! Every few minutes or so, we change our range just slightly to give out the impact that we want. Performing live is pretty much the same, but with a little more concentration to what we are doing in our sounds. And of course no talking while performing (laugh).
M[m]:Your project Serpentine with Dan Miñoza incorporates guitar sounds, is this something you'd see yourself with other instruments in the future ? Such as incorporating drums or vocals into the mix ? Isabel (laugh) Dan is a classically trained musician. He was trained in the classic sitar. The ways in which he uses the guitar for SERPENTINE, is both highly unconventional & conventional. I've used the guitar to beat my mics on it while performing live. he uses it with heavy distortions and sometimes for sound-scapes. We have discussed maybe starting a band (mostly in the doom/stoner rock range), but I'm not sure when or if that will ever come about. But could definitely be fun!!
M[m]:Can you tell us about your label Red Angel and what you have planned for it ?
Isabel I started Red Angel Records as a means to release my own music and recordings of projects I'm involved in. The latest release is a SERPENTINE tour cdr titled "+++" and tape called "The Gentle Art of Binding and Banishing". Red Angel Recordings is growing, there are more releases coming very soon.
Check out the bandcamp page: http://redangelrecordings.bandcamp.com/
Check out the Youtube page: http://tinyurl.com/qe9lo47

M[m]:What new releases can we expect from you in the near future ?
Isabel I just released a Tissa Mawartyassari record on Signora Ward called 'Macabre'. SERPENTINE has a new record coming out on TrashFuck Records. I also have a release coming out on HNW netlabel soon. There are some exclusive bandcamp releases coming out of Red Angel as well.
Thanks to Monica for her time with the interview
Julien Skrobek