Down With The Cutting Crew [2018-10-26]The Hysteria Continues are a slasher loving transatlantic foursome who do both a regular podcast, and record commentary tracks for slasher film reissues- and these can be found on the releases from such companies as Arrow Video, Vinegar Syndrome, and 88 films. Theyíve been active since 2011, and have so far amassed 170 plus podcasts, and recorded over twenty commentary tracks- all making them one of the most known & respected figures in slasher-fandom. The collective brings together British writer & slasher expect Justin Kerswell- who wrote one of the few books on slasher films Teenage Wasteland; as well as running & writing for the hysteria-lives, a renowned slasher focused website. Irishman Erik Threlfall- who is a lifelong fan of slasher films, & who also writes for the hysteria-lives. And Tennessee based Joseph Henson & Nathan Johnson- who have also been lifelong horror & slasher fans. All four members of the collective kindly agreed to give M[m] an email interview.

M[m]: What was the initial impetus for starting the podcast? And how/when did each of you become involved?
Joseph: Justin and I have been friends since 1998-ish, and he came to me around the end of 2010 asking if I'd like to start a slasher movie podcast with him and Erik. I had spoken with Erik once or twice on an old forum of mine but didn't really get to know him until we started doing the show in January of 2011. I met Nathan (in person) around 2002 or 2003, and we were even roommates at one point. After the first two episodes, I thought taking it from three people to four (with an even divide between the US and Europe) would give the show an extra boost, so I invited Nathan onboard.

Erik: I was approached by Justin in late 2010 with the idea of doing a podcast based on his website which I had written a few reviews for. He also had fellow reviewer Joseph on board. Podcasts were really taking off at the time and there seemed to be a podcast about anything and everything although I donít recall there being one dedicated to slasher movies (although I could be wrong on that). Anyway, it wasnít like we were trying to find a gap in the market, we just wanted to have some fun, which is why we started it.

Nathan: Originally, I thought I was just going to be a guest. I joined in the third episode of the podcast and I thought it was going to be just a guest spot but thankfully they liked me enough to ask me to stay on as the fourth member of the show. Iím sure they are very glad about it now because without me they may not have done episodes around Criminally Insane, Blood Lake, Death Nurse, etc. Justin: I thought itíd be fun to start a podcast based around my and Josephís sites - and our joint love of the subgenre. We thought it might last a few episodes, but just like a slasher movie villain it just wonít die!


M[m]: For a long time, the Slasher genre was one of the more despised & criticized of the horror sub-genres. But in recent years itís become more celebrated & loved- why do you think there was such a dislike of the genre, and when do you think the sea change really kicked in?

Joseph: I think it boils down to the times, honestly. The 80s slasher craze was huge with the kids but critics hated it because of the misogynistic implications, and these were, let's say stuffier times. But today, I feel we are a society gone numb to repetitive violence, cheese, and sleaze, and I think we now look to nostalgia to remind ourselves that we are not robots, and slasher movies are part of that equation.

Erik: Even as a slasher fan, I can see it from the critic's point of view Ė I am not surprised they hated them as itís a formula, that more often than not, is fairly basic. Carefree teens who smoke pot, play strip monopoly and get killed is not going to win any Oscars. We just happen to love the simplicity and effectiveness of this type of movie. Personally, I like the popcorn feel of things like Halloween, Friday the 13th, My Bloody Valentine and then the silliness of things like Pieces and Bloody Moon. I donít like Ďgrimí horror movies like Saw. I think the 80s are very much back in vogue and lots of things that were poorly reviewed at the time are getting reappraised Ė in all aspects of the arts. I remember Adam Ant and Gray Numan getting scathing reviews from the music press and now they are considered highly influential. Same with slasher movies I reckon. I know that personally, there are some movies I didnít like back in the 80s that I love now. I never liked Pieces back then for some reason, which I still canít believe!

Nathan: This is a good question but Iíd have to echo what Joseph and Erik have said here.

Justin: The change probably came about with Scream in 1996. Before that, the subgenre was all but ignored and essentially forgotten by public and critics alike. What Scream proved was not just that the slasher could work as a comedy, but also as an effective thriller, too. I remember critics were annoyed that Scream hadnít killed the subgenre, but had actually helped revive it. Today pop culture is celebrated - and the slasher movie is part of that heritage.


M[m]: Each of your podcasts is a great balancing act between rewarding film facts, your own thoughts on films, often amusing banter, and running jokes. How much do you script/ arrange each one?

Joseph: I'd say our show is 60% "play it by ear" and 40% research. The research aspect is saved mainly for the movie of the week; the rest is more or less improvised.

Erik: Itís very rare we compare notes before recording. We each prep a lot beforehand, but on an individual basis. Myself and Joseph have collaborated on Ďsongsí on a few episodes and the guys did sneakily concoct a trick quiz question behind my back once (where they all tried to convince me that Mrs. Voorhees first name was Veronica). But itís 99.9 percent off the cuff.

Nathan: I always feel Iím at my best when I am not scripted. As Joseph and Erik have said, some things (like the film facts and trivia) are researched but we donít really have a script per se. We just sign on and start chatting.
Justin: Yes, itís mostly improvised outside the basic structure. I think if it was scripted it wouldnít work nearly as well for us - or the listener.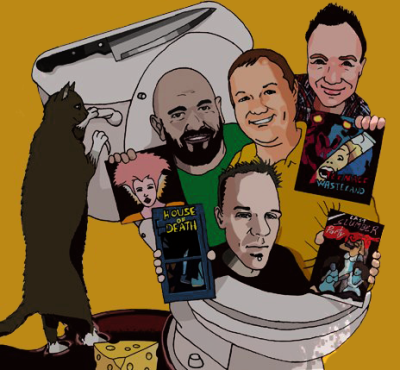 M[m]: One of the key & recurring in-jokes in the show is the back & forth banter about 80ís female pop start Toyah, Siouxsie Sioux of Siouxsie and the Banshees. How and when did you decide to bring this into play? And does the hate still continue from both Erik & Justin?
Joseph: This is totally an Erik and Justin joke that simply WILL NOT die.

Erik: This is a pre-podcast Ďfeudí I think. I work in the media in Ireland and we have a large basement that contains our vinyl library Ė I jokingly did a comparison between a Toyah record and a Siouxsie record Ė the Toyah record had a lot of date stamps on it proving it was quite popular whereas the Siouxsie album only had a few paltry loans. I made a little video of this and posted it on Facebook and poor Justin wasnít amused. The truth is, I love 80s music and Toyah is a favorite of mine Ė but I like Siouxsie also (I hope thatís not Ďbreaking the fourth wallí?) and I have lots of records by both in my collection.
Nathan: I honestly had no idea who Siouxsie or Toyah was before I met Justin and Erik. So, they have introduced me to both of their ďmusic.Ē
Justin: Itís a good-natured feud between me and Erik. I actually do have a couple of Toyah records. They make excellent drinks coasters.

M[m]: Other than your own individual voices on the casts- do each of you have a set-out background roles in the creation of the casts?

Joseph: Justin records and edits, and I typically handle about 90% of the social media aspect. Justin also records our Blu-ray commentaries, but I edit those.
Erik: Joseph is our main driving force behind all social media and tech stuff. Heís a bit of a whizz with all things computer based. He also edits all our commentary tracks to knock them into shape as recording via Skype often throws up audio issues and he looks after our Patreon feeds. Justin is the main man behind the podcast, itís really his baby and he does all the editing and hosting of the podcast audio. Nathan is our walking encyclopedia on anything made for under 10,000 dollars since 1970. How he remembers details of movies that would send any sane person to sleep is beyond me! And, as for me, Iím there to talk about Toyah, to be bullied and to occasionally mention the girl with the big hair who gets turned into a cockroach in A Nightmare on Elm Street 4.
Nathan: Justin is our fearless leader of the podcast and Joseph does a lot of work with editing and social media. Erik is the funny man of the podcast. He usually makes me laugh every episode. Iím just there to discuss the ultra low budget films that just donít get enough love. I think one thing that really works for our show is that we all have very different tastes so thereís usually something for everyone who is listening.
Justin: I think what the chaps above have mentioned sums it up nicely. We have different roles, but I like to think it gels together nicely.
M[m]: As well as doing the podcast you four have become quite regular commentators on Slasher film reissues- what was the first one you all did together?, And could you give us a definitive list of the ones youíve done to date?
Joseph: Our first was a discontinued DVD for Savage Water and Death By Invitation. And here's a list:
(2013) DVD Commentary for Death By Invitation - Vinegar Syndrome.
(2013) DVD Commentary for Savage Water - Vinegar Syndrome.
(2013) Blu-ray Commentary for Night Train To Terror - Vinegar Syndrome.
(2014) Blu-ray Commentary for Graduation Day - Vinegar Syndrome.
(2015) Blu-ray Commentary for Don't Go In The Woods - Vinegar Syndrome
(2015) Blu-ray Commentary for Madman - Vinegar Syndrome.
(2015) Blu-ray Commentary for Nail Gun Massacre - 88 Films.
(2015) Blu-ray Commentary for Frightmare - Vinegar Syndrome.
(2016) Blu-ray Commentary for Satan's Blade - Arrow Video.
(2016) Blu-ray Commentary for The Burning - Arrow Video.
(2016) Blu-ray Commentary for The Initiation - Arrow Video.
(2016) Blu-ray Commentary for Happy Birthday To Me - Powerhouse Films.
(2017) Blu-ray Commentary for Absurd - 88 Films.
(2017) Blu-ray Commentary for Pieces - Arrow Video.
(2017) Blu-ray Commentary for Madhouse - Arrow Video.
(2017) Blu-ray Commentary for The Slayer - Arrow Video.
(2017) Blu-ray Commentary for The House On Sorority Row - 88 Films.
(2018) Blu-ray Commentary for Sweet 16 - 88 Films.
(2018) Blu-ray Commentary for Doom Asylum - Arrow Video.
(2018) Blu-ray Commentary for Offerings - 88 Films.
(2018) Blu-ray Commentary for Rawhead Rex - Arrow Video.
(2018) Blu-ray Commentary for Blood Theatre - Vinegar Syndrome.
(2018) Blu-ray Commentary for Eyeball - 88 Films.
(2018) Blu-ray Commentary for The Incubus - Vinegar Syndrome.
(2018) Blu-ray Commentary for Bloody Birthday - Arrow Video
We've recorded two more and are prepping to record another two, but we can't announce those right now.
Erik: The first one we did was a double bill of Savage Water and Death by Invitation that Vinegar Syndrome was going to put out. Unfortunately, Savage Water had to be pulled for legal reasons on the eve of its release Ė although some copies did escape into the market. This meant that our first official commentary was for the non slasher movie ĎDeath by Invitationí which is a film we knew nothing about and could find no background on. Our contribution got some negative comments in reviews of the disc Ė but Iím sure our Savage Water commentary would have been better received if it had been released. Joseph has a full list of the commentaries we have done which I think is over 20 titles now. I really enjoyed working on Night Train to Terror for Vinegar Syndrome as it was a film with a very interesting back story. And The Burning (for Arrow Films) was a hoot also.
Nathan: I donít have much to add here except the fact that getting to do some of these commentaries is a dream come true for meÖ.. I simply adore Donít Go In The Woods, Blood Theatre, Nail Gun MassacreÖ. Thereís just so many!

M[m]: Over the podcasts 170 episodes youíve interviewed a good selection of known/ to lesser-known- please each discuss who you felt was your favorite to interview?
Joseph: Me, personally, it was Curt Rector from House of Death. He gave out SO much background, it was just incredible. That, and we've since become great friends, and we exchange pleasantries at least once a week on Facebook. Erik: I used to find the interviews so nerve-wracking. This is going to sound weird but I get so star struck around actors from movies I love even if they are not ďstarsĒ as such. Iíd much rather meet the woman who played Sandy in Friday the 13th than Paul Rudd or Jennifer Lawrence if Iím honest. I really loved interviewing Russell Todd from Friday the 13th Part 2, Chopping Mall and He Knows Youíre Alone. He was so nice to chat to and I was completely starstruck. But he seemed to be proud that there was a resurgence of interest in 80s horror and in actors like himself. He was very chatty and treated me as a friend as opposed to a fan. Similarly, Larry Zerner (Shelley from Friday 3) was also really lovely.
Nathan: Wow this is a VERY tough call. I have really enjoyed all the interviews Iíve doneÖ. Lori Lethin is one of my favorite people ever and sheís such a sweetheart that I have to mention how much I loved interviewing her. I also had a great time interviewing Robin Meloy Goldsby from The House on Sorority Row. She had such great memories of working on the film! I honestly canít think of any bad interviews Iíve done. Everyone Iíve spoken with were always super friendly!

M[m]: Over the years you covered a fair few obscure titles- of these are there any you feel are still awaiting a decent reissue?
Joseph: I would love to see House of Death and Island of Blood get Blu-ray releases. The former came really close at one point (with our help), but nothing ever came of it. The latter I doubt will EVER get a release, especially if you go back and listen to what Jared McVey (Burt) said about the production when I interviewed him for the episode.
Erik: Iíd love to see Scream Factory or Arrow get their hands on Ruggero Deodatos ĎBodycountí from 1987. Itís a favourite of mine and I donít think itís even seen a decent DVD release Ė only mediocre ones.

Nathan: I want a really good release (packed with special features and hopefully a commentary by The Hysteria Continues) for The Last Slumber Party and Terror at Tenkiller.

Justin: I would love to see a decent release of 1980ís Ghost Dance and Superstition from 1982.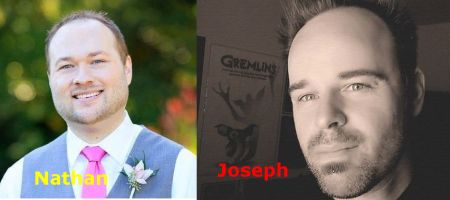 M[m]: So far merch wise youíve only got a single design t-shirt- any thoughts to expand this?
Joseph: Possible, but it's a lot of work for which we don't really have the time right now.

Erik: I donít think we have any plans for merch Ė I donít think we have a big enough audience to justify it, to be honest. Although I would love to record an album for Twisted Hysteria (thatís myself and Joesph).
Nathan: We tried the merch side of things, but it didnít do very well for us. Although I did buy a hoodie with our logo on it!
Justin: I think those Toyah drinks coasters could sell quite well.

M[m]: Please each select your favorite episodes so far & explain why?

Joseph: Honestly, I don't listen back very often (maybe once a year), so I'd just be guessing, but I had a lot of fun on our drunkcast episodes.
Erik: I really enjoyed recording the drunk episodes Ė Halloween Resurrection and the Demons films. Mainly because it was such an amazing laugh. I was extremely hung over after both but it was well worth it. Iím not sure if the fun translated to the listening public though! As for "sober" episodes Ė I enjoyed the Bloody Moon one (even though it took about 6 hours to do due to technical issues) as it gave birth to "Inga."

Nathan: More recently itís definitely the Demons/Demons 2 drunkcast. As for the rest, Iíd have to say that I enjoy them all really. Doing the show is like hanging out with some fellow slasher movie friends so I always have fun no matter what movie we are covering.
Justin: Yes, a tough call! I enjoyed the drunkcasts, but I canít really think of one I havenít enjoyed. It really is fun hanging out and talking slasher movies. I hope that the camaraderie translates to our listeners. After 170+ episodes I suspect it does!.

M[m]: All four of you are involved in other projects away from the podcast- could each of you please give us an update on your solo endeavors, and/ or recent guesting on other podcasts?
Nathan: I'm also part of the Made for TV Mayhem podcast. That's the only other thing I do currently but it's a lot of fun and it's a great show!
Joseph: I am a filmmaker and I also have a bad action movie podcast called Ninja Terminators Are Our Superiors.
Erik: my time is limited at the moment so I'm not really appearing on other podcasts, but I have guessed recently on the Movie Love Podcast with Michael Ferrari

Justin My book is about to be released in a revised and expanded version as The Teenage Slasher Movie Book. The update allowed me to take a look at what has happened to the subgenre in the last 8 years since it was originally published. There have been quite a few changes. A major one is how the slasher has found a new home on TV and in video games. There's also a nice symmetry, as the book is released the same month that the new Halloween movie hits theatres.
M[m]: Thanks Justin- what about yr website, and your other podcast work?
Justin I may have few guesting slots for other podcasts coming up, but I can't say too much at the moment. Having some more free time at the moments has meant that I can keep updating Hysteria Lives! a little more regularly. The website celebrated its 20th birthday this summer just gone. I can't believe it's been around for so long!
Thanks to Joseph, Erik, Justin & Nathan for there time & effort with the interview. The Hysteria Continues 170 plus podcast can be found either on youtube here, via pateron here, or anywhere you can download or listens to podcasts on.
Roger Batty