Armour Plated Wall-Making [2013-02-05]Truchsess is a Canadian based HNW project that has a very thick & distinctive tonal based sound. The project appeared in early 2012 with the release of a full length CDR(Entreaty on Muzikaal Kabaal) & a 3inch CDR(Quisling on Claustrophilia)- both releases presented a very consistent & original sound. Behind the project is German noise artist Michael Toepfer who now resides in Edmonton, AB, Canada, he kindly agreed to give M[m] an email interview.

m[m]:Tell us a little about how you first got into noise, and in particular HNW & was there any one release that made you want to make your own HNW?
Michael I got into Noise through what I feel was a logical progression through the genres - always looking for something to challenge myself. I went from Alternative Rock & Post Rock into Noise Rock & Metal - soon I found myself listening to more Sludge and feedback-drenched Doom. I was also always listening to a lot of electronic music. I went from Minimal Techno into Rhythmic Noise and Drone. Industrial Music and Noise came next. I started listening to more and more experimental and improvised stuff when I came across Aaron Dilloway's Hanson Records and Phil Blankenship's Troniks/PACrec - this is what really sparked my interest in Noise/Harsh Noise. I am not sure how Harsh Noise Wall grew out of Harsh Noise and I still see HNW as a genre within a genre. For me it is just another way of exploring sound and texture.
I do not listen to many dedicated HNW-Artists and I do not think there is one specific release that got me into this. I used the HNW-Tag for the project since I wanted it to be a separate entity from my other project. I felt that I wanted to make my path more narrow and focused once in a while. I consider my other project (Potier.) to be different in character - recently I feel that Truchsess is more of a way to submit myself to the noise while Potier. is more of a nervous struggle.

m[m]:You mentioned that you don't listen to much HNW, but are there any HNW acts you do enjoy listening to?
Michael I am sometimes just not sure who exactly would be considered a dedicated HNW-artist and where people draw the line. I like to listen to lengthy noise-constructions and walled noise - if you want to call it that. I find myself going back to older material from artists like The Rita, Ba.Ku. or The Cherry Point often. I like most of the Werewolf Jerusalem material I have heard. Many artists have come up with long-form harsh noise or textural explorations that venture into static territory and many of them would probably not consider themselves HNW-artists. So much great material that branches out into wall-noise by artists like OVMN, Macronympha, Paranoid Time, Dried Up Corpse, Being, Dead Body Love, Oscillating Innards, Daniel Menche, Kakerlak, Taskmaster, Rusalka, Vast Glory, Black Sand Desert, Treriksröset, Sewer Election...

m[m]:How/when did the Truchsess project come about & is it your first sonic project?
Michael Truchsess started in the fall of 2011. I started exploring different techniques & approaches and I wanted to challenge myself to a different sense of density and oppressive sound. Truchsess is a side-project - I have been exploring drone/noise/minimalism/chaos under my Potier.-moniker since 2006 or so.
m[m]:Why/ how did you chose the projects name & what does it mean to you?
Michael This is where it gets a little weird. The word Truchsess is German - it translates to Seneschal or Steward. In the middle-ages those royal officers were put in charge of justice and administration. In the name of a lord or a noble-man the "Truchsess" would also oversee military strategy and the maintenance of law and order. One of the chapters in history that interests me most (coming from Germany myself), is the time of the peasants' war in Germany (in 1525). One of those officers at that time made a name for himself with his brutal and merciless way of putting down the uprising of the farmers. The upheaval against the oppressor was ended by force and military power. Truchsess as a project-name stands for oppressive sound and the power that forces people into submission. I like the word and the character described has somehow become a synonym for a stranglehold or an overbearing force.
Michael The projects logo(a knight like figure holding a sword which forms the T of Truchsess), & the some of the projects releases artwork are themed of knights & battles- what attracted your to this theme?
Michael The logo is once again to be seen in relation to the historical figure of the "Truchsess" (Seneschal) that I mentioned before. I wanted a logo that shows a knight, an officer in charge - that is what is behind the logo.
The artwork for the releases follows essentially the same path. The prints I chose once again speak to the idea of a revolutionary uprising in the middle-ages and all the stories that surround those events - even beyond this, on a much broader scale.
Essentially I want to depict the forces involved with a conflict or struggle like this. The overwhelming urge to fight for change and the violent response to oppression as well as the reaction of the oppressor. Noise can be an oppressor & a liberator at the same time.
It is all about pressure, equilibrium, struggle, cleansing and power imbalances. It is hard to find all of this in walled noise - and of course all of this is very abstract when listening to the material. The sounds that I make and the illustrations that are used can and should be interpreted by the listener/observer - they can mean very little or a whole lot.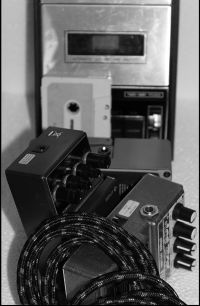 m[m]:You manage to create a very dense often tonal based take on walled noise- can you tell us a bit about your set-up & how you create your quite distinctive sound?
Michael My setup changes from session to session but I have used a Korg DS-10 Software Synth (for Nintendo DS) for many of my source-sounds. Various sources of white static have been employed as well, everything always in conjunction with pedal effects. (EQ, Distortion, Envelope Filter, Octave etc.) All of this runs into a mixer and from there to a recording medium of my liking.
m[m]:How often do you record noise & do you release everything you record?
Michael I do not record Noise very often. Most of the time I find myself jamming for a few hours without hitting record at all. There is a great deal of satisfaction that comes just out of experimenting. However, there are days when I push myself to record the experiments and/or edit fragments that I have lying around. I work very slowly and I am far from releasing everything I create. I need to make time and space to be able to record & listen carefully.
m[m]:Seemingly the first two releases from the project were the two twenty minute tracks Upheaval 1 & 2, which are now available as a free download from your bandcamp page. Do you plan to re- release these in a physical form?
Michael Upheaval 1 & 2 were pieces that I intentionally created for Bandcamp. I had never used this platform before and I thought it would be a good starting point for the project. It is interesting to see how many people actually listen to what is posted. I like the idea that you can see how many people listen to an entire piece and how many people only listen partially. Those tracks generated some positive feedback from people and basically this material lead to the offers that I got to do physical releases. I do not have any plans for a re-release - the Bandcamp will most likely be used for a continuation of the Upheaval-Series or for other web-only releases.
m[m]:Do you use different equipment for Truchsess & Potier?, and does the way you compose/ construct you're noise vary between the two projects?
Michael I use effects-pedals to process sound for both projects. What separates Truchsess from Potier. is mainly the construction of sound. Most of the time the actual sources differ, too. For Potier., I find myself using contact microphones and home-built devices made from junk metal, wood, plastic more and more often. I take apart electrical devices and small motors and use their sounds. Sometimes I simply amplify a variety of surface-noises. I experiment more with editing & recording techniques. Potier. is more chaotic, like I mentioned before, there is a current of nervousness that runs through the Potier.-project, while Truchsess is essentially a deeper exploration of texture, an attempt to restrain myself. I wanted to approach noise from a different angle, change up my methods and learn to stack sonic events in a different way.

m[m]:Where about's in Canadian do you come from, and what's the HNW/ noise scene like there?
Michael I am originally from Germany and moved to Canada 5 years ago. I came for an internship that was supposed to last 1 year, then I decided to stick around. I live in Edmonton, Alberta. Despite all the Deadmonton-Talk, this city has a lot going on when it comes to arts & culture. Throughout the last couple of years the Noise-Scene here has been expanding a lot. There are a few very dedicated people that put on shows and release people's material. There are monthly Noise-Events under the Ramshackle Day Parade moniker and there are a few venues that are open to noisier shows. That being said, there is no clear direct commitment to Harsh Noise or HNW - generally events branch out into Drone, Ambient, Free Improv and all sorts of Electro-Acoustic Music. All in all it is a very colorful group of people with very varied interests. Outside of my own projects, there is one more Harsh Noise Project in the city - Damno Te. He just recently returned from a few years of silence and is back to recording and releasing again. I am very grateful to many people here for their open mind and their open ears.
m[m]:Have you or would you like to perform as Truchsess in a live setting?
Michael I have not performed live with Truchsess and I have no plans for this at the moment. I do not want to rule anything out, though. If the opportunity arises, I will definitely consider it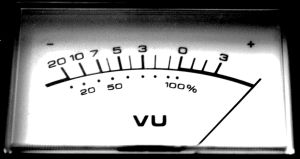 m[m]:What's next for Truchsess?
Michael At the moment, there are no concrete plans. Like I mentioned above, I will be picking up the Bandcamp-Thread again and there will definitely be more Upheaval-Pieces. Outside of that I am always open to ideas and proposals. Tape has been my favorite format in recent years - so I would definitely like to capture some Truchsess on this medium moving forward. The HNW-Scene seems very small in a way but definitely not small-minded. The few people that I have been in touch with have been extremely supportive and very enthusiastic about what they do - I trust that this is a common trait of this scene. If this is the case, there will be more to explore and more to share.
Thanks to Michael for his time & efforts with the interview, and the use of his pictures. The projects web domain is here
Roger Batty