Four way chaos [2007-11-09]The Skull Defekts are a four Piece from Gothenburg & Stockholm who have been getting praise and rave reviews for thier of repetitive & rhythmic based music that dips it's toe in electroncia, old school industrial, Analogue synth scapes and noise elements- to come up with very much their own painful white neo audio nightmare. There also hellishly prolific releasing this year alone four albums as well a handful of smaller releases. Band member and iDEAL label owner Joachim Nordwall kindly agreed to give me an email interview.

m[m]: How did the project first come about? How did you all first meet? Has the project always been a four piece?
Joachim Well, the idea of The Skull Defekts had been there for a while. I was in a band called Kid Commando for six years or so and when we decided to end the band after a great UK tour in January 2005, I had already started to talk to Henrik Rylander about forming a new band. I had released some of his solo stuff on my label iDEAL and I knew his drumming well from his time with the garage rock fuckers Unon Carbide Productions, I used to steal their records from the local library in the town I grew up in. The Skull Defekts sort of began as an idea of a free and open band without real members. But that changed pretty soon and me and Henrik are always present for Skull actions. The band now has four members (especially with the rock outfit) but we sometimes can be found collaborating with artists like Lasse Marhaug, CM von Hausswolff and Damo Suzuki. I had known Daniel Fagerstrom for years since our common activities in the Swedish D.I.Y. scene and Henrik knew Jean-Louis Huhta well since the late 80's and the Gothenburg underground scene back then. Jean-Louis had been in shitloads of bands, like Anticimex, Cortex and LPC.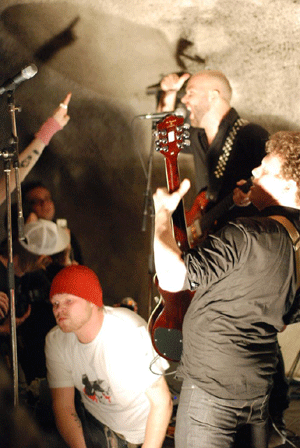 m[m] A lot of your work has a wonderful intensity to it; bring to live perfectly a painful white neo inner city nightmare- what made you decide to focus in on this? And can you always see your self following this path? Joachim Yeah. It's what we want to do and what comes natural to us. The intensity is a natural state of mind for us, I'm afraid. That is what comes out of the stuff we use.

m[m] Who does what in the band and how do you go about composing/ writing? Do you focus first on trying to build a feeling and atmosphere or do you go more from a musical point of view?
Joachim For the 'Blood Spirits & Drums Are Singing" album on Conspiracy, we based the pieces on guitar riffs and ideas on rhythm as foundation of the music. We are very interested in making rhythm the most important part of the band. I am personally deeply into tribal percussive music, like voodoo drums but also stuff like Fela Kuti and organic dub music. We all bring our different influences to the band; Jean-Louis is a techno dj, Henrik's solo stuff is based on repetition and Daniel is working a lot with sound experiments. We all are very interested in repetition basically, the power of the circle.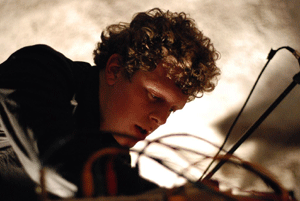 Joachim When we do the electronic drone and experiments - we usually improvise. The basic atmosphere is already there. No need to make plans or talk about it...

m[m] Your recent work seems to be getting longer track length wise for example tracks on the Black Hand (riot Season) is going towards the twenty minute mark and The sound of Defekt Skulls & Intense Cranium Conta (Utech Records) is one long track nearing the forty minute mark- do you think you'll continue this trend?
Joachim It's always been a part of the idea. Our first two records; "Open The Gates of Mimer" and "Rotating Feedback & Save The Skulls" are both surfing over the 30 minute mark with only one piece each on them. The aspect of time is very interesting. I love to challenge it and set myself in some kind of time-less state of mind. It's great to loose yourself in...

m[m] Do you ever perform live? & if so what does the live set consist of do you improvised on themes or recreate album tracks? And do you use any visual or theatrics in the live shows?
Joachim Yes we perform quite a lot actually. This year we toured Europe, did a bunch of festival one-offs here and there and we also found ourselves playing China a month ago. We have separated the two in the past - but are now mixing the electronic stuff with the primitive, rhythmic avant rock stuff more and more. But some shows are totally improvised - based upon electronic feedback drones. We use super bright lights on stage, we bring our own usually. Makes the experience even more intense...

m[m] Your material often treads the line of nasty noise, but never really explodes into complete overloaded noise- can you ever see your self do a straight out noise record?
Joachim It's probably bound to happen!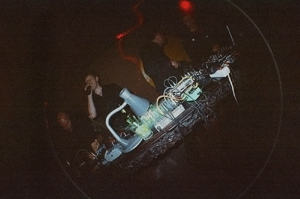 m[m] you seem very prolific, with this year alone you've put out three or four releasers- are you always work on stuff and do you always record and work in the same studios/ space for each release?
Joachim We always have projects going on. We're right now working on the follow-up to "Blood Spirits & Drums...". It's even more rhythmic and monotonous. Also, me and Henrik are working on a few things nighttime in his studio Dental at the hospital here in town where he works as a photographer. That is of course colouring the sound too.

m[m] Have you ever been approached or would you like to do soundtrack work for either films, performance art etc?
Joachim I think Bruce LaBruce is using some of our music in a new zombie film he is doing, haven't heard from him for a while now but I think it's happening. We are doing a project with the Swedish visual artist Johannes Heldén which will probably be a DVD. There are some ideas out there but nothing confirmed yet. Would be great to do soundtrack to a dance performance or simlar.

m[m]: you did a split with Wolf eyes in 2005 Yes I Am Your Angel- would you like to work with them again? And is there anyone you'd to collaborate with?
Joachim Yes - we'd love to do something with Wolf Eyes again. Maybe a real collaboration this time but we tend to only end up drinking when we meet. Would be very interesting to record with CM von Hausswolff with whom we only performed live with so far. We have also talked with Mats Gustafsson about recording together. Kevin Drumm is also on the top of the list of people we would like to work with.

m[m] what are you working on a present? And what else have you got coming out this year?
Joachim We're releasing a dubplate 10" on iDEAL soon, limited to 8 copies. It was manufactured for an exhibition here in Gothenburg. Kning Disk is doing a vinyl LP version of "Blood Spirits & Drums...". The "DFX" CD-R is released on Cut Hands soon too. We recorded a new album in Beijing at the hotel we were staying in, and we're working on the second volume in the black trilogy which "The Black Hand" LP on Riot Season was the first one for, we're working with the amazing Swedish cult/occult artist Fredrik Soderberg on that one. He's done a few of our covers now. Great guy. Great artist.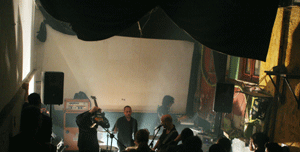 m[m] List ten records that have really influenced/ inspired you over the years you and why?
Joachim Oh man... That's a hard one! Here's some of my personal favourites, maybe not the top ten!
23 Skidoo "The Culling Is Coming" LP - beautiful percussive but drone work.
Fela Kuti & The Africa 70 with Ginger Baker "Live" LP - the energy! the rhythm! maaan!
Cabaret Voltaire "The Mix-Up" LP - I just love Chris Watson's tape manipulations and the drum machines!
Kevin Drumm "Comedy" CD - makes me seasick.
Phuture "Acid Tracks" 12" - the soundtrack to my early confusion!
Alvin Lucier "I am Sitting in a Room" LP - challenging time.
Lee Perry "Black Board Dub" LP - the delay! the dub!
Eliane Radigue "Trilogie de la Mort" 3xCD - beautiful modular drone work!
Pan Sonic "Aaltopiiri" CD - monumental!
Maurice "This is Acid" 12" - one of the most important tracks ever!
Thanks to Joachim for the interview & his time. To find out more, listen to samples etc check out the bands Myspace site here .
Roger Batty