the Root King [2007-04-17]

Tom Carter is most widely known for his participation in Charalambides, a "band" which was founded by himself and his then wife Christina in the early nineties. Over the years, the band worked as a three-piece, first with Jason Bill, then with Heather Leigh Murray. The first "official Charalambides album was the Union LP, released 1994 on Siltbreeze Records. Their first unofficial release was Our Bed is Green, a tape self released on their still running Wholly Other label (since re-released as a double CD on Kranky).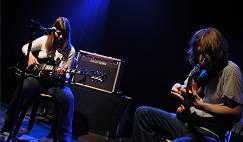 Charalambides' sound has always been impossible to pigeonhole, as the music seems to be informed by mood, rather than genre. There are certainly elements of psych, folk, improv, country, etc. that permeate some of their music, yet there is always a level of experimentation which stamps it as their own. Christina Carter's sometimes word-less vocals are expressive and spiritual, as if she is constantly grasping for something, and Tom Carter's guitar is almost always perfectly in sync with the mood of the vocals. Over their many years as a band, there is a staggering consistency to the quality of their recordings, which is amazing, considering they do not tread in the same waters twice.
Aside from Charalambides, Tom Carter has also recorded solo, his highest profile solo release being Monument, originally a CDR released on Wholly Other in 2001, then re-released on Kranky in 2004. Monument is a brilliant low key album which slips in and out of drone, created solely on a lap steel guitar.
Mr. Carter has also recorded myriads of collaborations with a variety of interesting artists, many of which are mentioned in the following email interview. In the past couple of years Tom has collaborated on two duo albums with Robert Horton, a sound artist who creates drones and extremely active soundscapes with home made instruments, samples and the kitchen sink. Tom also recorded alongside Horton in groups Mudsuckers, with Pete Swanson and Gabriel Mindel (Yellow Swans) , and Kyrgyz, with Loren Chasse (Thuja, Blithe Suns), and Christine Beopple (Skygreen Leopards).
Aside from his work with Robert Horton, Carter also has been involved with the Friday Group, with Shawn Mcmillen (Ash Castles on the Ghost Coast), Matt Martinez and Brian Smith, Badgerlore, a group including Ben Chasney (Six Organs of Admittance), Pete Swanson, Rob Fisk(ex-Deerhoof) and Zaika, a duo with Marcia Bassett (Double Leopards). Add to that recordings with Inca Ore, Spiderwebs, Bardo Pond, and, surely a few, if not many others that I may have missed. So there's an incredible amount of music out there to absorb, with both the "official" cd and lp releases and tons of cdr's. And almost all of it is very good, if not great.
Tom Carter is certainly at the forefront of experimental guitar players, alongside such illustrious company as Loren MazzaCane Connors, Jack Rose, Matt Valentine, and a few others. We thank him kindly for agreeing to this interview. Thanks also go to Laurent Orseau for providing the Charalambides pictures:
m[m] Where did the name Charalambides originate?
Tom We were adding up the checks one evening when we both worked at Sound Exchange (a Houston record store) and 'Charalambides' was the name on one of the checks. we liked the way it sounded.
m[m] Charalambides albums, especially the last couple, (Joy Shapes, and A Vintage Burden) sound to me like they were very carefully arranged. How does the recording process work?
Tom For those two records we got together to put down some basic tracks, some of which are improvised, some of which are thought out beforehand. I think for each of those records, about 2/3 of the stuff were pre-written songs.
For Joy Shapes, CC (Christina Carter), Heather, and I had been playing the songs for a long time live, so they were pretty well mapped out (though the versions we used were very different from our live sets in the case of Joy shapes and Voice for you). There are actually very few overdubs on that record, apart from vocals (which were laid down all at once, between Christina's solo tours that year). I put a lot of sweat into the mixing and editing. Looking back at the original sessions I can't remember what all the fuss was, but for some reason it seemed like an epic task at the time.
AVB (A Vintage Burden, ed.) was actually a lot more work in terms of computer time. For A Vintage Burden, Christina had written the songs a couple of months before she came to Oakland to record them, and they had yet to be given a definite form. After we got the basic tracks done, she recorded vocals, and then she went home to Massachusetts and I worked on guitar overdubs. In the case of Two Birds and Black Bed Blues there was a lot of editing, layering, and arranging that I did after Christina left. Black Bed had been very simple and completely improvised before I started layering the guitars on top....my idea for this record was to make a more or less conventional studio guitar rock record... of course the songs aren't all that conventional (at least most of them aren't), so there's a bit of an intentional disconnect there.... I guess the basic process is the record gets recorded and I take over, working mostly in isolation, though Christina has veto over anything I do (and vice versa). Generally most of what I want on the record stays there. Both of the records were professionally mastered at Terra Nova studios as well....
m[m] Is there a new Charalambides album in the works?
Tom Yes, it's called Likeness, and will be released on Kranky in September. a couple of the songs are similar to the 'rock' moments on AVB but for the most part it's more textural and more sprawling, with less of a 'narrative' to the arrangements. It has large chunks of piano and organ on it. We've been doing some of the songs live on our last couple of tours.
m[m] Are there any plans to re-release some of the more obscure albums from your back catalog ( i.e Union, Historic 6th Ward, Market Square, Being As Is)?
Tom I think the next one in line for Kranky is Internal Eternal. For the most part we've been discussing only Wholly Other stuff for their reissue series, but there's always a chance we'll get to others. (Crucial Blast had contacted us about them reissuing Being As Is a while back, at the time we said no, but perhaps that option is still open).
m[m] Charalambides have been touring quite a bit lately. I've read in the past that you and Christina have found it somewhat difficult to play live. How did the recent shows work out for you?
Tom The shows have been great, mostly. Any aversion we once had to playing live is long gone. I think both of us now look at playing live as a crucial part of our musical output. Christina in particular really pours it out performance-wise nowadays.
m[m] Charalambides were part of a group of bands who put out albums on Tom Lax's Siltbreeze label in the early nineties, which included the Dead C, the Tower Recordings and Un just to name a few. Do you think the Siltbreeze bands have made an impact on the current underground music scene as an influence?
Tom Yes, I don't think the noise rock scene could really have taken the shape it has without Harry Pussy or the Dead C. Tower (the Tower Recordings, ed.) certainly spawned a lot of bands as well, directly or indirectly. the overall aesthetic of the label may have been more part of a general approach or attitude that was 'in the air' so to speak, so it's hard to judge what exactly its impact as a whole was... but definitely individual bands were influential. I have no idea who we influenced. Certainly we were ourselves greatly influenced by most of the bands and by Mr. Lax as well.
m[m] What bands or type of music made you decide to play guitar?
Tom: Led Zeppelin, Jimi Hendrix, Velvet Underground, Black Flag, Stooges, Flipper, Joy Division, King Crimson, etc....
m[m] What music are you currently into?
Tom See above, plus a lot of 60s west coast stuff, free jazz, contemporary noise/drone (in its more psychedelic and less bullshit theatrical manifestations, though both together is OK), Indian music, country blues, 70s loner, 80s hardcore, etc.....
m[m] Aside from Charalambides, you've done tons of collaborations (Zaika, Badgerlore, Mudsuckers and Krygyz as "bands", and with Bardo Pond, Robert Horton, etc., etc.). Any new collaborations slated for release?
Tom Yes, I've been working on three different projects w/ Robert Horton- Sky City (on Important, w/ the Camerons from texas, of ST37, Devil Bat, etc), Turnstone (on Three Lobed, w/ Mike Shannon ex of the Appliances, Robert's punk band), and another duo CD (Actually, there's one in the pipeline as well, so make that two duo cds, one on Preservation, one on Students of Decay). I've been slowly working on a duo with Grant Acker (ex-UN) which will hopefully come out on Lotus Sound later this year. There's also a duo collaboration with Pete Swanson called Sarin Smoke that will release two LPs this year, one on Wholly Other, one on Three Lobed. Zaika and Friday Group LPs on Wholly Other this year as well. Oh, and a CD coming up on Great Pop Supplement (ex-Earworm) with Christian Keifer (second one on Preservation sometime after that).... and round that off w/ a solo Wholly other CDR and CD (reissue of For Four Cs on Phonomena) this year also. There are recordings with Dave Dove/Kyle Bruckmann and Spiderwebs currently gestating but that's probably next year... seemingly lost in the pipeline is a duo LP w/ Vanessa Arn on A Silent Place....
m[m] One of your co-collaborators, Robert Horton, is finally getting some much justified notice after releasing multitudes of material in the last couple of years. You're often credited with encouraging him to put his music out there. How did you hook up with Robert?
Tom I don't think I gave him any special encouragement, other than by getting our project rolling and passing on some contact info, but I suppose there was a certain confluence of energy there. Astrological, probably. We met at a Jack Rose gig at the Berkeley Jewelled Antler nexus.... he and Dan Plonsey were sitting around talking about (John) Fahey and Pelt. Jack and I showed up early and we all ended up hanging out... Robert at that point was slowly re-entering the scene via Jewelled Antler and VHF and my arrival kind of reinforced his trajectory I think.
m[m] The two albums you've done so far with Robert, Lunar Eclipse and Steeljaguar for Rocket are insanely detailed, bursting with sounds from every direction. Clearly a lot of time went into recording and editing those albums. Did the pieces start with a structure in mind, or were they the result of lots of improvising?
Tom Some of the more recent recordings we've done are less tampered with, but those two have a lot of editing & processing going on. For Lunar Eclipse Robert did a lot of computer work on tracks that he and I had improvised... I also came back and did some overdubs in various places. Usually we start with a session and then Robert works on it, and overdubs/edits/ whatever happens after that... for Steel jaguar, one track is done like that, the other is a track I'd recorded solo in Austin that I gave to Robert to 'remix'.
m[m] Thanks very much for taking the time to do this interview!
Tom No Problem!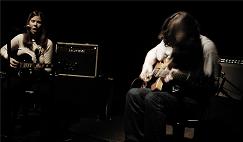 Read more about Tom Carter and Charalambides, and purchase some of their music at the following websites:
Check out Laurent Orseau's photographs Here
Erwin Michelfelder