Live report- 08 Oct14, Cafe Oto, London [2014-10-13] [2014-10-13]Londoners really have been spoilt over the last year with the Necks following up their residency at Café Oto in 2013 with another series of three performances spread over three consecutive evenings. The risk in such a strategy may have been a degree of fatigue on behalf of their UK supporters but none of that was in evidence as on the last night the queue outside the venue was round the block as people arrived early to bag seats closest to the performance space. As perhaps would be expected with a band whose history stretches back nearly twenty-five years the crowd contained more older patrons than would usually frequent Café Oto's evenings of renegade sounds, but there were also the usual mix of East London hipsters and other assorted miscreants against mundane music.

The stage was set-up with grand piano, double bass and drums, sensitively illuminated, surrounded by a few small candle lit tables and the Oto's characteristic swarm of rickety wooden chairs and reclaimed benches. Many in the audience clearly knew what to expect and so had arrived with cushions in hand. The prospect of be distracted from the Necks singular brand of boundary crossing jazz by an aching backside clearly would not do. At around 8:45pm the band casually took to the stage, Tony Buck to the drums, Lloyd Swanton to his bass, and Chris Abrahams to the lovely Yamaha Grand nestling half in the gloom.
It was Abrahams who took the lead - as he would do for most of the evening, releasing slow impressionistic minor triads unaccompanied for a few short minutes before Swanton's bass began adding a few plucks and scrapes. This duo, at times seemingly unaware of each other continued for a while before finally Tony Buck began adding subtle texture through use of a shaker (it appeared composed of brazil nut shells) occasionally modifying the sound by rotating it against his floor tom. With all three players now active the strange interplay which marks out their performances began to take shape. Swanton's bass playing took on the role of providing the principle rhythm, for some time punctuating his freer play with a simple repeated two note gesture which slowly allowed the piano and drums to anchor their improvisations, giving form to the piece as a whole. If a comparison were to be made with any of their recorded material it would probably be pieces like Mosquito or even Aether rather than the recently released Open. Although it must be said that the sort of crescendo that the band eventually reached on this occasion is largely absent from those records.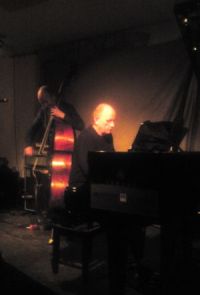 Almost imperceptibly the band shift into a frantic cacophony of rhythm with Abrahams again setting the tone hammering notes on his piano while Buck fires off hi-hats and the bass decomposes almost to a pure rumble. Quite how this point was reached from such sedate almost melancholy beginnings is part of the beauty of the Necks music. To describe it as elemental or alchemical seems wide of the mark. The band doesn't build their music from the simplest elements, whatever emerges seems already marked with their signature. Similarly they don't appear to transform base materials into precious ones, since in isolating any one moment everything is essentially fully formed and not in any way in need of transforming into "gold". A description offered to me by a fellow audience member may be as good as any: their music was like the weather, always there, always changing.
This certainly seems to capture something of the character of change and transition which the Necks performances revolve around. To lose concentration even for a moment is to awaken in a different place. And yet even if one concentrates to the maximum degree the ratio of that change is still elusive, locked as it is in the near telepathic interaction and understanding between the players. A case in point being during a particularly intense period the tail spike on Swanton's bass collapsed causing him to have to lay it on its side to refit it. The operation lasted all of fifteen seconds upon which he seamlessly took up the rhythm again without so much of a hic-up in the overall sound.

After a break the band returned with their second set. This time the drums started off more to fore with Abrahams and Swanton working serpentine interventions around rolls and cymbals from Buck's kit. It wasn't long though before the pace picked up and Swanton again found himself extended physically with some especially fast work stretched across the length of the board. This sweeping gesture set the tone for Abrahams contribution alternating from dissonant triads to long sweeps across half or even the whole length of the keyboard. If the first set had the feel of a slowly approaching storm, this one was more like a full on squall with wave after wave of sound moving back and forth between the players. This swaying feel was given added intensity with deft deployment of the sustain pedal, the pianist's expression unchanging regardless of whether he was playing Feldmanesque cascades or hammering the keys into quasi-industrial territory.

Just as in the first set the band seemed to drive themselves to points of intensity that they could not easily be extricated from. Yet, always there, always changing the band slowly allow space to enter into continuity, breaking up their play with small gestures and interruptions which the other players respond to with equal sensitivity; this is music of soft exchanges even amidst the crescendo. Slowly but surely familiar motifs return punctuating what went before with a degree of familiarity, like patches of blue sky revealing themselves as the clouds clear. Inevitably they fall back into silence just long enough to mark the duration. The audience are then freed to show their appreciation, which they did.
Picture credits: front page band pic Holimage, three live pics by D Simpson
Duncan Simpson