Show report Shepherd's Bush Empire, London 18/11/11 [2011-11-23]Crass were the first band to forcefully promote anarchism and media subversion from within the emergent punk rock framework of the late Seventies, dominating the independent music charts with their singles and LPs that insisted customers "pay no more than…" what it cost them to independently produce the goods. They went on to release many records by other sympathetic artists creating a global anarcho punk movement along the way, with its quasi-militaristic fashions and dogmatic diatribes that saw as much internal argument as external direct action. Over the years these inner conflicts have often served to stall the preservation of Crass' heritage as former members argued about such un-Crass-like commodities such as royalties. So it was with both salutations and sneers that various incomplete configurations of the band eventually remerged this century, the latest of which being co-founder Steve Ignorant's The Last Supper set that he's been touring intermittently since 2007 to keep the memory of Crass' more accessible, punkiest numbers alive.

But, all good things must come to an end, as they say. It's funny to think that the original Crass saw the induction of a new Tory government against a backdrop of recession, public expenditure cuts, record unemployment and riots on the streets of London. While now, history seems to be repeating itself as Steve Ignorant brings the curtain down for the very last time on his roving revival of their songs, arguably just when they're needed the most.

But before the hankies came out a few friends from yesteryear took to the stage to support the send off. First of which was Andy T, a punk poet that appeared on many a Crass Record in the eighties, who sent us hurtling back to that decade with a band playing stiff reggae under his rhyming rhetoric of anti-fascism and anti-Thatcher. The reformed Irish punkers Paranoid Visions were on next, lead by the charismatic Deko. Curiously, the eight piece chose to play a set of recent songs mainly written in the years since they got back together, yet they all bore a suitably retro sound that reminded of Conflict's thrashier power punk. And the last support came from another blast from the past, The Cravats, who formed around the same time as Crass. Although they went on to release their 'Rub Me Out' single on Crass Records in 1982, with which they opened tonight's set, their approach always seemed less political and more artful, bringing to mind the likes of Pere Ubu more than Subhumans (possibly the reason they were championed by John Peel at the time). Their short nine song set cut a firm cross section through their equally short lifespan as they charmed the brimming audience with their angular, quirky display.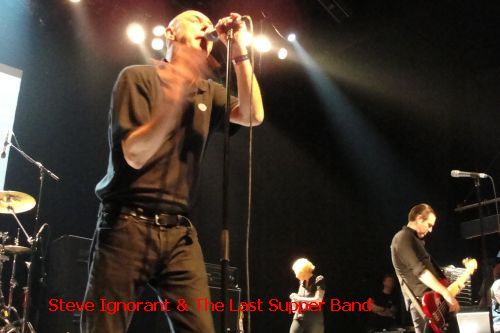 After a spell in the pub next door obliging all comers with photos and autographs, the time had finally arrived for Steve Ignorant to put Crass' songs to rest. With Gizz Butt (English Dogs, Prodigy) on guitar duties, Spike T Smith (Morrissey, Killing Joke, Conflict) taking on Penny Rimbaud's original rhythms on drums, and Bob Butler on bass (who also plays in Ignorant's other band, Schwartzneggar) the band launched into a rapid fire 'Do They Owe Us a Living?' showcasing a more streamlined sound to Crass' original spikier and jazzier gestures. But the voice that inspired generations of non-singers to take up the mic and express themselves hasn't changed in over thirty years since this song was first written: Tonight, Ignorant's angry cockney delivery is just as full of passion, commitment and energy as ever. But before you know it they'd soared through 'End Result' and 'They've Got a Bomb', also from their 1979 debut, along with most of the first side of their second album, Stations of the Crass, before singer Carole Hodge tag teams with Ignorant to deliver a hair-raising 'Bata Motel' and 'Systematic Death' from Penis Envy. With little in the way of between song banter, it all felt like it was going too quickly as the audience reminded itself that was the last time these anthems would be heard live as most of the rest of the set hurtled along almost exclusively drawing from the first three albums, along with a couple from the epic Christ – The Album
But perhaps the most memorable and affecting moments were the songs they selected from Crass' many singles: 'How Does It Feel to be a Mother of a Thousand Dead?', the song that originally got Crass in legal trouble for criticising Thatcher's decision to go to war in the Falklands, feels no less relevant and just as emotive today, while tonight's 'Big A, Little A' saw its school-yard sing-a-long come to life with a parade of children joining Ignorant and band for the nursery rhyme chorus. However, this was nothing compared to the roar of emotion that fired around the venue when Penny Rimbaud, original drummer and co-founder of Crass who has not always been best pleased with the handling of Crass' legacy, sets up his small drum kit at the side of the stage to give his whole-hearted endorsement to Ignorant's astounding efforts.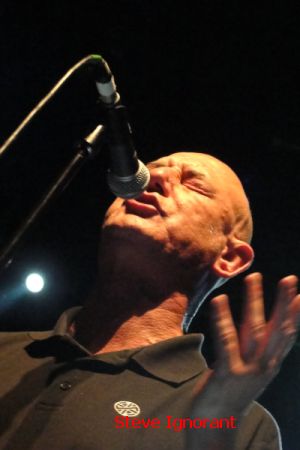 They play a second version of 'Do They Owe Us a Living?', this time unaccompanied by the other members of the band in accordance with their original arrangement of 35 years ago; and this could have been the fitting end, a putting aside of differences in respect of what's been created, but there was an even greater peak to come. With Rimbaud remaining behind his kit, another familiar face appeared from the wings in the form of Crass' original vocalist Eve Libertine launching straight into 'Darling' from Stations… sounding strong, natural and bright as if she'd never been away. Following a seemingly incongruous Ruts cover that introduced the stage to Ignorant's colleagues in his local lifeguard crew, to which profits from his Last Supper gigs are donated, Steve was getting noticeably choked. Although he did manage to clearly apologise to Colin Jerwood of Conflict for accusing him of misappropriating Crass' royalties, other attempts at between song banter were visibly compromised by his emotions as the crowd's support of love rose volubly. Next, Eve Libertine's return to share vocals with Hodge on 'Shaved Women' seemed to surprise Ignorant, suggesting that this wasn't rehearsed, but certainly felt right for the occasion. And 'Bloody Revolutions' was chosen as the final track, perhaps Crass' most musical and anthemic of numbers, allowing the contrast of Ignorant's and Hodge's vocals to be fully appreciated in the same song as the crowd erupted for one last time. No encores and no words followed as the band quickly waved to its baying audience, bursting the bubble we had all allowed ourselves to enter in respect of their optimism for autonomy, their passion and politics, the equal of which we're unlikely to see again.
KUDOS 5/5
Russell Cuzner