Heading for Disaster [2009-05-03]The Paper Chaseís distinctive sound flirts between indie rock/ punk, prog, dark pop and grim cinematic leanings-been all toped off with pitch black, clever and often sneering lyrical content. Theyíve just brought out the 4th album of their ten year career entitled Someday This Could All Be Yours Vol 1 and it finds each song dealing with a different disaster. John Congleton the projects singer and songwriter kindly agreed to give me an email interview.

m[m] The new album Someday This Could All Be Yours Vol 1 is made up of 10 songs each about a different natural disasters- how did the album's theme come about & what natural disaster would you choose to live through, if you
had to choose?
John well its more like natural calamities. And I guess I lived through a few of them myself, like witnessing several tornadoes when growing up in Texas, and of course itís about the human condition too. As far as how it came about as a concept- I canít exactly recall the thought process other than I knew I wanted to make a record that had an overarching theme but not exactly a narrative. I had done that a lot in the past and was sort of sick of it. I just wanted to focus on a batch of songs this time. You know.

m[m] Do you have say 3 or 4 favourite disaster movies? And why?
John man, I actually totally hate disaster movies. I really donít like disasters at all. It makes me sad and depressed for the people and their families that get hurt in disasters. What you have to understand is I'm only using disasters as a metaphor how powerless we all are. There is beauty in that to me.
m[m] The new album sees you creating a lot dense, detailed and filmatic sound then in the past using string elements on quite a few songs- do you think in the future youíll take the sound further and explore the film soundtrack form? Would you consider playing with a full orchestra?
John pretty much YES to all of those things. I have written for films here and there in the past, but I would adore the idea of the band doing something like that as a unit.
m[m] As usual the new album has itís memorable/ dark pop edgerís-do you think youíll ever move total away from the dark embittered work and have you ever wanted do just a pop album?
John I like some pop stuff, and sometimes I think of my music as pop songs with fangs or pop songs left out in the rain for a few weeks....I can never exactly predict what Iíll do next, but I canít imagine that I would ever be driven to make a pop album. If for no other reason than pop songs seem sort of easy to write to me, and they still wont be as good as the real pop genius anyway. I mean who would really want to hear me sing a pop song. I donít have a good voice or anything. Besides I donít make music for any other reason than to make whatís in my head not a phantom anymore and I could never gear myself in that way....you know....write a pop song...GO!!!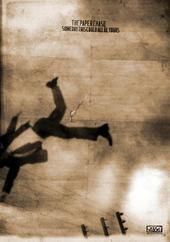 m[m] In the past youíve used some freaky dialogue and sample matter very much to the front of your sound with Someday This Could All Be Yours Vol 1 the samples have been mixed more subtle and disturbingly into the songs sound-what made you decide to do this?
John yeah totally. I think I have a tendency to the extreme in writing and my production. In some ways I wanted to temper that, this was something I knew I wanted less of this time the extreme talking samples.
m[m] On the subject of samples whatís the strangest most/ disturbing sample youíve ever taken & where would you draw the line with what type of samples
you would use i.e. how disturbing would you go?
John I donít think I have alot of "lines" that wouldnít cross to be honest. I think I just try to erase lines with my music if I can. (I know that sounds pretentious as hell). I try not to ever do something that is exploitive. But I have strange standards of what exploitation is that donít fall in line with others. I find disturbing things to be so beautiful and touching sometimes that I could never think that it would be disrespectful to use a recording of somebody at rock bottom. I guess it just depends...context and what not.

m[m] Someday This Could All Be Yours Vol 1 sees Jason Garner as your new drummer- how did this come about?
John I had recorded with Jason in the past on other projects and I just fucking loved the way he played. I asked him to try out. He did, he ruled, case closed!!!hahah!
m[m] As usual the new album has a nice and disturbing cover of a man falling through mid air- what is the origin of this image?
John that was collaboration between Danny our artwork guy and I. I told him I wanted somebody being thrown powerlessly through the air. and thatís what he came up with and I love it.

m[m] Someday This Could All Be Yours Vol 1 once more is very wordy and dense in its texts- have you ever considered writing stories or a novel?
John no never. but thank you thou' thatís very flattering for you to even ask. but no, I donít think I have anything worth a shit to say outside of music.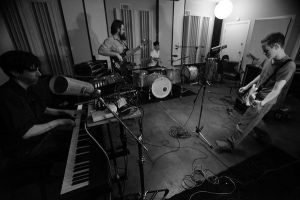 m[m] Can you tell us anything about Someday This Could All Be Yours Vol 2- will it be about natural disaster once more? Have you planed it out musically yet?
John yes! Same stuff...most of it is recorded already. Itís more mellow, a bit stranger in some ways. I like it a lot.
m[m] With some of your answers & the tone of the album towards the end you seem to have mellowed and become less bitter in your out look?
John -well Iíve just gotten older and grown to accept things more and thatís in a way what the album is all about. I donít think Iím any less bitter exactly, just a little more clever in how I put it I think...or I hope at least.
m[m] Have you got anything special lined up for your 10th anniversary & can we expect a tour on the back of Someday This Could All Be Yours Vol 1?
John We havenít spoken about anything special for our 10 years. Doesnít feel that way I guess...only bobby and I have been there since the beginning....we will however being touring our arses off starting in June!
Thanks to John for his time and effort with the interview, thanks to Lauren Barley at southern for making it all possible. Someday This Could All Be Yours Vol 1 is out now to hear samples pop along to the bands myspace here
Roger Batty