Stephen Botherstone, Dave Lawrence & oth - Scarred For Life Volume 2: Television in the 1980

Rolling in five years after the first Vol of Scarred For Life, here we have Vol 2- Television In The 1980s. The five hundred and the thirty-page book is a joy to behold, for those (like myself) who lived through the decade, or those wanting to study the darker/ troubling/ more bizarre side of British TV in the 1980s.




VA - - In Tenebris Scriptus - A dark aural tribute to H

The name of Howard Phillips Lovecraft is firmly inscribed in the mass culture. The works of the great writer, the inventor of the Necronomicon and the Cthulhu Mythos, inspire filmmakers, artists, and musicians. It is difficult to say how many musical groups appealed to the work of Lovecraft and how many tributes have been made.


Sabbat - A History Of Time to come

Following on from the reissue of Sabbat's second album, this their debut album gets similar treatment. With an extended booklet featuring old flyers/artwork and interviews ect,and extra tracks coming in the form of live version of four tracks from the album.


Astro - Astral Orange Sunshine

Astral Orange Sunshine brings together four spacey and swirling electronic unfolds with a Merzbow favourite the EMS Synthi as the main sound generator here, but this for the most part stays noise free- with only the last track diving into noise matter towards it's middle.


Wolf Eyes/John Wiese - Collection

Collection brings together a 7inch split between Wiese and wolf eyes, along with the tow very ltd American tapes cdr from 2003/04. All digitally re-mastered by Wiese in colour inlay from the original artwork. More than just a fan curiosity, this stands as some of both parties best work as collaborators and solo entities.









The Residents - Triple Trouble OST
For the last fifty years, those avant-popster/ genre tricksters The Residents have never followed the rules, or done what's been expected of them. Take...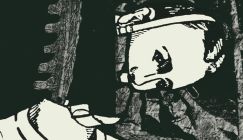 Hastings of Malawi - Deliriously ...
Formed in the early 1980s, after the member's sonic dabbling's on the early Nurse With Wound records, Hastings Of Malawi took a decidedly busy and deta...