Simon Šerc - Bora Scura

Simon Šerc is a Slovene audio/ video artist, sound engineer, & owner of the Pharmafabrik label -he started his creative activity in the early nineties. And he is involved with a few other projects, such example Cadlag, PureH, Matrix441.


Barbed Wire Dolls - Barbed Wire Dolls(Blu Ray)

Barbed Wire Dolls stands as one of the moodiest, stark & grimly sleazed WIP films of the 1970's. It's also one of the most balanced & focused films Jess Franco made with Swiss exploitation producer Erwin C. Dietrich. Over the years it's been one of Franco films I've returned to again & again, when I've been in the mood for pacey-yet-bleak sleaze. And it's great to have this new digital restored & remastered version of the film in the form of a region free Blu Ray release on Full Moon Productions.


Son Of Unsung Horrors - Son Of Unsung Horrors(Book)

From the folks that brought us retro horror mag We Belong Dead, the excellent original Unsung Horrors, and Monsters?-We're British Y' Know!"-A Celebration of Peter Cushing. Here's a new glossy & fact-packed tome bringing together reviews/ features on around 200 lesser known horror films- moving from dramatic 30's/ 40's chillers, onto 60's/ 70's creature features. Through to garish & weird giallo's, onto flesh & moody vampire films, and beyond.


The Ebony Tower - Les Rougon-Macquart

This Greeley Colorado-based wall-noise project is no stranger to long/multi disc releases. But this six-disc DVDR set/ digital release really pushes things to new & extreme limits, with just over fifty-three hours of wall-craft. The set was a joint release between the projects own label, and London based digital HNW Netlabel. And like all of this projects releases this is based around literature – and this time it's the twenty novels in Émile Zola's Les Rougon-Macquart series, that focused in on France's Second Empire (1852-1870).


Leechfeast - Neon Crosses

Despite the fact that the Slovenian sludge/doom group Leechfeast have been around for almost 10 years, I was not familiar with their work until now. Since 2010, they have released one demo, three splits and two full-length albums, the latest of which, titled Neon Crosses, has been recorded after a 3-year pause. The album was released by Dry Cough Records on vinyl and still available for order on the label's website or on the band's Bandcamp.



Tuffo - Masones

Masones is searing 'n' intensely feasting slab of euro noise that brings together walled noise, with some wall-ish harsh noise elements. This release appeared in October of last year- as either a C49 tape or digital download.


Clavilis Muri - Clavilis Muri

This self-titled debut release brings together gloomy-to-often doomy solo piano with atmospheric static texturing/more subdued wall- making. It takes in ten tracks- coming as either a physical cassette/ or a digital download on German label Geraeuschmanufaktur.


Thomas Ligotti - The Bungalow House

Spoken arts powerhouse Cadabra Records returns with another strong release of weird fiction with Thomas Ligotti's The Bungalow House. The award winning American author's short story is passionately read by ventriloquist and author Jon Padgett. Running behind this reading is an inventive and synthy score by musician and filmmaker Chris Bozzone. Another excellent addition to their catalog, The Bungalow House is a well done piece of spoken art horror.


Phantom Cadaver - Realms of the Macabre

'Realms of the Macabre' from Phantom Cadaver is the 427th release on Altar of Waste. It comes as a CD in a DVD case, with luscious imagery on both the outside and the inside. The outside depicts a darkly lit room in a faint reddish hue, a lone bulb swings from the ceiling as a person sits in the foreground with their arm to their chest and eyes looking upward. The inside is a bright and surreal mess of dark colours - blues, reds and purples.


Havnes, Järmyr, Serries - Distant Curving Horizon. The Primal Broken Passag

The genesis of this album grew from two separate sessions recorded back in 2014. Tomas Järmyr had recorded duo sessions with both Eirik Havnes and Dirk Serries which led to discussions of the three working together on what was to become this album. Recorded in a single day in 2015 at Olavshallen, Trondheim, Norway on May 16th 2015. The album, a 55 minute improvised piece of jazzy, kraut/space/drone rock, was mixed & mastered by Dirk Serries.


Heart 2 Heart - Shared Bodies

Heart 2 Heart is the harsh noise / static noise project of the spouses Rossi, Mariela and Sisto (his most famous projects are Wallkeeper, Forecast and Foxhole).


SkyDive Trio - Sun Sparkle

SkyDive Trio is a jazzy instrumental rock outfit that immediately conjures up thoughts of 1970's krautrock, fusion and progressive LPs with their instrumental timbres and playing style. Their 2nd album "Sun Sparkle" was released on Hubro this year in 2018.


Un Drame Musical Instantané - À Travail Égal Salaire Égal

À Travail Égal Salaire Égal is the third album from this French avant collective- originally released in 1982 on the bands own GRRR label- here it gets it first ever CD release. The album sees the project creating a surreal & often densely layered release, that drifts from & blends together modern classical composition, quirky electronics, avant jazz 'n' rock, and layers of radiophonic elements.


The Bloodthirsty Trilogy - The Bloodthirsty Trilogy(Blu Ray)

The Bloodthirsty Trilogy where a series of Japanese horror films from the 1970's, which whole-hearted embraced gothic horror, with a 70's setting. Here from Arrow Video, we have first ever Blu ray release of the films, presenting all three films in ghoulish & vibrate 1080p presentation.


Skinless - Savagery

Death metal fans have been thrashing to Skinless for years, and will be pleased to know that Relapse once again has their latest release. Savagery is 10 tracks of the kind of pummeling, death metal fury that fans have come to expect from the NY veterans. With a US tour hot on the heels of this new release, fans both new and old can hit the town and experience Savagery in all its loud, punishing glory.


Colosseum II - Wardance

As well as having a successful solo career, and playing in the greatest Irish rock bands of all time(Thin Lizzy). Gary Moore was also part of this lesser known four-piece fusion band- here's a recent release of the band's final album from 1977, and it really is a rewardingly energetic & virtuoso affair focusing more on the rock side of the fusion coin.


Malditos - Malditos II: La Réve

Hailing from the home of the Bay Area funk scene Oakland, California, Malditos are a fairly unique sounding quartet, that describe themselves as "dark-zone desert psych". They came together in 2011, releasing their self-titled debut album a year later on their own "Alchemy Coffin" label. Since then they've had a couple of single or EP releases, but this is only their second full length album.


Death-Scort Service - Death-Scort Service(DVD)

From 2015 Death-Scort Service is sleaze saturated & tourniquet tight slasher, which revels in near non-stop leering shots of female flesh, an often queasy atmosphere, and some truly grueling moments of torture/ mutilation. Here from Gator Blade/ Sleaze box is region 1 DVDR of the film.


5 Films 5 Years – Volume #2 - 5 Films 5 Years – Volume #2(Blu Ray)

As part of the celebrations for Vinegar Syndrome's firth anniversary here's a two-disc Blu Ray set offering up a fairly varied selection of weird, wacky, and at times wonderful exploitation & horror fare. All five films originally appeared on VS, as DVD releases- and here the films get their debut on Blu Ray- with both 2k & 4K scans. Vol #1 of this series takes in five hard-core & soft-core titles.


Shock Frontier - Tumult

Returning to Malignant for their second release, American duo Shock Frontier's Tumult mixes the grim soundscapes of dark industrial with the menacing doom of death industrial. Over nine, cold tracks, Shock Frontier reveals a bleak soundscape for the listener, rife with post-apocalyptic furor. For those days when one is feeling that the sun is too bright, and the air is too warm, Tumult will remind him or her that it won't last for long, and a grim end is still within reach.


Bruising Pattern/ No123noise - Waiting For Life To Get Better...

Waiting For Life To Get Better... is a two-way walled-noise split, bringing together Austria based Bruising Pattern & US/ Texas-based No123noise. Each party offers up a single twenty-minute track, and the releases comes in the form of a CDR in a slim DVD case.


This Is What I Hear When You Talk - Untitled 00001

Untitled 00001 is the debut release from this Florida based project. It comes in the form of a 3inc CDR, which offers up a single twenty-minute slice of buffeting, grinding, and battering wall-matter.




CPTN Uzncwz - Praise Kary Mullis

This rather strangely named walled noise project is from Columbia, Missouri- and here we have a 3inc CDR that is seemingly the projects first ever physical release. The disc offers up a single twenty one minute slice of wall-matter, that's both bluntly bothersome & barrenly muffled.


Satanic Warmaster - We Are the Worms That Crawl on the Broken Wings o

Satanic warmaster are a one-man black metal band from Lappeenranta in Finland. The project was instigated in 1998 by "Werewolf" the band's only mainstay during their 20 years of existence. Other musicians have dropped in to help him out during that time, but he remains the only actual member of the band. The band's lyrical content focuses heavily on folklore and Satanism, and despite claims from some quarters Werewolf maintains that his beliefs are not in line with those of the NSBM. The band have had an incredible amount of success in their native Finland even reaching the top ten in the album charts. Five full length albums and a slew of EPs means the band have a huge back catalogue from which to draw, and this particular album as can be seen from its subtitle is A Compendium of Past Crimes, or a compilation of material from the band's split EPs.


Szmt - Parvenu

The organicist metaphor of society as like that of bees has a long history in Western thought, predating the better known bodily metaphor - which is the foundation of modern corporational doctrine - by several centuries. Originating in Antiquity, the notion that human society should imitate nature as best it can slowly came into question during the later European middle ages, under pressure from developing mercantile economy and advances in legal and political organisation. In the modern era the hive metaphor was increasing viewed as anti-democratic, suppressive of the individual and hive-like societies almost inevitably malevolent; think of the Borg in Star Trek or caricatures of Communism (particularly Chinese) during the Cold War. Nevertheless the beehive society metaphor never entirely vanished and in the Modern period was most often invoked as an embellishment to holistic economic thought. George Cruikshank's remarkable British Beehive image is paradigmatic in this respect, not least in its overall schematic similarity to medieval overviews of the hierarchical world such as those of Honorius of Autun. Tobias Schmitt's intriguing Parvenu appears to be an attempt to capture something of these ideas and their continuing relevance for modernity. Schmitt has form for this kind of leftfield enterprise with his previous Gruenrekorder release being the suitably labyrinthine Fauna and Flora of the Vatican City , put out in 2008 under his Suspicion Breeds Confidence moniker.




Shurayuki-hime - Mori

Shurayuki-hime's "Mori" is the third release from the project on the Minneapolis label Altar of Waste. The release comes as a c20 cassette, the casing is a nice pastel lavender and it was released in an edition of twenty, presumably long-sold-out, copies. This will be the second time I've reviewed the project for this site and, where as with other projects I might feel that it is unwarranted to return to a project when I could be devoting review time to so many other amazing artists who are yet to be given proper attention, this project has proven itself to be a powerhouse of mindblowing HNW that deserves all of the spotlight thrown its way.


Goatkraft - Angel Slaughter

Goatkraft are newcomers to Norwegian black metal scene. They have one demo and this mini-album to their name thus far. Released by the German label Iron Bonehead Productions, Angel Slaughter comes as either an MCD, 12"MLP, or digital download.


Arovane + Porya Hatami - Organism Evolution

Veteran German electronic musician/producer Arovane began in 2000, with his debut album "Atol Scrap", an emotive and solidly composed, if rather straightforward, entry into the subdued side of the IDM genre, defined by catchy, symmetrical melodies and downtempo energy levels coupled with glitchy, complex drum programming. He has come a long way since the music of his debut, and the 'thoughtful noise' found in this latest collaboration with Portya Hatami (with whom I am otherwise unfamiliar) is closer to musique concrete than IDM.


Salt Lake Electric Ensemble - Phil Glass: Music With Changing Parts

Here we have a recent rendition of the Philip Glass's Music With Changing Parts from this ten piece electronic ensemble. And boy is it a sonically thick, layer shifting, and sonically complex take on the piece- that comes in somewhere between dense minimalism, meaty modern composition, and rich 'n' cascading Berlin style electrionica.


My Friend Dahmer - My Friend Dahmer(Blu Ray)

My Friend Dahmer is a part coming-of-age story, part domestic drama, & part subtly psycho study telling the teenage story of US serial killer/cannibal Jeffery Dahmer.The film is a talky, at times arty slow burn- which along the way adds in elements of sly dark humor, moments of building uneasy, and extremely fleeting moments of gore/ violence. If you're looking for a grim & bloody serial killer flick, with lots of tension/ threat- this isn't the film for you. But if you after a well acted, intelligent & thought-provoking film about the growth of a human monster- you'll find much to like here.


The Sword And The Claw - The Sword And The Claw(Blu Ray)

Here we have a Blu Ray issue of two decidedly quirky, deranged, though fairly tame martial arts/action films from the 1970's. Featured here is Turkish made The Sword And The Claw, and South Korean made The Brawl Busters.


The Melvins - Pinkus Abortion Technician

Shortly after the Melvins released The Maggot back in 1999, which contained their absolutely monolithic cover of Fleetwood Mac's "The Green Manalishi (With The Two-Pronged Crown)," I remarked to a friend that I'd really love to hear the band do a proper, stripped-down rock n' roll record. Given their penchant for covering songs by KISS, Queen, Ted Nugent, the MC5, the Mac, Black Sabbath, the Kinks, and a whole bunch of others, I thought Buzz and Dale could easily turn in something fierce, a whirlwind of sleazily obvious riffage and simplistic, perhaps regressive, youthful aggression adhering to a classic template. I'm pleased to say that "Pinkus Abortion Technician," the Melvins' 27th (or so) studio album, comes pretty damn close to the realization of my wish.


Ramsey Lewis - Don't It Feel Good / Sâlongo / Tequila Mockingbird

Here from BGO, we have a double CD reissue bringing together four mid-to-late 70's album's from this respected & prolific Chicago based pianist & composer. And each album highlights both Mr. Lewis versatility & skill- over the four albums moving from between P-Funk like work-outs & groovy-to-romantic soul, onto more African and Latin-styled jazz fusion. Through to horn-laden & funk lined easy listening, onto more dramatic & dynamic sound-tracking/ work-outs with a keyboard/ piano lead.


Clara de Asís - Do Nothing

Do Nothing offers up a suite of six pieces for guitar & percussion. And the sound here is (mostly) best described as very minimal & bare bone modern composition, with some slight jazz bound & ritual like flavors mixed in.


Fossil Aerosol Mining Project - August 53rd

Since their foundation in the mid-80s, the Fossil Aerosol Mining Project have experienced several stops and revivals, through thorough-out they have remained consistently devoted to the ambient sound collage style. Using old films, audio cassettes, records, old equipment and much more, the project produces interesting, but at times strange sound works, which could easily be the soundtrack to some post-apocalyptic movie or game.


Morton Feldman - For John Cage

Originally composed in 1982 For John Cage is one of the more angular, urgent & flightily moody compositions from the great Morton Feldman. Here from Bridge Records, we have a recent release of 2017 playing of the piece.


Various Artists - Too Slow to Disco Brasil

Less than a year after the fourth installment of the stellar Too Slow to Disco series, How Do You Are? heads to the tropical climes of Brazil for their latest compilation. Enlisting the help of Brazilian artist and musical curator, Ed Motta, this newest collection features many hard to find funk, soul, and AOR gems from a diverse scene. Whether very familiar with the acts on display, or a new comer to the Brazilian scene, every fan of slow, smooth disco owes him or herself the treat of spinning this release and welcoming in the great weather.


Necrotik Fissure / The Rita - Necrotik Fissure / The Rita

Hungarian label The Level of Invulnerability presents a split between Necrotik Fissure and The Rita. Available as both a C40 cassette and digital download, the split offers up two varying takes on the HNW idiom.


Dark Buddha Rising - II

A decade since their debut release I, Dark Buddha Rising have returned with the widely anticipated blackened, psychedelic, doom of their 7th release II. The band hail from the town of Tampere in Finland, their lineup consisting of of J. Ramanen on drums, P. Ramanen on bass, V Ajomo on guitar, J. Saarivouri on synth and vocalist M Neuman. II represents the band's first release for their new lable Neurot Recordings, with whom they signed two years ago.


Vomir / Asleep In The Lake / Duplo Chat - Untitled Split

Here we have a rather satisfying & enjoyable walled noise split from June last year. The CDR offers up three fairly different examples of the form going from the unrelenting grinding crude-ness of Vomir. Through to atmospherically focused-yet- pelting wall craft of Asleep In The Lake. Onto the lo-fi & muffled hazed textured persistence of Duplo Chat.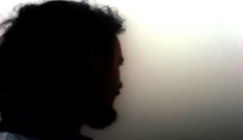 Simon Šerc - Bora Scura
Simon Šerc is a Slovene audio/ video artist, sound engineer, & owner of the Pharmafabrik label -he started his creative activity in the ea...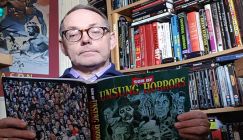 Eric Mcnaughton - Garish( yet inf...
When it comes to books or magazines focusing in on the horror film form it's always great to have a blend of informative, yet never stuffy text and lots colo...