Jo Berger Myhre & Ólafur Björn Ólafsson - Lanzarote

Norwegian multi-instrumentalists Jo Berger Myhre and Ólafur Björn Ólafsson have teamed up again for Lanzarote, their 2nd collaboration following The Third Script, released in 2017 on quality jazz/instrumental music label Hubro, which has really opened my eyes 'n' ears to the vibrant Norwegian art music scene.


Wreckord - Self Titled

Wreckord sounds like it could be maybe a grim-yet somehow groove bound BM project, or possibly a bombastic 'n' crushing doom band. But in reality, the projects present us with blend shifting noise texturing, wallish moments, and modified-to-melted choral/ gospel/ easy listening music elements. This self-titled release is the first offering from the project- coming as either a C60 or a digital download.


William Fowler and Vic Pratt - The Bodies Beneath(Book)

The Bodies Beneath is a recent-ish book that digs deep into the more bizarre, quirky, and strange side of British film & television. The four hundred page paperback selects, then thoroughly dissects around forty titles- with the twin authors nicely balancing well-researched facts, personal observations, sly humor & scholarly critic of these oddities- that come from both the large & small screen.


Resurrected - Resurrected(Blu Ray)

Resurrected is an often moodily lulling, at times fairly harrowing-to-disturbing British drama about the effects of war & institutionalized bullying. From Powerhouse here we have a recent Blu Ray release of the film- featuring a new scan of the film, and a handful of extras.


Paul Hegarty and Mick O'Shea - Easy Perfection Salad

Farpoint Recordings have since their inception in the mid 2000s quietly been releasing a series of quality records pirouetting through the hinterlands of improvisation, electronic experimentation and performance. Paul Hegarty is better known as a writer an academic working in aesthetics, and has authored books on modern French philosophy as well as the history of noise music. He puts theory into practice as a member of both SAFE and Maginot. Here he collaborates on a suite of live recordings made on Sherkin island and the city of Cork with Mick O'Shea, who is predominantly known for his live homemade electronics.




Hellehond - Verslonden

At the tail end of 2019, German label Iron Bonehead Productions released the debut album from Dutch Black Metal band Hellehond- entitled Verslonden it severs up crude 'n' primitive, if not very original BM.


Cannibal Ritual - Wild Holocaust

From May last year, Wild Holocaust is a three-track CDR release from this German walled noise project. And it's very much of a statement in battering monotone wall-craft, that's very old school, unforgiving & brain rattling in its attack.


Negativa - 01

Originally released back in 2014 as a cassette, 01 was the first album from Negativa- a Depressive-Black Metal duo from Alicante, Spain. Now, nearly 5 years later, a new version of the album appears on Nebular Carcoma Records, as a single-sided LP, which is limited to 120 copies


Black Slaughter - Sadistic Murder

Sadistic Murder is a 3inch CDR that brings together crude & nasty noise texturing, darkly purring synth focused noise, and darts into more vocal-less PE territory. Black Slaughter is a new/recent-ish project from German noise maker Ron H, who is most known in noise circles for his blunt & brutal wall noise project Cannibal Ritual.


Volhnn/Sihir - Split

Here we have a self-titled CDR split- which finds two of the more known, prolific & respected figures in the French walled noise. Each severs up a twenty-minute track of moody & drone-based walled matter, that has often subtle grey industrial edges to it. Featured here are Mathieu Wagner with his project Volhnn, and Julien Skrobek with his project Sihir. This release appeared only as a CDR, with no digital option- so if you fancy this you'll have to go old fashioned & track down a copy of this.


Rien & Zachary Ledsinger - Split

From late spring last year here we a two way split that severs up two wonderful taut & sly creative examples of textured noise texturing- we have Stockholm based Rien, and USA's Zachary Ledsinger. The release appeared on Spanish noise label Marbre Negre- coming as either a C20 or digital download.


Savage Magic - Myth, Magic and Steel

Myth, Magic and Steel is the third full length album from Savage Master, an old school NWOBHM inspired Heavy Metal band from Louisville, Kentucky. Formed in 2013 by vocalist Stacey Savage and guitarist Adam Neal the band have developed a cult following, fuelled not only by their old school tunes, but through their larger than life image and a succession of crazy live shows. Myth, magic and Steel is the band's first album for new label Shadow Kingdom Records.


Krokofant - Q

Q is album number four from this progressive, at times free Jazz collective Krokofant- who come from Kongsberg, Bukserud, Norway. For the album the band expands from a guitar/sax/drums trio to a quintet adding in Keys and bass- all to offer up a propulsive & often urgent album that seemingly effortless & masterful shifts between jazz genres- moving from grooving-to- jam-based jazz-rock, through to free jazz, jazz fusion and beyond.


Worm - Gloomlord

Buried within the dirt, Worm wriggles forth to put out their second full length on Iron Bonehead. Following 2017's Evocation of the Black Marsh, 2020's follow-up, Gloomlord, sees Worm once again returning to the grim, stagnant marshes of slow, bleak metal. Low, slow, and thoroughly doom laden, Gloomlord does its best to darken even the brightest days.


Erotic Nights of the Blind Dead - Erotic Nights of the Blind Dead( DVD)

As part of Wild Eye Releasing Raw & Extreme series here we have a region free DVD of Erotic Nights of the Blind Dead- a 2007 Spanish cheapie that attempts to resurrect the skeletal & creeping Blind Dead franchise of the late '70s, which saw living dead temple knights stalking the Spanish countryside. And it's fair to say this is a very mixed bag- that moves from abject boredom, sexualized violence, back to boredom, then onto fairly competent limp ripping & ghoulish stalking.


Merzbow - Metallic(CD Boxset)

Metallic is a six-CD boxset bringing together a selection of Merzbow recordings from the 1990's- the set features stand-alone albums, compilations, and a live album. With the material moving nicely from creative & at times moody harsh noise, dense loop-based material, and more noise jam-like material.


Kagami Smile - Pool of Light

Kagami Smile (Ryan Hill) is one of a number of artists including the likes of 2814, Remember, Yoshimi and Subaeris, affiliated to the recent musicological neologism 'Ghost Tech'. For those of you who follow the mulching machine of musical microgenres, this is a marginally more "bangin" variant of 'Dreampunk', which itself is an extension of Vaporwave's ambient tendencies, distilling them towards a more sci-fi and dystopian form. Both terms have their origin in the Dream Catalogue label's output. Ostensibly drawing on the tradition of ambient techno, these artists take the latter's sense of space and introspection, wedding it to some of Vaporwave's notable tropes; not least the penchant for 80s and 90s synth sounds and a certain pan-Asian (though predominantly Japanese) consumer aesthetic.




Pagan Altar - Mythical And Magical

Mythical and Magical is the latest reissue from English Doom Metal pioneers Pagan Altar, originally formed in Brockley in 1978 by father and son team Terry and Alan Jones.


Aural Hypnox - Underworld Transmissions

Underworld Transmissions is a six-track CD release that complies together the three C20 tape volumes of Underworld Transmission series, which appeared on the Finish dark ritual ambient label Aural Hypnox between February 2014 and April 2015. The collection often shows the more abstract, loose & jam like side of the labels work, as well as their slightly more noise bound & experimental side too.


Esoteric - A Pyrrhic Existence

Around the mid-1990s, when my main sonic was all things Black Metal, one of my friends brought me a pirate cassette. On the photocopied cover were some geometric fractals or patterns. Written on the spine was Esoteric -Epistemological Despondency. My Friend told me - This is painful music, this is for the dead. I think it was the most intriguing and accurate definition of what was recorded on this tape. I thought that could well be the sounds of the dead. At this point, I wasn't aware of genre Funeral Doom, or of course Esoteric. Since then I have become a huge fan of this Birmingham band. In the early 2000s, another friend of mine interviewed the band for a Russian music magazine. He suggested that I ask a few questions because he believed that I had a deeper understanding of bands' work. Perhaps they influenced my perception of music in general and gave me an impulse to understand Dark Ambient, Industrial and Noise. So, this review is for me somewhat of like a test of my objectivity.




Orphans - Orphans (Blu Ray)

Orphans is a late 1990's Scottish film that brings together decidedly grim 'n' glum family drama with strokes of coal-black humor, touches of sly absurdity, and fleeting moments of fairly intense violence. On Powerhouse here, we have a Blu Ray reissue of this grimly powerful, yet at times playful film- which stands with some of the best films Scottish cinema has to offer.


The Gallows Act II - The Gallows Act II(Blu Ray/ DVD)

Sliding in four years after the first The Gallows, Act II largely dispense with the found footage format for a mostly enjoyable chillier that expands on the first film mythos, deepens & intensifies the hangman figure, as well as offering up some relatively well-written characters & a neat blend of creepy atmosphere, the odd jump scare, and more than a few noose based murders. Here on DVD from Lionsgate is a recent release of the film- bringing together a director/writer commentary, and a few extras.


Pneuma - Who Has Seen the Wind?

Pneuma's Who Has Seen the Wind? is an odd, singular album on nearly all levels, defying classification with its unique instrumentation choices and sleepy, surreal pacing. All the members of the group play clarinets aside from vocalist Ayelet Rose Gottlieb, and the only other timbres used are the mystic drone of the shruti box and some faint electronic loops also sourced from clarinet.


Yoshimi - Fragile

Japan's Yoshimi (Yoshimi Hishida) began his recording career in the mid-90s as a techno producer and as part of the experimental trip-hop act Jobutsu Project. After several years of silence he reappeared in 2016 as part of what's come to be grouped under the umbrella term "post-Vaporwave". Hishida's take on this nebulous term deploys a wide range of styles in electronic music from drone, industrial and contemporary beats, to traditional Japanese instrumentation. Almost all of his output since 2016 has appeared on Dream Catalogue or their sub-label Pyramids.




The Human Monster - The Human Monster( Blu Ray)

From 1939 here we have a Bela Lugosi fronted thriller/ horror film, whereas its title suggests he plays a more mortal/ human monster- instead of more fanged, ghoulish or deformed roles he's known for. Here on VCI Entrainment is a recent region free Blu Ray release of the film, featuring a 2k scan & two new commentary tracks.


Unsignified Death - Aesthetic Representation of the Grotesque Body

Here we have a bucking, sputtering and nastily twisting take on the walled noise form from Thailand based project Unsignified Death. The CDR/ digital release presents us with a single slab of manic 'n' muddled textured noise, and I must say it's one hell of an appealing ride- if you in the mood for nastily snaking 'n' sliding wall craft.


See Through Buildings - A Delicate System

A Delicate System servers up two half-hour examples of creative and decidedly atmospheric walled noise from this Detroit, MI project. The release appeared in July of this year on Uk label Void Singularity Recordings- coming as either a C60 or digital download.


Niks - Textures Of Slag

Textures Of Slag is a two track walled noise release themed around the industrial processes of melting elements- the release appeared late summer of this year, and appeared as either a art CDR edition, or a digital download. The two thirty minute tracks are suitable dense & roasting, which of course is prefect for the tracks themes.


The Limits of Control - The Limits of Control(Blu Ray)

The Limits of Control is a sleek, often puzzling & lightly humor tipped anti-thriller, that blends European & US art house sensibilities. The 2009 film follows a sullen, moody & barely talking man as he meets a series of strangers across Spain, gaining cryptic clues that may or may not reveal the point of the mysterious mission he's been sent on. On Arrow Academy here we have a recent Blu ray release of the film, featuring a selection of new & old bonus material.




Thomas Brinkmann - Raupenbahn

Industry has shaped our species and our world in immeasurable ways. From the first tool industries to today's landscape changing manufacturing processes, the impact of industry on the planet and its denizens is irreversible. Thomas Brinkmann's latest, Raupenbahn, explores the early days of modern industry by using old machines to create his soundscapes. While more of a fly on the wall approach to recording than traditional composition, Raupenbahn gives the listener something to consider.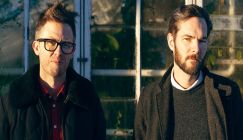 Jo Berger Myhre & Ólafur Björn Ól...
Norwegian multi-instrumentalists Jo Berger Myhre and Ólafur Björn Ólafsson have teamed up again for Lanzarote, their 2nd collaboration following The Third Sc...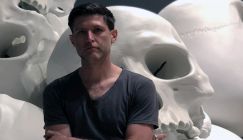 Spectrum Zine interview - The Ful...
Being a fan of experimental or extreme music, sound, or, film was certainly a lot more tricky /time-consuming proposition before the onset of the internet in...