ZU93 - Mirror Emperor

A free-jazz group who've collaborated in the past with the likes of Mats Gustafsson and Eugene Chadbourne as well as producing some mightily heavy Boris-style sludge rock, might not seem likely collaborators with Current 93's David Tibet. Nevertheless House of Mythology follow up their 2016 Tibet collaboration with Killing Joke's Youth with this striking hybrid which they've appropriately named Zu93. Mirror Emperor is the latest instalment of what looks like a bumper year for the mystagog of Hastings. This record follows closely on from the rather lacklustre The Stars on Their Horsies which is to serve as a warm-up for a new C93 album due out in October on the day the band play London alongside old mates Nurse With Wound.




Philip Sulidae - Ramshead

Ramshead offers up a selection of dense, slowly morphing, and often thickly weaved sound-art built around manipulated field recordings made in Kosciuszko National Park in New South Wales Australia. The release appears as the form of an Ltd CD( of 200 hand number copies)- on Unfathomless- it's presented in a double sided color sleeve packaging- which features linear note card, slip sleeve, and outer clear plastic sleeve.


Fred Frith And Hardy Fox - A Day Hanging Between Heaven And Earth

Here we have a long-lost collab between two of the more distinctive & unique figures from within the wider experimental genre. Fred Frith first became known in the 70's for his work with celebrated avant-rock collective Henry Cow, before going onto work with the likes of Brian Eno, John Zorn, Bill Laswell, and many others. Hardy Fox was one of the key songwriters behind long-running avant-pop collective The Residents- working with the band for 40 plus years, before leaving the project in 2015 due to ill health.


Xtro - Xtro(Blu Ray/CD)

In the early 1980's, as the British film industry was floundering-near-dead along came Xtro. A decidedly quirky at times surreal 'n' gory horror/ Sci-Fi film that featured an impressive enough budget, good acting talent, and some truly bonker ideas. Here on Second Sight, we have a new, & pretty much definitive reissue of the film- featuring a Blu Ray presentation of the film with a big bag of extras, the films CD soundtrack, and a perfectly bound booklet.


Coil - Black Light District- A Thousand Lights In A Darke

1996's Black Light District- A Thousand Lights In A Darkened Room has always stood as one of the most mind-altering, yet still relatively approachable releases in the Coil canon. With its largely instrumental blend of queasy ambience, darkly psychedelic-yet- often memorable electronica, off-kilter -yet slowly head-bobbing beats, and weaves of disorientating sampling.


Placenta Lyposuction - The Bleackness

"The Bleakness" is a relatively new release from the well-known HNW project Placenta Lyposuction, released on CDr by Void Singularity Recordings. The label was newly established in February 2018 by label head Tom Rushton, who was also responsible for the prior Synesthetic Perception Recordings and the project E.E.E.E. among others.


Seventh Wave - Psi-Fi

Psi-Fi was the second & final album from Seventh Wave- the UK pop-prog/ genre-gentric project centered around Keyboard player/ singer Ken Elliot, and percussionist Kieran O'Connor. Originally released in 1975, the album saw the project adding in early & often showy synthpop/ new- wave edges to the bands often buoyant & tuneful prog sound. Here on Esoteric Records- Cherry Reds prog-focused sub-label we get a recent remastered & expanded CD of the album.


The Endless - The Endless( DVD/ Blu Ray)

The Endless is another recent addition to the more dread & atmosphere soaked post-horror-genre. The films a heady-yet at time starkly moody blend of horror & sci-fi- that finds two brothers returning the isolated cult they used to be part of as teens. Here from Arrow video is a DVD or Blu Ray release of the 2017 film, and as we've come to expect from the label- we get a good selection of extras.


Abhor - Occulta religiO

Occulta ReligiO is the seventh full length album from Italian black metal band Abhor. The band were formed in Northern Italy in 1995 releasing their first demo tape In Tuo Honori Preparatum in 1998, this signified the beginning of a long and varied career working with a variety of different labels. The band have even included the recording of a couple of covers from legendary countrymen Goblin (Non Ho Sonno and Deep Red) on their Vocat Spiritum Morti album. A deep connection with all things esoteric has informed their musical output and this is certainly the case with Occulta ReligiO.


KING GONG - Dian Long: Soundscape China / Destruction of Chine

Discrepant presents Soundscape China/Destruction of Chinese Pop Songs by KINK GONG (recording as Dian Long). Available as a 2xLP or digital download, this album collects Soundscape China (previously released on Kwanyin/subjam in 2007) and unreleased Destruction of Chinese Pop Songs tracks.


Dødsmaskin - Fiende

Dødsmaskin are a Norwegian duet who have existed since 2014 and create music at the junction of industrial, noise and ambient. It was released three full-length albums, with the last of which we are reviewing today.


Ragnar Johnson - Crying Bamboos : Ceremonial Flute Music From New G

Crying Bamboos: Ceremonial Flute Music from New Guinea Madang is a collection of field recordings from New Guinea captured by Ragnar Johnson in 1979, unreleased until now. Across the two disks of material there are recordings from three different villages near the Ramu River.


Rough Cut - Rough Cut(DVD)

With Rough Cut, we have a low-budget serial killer movie- that flits between sleazed humor, self-deprecation, and the odd intense/ flinch-inducing moment. Originally appearing in 2013- here's a recent(ish) region one DVD of the film on Gator Blade Production- that's run by Sean Donohue(Death-Scort Service & Die Die Delta Pi)


Robot Wars - Robot Wars( Blu Ray)

From the early 1990's here a schlock-bound slice of pulpy sci-fi fare from the Full Moon Studios. Robot Wars certainly feels like it's from another time than the 90's, feeling more like it could have been made in either the 50's/ 60's, save for a few more provocative quips. Here we have a region free Blu Ray from early on this year.


Nightmare Park - Box Of Teeth

Box Of Teeth is a CDR box set from this horror movie obsessed walled-noise project from Connecticut. The set offers up three 3inc CDR's, and each of these features a twenty-minute slice of gnarly, blackly nasty, though at times quite atmospheric wall-matter.


Dødsmaskin - Ingenting

Finished in 2015, but not properly released until now, Dødsmaskin's debut, Ingenting, is forty minutes of harsh, bleak industrial from Norway. The duo have since released three other albums, but Cyclic Law has resurrected their debut and given it a loving re-issue. Deftly switching between grim death industrial and full on noise assaults, Dødsmaskin challenge the listener at every turn with dark, heavy electronics.


Cemetery Lust - Rotting in Piss

Cemetery Lust are from Portland USA, and their sound is a blend Thrash Metal, with early Black and Death Metal stylings. Since 2014, they have released 3 full-length albums, with their most Rotting In Piss appearing on Hell Headbangers- in either CD or LP, with a cassette version on Headsplit Records


Le Bambole DI Velluto - Size 36

Size 36 is from early March this year- it presents the listener with two side long slices of bothersome-yet-moorish HNW, that blends choking bass weight & detailed choppy-ness. Fitting it's title the physical version of the release comes as a C36 tape- and as of this review, there are copies still available at Ominous Recordings.


She Walks Crooked - Pink Foot Bandage Volume 2

Here we have the follow-up to last Octobers excellent Pink Foot Bandage Volume 1 - and it's another distinctive & subtle shifting blend of walled noise & drone matter from this California based project. As with the first vol, this release appeared on Stockholm based Ominous Records- and it came out in December of 2017- either in the form of a tape( sadly sold-out) or a digital download.


Lost Graves - Cave Burial

Lost Graves in the ANW project of Rock Island, Illinois Harrison Phillis- who maybe know to fans of the USA wall- scene for his industrial influenced HNW project We Also Let Blood. Cave Burial is the projects third physical release- and it appears on UK's Void Singularity Recordings in the form of a CDR or digital download.


Bong - Thought and Existence

Bong are one of my home city's finest exports. I have seen them perform through various incarnations and lineups, but the hub of any Bong lineup remains the three men on this, the power trio of Mike Vest (guitar), Dave Terry (bass and vocals) and Mike Smith (drums). The album, their sixth for Ritual was recorded at XL studios, and follows what has been a longer than usual break for the band. It is three years since their last album was released, although Vest has remained incredibly busy during that time with his many other projects which include the rather wonderful Blown Out and Haikai No Ku. Thought and Existence features two long tracks of psychedelic guitar drone, both running at just under twenty minutes each, although in Bong terms these can be seen as pretty short as they regularly release tracks that are double the length of these two.


The Quiet Earth - The Quiet Earth(Blu Ray)

Following on from their recent reissue of the arty coming of age film Vigil, here from Arrow is another New Zealand film from the 1980's. The Quiet Earth is a low-key post-apocalyptic film- with some interesting trippy visuals & some fairly original touches.


Mick Sussman - The Rosenberg Algorithmic Music Generator: Selecte

This first volume of computer music created by the Rosenberg Algorithmic is a wonderful heady & brain twisting journey- think a more manic & rabid take on Zappa's Jazz From Hell, or the more abstract & dense piled-up moments from latter-day Autechre.


John Tilbury / Keith Rowe / Kjell Bjørge - Sissel

Sissel is a fragile, sparse, often forlorn- yet at times haunting slice of improv- bringing together the talents of English pianist John Tilbury, respected British improviser Keith Rowe, and live video artists Kjell Bjørgeengen. The release comes in the form of a CD/ or vinyl release on the Norwegian based SOFA Music label, who of late have released a few interesting titles with-in the improv/ modern composition bracket.


Blood Theatre/The Visitants - Blood Theatre/The Visitants(Blu Ray/DVD)

Here's a double feature of trashy, campy, yet kind-of-charming 1980's films from writer/director Rick Sloane- who is best known for his lo-grade/so-bad-it's-good Gremlins rip-off Hobgoblins. This Blu Ray/DVD set from Vinegar Syndrome takes in 1984 's supernatural slasher parody- based in a picture house Blood Theatre, and 1986's The Visitants- a 50's themed Sci-fi comedy.


The Aftermath - The Aftermath(Blu Ray/ DVD)

The Aftermath is a cheap and cheerful entry in the post-apocalyptic film genre. Director, writer, producer Steve Barkett stars as Newman, an astronaut who returns to earth after completing his mission to find the majority of the population has been decimated by nuclear warfare.


Creta - Creta

New Italian trio Creta launches their debut LP on German label, Karlrecords. Comprising three different, but very talented musicians (guitarist Roberto Zanisi, DJ/electronic musician Luciano Lamanna, and bassist Massimo LPupillo), Creta brings forth an engaging, atmospheric bit of ambient that, despite their new formation, feels very seasoned and tight. Managing to be both Earthly and otherworldly, Creta has intricate layers and goes by quickly, so multiple listens are required in order to absorb it fully.


Billy Cobham - Magic/ALivemutherforya

Panamanian-American drummer Billy Cobham is seen as one of the great fusion drummers- working with the likes of Miles Davis & Mahavishnu Orchestra. Here from BGO we have a double CD reissue of two Columbia albums from 1970's - bringing together a studio album, and a live album featuring the likes of Steve Khan & Tom Scott.


Seventh Wave - Things To Come

1974's Things To Come was the first album from this British two-piece prog-rock project. And it offered up a decidedly uneven blend of bounding, melodic & symphonic 70's prog pop-rock, and instrumental tracks with a more experimental & moody leaning. On Cherry Reds prog sub-label Esoteric Records here we have a recent CD reissue of the album.


Thy Catafalque - Geometria

Thy Catafalque are an experienced Hungarian progressive rock/metal outfit. This new album "Geometria" is the group's 9th full length.


United Front - By All Means II (The Fall Of Church And State)"

I first discovered Power Electronics genre back in 1996 or 1997. And since then this extreme electronic music has been close to my heart- as I've enjoyed the social/political manifestos, the sometimes quite violent and painful subjects of the genre, and of course the noise that surrounds these themes


Penny Pinchers- The Kings Of No-Budget h - Penny Pichers(DVD)

Penny Pinchers is a 2016 documentary about low/no budget horror film production. The hour & a half feature takes in interviews with some of the big names in the genre such as Lloyd Kaufman( Troma), Tim Ritter( Truth Or Dare series), Donald Farmer(Vampire Cop), Todd Sheets( Blood Of The Undead series). Here on SRS Cinema, who of course have a history of releasing low-budget horror fare, is a recent region-free DVD release of the film




SP - Under The Needle

SP's "Under The Needle" was released in a run of twenty CDrs by the Ukranian label ShchYL Records in March 2017.


Dejection - Misery

Fitting its name Dejection is Cory Strand's (Fantome De Sang, Lethe, Dreamless) project for his more introspective & hopeless sonic outpourings. Here from late 2016, we have a CDR severing up a selection of four ten-minute tracks. These move from doomed keyboard scaping, onto pressing & pitch black ANW, through to bleak electric guitar work-out. This release is themed around one of the bleak classics of English literature Emily Bronte's Wuthering Heights.


The Sadist Of Notre Dame - The Sadist Of Notre Dame( Blu Ray)

From 1979 The Sadist Of Notre Dame finds euro arty-sleaze meister Jess Franco offering up one of his more grim & bleakly moody films. It follows the exploits of a defrocked priest( played by Franco himself) killing women in the streets of 'gay Paree' - which (mostly) here is decidedly stark & brooding. The film has long stood as one of the rarer Franco titles, so here from Severin films we get a much needed Blu Ray reissue of the film.


Vomir / Trou - Vomir / Trou(boxset)

Originally released back in late 2015, but shortly to be reissued - this four C90 box set brings together two French walled noise acts- the searing & total unbreakable crude-ness of Vomir, and the often more moody & creative walled noise of Trou. The set presents both solo tracks & collaborations for six-hour worth 'wall' attack- all in all making for a truly epic release, which switches from furnace-like intensity, onto seared-yet moodily creative, through to the very occasional dips into more atmospheric fare.


Lilly - Architectonics

Architectonics is the 5th full length from Lilly- the ambient/ drone project of Russian noise maker Vitaly Maklakov (Light Collapse, Obozdur, etc). The album comes in two different versions- a pro-pressed CDR, and a digital download- I'm reviewing physical version of the album.


The Dead Yesterdays - Happiness Is An Illusion

The Dead Yesterdays is a recent addition to the walled noise scene- the projects seemingly from Scotland, and has been active just this year. Happiness Is An Illusion is the projects full-length physical debut- it offers up two twenty examples of seared 'n' slightly industrial noise tinged wall matter.


Gruesome - Twisted Prayers

Throwback thrashers and death metal disciples rejoice as Gruesome returns to Relapse Records with their latest LP, Twisted Prayers. Once again returning to the well of old school, Floridian death, Gruesome churns out eight tracks of tight, classic death that, while paying tribute to the tried and true sound, still heaves with a modern intensity and fresh feel. And, with Ed Repka's inimitable art gracing the cover, Twisted Prayers answers many metalheads' twisted prayers.


VA - - In Tenebris Scriptus - A dark aural tribute to H

The name of Howard Phillips Lovecraft is firmly inscribed in the mass culture. The works of the great writer, the inventor of the Necronomicon and the Cthulhu Mythos, inspire filmmakers, artists, and musicians. It is difficult to say how many musical groups appealed to the work of Lovecraft and how many tributes have been made.


Different State - More Than Music/ It Cleans My Wounds

Different State began life as an industrial metal bands some 20 years ago, and after numerous lineup changes and various style changes during the intervening years they have become something quite unique that draws influence from a variety of different genres. The two albums in this two disc collection "More than Music" and "It Cleans My Wounds" were originally released separately as limited edition CD-Rs in 2005 and 2006 respectively. In the interest of the preservation of such rare materials Zoharum have stepped in to ensure they are preserved for those who missed these titles first time around. The project's driving force comes in the form of multi-instrumentalist Marek Marchoff who is not only involved in all of the band's performances and songwriting, but who recorded, mixed and mastered both discs.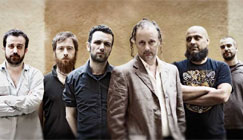 ZU93 - Mirror Emperor
A free-jazz group who've collaborated in the past with the likes of Mats Gustafsson and Eugene Chadbourne as well as producing some mightily heavy Boris-styl...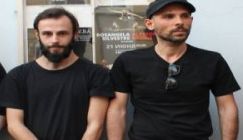 Viva Italia- Cris X / Lorenzo Aba...
On June 18, two magnificent Italian noise artists, Lorenzo Abattoir (Nascitari, Satanismo Calibro 9, Mare Di Dirac etc) and Cristiano Luciani (Cris X) perfor...