The Residents - Triple Trouble OST

For the last fifty years, those avant-popster/ genre tricksters The Residents have never followed the rules, or done what's been expected of them. Take this their latest release- it purports to be a standard soundtrack recording for their soon-to-be-released film Triple Trouble. But instead of featuring formal cues/ songs, it consists of seven shifting, at points darting soundscapes which bring together elements of brooding to bombastic mood scaping, weird dialogue samples (from the film I'm guessing), general musical genre weird-ness, theatrical spoken word oddness, with darts back into their back catalogue.





Expose Your Eyes - Everything On Full

Everything On Full is a recent release from Expose Your Eyes Aka West Yorkshire-based Paul Harrison. The pro-pressed CDR takes in two fourteen to fifteen minutes tracks, which shift through eventful harsh noise, dense and moody electro-scaping, and a general blend of the two.




Stolen Light - Square Wheel

Square Wheel is a release that sits somewhere between densely hazed harsh noise, and quirky to surreal sound scaping, which is often buried in the mass of the tracks. It's a five-track album, that's presented in the form of a pro-pressed CDR on Illinois-based Oxidation Records.





The Draughtsman's Contract - The Draughtsman's Contract(Blu Ray)

Part cuttingly amusing period drama, part ornate and charming puzzle, and part murder mystery. The Draughtsman's Contract was the first feature film from the visually elegant, though at points devilishly dark British Auteur Peter Greenway. Here from the BFI is the deluxe 40-anniversary Blu-Ray edition of the film- taking in a new 4K scan of the picture, and a good selection of largely archive-based extras.




Heron - Twice As Nice & Half The Price

Originally released in the year 1971 Twice As Nice & Half The Price was the second album from Uk Maidenhead based folk-rock band Heron. The band took an unpolished, at times slightly wavering take on the genre- and this twenty-one track album saw them blending in mellow singsong writer elements, and even dives into raucous keys lead pub rock. Here from Talking Elephant Records is a CD reissue of the album.




Clive Bunker - Awakening

Drum legend Clive Bunker has been around the block and pretty much done it all in a career spanning more than 50 years at the top of his field. He has worked with Steve Howe, Steve Hackett, Generation X, Uli Jon Roth, Blodwyn Pig and Manfred Mann's Earth Band, however it is as the drummer in Jethro Tull that he made his name and is most recognized for. During his time with The Tull he appeared on some of their most respected albums Living in the Past, Aqualung, Benefit, Stand Up and This Was, and has spent much of those years touring the world in various guises, however, it wasn't until 1998 that he decided to write and record a solo album, Awakening appears to have been borne out of his desire to release something of his own, featuring the myriad of ideas he had written down over the years. The album has become difficult to track down since its release, so this new remaster and release from Talking Elephant is a welcome addition to their catalogue.




Contraband - Contraband(Blu Ray)

From the early 1980s, Contraband is brutally gory, at points nastily sleazed euro crime thriller. The Naples-based film features genre star Fabio Testi, as cigarette smugger/ family man- who finds someone trying to ruin his operation- first messing up drops, before quickly escalating the torture and death to all those he loves and cherishes. Here from Cauldron Films is a region-free/ fully uncut Blu-Ray release, taking in a new print of the picture, a commentary track, and a good selection of new/ archive interviews.





Caldon Glover - Labyrintia

Based in the labyrinth of space, time, and parallel universes, Caldon Glover's Labyrintia creates a vast soundscape for the listener to transcend their own reality and explore those alternate timelines beyond the realm of consciousness. Utilizing both acoustic and electronic sound sources, the intermingling of time and energy constructs a deep and highly evocative atmosphere that links not only the past, the present, and the future, but also this current universe with those which may or may not exist. Teamed up with large and expressive artwork by Nihil, Labyrintia is a fantastic journey for those looking to explore as far as their mind can wander.




Christmas Cruelty! - Christmas Cruelty!(DVD)

Christmas Cruelty! is a film that liberally flip-flops between the deeply troubling and the humorous. As its title suggests this Norwegian film is set around the festive period, and it charts the preparations for the big day for a middle-aged, tubby and balding serial killer, and his next carefully selected victim. The film often juxtaposes its more extreme moments, with bright or laid-back music that both unsettles more profoundly, as well as giving one or two coal-black chuckles. So, if you're looking for seriously tonally unbalanced/ wonky genre film making this is certainly one of the prime modern examples. Here from Unearthed Films, those hunters of worldwide extreme film is a DVD release of the picture.




Various Artists - I Never Metaguitar 6

I Never Metaguitar 6 is an eighteen-track CD compilation focusing in on the more experimental/ outer edges of guitar music. It's a decidedly varied release, which moves between the seared 'n' jagged, angular 'n' odd, moody 'n' strange, and daring 'n' brain scrambling.




Bourbonese Qualk - Bourbonese Qualk

This self-titled release is the next in Klanggalerie's CD reissue series of albums by Bourbonese Qualk- a UK-based anarchistic and experimental music collective, that existed on-off between the early 1980s and the early 2000s. Originally released in 1987 it was the collective's ninth album, and it saw a move to slightly more coherent 80's electronica meets electro-industrial sound, though there are still shifts into more experimental waters, as well as very electro-punk vibe present throughout.





Rien - Another Contact Mic Recording

Another Contact Mic Recording is the welcome return of Stockholm-based Rien, who creates sparsely realized, yet always engaging textured noise craft. This recent(ish) pro CDR appears on USA's Abhorrent After Death, and features a single track that comes in at just over the forty-two-minute mark.




Koobaatoo Asparagus - Listening To My Future

Listening To My Future presents the listener with ninety minutes of thick 'n' crushing walled noise from the long-running Californian HNW project Koobaatoo Asparagus. The digital download album features two forty-five-minute 'walls', and each is as brutally engaging/ encasing as the other.




To Move - To Move

The London-based trio, To Move, offers a new assortment of well-worn ideas, repackaged and reproduced for those with little background in the world of tape-warbled, piano-driven ambience. At least, this is my best guess as to the audience for whom their album is ultimately intended. Think of the hushed hammering of Nils Frahm's piano (he is a label mate on Sonic Pieces), washed over with tape degeneration a la William Basinski.




Black Beast - Arctic Darkness

Hailing from Finland, Black Beast formed in 2002, and they have a handful of releases in its belt; an EP, a split album with their native Bloodhammer, a full-length, and Arctic Darkness, their latest offering.




Gorguts - Obscura

Originally released in 1998, and out of print for a few years, Obscura was the third album of Canadian four-piece Gorguts- which is seen as an important record in both technical and Avant grade death metal circles. It's one of a hell of brutal-to-jarringly discordant, brain-scrambling, at points densely deranged ride of an album- which still remains impactful and sonically visceral twenty-four years after its release. Here we have a very much-needed CD release of the album on Punishment 18 Records.





Massacre At Central High - Massacre At Central High(Blu Ray)

From the mid 70's Massacre At Central High is a high school drama that deals with bullying and revenge. It's a tonally unbalancing film that shifts between TV movie mawkishness/ hamming it-up acting, and cruel at points intense torment/ violence. Here from Synapse Films is a recent Blu-Ray release of the film, taking in a new HD scan, commentary track, a new making-of documentary, and more.




Various Artists - Black Lace And Voodoo Drums – Lux And Ivy Dig That

Black Lace And Voodoo Drums is the next in the seemingly unending 'Lux and Ivy' series of compilations from Righteous. It once again finds respected music journalist Dave Henderson compiling together rare, campy, and wacky 45s from the 1950s and 1960s. And for this thirty-track and sixty-nine-minute release the focus is crude to novelty bound Rock 'n' Roll, a few quirky genre curios, oh and as its title promises some Voodoo drums too.




Ekkoflok - Mosaik

Mixing home-built machines, prepared acoustic instruments, and self-written code, Danish sound artist and composer, Valdemar Kristensen (here as Ekkoflok), has come up with an intriguing and varied electronic composition with his latest LP, Mosaik. Traversing the wide space between subtle, minimal electronics and crunching, abrasive noise, Ekkoflok brings together a world of sound that upon first glance seems to be quite disparate, but in his deft hands becomes a wonderful whole built from the sum of its parts. A mosaic worthy of the album title, this latest release is a quick, sonic excursion into the heart and soul of machines and the very essence of electronic sound.




Dersu Uzala - Dersu Uzala (Blu Ray)

Dersu Uzala is a Siberian wildness set adventure-come-moving drama focusing on a rugged-yet-kindly and wise Asian hunter, who befriends a Russian army explorer in the early 1900s. The beautiful shot and wonderfully realized mid-1970s film highlights the wonders and dangers of nature, as well as keen and deep human friendship. Here from Australia Imprint- is a very wholly needed & very deserved Blu-Ray reissue of this enchanting and moving masterpiece. With the disc taking in a new HD print of the film, a new audio commentary, and a selection of extras.




The Hunchback of Notre Dame - The Hunchback of Notre Dame( Blu Ray)

One of the most iconic movies of the silent age finally makes its way to Blu-ray through Eureka and boy was it worth the wait. The 1923 edition of The Hunchback of Notre Dame, directed by Wallace Worsley (Ace of Hearts, A Blind Bargain and The Penalty) and starring the legendary Lon Chaney Snr (The Phantom of the Opera, The Monster and He Who Gets Slapped) as Quasimodo, the disfigured bell ringer who is mocked and abused by all and sundry for his appearance. Chaney's makeup is quite stunning for the time, and this coupled with his performance are two reasons that people keep returning to this film, however, they are not the only reasons. The film looks gorgeous, every scene is beautifully framed and it is so skilfully lit to create the perfect atmosphere in every scene. Worsley's direction is outstanding, especially in those scenes where the large cast are pictured in the square and those darker interior sequences where Quasimodo and Esmerelda (Patsy Ruth Miller, Hell-bent for Heaven, Fools in the Dark and So Long, Letty!) are alone together.




K2 - Pandemix Coronalis

K2 aka Kusafuka Kimihide is a true aural landmark within the Japanese (and worldwide) noise scene. Since the project's 1983 debut Student Apathy- it's unleashed one hundred and fifty-three albums and twenty-four, forming an impressive body of noise assaults.




Unfyros - Alpha Hunt

Alpha Hunt is the first blacked and grimly low-hanging sonic fruit from Unfyros. They are a Finish two-piece black metal project, which features in its ranks one of the founding members of the ritual ambient collective Aural Hypnox. The six-track CD album focuses on slowed-to-mid-paced BM craft, which at points touches on general dark metal tropes- with the whole thing being very much centred on moody and blacked repetition.




Hession / Bardon / De Bézenac - JakTar

Jak Tar is a free/ improv jazz album that slips 'n' slides between fierily intense, angularly detailed, and moodily haunting. The ten-track CD/ digital album really is a sonic trip in the best possible way- keeping you nicely on your toes throughout.





Richard Scott - Everything Is Always At Once

Everything Is Always At Once is the latest trip into brain warping 'n' ear-melting electronic improv from UK's Richard Scott. It's an eight-track CD/ digital download album, which finds Scott pull 'n' pushing his set-up through all manner of electro sound crafting & texturing.




Andrew Oda - Back to the Body

Andrew Oda's Back to the Body is a lush modern classical ambient opus with a thoughtful, deeply emotional energy. It recalls the soothing, yet pained music of Stars of the Lid or Kyle Bobby Dunn, utilizing manipulated orchestral timbres, but is perhaps more active and complex in its melodic developments than either one, and more vividly psychedelic and modern, with fascinating synthesis work to compliment the traditional instruments.




Born For Hell - Born For Hell(Blu Ray)

Born For Hell is a terminal grim, at points downright troubling to nasty character study–come-psycho thriller set during the Northern Ireland troubles of the 70s. It charts the steady descent into madness and violence of a Vietnam veteran who comes ashore in Dublin. The film has a gritty fly-on-wall quality, and as it progresses it slow-but-surely edges up the intensity and feeling of sweaty unease, with jarring moments of misogynist & sexualized violence. The film was a re-telling of the Richard Speck case- where in 1961, the acne-scared loner killed eight nurses in Chicago. Here from Severin is a Blu-Ray release of film, with a new 2k scan of the film, and a selection of extras.





Brad E. Rose - Annular Silhouettes

Like a good painting, the best ambient compositions manage to forge a balance between the sharpness of individual details and the feel of the overall picture. But unlike painting, however, the overall in music is not a final image but a development in time, its duration and ever-changing paths. I listened several times to Brad E. Rose's Annular Silhouettes without ever being able to tell exactly where things began, and where they ended – except for the actual start and end of the single track of this beautiful release – and even less, how things changed from one point to the next.




Kiki Bohemia & Sicker Man - Waiting For Wood

Having quite a prolific background, either separately or as collaborators, singer/multi-instrumentalist Kiki Bohemia (aka Karla Wenzel) and electric cellist Sicker Man (aka Tobias Vethake) are joining forces once again. Waiting For Wood finds them venturing deeper into their collective sound exploration of slow-paced and transcendental experimental music, atonal and fused with secluded oriental elements, spicing the whole outcome!




Rennie / Roberts / Serries - Translucence

Translucence is a four-track example of the improv from bringing together highly prolific Belgian-based Dirk Serrries – acoustic guitar, London-based Tullis Rennie- Trombone, and also London-based Cath Roberts-baritone Sax. The album is often tight and edgy, yet at the same time playful and at points quite boisterous.




Tangerine Dream - Strange Behaviour OST

In the wake of the eruption of new cinema emanating from Australia in the 1970s (Cars that Ate Paris, Mad Max, Long Weekend, Patrick and Wakes in Fright to name, but a few) New Zealand had gotten left behind a little but felt the need to get in on the Ozploitation trend. The result of this was the release of Strange Behaviour aka Dead Kids or Smalltown Massacre, a 1981 slasher film that fell foul of the UKs video nasty hunt, even though it was never included on the DPP list. Written and directed by Michael Laughlin, the film remains underground, never receiving the furore that surrounded films like Cannibal Holocaust or The Evil Dead, however it remains an effective and at times brutal underground gem.




The Blockhouse - The Blockhouse (Blu Ray)

Strangely I'd never heard of The Blockhouse (1973) before, given its setting and themes which are definitely in my interests, so I'm pleased to have crossed paths with this blu ray. I'm reviewing a promo disc so there's no booklet, but, having purchased releases from Powerhouse before, I'm confident it will be well-designed and informative.




Requiem For A Vampire - Untitled 2


Requiem For A Vampire is a Wellingborough, UK-based wall noise project- which seemingly started back in 2021. And Untitled 2, is as its title suggests its second release. It's a digital release, that takes in a single spot on twenty-minute wall, which has a subtle atmospheric edge to the ragged rumbling 'n' grit bound wall.




Edo Žuđelović - Suočavanje Sa Duhovima

Suočavanje Sa Duhovima( translated to Dealing With Ghosts) is a wonderfully tight 'n' constantly consisting slice of walled noise from this Bar Montenegro noisemaker. It's a digital release, which is the equivalent of a 3in- as the single track comes in at just over the twenty-minute mark.




Terrifier & Terrifier 2 - Terrifier & Terrifier 2(Blu Ray)

Here's a two Blu-Ray release of brutal 'n' nasty killer clown slasher films 2017's Terrifier, and its 2022 sequel. It's a fairly barebones release on the extras side, as we get two making-offs/behind-the-scenes featurettes…but boy do you get a lot of brutal 'n' intense gore/violence over the two films' runtime.




This is Gwar - This is Gwar(Blu Ray)

This is Gwar is a 2021 documentary charting the nearing forty-year career of shock horror punk/ metal project Gwar, who are known for their blood, semen, and general goo-soaked shows that blend together OTT sci-fi and horror themes. Here from Acorn Entertainment is a Blu-Ray release of this Shudder channel production- taking in commentary tracks, and some other extras.





Audrey Rose - Audrey Rose(Blu Ray)

Audrey Rose is one of the lesser-known, but well-acted and engaging enough supernatural family dramas-come-light horror films to appear in the 1970s. It focuses on reincarnation- where a middle-class New York family are been harassed by a stranger, who claims his daughter tormented soul is trapped in the body of their pre-teen daughter's body. The film shifts from supernatural-often-emotional drama, darts into troubled child horror. Then moves into a decidedly wacky courtroom drama, before going to a rather down-beat-but new-age resolve. Here from Arrow Video, both in the UK and in the US, is a new Blu-Ray release of the film- and as always with Arrow- we get a great extra packed release.




John Cage/ Apartment House - Hymkus

Here is a CD bringing together three John Cage pieces recently played by the highly respected and versatile modern ensemble Apartment House. Two tracks are later works"Two" & "Hymnkus", and in between them is "Thoreau Drawings" from the 1970s.




The Last Romantic Lover - The Last Romantic Lover (Blu Ray)

From the early 1970s, The Last Romantic Lover is a decidedly un-fleshy, straight, and often rather charming romantic drama by French director Just Jaeckin- whose more known for mainstream erotic films like Emmanuelle and Story of O. The film revolves around the cynical editor of a women's magazine, who organisers a competition in Paris to find the perfect romantic man. From Cult Epics, here is a Blu Ray release of the film- taking in a commentary track, and a few other extras.





Controlled Death - Dirge For The Departed

Controlled Death aka Osaka-based noise maker Maso Yamazaki –also of Masonna, Space Machine, Rin, emerges once again, delivering a new aural profanity. Dirge For The Departed appears in the form of a C30, and has recently been released by the infamous Deathbed Tapes




Live Burial - Curse of the Forlorn

Following 2020's Unending Futility, UK death merchants Live Burial are back with Curse of the Forlorn, an invigorating romp through doomy, mid-paced death. Expanding the scope and style of previous efforts, this latest LP shows a progression in technicality, songwriting, and overall performance. Channelling the old-school aesthetic, but merging it deftly with modern flourishes and arrangements, Curse of the Forlorn is a ripe slice of fist-pumping death metal.




Deicide - Crucifixion: The Early Years

Crucifixion: The Early Years is a three-CD boxset focusing on the early 1990's Roadrunner Records released output of satanic-focused death metal ballbusters Deicide. It brings together their first two albums- 1990's self-titled and 1992's Legion, and 1993's demo compilation Amon: Feasting the Beast.




Various Artists - Climb Aboard My Roundabout! The British Toytown So

The British toytown pop sound was birthed in the late 60s, being mainly influenced by the more quasi-classical instrumental-edged and quirky-to-mundane character songs themed of The Beatles. Here from Grapefruit, Cherry Reds 60's psych-pop/ rock sub-label, is a recently released three-disc/ eight seven-track compilation celebrating the toytown pop sound- with a blend of known and more obscure names.




Kūka'ilimoku/Aarkanne - Ele'abyssus

Ele'abyssus is a raw 'n' raging black metal EP split- bringing together the barbarically gunning BM punk of Seattle, Washington's Kūka'ilimoku. And the cluttering malevolence and harshly baying vocalising of Chile's Aarkanne.




Les Baxter & John Cacavas - An Evening with Allan Poe/Cry Of The Banshee/Horro

Here we have a CD pulling together three creepy-to-horrifyingly bombastic scores from the early 1970s. We have two Les Baxter penned works, the score for the TV film An Evening with Allan Poe (introduced by Vincent Price), and the gothic 'n' gory period horror film Cry Of The Banshee (also starring Mr Price). And one work penned by John Cacvas- the score for the train-based horror/ sci-fi movie Horror Express- which featured Christopher Lee, and Peter Cushing.




Sam Prekop & John McEntire - Sons Of

Sam Prekop and John McEntire have been working together for about as long as I can remember, from the still extant brilliance of the Sea & Cake to their collaborations on one another's solo endeavors – McEntire's film score for Reach the Rock is a standout, as well as Prekop's sundry solo releases.




Slaughter Day - Slaughter Day(Blu Ray)

Slaughter Day is a manically paced early 1990's Shot-on-video film. It blends together elements of limb-hacking gore, demonic shenanigans, rapid fighting, and dizzying action sequences. Here from Visual Vengeance- the savouries of SOV/ ultra-low budget genre fare is a new Blu-Ray release of this lesser-seen SOV film- with a nice selection of bonus features.





The Kindred - The Kindred (Blu Ray)

The Kindred is a late 80's mad doctor sci-fi thriller meets horror-fed creature feature. Its first half is a medical mystery thriller, then the second half is a whipping tentacle-bound and gooey monster movie. It's an entertaining if slightly derivative film featuring some good moments of tension and neat practical effects. Here from Synapse Films is Blu Ray release of the film- featuring a new 4K scan of the picture, as well as a few extras too.




Macromenia - Brutalismo

Brutalismo is the fourth full-length album from this harsh noise project, which brings together USA's Joe Roemer of PE project Macronympha, and Ecuadorian Leonardo Sabatto( solo & D.A.F.O.S.M.). It's a CD album that severs up eleven slices of thick, nastily messy, and searingly shifting noise craft.




Mlehst - Female Female Female

Female Female Female is a recent(ish) four-track album from British project Mlehst. Sonically we move unease and oppressive drone blends, onto sinisterly jittering-to-whistling atmospheric electro texturing, through to sparsely choppy 'n' discordant ambient electronica.





Brian And Charles - Brian And Charles(Blu Ray)

Brian And Charles is a wonderful celebration of English eccentricity and awkwardness. The film is a cosy and often heart-warming blend of rural fantasy, light 'n' cringe-inducing comedy, and bumbling romance. It tells of coming through a difficult time middle-aged inventor, who decides he's going build a robot- to help him around his cluttered countryside cottage, play darts, and oh eat cabbage with him. Here from Mediumrare Entertainment, is a Blu-Ray release of the film.





Jacek Sienkiewicz - Pristine

Bringing together many pieces and patterns of electronica and experimental music, Jacek Sienkiewicz's latest album, Pristine, is a light and lively foray into the fracturing of music into tones and textures. Often stripped down to start, with elements cascading in and out to add dimension, this album showcases Jacek's vision of what is at the core of his vision and how this can be manipulated and shaped to form intriguing and engaging patters and structures. The spaces left in between help to complement the varied, sparse tones on Pristine, and the lighter approach to composition allows for greater and varied interpretation for the listener.




Creatures The World Forgot - Creatures The World Forgot (Blu Ray)

From the early 1970's Creatures The World Forgot stands as one of the more daring, though at times decidedly arty/ trying Hammer productions. The film was the third and final prehistoric adventure from the company, and it's fair to say it's extremely divisive with both fans of the studio and general lovers of caveman-based adventuring. The picture features no formal dialogue and has an often difficult-to-follow storyline, though it's at times damn brutal and dustily intense, with moments of forlorn atmosphere, and a few dodgy/low-grade effects. Here from Powerhouse is a Blu-Ray reissue of this lesser-seen/ lesser-known Hammer production- featuring a new commentary track, a good selection of Hammer featurettes, a selection of Children's Film Foundation productions by the same director, and a few other things.




Nemeton - Amygdala

Nemeton is the electronic solo project of Uk based Adrian Newton. It has a decidedly prolific output with fifteen albums released since 2008, and Amygdala it's latest.




Steve Pringle - You Must Get Them All: The Fall on Record

There is no doubt that The Fall where one of the most idiosyncratic, prolific, at points highly creative projects to appear from the UK's post-punk scene of the 1970s. Between the mid-'70s and late 2010s, the band released thirty-three studio albums, many live albums, and more than a few compilations. The project came to a final and rather sad full stop, when the band's only constant member, lead singer and key songwriter Mark E. Smith passed in 2017 from terminal cancer. This truly huge tome charts each of the band's albums- with a readable blend of highly honest band biography, reports from the studio, and in-depth yet never dull track-by-track criticism.




The Intruder- The Complete Series - The Intruder(Blu Ray)

A forgotten classic of British TV from 1972, The Intruder was made by Granada television and broadcast on a Sunday evening. The series was based on the novel of the same name by John Rowe Townsend. Who adapted Alan Garner's The Owl Service for TV, and starred James Bate (The Spoils of War, Dr Who and The Stars Look Down) as Arnold Haithwaite, Milton Johns as Sonny (Empire Strikes Back, The Jensen Code and The X-Files) and Simon Fisher-Turner (Claire Dolan, Lillie and The Big Sleep) as Peter Ellison.




Sado Rituals/Sebastian Tomb - Samhain

Samhain is a two-track wall noise release celebrating this spooky and horror-fed time of year. Both tracks run around the ten-minute mark- the first project featured here is Poland's Sado Rituals, and the second is Berlin's Sebastian Tomb.




Occlusion - 57 Re Remix Silence

Here's another example of textured/ walled noise from France's Occlusion- who theme all of their releases around medical operations, with rather nauseating pictures for each release. 57 Re Remix Silence takes in two twenty-minute track- and the theme of this release is eye operation, with a close up-picture of said operation.




IxSxDxSxTxP/Vindex - Split

Here's Harsh Noise Wall Split that brings together two brutalizing 'n' intensely baying examples of the genre. Featured are Frances IxSxDxSxTxP, and New Jersey's Vindex- with each project presenting an around half-an-hour wall.




Scaring the Mice For Revenge - Self titled

Scaring the Mice For Revenge is a new collaborative moniker of four prolific musicians who have crossed paths various times in the past. Their self-titled album has recently come out on Prohibited Records, a label owned in part by one of the members, Nicolas Laureau, who plays sitar on this album. The music they play is spaced-out improvisatory fare that could be called experimental jam band music or 'out' jazz, in the 70's sense. I am unfamiliar with these musicians' work, though I've heard some other releases from Prohibited Records.




Stefan Römer - ReCode SOUND

Is there a difference between electric and electronic when it comes to music? Maybe the former mostly refers to a mode of amplifying signals, whereas the latter names a means of production? It's axiomatic, but it works, especially if we dust ourselves off from the dirt of the digital and revisit a protean moment of electronic music as Stefan Römer does on his ReCode SOUND, a soundtrack for a movie that is loosely based on another movie, in which no less than the likes of William S. Burroughs and Genesis Breyer P-Orridge once acted alongside one another in the German cult hit, Decoder (1984).




Ghostwatch - Ghostwatch(Blu Ray)

From the early 1990s, Ghostwatch is one of the key and early examples of found footage genre. The UK/ BBC production presented itself as a factual TV investigation, with well-known British presenters, members of the public interviewed, and phone-ins. But in reality, it was a TV drama/ mockumentary, which slowly but surely turns decidedly creepy 'n' chilling. Here from 101 Films is the 30th-anniversary edition of the film- featuring a brand-new documentary, two commentary tracks and more.




Come Back Lucy: The Complete Series - Come Back Lucy: The Complete Series( DVD)

Come Back Lucy is a six-part ghostly children's drama from the late '70s. It features a likeable cast, nicely tense end of episodes cliffhangers, and some surprising spooky/ unsettling moments. From Network, is a double DVD reissue of the complete series, which includes a few extras.




Sorry, Wrong Number - Sorry, Wrong Number( DVD)

Sorry, Wrong Number is a complexly plotted, yet rewardingly unfurling noir mystery. The late 1940s film features two greats in its lead roles, with Barbara Stanwyck as a bedbound woman who accidentally gets switched to a wrong number overhearing plans for a murder. And Burt Lancaster as her late home husband. It's certainly a film that will keep you on your toes, with some neat twists, wonderfully tense moments, and of course top-class acting. Here from Australia's Viavision Entertainment is a bare-bones DVD release of the film.









The Residents - Triple Trouble OST
For the last fifty years, those avant-popster/ genre tricksters The Residents have never followed the rules, or done what's been expected of them. Take...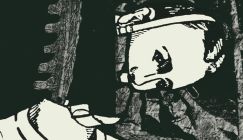 Hastings of Malawi - Deliriously ...
Formed in the early 1980s, after the member's sonic dabbling's on the early Nurse With Wound records, Hastings Of Malawi took a decidedly busy and deta...