Dave Jay, William S Wilson, & Torsten De - It Came From The Video Aisle!( Book)

Any B-movie or cult film fan worth their salt will know the name Charles Band. Since the 1970's this director, producer, writer, and publisher has been heavily involved in the B- movie market, producing near on 300 films, directing 55, and writing around 50. He was most known in the 80's/ 90's for his company Empire Pictures- which release such B classics such as Ghoulies, The Dungeonmaster, Terrorvision, Re-Animator and From Beyond. In the 1990's, after the demise of Empire, he formed Full Moon Features- releasing cult fare such as the Puppet master series, Pit and the Pendulum, Castle Freak, and the Killjoy series. It Came From The Video Aisle!, is a 500-page book charting Bands career from the 1990's up to present day- bringing together 50 exclusive interviews, honest overviews/ reviews of all his output from this period, plus a host of rare artwork, and behind the scenes pictures.


23 Treads - The Ornaments( The Ghost Of Miranda)

23 Treads last album 2015's Conspicuous Unobstructed Path was somewhat of a revelation, with its angular & darkly psychedelic brand repetitive & sonically locked down neo- folk. Really giving this often cliché ridden genre a different twist & unbalancing flavour. The Ornaments( The Ghost Of Miranda) deepens their experimental & atmospherically unsettling tendencies, to create another extremely worthy trip to the outer limits of Neo-Folk.


Colossloth - Heathen Needles

British electronic act Colossloth is back with his second release on Cold Spring, Heathen Needles. Featuring eleven tracks of diverse but well connected electronic grimness, Colossloth defies classification and has the freedom to do compose as he chooses. Heathen Needles benefits greatly from this freedom, and Colossloth's textures and tones can be appreciated fully for what they are.


Tero Ikáheimonen - The Devil's Cradle: The Story of Finnish Black Met

Black Metal is a genre that has always intrigued me beyond just the music. Many bands have drawn on fascinating events in history and folklore to create their own personal mythology by which they live. Much is particularly known about the Scandinavian Black Metal scene which has seen numerous attempts to catalogue its near 30 year history. Most famously Lords of Chaos: The Bloody Rise of the Satanic Metal Underground by Michael Moynihan and Didrik Søderlind, with its contentious front cover of a burning church, and more recently and less controversially Dayal Patterson's Black Metal: Evolution of the Cult.


Black Leather Jesus / JSH - S/T

Here we have a double blast of caustically dense, ear-scorching, and perversely seared Harsh noise. The C40/ digital download sees the bringing together of US smut noise jam-mers Black Leather Jesus, with the often high pitched ribbed noise nastiness of Stockholm based JSH.


Threads - Threads(Blu Ray)

Here from Severin we have a much deserved & long needed reissue of the ultra-bleak, extremely harrowing, yet highly compelling British Docu-drama detailing the day(s) after the bomb drops. Originally released back in 1984, and broadcast on the BBC during the height of the cold war. Treads stands as one of the most intense & disturbing things to ever appear on TV- and it still has so much bleak power & soul-shattering impact even after all these years, which I don't think can say about many films 30 plus years old.


Free As Dead(DVD) - Free As Dead

Free As Dead is (as far as I'm aware) the first film foray from Frenchman Romain Perrot- most known for his walled noise project Vomir, as well as spastic folk & rant project Roro Perrot, and avant funerary chapel projects Trou Aux Rats & Free As Dead. Here on Perrot's Decimation Social label we have a region free DVD, and it's certainly a crude, ghoulish & ugly slice of ultra lo-fi art house horror- think a shorter, more nonsensical, corrupted, and unsettling take on Begotten- and you'll get a rough idea what to expect.


Dead Body Collection/Willowbrook - Split

Here's the second in the recently rediscovered wall releases, that 'repapered' in the M[m] sort-out. This split C60 comes from early 2016, and brings together Serbian Dead Body Collection & Eugene, Oregon based Willowbrook.


Vomir/Nascitari - Sameness

While having a clear-up/sort-out at M[m] we came across a few wall noise titles from a few years back, which had slipped through the cracks, and here we have the first of these. It's an excellent C60 split from 2015 bringing together the taut & shifting textured detail of Italian project Nascitari, with the dense & crude shredding walled noise power of Frances Vomir


Dedekind Cut - Tahoe

Although Fred Weldont Warmsley III (Dedekind Cut) made his mark as a hip-hop producer, he's continued to grow and expand and show his talents in other genres of music. Differing quite a bit from last year's The Expanding Domain, Kranky's release of Tahoe shows Dedekind Cut with a more refined, further reaching scope. The fun, fairly disconnected, near-industrial beats have given way to lush ambient, and reveal Dedekind Cut's passion for artistry.


Clive Henry/Trou - Split

The split between Clive Henry and Trou is untitled, that is the spine gives us only the titles given to each artist's track ("Untitled / Scorch I"), and comes in a white case with black text on grey paper for the artwork.


Robert Schwarz - Double Negative

Robert Schwarz' previous effort on Gruenrekorder, The Scale of Things, was a superlative amalgam of dense musique concrete, treated field recordings and modular synthesizer that conjured worlds of amplified natural processes and disquieting soundscapes. The beauty of that record was how it showcased a variety of techniques in such a way to produce a unified, highly composed, not-to-mention dramatic vision of avant-garde electronic composition. Like its predecessor, Double Negative features a cover that hints at what lies within the grooves of the record. The strange almost claustrophobic collage which adorned The Scale of Things gives way here to a seascape, on the horizon of which drifts the unmistakable geometric form of an iceberg, or could be a shark fin or even the prow of a sinking ship? The picture is almost abstract in its composition and finds kin among the similarly abstract and musically dissociated music on the record.




Talibam! - Endgame of the Anthropocene

Talibam describe themselves as Dadaist provocateurs with an innate love for the history of music. Talibam! grew out of the New York avant garde/improv scene and have two members Matt Mottel and Kevin Shea. Stretching out from basic musical concepts Talibam! explore sound and structure to create something interesting and unique that lies beyond classification. "Endgame of the Anthropocene" is their latest in a long line of releases spanning the last 11 years and apart from being a wonderful title, it is a record cramp packed with possibilities and ideas.


Toxic - This is Beautiful Because We Are Beautiful People

Toxic is a modern free jazz trio consisting of sax and wind player Mat Walerian, pianist Matthew Shipp and bassist William Parker, who apparently hasn't been in the studio since he appeared on Frank Lowe recordings in the 60's. This new album, entitled "This Is Beautiful Because We Are Beautiful People" is the group's first release, though Walerian and Shipp have been quite active in recent years, including some previous collaborations with each other.


ADN Ckrystall - Jazz Mad

Jazz' Mad is a decidedly quirky & sometimes outsider tinged synth album from the early 1980's- it blends together elements off-kilter synth pop, epic & at times spacey synth-scaping, and more unhinged/indulgent moments. Behind the ADN Ckrystall project was Érick Moncollin, who was somewhat of a self-funded synth geek who decided to create his own distinctive blend of synth-focused music- which at times brings to mind the work of more recent synth outsiders like John Manus & Ariel Pink.


El Prêtro Maniaco - Opus Premum

El Prêtro Maniaco is a one-man French project that creates an unwell & darkly hued blend of ambience, wonky synth 'n' slurred noise craft, and moody post-industrial sound-scaping. By all accounts, Opus Premum is the projects debut release- which originally appeared as a digital release in late 2015, but here it appears in both physical CDR & digital form on Required Of Rate Records.


Attack Of The Killer Tomatoes - Attack Of The Killer Tomatoes( DVD/Blu Ray)

Before the two Airplane films, The Naked Gun series, and the Scary Movies- there was this silly, at times amusing,and occasionally laugh-out-loud cult classic from 1978. Here on MVD's new Rewind Collection line- we have a deluxe duel format reissue of the film, featuring a host of extras, commentaries, and even a poster.


Liliths Hell - Liliths Hell(DVD)

Released on Unearthed Films & with connections to Ruggero Deodato (as producer & actor) one might expect Lilith's Hell is going to be something either brutal, or extreme & promisingly arty. But instead it's a sadly rather a run-of-the-mill found footage movie- with a fairly interesting concept, that's really not developed enough, and the odd effectively jumpy/ gore bound moments.


Steppenwolf - Hour of the Wolf

Hour of the Wolf is the eighth studio album by Canadian rock legends Steppenwolf, originally released in 1975. This new reissue courtesy of Talking Elephant records features the regular album and two additional bonus tracks, the single version of Caroline as well as the single's flipside Angeldrawers.


Martin Carthy - Shearwater

From 1972 Shearwater was the seventh album from respected British folk guitarist & singer Martin Carthy- who was a member (twice) of Steeleye Span in the early & late 70's, as well as a member of The Watersons, & The Albion Band. Here we have a 2017 CD reissue of the album on Uk's Talking Elephant. And it's wonderfully urgent-to-haunting folk album, mainly based around a pared-down & stripped backed guitar & vocals- with a few tracks been built purely around Carthy's powerful sing-song/ folksy chanted vocals.




Asmus Tietchens - Dämmerattacke

Prolific German sound artist Asmus Tietchens sees another back catalog re-release through Klanggalerie with Dämmerattacke. Originally released in 1997, the CD reissue features the original LP along with two bonus tracks. For fans of aerial electronics, this reissue of Dämmerattacke is a real treat.


Bobuck - Egg Booty

Egg Booty brings together a selection of mainly short 'n' quirky tracks from (Charles) Bobuck- aka former Residents songwriter Hardy Fox. The CD features seventeen tracks that originally appeared either as exclusive downloads, via Fox's website, or email mail-outs throughout 2017. So really this is very much the proverbial mixed bag, coming off a bit like the recently reissued Resident comp Dot.com, which also collected together web-based tracks.


Disconnected - Disconnected(Blu Ray/DVD)

From 1984 Disconnected is a fairly original & distinctive blend of slasher, psycho-drama, and arty horror/thriller. For many years the film languished in VHS obscurity, but here from Vinegar Syndrome- those saviors of many filmatic cult curios- we have a well-deserved duel format reissue of the film.


John Cage - Winter Music

Composed in 1957 Winter Music is piano composition from reviled & respected modern classical & Avant grade composer John Cage. Here we have a 2017 release of a 2014 recording of the work, and I must say I was both pleasantly surprised & taken by this wonderfully jarring & angular work.


Visitation / Transgresia - S/T

The self-titled split between Visitation and Transgresia came out on Ominous Recordings late December last year on a black c60 cassette tape. Visitation is the HNW project of Shaun Mara from Australia, who runs amazing labels such as Needle & Knife and Palinopsia - offering a veritable range of all things delicious noise. Transgresia is the relatively new and positively industrious project of Marko Šiljeg from Serbia - since birthing the project Marko has knocked out wall after wall like he's making up for lost time!


Dosis Letalis - Confronting The Inhuman

Confronting The Inhuman is a recent two track CDR from Serbian based walled noise/ static texturing project Dosis Letalis. The two 'walls' enclosed are both densely weaved, creatively texture, and rather mysterious & a little unsettling in their make-up.


Nar/Vomir - Split

This untitled HNW split has one of the more artily brutal & primal presentations I've seen- the shell scratched cassette comes wrapped in a black piece of ripped fabric, and this comes inside a bent, battered & scratched sheet of steel. The C46 brings together two of the most darkly intense, brutal unforgiving, and nihilistic focused HNW projects on the planet- Frances Vomir, and the USA based Nar- with each party offering up a similar nasty & unrelenting example of HNW roasting.


Bruising Pattern/She Destroys Hope - Split

Here we have a C30 spilt that brings together two euro-based walled noise acts. Each artist takes up a side of a tape, with each offering a single fifteen-minute track, which leans more towards structure shifting wall-making. And for the split, we have Austrian based Bruising Pattern, and German-based She Destroys Hope. The release appears on the always worth Russian based wall label Reason Art Records.


Choisir Le Pire - Représentation du Six

French power electronics project Choisir Le Pire brings forth the grimy funk on the limited tape, Représentation du Six. Consisting of one near twenty minute track, this no frills, ripping approach is a refreshing taste of blistering, throbbing noise. Recorded live (the best way), the lack of overdubs gives the listener a front row seat to scathing static in is glory.


Vesperal - Conqueror of Emptiness

Conqueror of Emptiness is the debut release for this French Neofolk outfit, consisting of ten tracks dark ethereal music.



Phurpa - Rituals of Bön II

I think Niklas Göransson said it best in his 2016 article for Bardo Methodology when he described Phurpa as being like a Tibetan monastic choir that use a "specific kind of overtone chanting […] based on the principle of the singer's transmogrification during the chanting meditation". Hailing from that great Eastern European superpower Russia, little is known of the origins of Phurpa other than they are based Moscow and record and perform under the leadership of artist Alexei Tegin. The band have developed a fascinating contemporary take on the art of throat singing. Doing for this style of music, what Sunn 0))) have done for doom metal. They take it, strip it back to its base form and rebuild it with minimal instrumentation and use immense amounts of atmosphere and ambience to create something that at times sounds menacing and yet is beautiful.


Genetic Transmission / Moan - Collaboration 1

Continuing the GT archive series, Zoharum offer this collaboration with Moan. Once again in a strict limited edition of 200 copies, given the quantity you have to ask yourself "why bother?", just do it as a download. GT are one of those bands you either liked or loathed, personally I always liked GT, but I still have the gripe that a 200 run isn't sufficient and really under sells the outfit


Rapoon - My Life As A Ghost

Today I have the pleasure of reviewing the 2017 Zoharum re-issue of a Rapoon album I had never previously listened to, 2004's My Life As A Ghost. The original version of this album was a single CD, expanded here to include another disk of material remixed from the original source recordings.


Pinkcourtesyphone - Indelicate Slices

Richard Chartier's Pinkcourtesyphone project is now six years old and has become a reliable source for some of the best dark ambient music around. Yearly releases on vinyl or CD and distinctive pink artwork help make the project stand out from legions of producers of dull, gloaming, drone music. Indeed the highly defined aesthetic of the project is one of its enduring facets and is rooted in a very particular notion of femininity within the context of modern consumer capitalism and pharmacologically modulated states. That this feminine aesthetic is evoked by a man is of course problematic and worth examining. Also of note has been Chartier's occasional use of Pinkcourtesyphone's music to raise funds for transgender and LGBTQ causes. All of which is indicative of a creative depth and social engagement rarely found in the genre. Indelicate Slices follows on from 2016's lush Taking Into Account Only A Portion Of Your Emotions and features seven tracks ranging from three minute vignettes to half hour epics.




The Devils Honey - The Devils Honey(Blu Ray)

The Devil's Honey is sleazy, cheesy, and at times wonderfully deranged blend of sexploitation, thriller, and romantic drama. This 1986 sleaze feast is one of the later films from Lucio Fulci- most known for his gory & surreal zombie films of the 1980's, and it's fair to say if you dig your smut littered with what-the-hell moments- you'll get a kick from this. On Severin Films, this is late 2017 all-region Blu Ray release of the film.


Scalpel - Scalpel(Blu Ray)

From Arrow Video here we have a Blu Ray reissue of Scalpel- A tight-as-drum & twisted-as-a-snake 1970's thriller with southern gothic edges & subtle horror touches. This is the first Blu Ray release of the film, which I believe has only had a VHS release in the past.


Don Ellis - Tears of Joy /Connection

Here we have a reissue of two wonderfully creative & varied jazz albums from the early 1970's by respected American trumpeter, drummer, soundtrack composer, and bandleader Don Ellis. Both albums blend together a big band sound, with fusion, non- jazz genres, and even dives into more angular & avant-garde composition. The release appears in the form of a double CD on UK's BGO Records- one of the more quality bound reissue labels.


Coil - Time Machines

Originally released back in 1998 Time Machines was the epitome of brain-altering & perception twisting drone craft. It offered up four lengthy submersions in deep 'n' heady synth craft- with each been themed around the effects of specific hallucinogenic chemical or drug.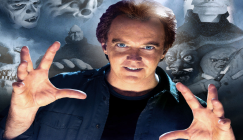 Dave Jay, William S Wilson, & Tor...
Any B-movie or cult film fan worth their salt will know the name Charles Band. Since the 1970's this director, producer, writer, and publisher has been heavi...






Vinegar Syndrome - The Peddlers ...
Of all the genre film reissuing labels / film distribution Vinegar Syndrome is one of the most prolific, respected, and varied in its output. Since 2012 the ...