Columbia Noir #2 - Columbia Noir #2( Blu Ray Boxset) [Powerhouse - 2021]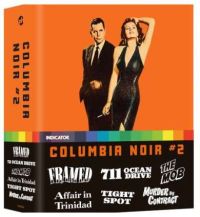 Here we have the second in Powerhouse's Columbia Noir boxset series, and once again the label offers up a wonderful selection of the noir film in its many forms. Going from a tight & twisting crime drama, onto a Cops Vs scammers noir, though to undercover cop mystery. Onto a mystery melodrama, though to a taut one location thriller, finishing off with a very distinctive hit-man based example of the genre. Featured on the Blu Ray boxset are new high definition prints of all six films, a good selection of extras, and the finished version of the set comes with a hundred and twenty-page book.

Up first we have Framed this was released in 1947, and is a nicely compact-yet-twist 'n' turning crime drama. It was directed by LA-based Richard Wallace, whose output went from silent comedy romance 1926's Ragged Rose, 1931's perpetual divorcée drama The Road To Reno, comedy/ mystery 1942's A Night to Remember, and fantasy adventure 1947 Sinbad, the Sailor. Between the years 1925 and 1950 he had sixty-three credits to his name. Framed is a well made & well realized film, with a fairly small but well-placed cast. The film opens in a fairly thrilling manner- as we watch a man trying to control a truck through a twisting mountain road, and later a town where he crashes into a van as he tries to stop. We find out the breaks are faulty and our driver is heavy-browed & slightly scruffy Mike Lambert(Glenn Ford)- who's an unemployed mining engineer, taking work where he can. After paying off the owner of the damaged van with his just got wages- he makes his way to the nearby La Paloma Café, where he catches the eye of glamorous bartender Paula Craig(Janis Carter). Fairly soon the cops turn-up, pulling Mike from his drink, bar stool, and chatting. He appears in court, given the option of either a $50.00 fine or ten days in the slammer- he has no money, so it seems he's going down- but Paula pipes up & pays his fine. As the film unfolds we find out Paula is not quite what she seemed, as Mike gets pulled deep into her dubious plans. Ford is well placed as the good hearted-though-boozing Mike, Carter with her revolving & glamorous wardrobe is a great as deviously femme fatale. With good supporting roles from Barry Sullivan as the shifty local bank manager, and Edgar Buchanan as likeable & shambling mine owner. Framed is a great opening film to this second Noir boxset- as it pulls you in from the off, keeping the story flow swift & tight, with the noir tropes nicely realized & executed.

Moving onto the extras on this first disc- we get a new commentary track from author and critic Imogen Sara Smith- this is very well researched & often detailed in both it's observations & cast/crew bios, which at points are very thorough. She begins by talking about the compact & stripped-back title/story structure, moving onto comment on where she thinks the film meant to be set. She moves onto talking about the noir tropes, the films reused set, it's the low budget edges. She discusses actors/crew who where put on the McCarthy blacklist, and why she believes so many of those who where connected with the noir genre where on the list. It's a great track- that is both informative & very well observed, and could easily be played a few times. Other than this we get two archive shorts- first is The Steps of Age – a 1951 dramatised documentary written and directed by Ben Maddow, screenwriter of Framed. This runs for twenty-four minutes and is a largely glum study of old age- following a woman looking over the last few years of life- her husband losing his job & just playing checkers before dying, losing the house they both lived in and falling out with her daughter who she goes to live with. Next, there's Up in Daisy's Penthouse – this is 1958 short that runs seventeen minutes, and finds the Three Stooges getting tangled up with a blond femme fatale. Lastly, we get an image gallery.


Next up we have 711 Ocean Drive , this is from 1950, and I guess is best described as cops-meets-scammers noir. It was directed by Joseph M. Newman- who spent the first ten years of his career (1938-1947) making shorts and documentaries. After this he moved onto feature length films, these went from character-driven wartime movie Jungle Patrol( 1948), onto baby-profiteering noir Abandoned( 1949), through to snow-bound western The Outcast Of Poker Flats(1952), and Circus drama The Big Circus( 1959)- before ending his career in the mid-sixties with US TV work.
The film tells of cocky–though-likeable LA electronics expert Mal Granger(Edmond O'Brien)- who when we first meet him is working for a phone company. In his spare time, Mal is a keen gambler, though he's not winning very often & his debts are creeping up. One-day his ageing-but-sharp talking bookie friend Chippie (Sammy White), introduces Hal to Barry Kelley- a wire service operator whose running a illegal gambling information service. Hal drops his phone company job to modernizing Kelley's system, and fairly soon business is booming. Hal's greed pushes him forward, so he starts taking a 20% cut on all of the gambling services- then one day a disgruntled punter gun's down Kelley, with the even more cocky Hal stepping into running the service. As business booms more- a sleek east coast gambling syndicate become aware of Hal's set up, wanting to buy into the action- and here as Hal's greed grows as things start to awry.
The whole thing is well shot, taking in a good blend of 1950's LA street footage, open plan houses, & smoky offices/ basement hide-outs, with trips to the track or bookie shops for scamming. Later we move to Palm Springs for poolside settings, with the film topped with a dramatic Hoover dam finale.
Acting-wise O'Brien is well placed as cocky-turning-greedy electronics expert. White is good as his sharp talking, though loyal sidekick Chippie. With supporting cast worth a mention been Otto Kruger as cool & devious syndicate boss Carl Stephans, and shifty tailor/ hit-man Gizzi (Robert Osterloh). The film runs just over the hour & forty-minute mark- and there are a few points that maybe could have been trimmed, and the preachy police voice-over that tops & tail of the film is a little tacky. But all in all 711 Ocean Drive is an entertaining more cops 'n' scammers focused Noir.

Moving onto the extras on this second disc- and we have a commentary track from American author and film critic Glenn Kenny, and it's a fairly shifting & darting track, with a few longer than needed drifts of silence. He begins by discussing if the film is a pure Noir, or a mix of police procedural & noir. He comments on the law side of things, and how their officers' door features the gangster squad letter, which would late be parodied by Naked Gun series & films. He moves onto discuss O'Brien, and how at this point after leaving MGM, he was somewhat at a crossroads in his career. He talks about O'Brien's other noir roles, moving onto comment on onscreen action, and how it relates to the noir tropes. As he moves touching on brief actors bios, more on-screen action observations, and other similar/ related films. It's a good enough one play track, but with all the jumping around I'm not sure if I'd return again.
We get the following archive extras Diary of a Sergeant- from 1945, this is a twenty-minute documentary by Joseph M Newman portraiting the life of Harold Russell, a soldier who lost his hands in WWII, and would later win an Oscar for his performance in The Best Years of Our Lives. And another Three Stooges short from 1939 Three Sappy People – where the trio are working as telephone repairmen when they make an unexpected career switch.

The Mob was made in 1951, and from its title, you may presume it's a mafia focused noir- but in reality, it's an undercover cop-meets-mystery example of the genre. And I must say it's rather good too- blending moody noir atmospherics & quipping/ smart-talking dialogue- with an appealing and quick-moving plot, which blends undercover tension & thrills, rough 'n' ready flights/ interrogations, and a gruff booze-chugging hero. The film was directed by Robert Parrish-Academy award-winning film editor, director and actor- in all he had twenty-three directorial credits- going from LA set noir 1951's Cry Danger, onto Pacific coast set western 1952's The San Francisco Story, smuggler based romance adventure 1957's Fire Down Below, D Day set war drama 1965's Up From the Beach, and thought-provoking/ clever Sci-fi 1969's Journey To The Otherside Of The Sun.
The Mob is a well-directed, nicely scoped & well-cast film, which nicely swings between noir moodiness & tense plotting. The films lead character is stocky & gruff police detective Johnny Damico(Broderick Crawford)- one rainy night when he's off duty he comes across a man standing over a body with a gun in his hand, we don't see the killers face- but he claims he also a cop, and has just gunned down a suspect- passing his ID to Johnny. Fairly soon the shooter slips away, and when Johnny returns to base he's informed he's been tricked- the shooter wasn't a cop, but instead shadowy crime boss Blackie Clay. Johnny is sent undercover to work on the docks- he shaves off his moustache, dons a baseball cap and leather jacket- pretending to be a low-level criminal from New Orleans. He sets up in the local flophouse-come- bar, to track down Mr Clay.
Crawford is great as the punchy & quipping Johnny, with a good-to-great supporting cast - with worthy mentions been a young Ernest Borgnine as brill-creamed & tough-talking gangster boss Joe Castro, and Richard Kiley as Thomas 'Tom' Clancy Johnny's likeable dock working buddy. Running at one hour and twenty-six minutes, The Mob is a tight & moody noir with some great & memorable dialogue.


Moving on to the extras on this third disc- and first, we get a commentary track from American filmmaker and writer Gina Telaroli- she starts by discussing the connections with The Mob & noir classic The Big Heat, they shared the same editor Charles Nelson, and Big Heat reused some of The Mob's musical cues. She goes on to relate an interaction between Robert Parrish, as a young editor & John Ford. Discusses Broderick Crawford background, his early years in NYC, and working as a docker. Before going onto talk about the various NYC character actors in the film. As she moves on she discusses about the on-screen action, Crawford drinking problems in later life & his disenchantment with Hollywood, and how the 1950s was very much was the last decade of classic Hollywood. It's a well researched & put together track, though at points she is a little darting in her subject shifts. Next, we get two interviews with Ernest Borgnine- an audio-only one with The Guardian from 2001, this runs seventy-nine minutes. And a 2009 on-camera question time presented by the BFI- this runs forty-nine minutes. Next to the Three Stooges return for 1956's Hot Stuff, which finds the duo trying to protect a rocket scientist as pretending to be carpet fitters.


On disc four of the set we have Affair in Trinidad- this appeared in 1952- bringing together the leads of Rita Hayworth (her first film in four years) and Glen Ford, and the Noir content in this one is rather light/ fleeting. Instead, I guess you'd say what we have here is mystery-come-melodrama with touches of romance, espionage, a few music/ dance numbers from Ms Hayworth, and lastly some subtle Noir touches. It was directed by Vincent Sherman- who between the late 1930s & 1980s had fifty-six credits to his name- going from 1939's The Return Of Doctor X, which saw Humphrey Bogart is his only horror film role. Onto noir-meets-musical of 1943's The Hard way, through to courtroom drama-meets- political thriller 1961's A Fever In The Blood. From the mid-'60s onwards he very much focused on directing US TV.
Plot-wise Affair in Trinidad revolves around fiery & provocative night club singer/dancer Chris Emery(Hayworth), whose husband has seemingly committed suicide on a boat in Trinidad's harbour. Due to her job, Chris has a lot of admirers, and one of the more persistent is Max Fabian(Alexander Scourb) - a local older rich man, who is more than a little shifty & shadowy. Fairly soon Chris's husband's brother Steve(Ford) touches down on the island and starts to think there's something fishy about his brother suicide. As the film opens up we get a selection of shifty scientists, an authoritarian and stern police inspector, a sweaty & sleazy bar owner, and a fairly big supporting cast brought into 'oh & ah' at the song & dance numbers. Ford is ok as the punchy & sleek Steve. Hayworth mangers well enough switching between been fiery & emotional, Scourb is a good fit as the sinisterly debonair Fabain- though he does switch to slightly clichéd bad-guy towards the end. The noir elements are really down to a few more shadow-to-rainy set scenes, a few interrogation scenes, and some very fleeting fighting/ gunplay-though it's the melodrama/mystery side that is most prevalent. The film roles in at just sly of the one hour & forty-minute mark- and it certainly felt like there could have been a little tightening up at the start of the film, though after the first half or so things kick into gear, making this a watch-able enough film.


Moving onto the extras, and first up we have a new commentary track from the film historian and author Lee Gambin- and this is a very well researched, fact & option packed affair. He moves from discussing bios of co-stars, moving onto talk in-depth about Hayworth's career and this point in her career when she was making a comeback. He talks about Hayworth's different dresses & their designers, he moves onto discuss other members of the cast & crew. He talks about other noir films from 1952, comments on on-screen action, and much, much more- a track you could easily play a few times.
Of the other archive extras there's The End of the Affair - a 2012 interview with Peter Ford, son of Glenn Ford, discusses the life and career of his father with the Film Noir Foundation's Eddie Muller – this runs twenty-four minutes. There's Caribbean -a twenty-five minute documentary which released in 1952 and depicting life and culture in the West Indies, British Guiana, and British Honduras. We have Three Stooges short in the shape of 1939's Saved by the Belle- which find the trio as salesmen on a tropical island when they get wrapped up with the Island dodgy dictator and the revolutionary army.

Next up we have 1955's Tight Spot- this is a nice & taut thriller melodrama blended noir with a largely one location setting. The film was directed by Phil Karlson who between the mid-1940s and mid-1970s helmed sixty-one films. His output was rather genre-shifting going from Charlie Chan mystery/ comedy The Shanghai Cobra (1945), onto native American Indian focused Black Gold(1947). Through to romantic musical 1948's Ladies Of The Chorus, onto 1952's swashbuckler The Brigand, though to James Bond Spoof 1968's The Wreaking Crew.
Tight Spot focuses on gutsy, smart-talking and wisecracking prison inmate Sherry Conely(Ginger Rogers). She's taken to a hotel room- so the DA ( Edgar G. Robinson) can convince her to testify in court against crime boss Benjamin Costain (Lorne Greene). In the room she joined by initially tough & stand-offish Lt. Vince Striker(Brian Keith), and middle-aged guardian Mrs Willoughby- with various characters popping in & out of the room over the films runtime. To start with the tension/ edge is created by the interaction between those in the room, then when crime boss Costain becomes aware of Sherry location his goons trying to get to her. One location films can be tricky propositions- you have to have a good and tight script, characters you care about, well-picked cast, and rewarding twists/a good resolve- and Tight Spot has all of these in spades, making for a great & watch-able noir thriller. Cast wise Rogers is great as the punchy Sherry, balancing well both feminine wants, fraught emotional tension, and gusty charm. Keith is well placed as the tough-chain-smoking, latter mellow protector Striker, and Greene is good as sleek-yet-sinister bad guy Costain.


Moving onto the extras- and we get a commentary from American writer and film historian Nora Fiore- here she gives a very lively, fact & observation packed track. She moves from talking about the films tonal shifts, and it's early moments of humour. Moving onto quote from Rogers biography regarding her thoughts on Tight Spot, she talks about Dead Pigeon the original play the film was based on, and how it was adjusted for the screen. She gives fleeting bios of each of the film's actors- focusing on their actor roles in other noir/ related crime films. She comments on-screen acting, point out both the clever nuances in the actors playing of the role and interesting lines. She discusses the very noir moments, and much more. All told a very entertaining & rewarding track.
Otherwise, on the extras front, we get The Senate Crime Investigations- this is four-part series of unedited extracts from tele-recordings of the US senate committee's hearings into organised crime. In total the four parts run for an hour & eleven minutes, but you can watch each section separately. The fourth part features Virginia Hill, who was meant to be an influence on the lead character in Tight Spot.
We get another Three Stooges short Idiots Deluxe from 1945, which finds Moe & the boys going to the countryside to relax after the doctors say he's a bag of nerves- and the three have an uninvited guest- a bear, which of course is no help for Moes health issue.

On disc six we have Murder By Contract, which is one of the more darkly playful/ quirkily macabre films of this set. As it's title suggests it's about a contract killer, who gets sent on a rather unusual/ difficult hit. The 1958 film was directed by New York-born Irving Lerner- who between 1937 and 1971 helmed eight feature-length pictures- which went from 1953's trying-to-make-a-break-in-Hollywood drama Man Crazy, atomic focused noir City In Fear(1959), onto 1963's Philippines set WWII action drama Cry Of Battle, through to 1971 Mexican revolutionaries focused western A Town Called Hell.
Murder By Contract focuses on Claude (Vince Edwards) a cool-as-cucumber contract killer, who goes about his deadly work in a matter-of-fact, controlled and often deviously clever manner. We're introduced to his specific talents by a series of rapidly cut hits, training in his one-room flat, and him been polite though slightly creepy. Word of his talents travel quickly, and he's called to do big and tricky hit in LA. Here we get introduced to his two handlers Marc(Phillip Pine) and George(Herschel Bernardi), who rapidly get fed up with Claude, as he seems in no rush to get on with his job- as he spends his day's sea swimming, playing golf, drive around the city,etc. When he finally says he's ready to do the hit, the pair take him to a heavily police guarded house, where they point out his hit- a piano playing rich woman Billie Williams(Caprice Toriel). And this rather throws the cool & collected Claude out. The films a wonderfully taut, tense & cool example of the film noir form- it runs just over the one hour twenty minute mark with not a moment is wasted. Edwards is great a Claude, coming off like a more sleekly wordy & Italian American take on a young Clint Eastwood. Pine & Bernardi make for a lightly amusing pair, with the small supporting cast all doing a great job too. The whole thing is soundtracked by a wonderful stripped-back & coolly moody guitar soundtrack, that moves between a strutting & tautly Greek flavoured lead cue, tense jazziness, and angular atmospherics. Murder By Contract is a great, great end to this boxset.
On the extras front, we get a commentary track from American film critic and writer Farran Smith Nehm- this is a well researched, entertaining if at points darting track. She goes from talking about how the film was very impact-ful on a young Martin Scorsese, and how it influenced his own film work, pointing out particular scenes that he's nod towards in his own film work. She gives us an in-depth bio of Edwards, who apparently came from athletic/ swimming background, going onto discuss his other more noir focused films. She discusses the work of Irving Lerner, and how he was blacklisted- with the FBI having a 1300 page file about him. She touches on the other actors bios, and apparently, many of the supporting cast landed up appearing on the original Star Trek series. She discusses the history of noir film, how it only really became a known/ respected genre in the 1970s, she talks about Columbia's noir's and how they were often very low budget affair. She discusses the soundtrack, talking about its composer Perry Botkin- who was a very talented guitarist & banjo player, and much more.
Otherwise, we get a four-minute intro to the film from 2014 with Martin Scorsese, talking about the first time he saw the film at the age of fourteen & how it impacted him. There's a three-minute trailer commentary from Larry Karaszewski, we have Swedes in America- the Oscar-nominated 1943 film directed by Irving Lerner- this runs eighteen minutes, and finds Ingrid Bergman, detailing the influence of Swedish immigrants on the United States. Lastly, we have another three Stooges short- 1938's Violence Is the Word for Curly, which is an early cinematography credit for Murder by Contract's prolific director of photography, Lucien Ballard. It finds the three taking up a job at a garage- which of course all goes wrong, and they land up been mistaken for German doctors at a girls school.



All in all, this is a great second Columbia Noir boxset from Powerhouse- with a wonderful selection of films, each highlighting different facets of the noir genre. And once again the company have gone the extra mile with great clean & crisp scans for each of the six films, great new commentary tracks, and of course a good selection of worthy extras.






Roger Batty