Richard Chartier - Interior Field [Line - 2013]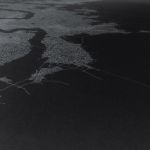 This album from Richard Chartier comes in the 'standard' Line packaging: a card wallet decorated with austere, elegant artwork. The cd features two long tracks - one thirty-six minutes long, the other twenty-five; with both featuring similar sounds and elements. Previous Chartier works I have heard, have leant towards the cold and 'formal'; 'Interior Field' has a much more colourful, less 'concentrated' approach

The first piece, 'Interior Field (part 1) is quite a broad collage of sounds; combining field recordings and 'found' sounds with more electroacoustic and electronic elements. The track begins with thumps, creaks and bangs reverberating around a space, before a wash of rain-like noise enters: these two ingredients - 'space' and rain - are key to the album as a whole. Chartier builds the piece, adding throbbing bass drones and eerie, whistling electronic lines; leading to a fantastic section near the fourteen-minute mark, which combines very unsettling, quiet tones with distanced knocking noises - very sinister, indeed. This broadens out into a near-wall of noise, before initiating a section of reverb-drenched, rhythmic bass thumps. The final section of the work has a very melancholy, melodic loop backgrounded; whilst crackles and pops (much akin to vinyl noises) echo over the top. It fixes a genuinely sad tone in the mind, which lasts till the end of the piece; even though the final moments are spent with traffic noises

'Interior Field (part 2)' has a more concentrated palette of sounds - or perhaps a more concentrated 'feel'. It begins with a haze of 'insect sounds' over an industrial throb - industrial in the sense that the sounds most likely originate from machinery. After this, the sounds and textures of rain take predominance, with Chartier pushing and pulling them; in particular, the spatial aspect of the sounds is given special treatment - though whether this is through processing or judicial initial field recordings, is unclear. Alongside these recordings (which showcase the sonic aspects of rain very fully), whining, slurring feedback (or electronic tones) and bassy drones are utilised. At points, the overall sound even takes on a HNW angle; with spluttering rain textures running over low end rumbles.

As I mentioned in the introduction, these recordings are unlike the Chartier works that I've heard before. They are much less formal and austere - though still possessed of formality and austerity. The 'colour' that the field recordings bring into the tracks is very notable and acts to soften the more obtuse directions of the work. The field recordings also snap you in and out of the piece, as something situated in a particular time/space; as opposed to some 'clinical' electroacoustic drone, quite apart from the real world. As I've come to frankly expect from Richard Chartier, this is another great release.






Martin P