CDRX/Taklamakan - Sulphuric Lake/Ispod Zemljine Kore [2:00 AM Tapes - 2010]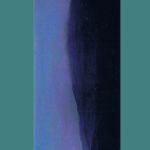 Natural phenomena are probably the most aptly to used metaphors in music, and history has indeed shown that musicians find clouds and rain and sunshine particularly appealing to translate their shallowest and/or deepest emotions into something digestible and universal. I'm walking on sunshine, you are the sunshine of my life, my thought are scattered and they're cloudy; musicians both gifted and untalented have long since resorted to the cliché palette of flora, fauna, and weather forecasts. How can we blame them though? As attested, they are metaphors both digestible and universal, capable of capturing a wide range of complex emotions in a single compelling and comprehensible image.

The CDRX/Taklamakan split released on 2:00 AM Tapes is, in a sense, much the same, although you'll find sunshine and jolly chipmunks and, well, happy thoughts are absent here altogether. Aptly titled Sulphuric Lake/Ispod Zemljine Kore (the last of which is Croatian for 'Beneath the earth's crust'), the two artists put before the listener some sounds which could be represented by nothing other than such places of gloom, darkness and destruction. The artists' intent seems clear: to record pieces of somber, earthly gloom – an intent translated excellently into the compositions on the tapes. CDRX is the project of Switzerland's Cedric Baldacchino, who started out recording noisy sound scapes and collage works as far back as 1996, but who only returned to the scene after a prolonged hiatus in 2008 with a slew of MP3 releases, CDrs and, of course, this tape. Taklamakan is Croatia's Harold Gojani (also of Placenta Lyposuction), who has since 2009 started bombarding the world with his own brand of experimental electronics, going back and forth between crunchy dark ambient and harsh noise walls seemingly effortlessly.

CDRX offers an excellent slice of dark noise ambient; soundscapes that roll on with all the usual waves of ambient drones, but knocked up another notch with measures of white noise and assorted crackle that vastly improve what might otherwise have been decent but not spectacular. As the tracks build, the noise levels build and build with them to almost reach a cathartic harsh noise eruption – yet they never do, and they stay subdued, and that exactly seems the magic of CDRX's tape side – that it rolls forth slowly, broodingly, much like a sulphuric lake eating away at you almost unnoticeably, but no less effectively. The compositions are as far from devoid of life as you'd expect anything doused in acid for a prolonged period of time would expect to sound. At some point, a sample of a kid or kids giggling find their way into the soundscapes, though they sound surprisingly eerie amidst the bubbling acid of the track's drones. The samples, but also the tracks' arrangements, contribute massively to the almost vibrant feel of the compositions, making them as darkly gloomy as they are compelling and a joy to listen to.

Taklamakan's side offers a crushing track that ambiguously and admirably occupies middle ground between dark ambient and HNW. The thick layer of crunch and the monomanic character combine to make the track sound much like the work of contemporary HNW greats such as Vomir or Cannibal Ritual, yet there's a subdued quality to it, almost as if all high frequency crackle has been eliminated from the track viciously, and a thick, spine chilling bass rumble underneath that operates in just the right tone range to sound both beautiful and darkly eerie. Perhaps even more so than the CDRX side, the Taklamakan side seems to capture the broiling, bubbling sound of a sulphuric lake, though with the smallest of imaginative leaps it could just as well be a field recording of nocturnal, subterranean life, with centipedes and worms pushing their way through the earth, nibbling away at a freshly buried body, with a thick rumble emanating from the earth's core providing the soundtrack to the grim scenery. The track evolves slowly, but nearly never shies away from its core HNW sound. Its distinct low-frequency rumble and mid-frequency crunch are perpetuated for almost the full 28 minutes, and the result is hypnotic and captivating. Ultimately, the track winds down to retain only its dark rumble, to then end abruptly, leaving you craving more, and a bit spooked.

The tape comes packaged in once more exemplary and beautiful artwork from the 2:00 AM Tapes label, which has really managed to set a new standard in artwork presentation for smaller tape labels in the current noise scene, along with other outstanding labels such as Monolithische Aktion, Quagga Curious Sounds and Soundo Maso. Moreover, the sounds on this tape are simply excellent as well, making Sulphuric Lake/Ispod Zemljine Kore a highly recommended tape that offers two distinct and refreshing explorations of the essence of ambient sound.






Sven Klippel