Richard Cheese - Lounge Against The Machine [n/a - 2000]Welcome ladies and gentlemen. How about a bit of good old Las Vegas style Lounge- and big band music? If you are like me you would probably run away as fast as you can. But perhaps it's worth to stick around for the golden voice of mister Richard Cheese and his Lounge against the machine. Most Europeans are probably not familiar with "America's loudest lounge singer" and I do believe we are at fault for this. So I will first introduce our show master: Richard Cheese is the funniest lounge singer around, covering material from various popular musical acts. He covers everything, from nu-metal, rap, kiddie-punk, house, indie rock, pop and classic rock. Richard Cheese can take any song and turn it into an instant lounge classic. His preferred picks for songs are generally those with the rudest lyrical content to be found in mainstream music. Now you might think that it's funny to do a few lounge covers of popular "rude mainstream music", but that it could never be interesting for a full length of an album. This is where Richard Cheese shows his real strength however. He manages to completely re-write songs, but make sure you can recognise the originals as well. While doing so he adds such hilarious twists to the music that you can't help but crack up and roll around on the floor laughing. At the same time however, he manages to actually write very interesting swinging songs. The comedy factor is the most important, but the music could also stand on its own without it. The thing I perhaps appreciate most is that the entire album has been set up as if he was singing in a dark Vegas nightclub. As so it seems like he talks to the audience and introduces songs. The best example is the Nirvana cover of Rape Me. Richard starts the song off with a "here's one for the ladies".The most depressing songs created by whiny nu-metal acts suddenly become happy tunes you can't help but tap your feet along to. Richard simply swings! Even Radiohead's song Creep becomes a feel good big band dancable song. And Garbage's Only Happy When it Rains has a Singing in the Rain feeling, including a tap-dance intermission. Overall I am not surprised that Richard Cheese is quickly rising to fame in the US. He regularly appears in Las Vegas to put on shows and has been on various late night shows already. Richard Cheese is simply one of the funniest, swinging and fun artists I have come across in a long time. I can not stand Frank Sinatra or any other Lounge music, but Richard Cheese has shown me the error of my ways as these simply swings. I know Richard Cheese is an artist you need to hear to understand the appeal of, and as such I would really want to urge you to check out the samples on his homepage. He is a comedy act that also is musically amazing. This is a true master at work!






Aldo Quispel




Richard Cheese - Lounge Against T...
Welcome ladies and gentlemen. How about a bit of good old Las Vegas style Lounge- and big band music? If you are like me you would probably run away as fast ...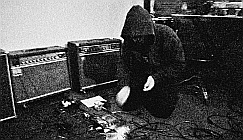 Perpetual Abjection & Unsignifie...
There has always been a close connection between the walled noise scene, and various themes/ obsessions- be it nihilism, giallo/ cult films, true crime, grim...