Churner - Eruption of the Missing [Breaching Static - 2010]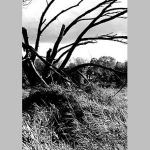 Eruption of the Missing is yet another release from the productive artist Churner. On average you can count on anything from 10-18 releases per year (counting splits too) and that probably doesn't even begin to scratch the surface of this industrious noise/power electronics project.

Starting with the cd art (a dead tree in what looks like a field), Churner begins to paint a scene of ambiguity. "The Discovered" begins with turbulent effects and oscillating static. Combining the two together gives a percussion-like effect that gradually slides into an avalanche of noise. "Open the Grave" has more of an industrial sound, with varying levels of pitches to assault our ears. It is delightfully painful and grating. On "Reappear…The Vanished", static is transformed into what sounds like a windstorm. "Dug Up" has intermittent sputtering and low frequency humming. This is one of the most interesting tracks here, it presents a departure from the full out noise battering the other three tracks offer. This time it's a riot of swirling effects, subterranean noise and numbing static. It is still noisy and harsh but there is a delicate hand at work here showing quite a bit of restraint while keeping in the framework of the esoteric theme. There is a deeper, darker mood created here without being obvious.

As most of Churners releases, he produces a massive, intense sound with his oscillators, radios and pedals. Every pitch and tone becomes an earthquake, shrieking and rumbling with abandon. Churner cleverly creates music that while it falls under the banner of harsh noise; there are a lot of other influences at work too. There are subtle differences that affect the mood and tone of each recording, and that's a valuable trait considering the many releases Churner unleashes.






Viktorya Kaufholz