Circle Of Ouroborus - Eleven Fingers [Handmade Birds Records - 2011]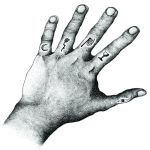 A very lavish package, on Handmade Birds Records; with a gatefold cover and a record-sized lyric booklet - and another strange mutation in Black Metal's evolution to boot. The album artwork is beautifully and strikingly designed, with stark drawings of two hands with a symbol on each finger; and, inside the gatefold, these two hands clasped, with seven of the symbols showing. Do these seven symbols correlate to the seven tracks on the album? Certainly there seems to be a code to be cracked here, and a reading of the lyrics shows each song to have words or phrases highlighted, one in silver, one in gold; but even if I had deciphered these things, I wouldn't spoil your fun with the solution…

Circle Of Ouroborus are a Finnish duo who pursue experimental Black Metal, from what I can gather; and as Bill Too asked, in a recent review of Alcest's "Les Voyages de l'Ame" on this website: "'Black Metal'? Does the term actually mean anything in 2012?" Played "blind" this album has precious little to suggest any closeness to Black Metal. Admittedly, some of the vocals are very blackened, and there is a section in "Shadows Lead" which suggests the kind of folky jig that I've heard some Black Metal bands perform; but these are the only real signifiers towards the genre. Curiously, the most Black Metal aspect of the album for me, is the thick blanket of keyboard tones and drones which smother the album. Despite essentially being background elements, they practically dominate the sound; to the extent that its somewhat confusing as to how loud to play the album - since the detail (melodies, vocals, riffs) is buried in this fog. This effectively evokes the misty atmosphere of some Black Metal bands - and indeed, at first I wasn't sure if the blanket was keyboard-based, or in fact processed blizzards of guitar.

So what does it sound like? Well, in the crudest terms, you might say it sounds like a very tortured goth band; following in the footsteps of The Cure at their most wretched (I mean this in the most positive way), but with pronounced rock drumming and vocals which sometimes stray into Black Metal territory. Underneath the aforementioned blanket of fog, the sound is dominated instrumentally by noisy cymbals and heavily processed guitar parts. I actually initially mistook this main melodic element for very pastoral keyboards; but the (unfortunate) saccharine embellishments on some of the "riffs" seem to betray a guitar as their source. Whilst I use the term "riff", the parts are actually better imagined as rather bucolic, repetitious "keyboard" solos; which run for the length of each song. The overall effect is slurred and hazy: perhaps "woozy", in a word. The vocals, when not in a Black Metal style, often approximate some kind of meeting twixt Robert Smith and John Lydon (in the P.I.L. years); maybe starting in the larynx of the former and stretching towards the cords of the latter. They run the gamut of "impressively pained" through to "unfortunately hilarious"; but I don't consider this a criticism, as such. The vocalists of some of my favourite bands (Bethlehem, Burning Witch…) walk this very same tightrope…

This will one of those albums that divides people: some will hate it, some love it. There's very little variation in sound, texture or tone - it pretty much starts as it finishes. Nothing particularly stands out as memorable, but again this isn't a criticism as such, since there are plenty of incredible bands who only have "one song" and pursue it to death. Saying this, the start of "Warpath" is a distinct highlight on the album; though, curiously, the track has a couple of sections propelled along by that hateful "indie-disco-hi-hat" beat. This isn't necessarily a crime - my favourite Joyless track has a chorus dominated by the "classic-indie-shuffle" beat - but it is an indication of how far Circle Of Ouroborus stray from an orthodox Black Metal sound. Frankly, it raises the spectre of a hipster-friendly Black Metal; lauded by Pitchfork and despised by underground followers. I appreciate that this is a digression, but it gives you an idea of the potential of "Eleven Fingers": in a decade's time, Circle Of Ouroborus may be worshipped as an influential band, or they might be foot-noted as an interesting little rivulet.

Circle of Ouroborus remind me, in a way, of the early-nineties work of Paradise Lost, Anathema and My Dying Bride; bands who took Doom Metal in startling, although related, directions. "Eleven Fingers" does much the same for Black Metal; and indeed also takes the related, gothic route. But where those three bands presented a baroque and polished melancholy, Circle Of Ouroborus startle through their clear post-punk leanings; with a rougher, more textural sound and less clarity (indeed, lyrical themes are also obscured and occult) - as well as the vocal references. Its not, alas, an album that will stay glued to my turntable; but I have found it haunting my memory when I've been away from it.






Martin P