Chaos Echoes - Tone of Things to Come [Chaos Echoes Products - 2012]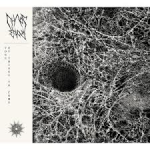 Chaos Echoes brings together Kalevi Uibo and Ilmar Uibo (Bloody Sign), Etienne Testart (Children of Doom), and Stefan Thanneur (the middle sister on Full House). Chaos Echoes considers this the "core" line-up, but has no limitations of form in place (2 piece, 3 piece, 0 piece, you name it!). Members' previous (and current, in Etienne's case) bands are death and doom, so Chaos Echoes could go in a few directions. They stick closer to doom on this release and I think it fits their almost free form "psychedelia" a bit better.

The album title, Tone of Things to Come, promises a lot. If this is what's to come, I'm pretty let down. This isn't what I want to hear while I'm cruising around on my jetpack. As a slice of now, though, Tone is a pretty decent EP. Upon first, casual listen, Tone comes across as fairly thrown together "free" metal with a penchant toward doom. The two interlude tracks were surprises, but fit into the "free" feel. Further listenings proved that this wasn't as improv as I had originally thought. The first track, "Rise," still starts off with a very "free" feel to it. It does come together, though, into a doomy, slower death hybrid. The bass is low and plodding, the drums go from marchy to thrashy, and the guitars take on a typical metal sound. The gem of this track, though, is the vocals. They're low and fairly clear. However, there's a second vocal track that 's higher and deeper into the mix. It adds a really nice, creepy feel. Overall, the EP is doom with death and black metal elements. The dual vocals are on all the tracks, and this is nice. Well, except for the interludes, but we'll get to them later. The highlight for me is "The Innermost Depths of Knowledge." I kept feeling like this track was going to go off the rails at any point. It's a great feeling. The guitars are excellent and the opening dissonance and psych moments make me think of The Fold if they were to do doom. There are two interludes on this EP, "Interzone I" and "Interzone II." They're nice, experimental pieces worthy of the Burroughs name. The first plays low guitar drones with airy feedback dancing on top while the second works with a harp and some rubbing that is almost kazoo like. Couple this with some bells and feedback swells, and you have some nice, airy experimental music.


Tone of Things to Come is a nice, short exercise in experimental death infused doom. While not as psychedelic as advertised (and not nearly as much as I would've liked), it does have a different sound than other albums of the ilk. Chaos Echoes has the line-up malleability to play basically anything anywhere, so keep you eye out for other, probably more interesting releases from these guys in the future.






Paul Casey