Nick Cave and the Bad Seeds - No More Shall We Part [Mute - 2001]On his 11th studio album everything is a bit different than before but this is probably the best Nick Cave album I have ever heard. The mood is very calm and quiet. The songs range from deeply sad over simply beautiful to regretful furious.The sad melodies of songs like "And no more shall we part" or "Love Letter" almost made me cry.
It's a very emotional album and although most of the songs are very sad there's still a lot of hope in them. So it's more of a positive sadness.The piano and some violins are the main instruments on this album and only the second part of the song "The Sorrowful Wife" really rocks, with an agressive voice and louder guitars.
"Fifteen Feet of pure white snow" is also a bit more rocking and uptempo but that's it. All the other songs are much calmer.The music alone is very good already but the lyrics add the special part that makes this album even better.
Most of the time he's criticizing the society, the church, certain aspects of life in general or he's just singing about love or is regretful about something."As I sad sadly by her side" is an interesting story about a man and a woman who sit at the window looking through the glass on the world outside. The woman talks about everyone and everything outside that is forever falling and then the man starts to criticize that the world out there is quite bad and if there shouldn't be anything done about it. There's no help for the ones in need and people are quite ignorant. The woman replies again that this is none of their concern and they shouldn't care what happens outside and they shouldn't criticize the world that god created. In the end the woman cries and the man has to smile about that and he's still sitting sadly by her side.Every song is some kind of interesting story with a deeper meaning and a certain point in the end.In the title song "And no more shall we part" Nick Cave sings about his new life as a married man but the song is so deeply sad that it almost sounds like he's regretting all the depressions of the past that are no longer necessary now."Fifteen feet of pure white snow" is one of the more obvious ambiguous songs. It could be either a song about people buried under an avalanche or, which is more likely, a song about the overuse of drugs:
Where's my nurse
I need some healing
I've been paralysed
By a lack of feeling
I can't even find
Anything worth stealing
Under fifteen feet of pure white snowAnother great song is "God is in the house". At first I thought what's up with all this talking about god, but when you listen closely you will realize that he's just criticizing the church and god. In this song a man is talking about his small town, where there's no crime and they have a pretty little white church. They even bred all their kittens white so that one is able to see them at night. And all that is because god is in the house. There is moral in the white house, computer geeks in the school house, drug freaks in the crack house but they don't have to deal with that stuff here because they have god in their house.
The only problem arises in the end where the man regretfully says "God is in the house. Oh I wish he would come out...".I could go on forever like this as all songs are telling very interesting stories. Nick Cave is actually not singing about a certain person but he sings like he his a character that is part of the song.If you never have been into Nick Cave before but are into sad and calm songs with wonderful piano lines and intelligent lyrics I can really recommend this album to you.
Everyone who already loved Nick Cave before will probably also love his new album.It's just plain beautiful...






Andreas Oelke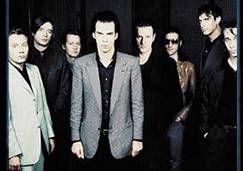 Nick Cave and the Bad Seeds - No ...
On his 11th studio album everything is a bit different than before but this is probably the best Nick Cave album I have ever heard.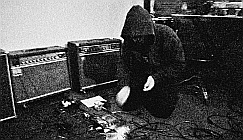 Perpetual Abjection & Unsignifie...
There has always been a close connection between the walled noise scene, and various themes/ obsessions- be it nihilism, giallo/ cult films, true crime, grim...