Chefkirk - Purely Natural Abstract Radiance [Twilight Luggage - 2011]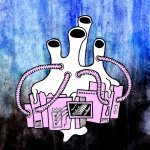 The cartoony and somewhat "light" artwork of this cdr, gives absolutely no indication of the joys hidden within: "Purely Natural Abstract Radiance" is four tracks of very beautiful, very measured collage work from Chefkirk (Roger H. Smith). Created using a simple set-up of no-input mixer, microcassette, sampler and field recordings, the album constructs incredible beauty from such an apparently limiting palette.

In the most basic of terms, "Purely Natural…" consists of blocks of electronic sounds derived from the no-input mixer, interspersed with blocks of field recordings; these sections are often quite lengthy - its not an album of breakneck cut-ups, though there are a few gentle jolts along the way. The tracks are beautiful paced, with a genuinely "organic" feel to them; there's no rushing, no clutter. Indeed, for a long while in "Consciousness, Reality, Death", theres a passage of near silence, with barely perceivable sounds. As a rule, the blocks of sound are used as cut-ups; but at some points the two elements are combined together. At the end of the first track, a metallic sound (akin to something being tightened, or a wire mesh fence being scraped) creeps into a field recording of someone walking (with traffic and distant sirens); and this all stealthily gathers pace, until it sounds like there are several sounds being overlaid (some agitated birds, for one). It gives a sense of intensity without recourse to simplistic gestures, like jarring cuts or frantic panning. Another excellent example of the intelligence of the recording, is the beginning of "Metaphysicality"; where a low, buried, bass drone punctuates an eerie field recording. The apparent lack of content and movement in the field recording (wind, some birds, a lot of hiss), only accentuates the ominous atmosphere.


The sounds themselves are often simply exquisite. The tones generated by the no-input mixer feedback are wonderful - raw, pristine and crystalline; the drones, clicks, hiss and bleeps have a weight, range and quality that is as beautiful as it is visceral. The field recordings carry an inherent resonance, and provide contrasting warmth to the emotional coldness of the electronic work. Chefkirk also uses different recording media and methods to provide varying contexts and textures for the sounds; sometimes mic-ing up the mixer output, sometimes recording it direct in (for example) - this is surprisingly effective. The highpoint of the cdr, for me, is near the start of the second track, "A Virtuosic Demonstration Of Incredible Range"; here, there is a quite beautiful passage of metallic sounds. At first I thought it was perhaps made with a drill and a piece of sheet metal, then I decided that it was a recording of a drill and sheet metal interacting with the mixer feedback somehow; now, I've come to the conclusion that I have no idea. But, regardless of the method, the result is unashamed, staggering beauty.


"Purely Natural Abstract Radiance" is a very crafted work, where the naked brilliance of the sounds is allowed to shine in all its simplicity. It has all the qualities of an academic piece of electroacoustic music, but without any associated dangers of being austere, cold or dry. The rigour and intelligence, not to mention the sheer revelry in the beauty of sound, reminds me of Mark Durgan; and there's not much greater praise than that.






Martin P