Churner - Bone Yard [Violent Noise Atrocities - 2010]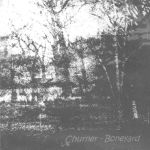 'Bone yard' finds the always creative & rewarding Harsh Noise maker Churner turning his attention to more horror soaked & nastily macabre caustic drone matter & grizzly, grimy, at times violent & seared noise attacks.

On offer here are two lengthy tracks that are built around a mixture of: Turntables, Hacksaw, treated & seared vocal textures & grim/ nasty effect matter. Up first we have the longest track here which is entitled 'Digging up Graves'- this comes in just under the twenty two minute mark & finds Churner boiling up a very violent yet chilling noise drone track. The tracks built around this repeated creepy baying or moaning tone that brings to mind either the calls of the undead from underground, wondering & mournful ghost wails or possible the call of bigfoot or some similar violet yet Melancholic creature. Around this element churner builds a mixture of: seared, thick & billow banks of blacked feedback, slow & pained tonally saws, muffled and un-nerving metal scraping. And in the more subdued moments corridors of chilling reverb moans, throbbing cable prods & more soured harmonic slicing drones. Churner keeps the baying tone pretty constant but seesaw with the other elements making the track a mixture of dense & fired-up to sinister, muffled & crude psycho ambient like.

Lastly we have 'Night vulture' which comes in just under the seventeen minute mark & finds Churner utilizing to start with mournful & blacked electric guitar textures, close miked doomed & torturess sawing textures. Then later dips into more gloomy 'n' creepy guitar moans, similar baying and creepy moans like the first track and black storm bashed feedback billows. It's an 'ok' track, but it just sounds a little too like the first track, but with added on guitar moans, drones & hacks on top. I really like some of the more creepy & horror atmosphere lined guitar textures here, but I just wish Churner had done more with the tracks background layers instead of just rehashing a similar sonic path to the first track

So all told another worthwhile release from Churner showing him brewing up an nice nightmarish & horror bound feel. I just wished he'd developed the guitar textures more on the second track as you leave the album feeling a little underwhelmed.






Roger Batty