Chuck Stake/Tissa Mawartyassari - The Creatures That Have Finally Come For Me [Mutual Aid Records - 2019]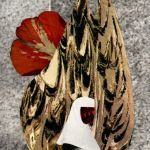 Here we have a C80/digital download walled noise split themed around a short story by Michael Gira. The release brings together two lengthy slices of dense, pummelling, and at times subtly shifting wall matter.

The release appeared on Massachusetts based tape label Mutual Aid Records- who seemingly release cross-genre noise matter. The red cassette comes in a ziplock baggie- with a folded PC printed card cover, this takes in on its front trippy collage artwork. I'm not sure what the edition of this release was, so I guess if you fancy scoring a copy hit up the label.

The release features a lesser-known wall act, and one of the key female-fronted wall noise project. So we have a track apiece from Massachusetts based Chuck Stake- who's been active since last year, and so far has eight releases to its name. And Tissa Mawartyassari- which is the walled noise project of Monica Isabel Sanchez, this project has been active since around 2007- and has become one of the more respected names in the scene.

The first track here is from Chuck Stake, and is rather lengthy entitled "The Moon Itself Is an Imprecation, Damning the World With Its Light". And what we have here is a fairly no-thrills slab of dense HNW- it starts out as a blend of muffled bass bond droning and rip bound jittering static. At around the midpoint, a more choppy like feel drops into the track, and this stays around for the remainder of the track. I'm afraid the whole thing felt very by the numbers, clichéd, and more than a little dull to my ears- it's just run-of-the-mill dense wall noise, with no real nuance, depth or creativity about it- each time I played through the track I really had to struggle to finish it.

On the flip side, we, of course, have the Tissa Mawartyassari track, this is entitled "Spectacle of Flame"- this is way better than the first side, and shows how appealing dense walled noise should be done. Here we have a nicely nuanced & well-balanced blend of a tight & stretched noise bass tone, and this is pelted by a constant spurting flow of crackling static- together these two elements create a very entrancingly brutal bit of wall-matter. As with the first track we get a textural shift around the midpoint, and this is a bit more subtle- as we get a more lashing cold winter rain type texture kick in- with latter more spluttering lashing-ness coming into play much later. This track is head & shoulders above the first track, and highlights why Sanchez is such a respected wall artist.

So I'm afraid to say The Creatures That Have Finally Come For Me is very much a prime example of a decidedly mixed walled noise split- with the first side felt bland and uninspired, while the second side showing both depth & sonic artistry with-in the dense HNW form. In marking, I'd say I've to give side one maybe two, and side two-four- so as a total split score we'll say a three.






Roger Batty