Café Türk - Café Türk [Zel Zelle - 2020]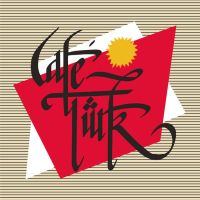 Delightfully varied and at times zany, Turkish-Swiss Café Türk found their niche in 1980's Europe through very strange means. However, their commitment to their sound and convictions kept them from selling out and remaining true to their vision. While this may have cost them some fame and fortune, it assured that their sound would remain inimitable and still engaging decades after their break up. Zel Zelle teamed up with crate-digger Grup Ses to bring Café Türk back to a modern audience and give their intriguing sound a new life.

Zel Zelle put together quite a beast in this Café Türk collection. Featuring album tracks, singles, and previously unreleased tracks, Café Türk gives a wonderful overview of the band's sound and unique approach to rock/pop. Taking much inspiration from Turkish and Caucasian folk, Café Türk put forth a sound unlike any other. The vision of founder Metin Demiral was as strong as his convictions, and Café Türk didn't bend to fit record labels or radio stations. The collection from Zel Zelle shows many sounds and approaches, and is an intriguing look music in 1980's Eastern Europe. Starting with their jazzed up, discofied debut recording, "Haydi Yallah," and moving through to slower, funky folk songs like "Yalvarış," one can see the scope of Café Türk's oeuvre. When playing the more traditional Turkish/Caucasian songs, Café Türk seems fairly normal and wouldn't stick out that much from the pack. However, it's when they blend East and West that their unique sound gets to shine. The instrumentation is just different enough to ring some alarms, and then vocals really hammer it home. Strong and uncompromising, they're unlike any other. "Haydi Yallah" feels like an interesting mix of Haircut 100 and Frank Zappa, and I never dreamed such a sound existed. It's an amazing approach. And in a different approach, songs like "Yildizlar" are video gamey and almost like Silicon Teens. Mixing light disco with jazzy new wave and Eastern folk, Café Türk created a sound of their own, and that shows in its freshness decades after being unearthed from the crypt.

Café Türk may be a thing of the past, but Zel Zelle is making sure that they're not not forgotten. Bringing them back at a perfect time when the world is fully open and sharing music is a breeze, Café Türk have a new life and a new audience. Fresh and fairly unheard, Café Türk is a wonderful time capsule unearthed for a willing audience.






Paul Casey