Nick Cave and the Bad Seeds - Nocturama [Mute - 2003]Nick Cave is a survivor. From Sidney to Berlin to Sao Paulo to London, he has lived all around the world. With the Birthday Party, the Bad Seeds or solo, he has been an essential artist in the punk, industrial, gothic, folk and rock scenes. He has survived a drug addiction and a consuming relationship with PJ Harvey. Now he settled down, in London, living with his wife and kids, going to his "office" from 9 to 5, writing songs. Sometimes, such a life leaves marks. Sometimes, inspiration wears thin. So what is Cave worth in 2003?Many people were expecting another album in the vein of Boatman's call or No more shall we part. Others were hoping for a return to the bleaker, more agitated moments of Let love in (and previous albums). I was one of those. Both crowds of fans will get what they're hoping for, yet in too short quantities as Nocturama tries to blend the best of both worlds. The sedated, family man that Nick Cave has become over the last few years hasn't given up on his quiet, piano-driven ballads. The problem is that these quieter songs fail to reach the emotional momentum of tracks such as Love letter or Into my arms. A song like Rock of Gibraltar, both musically and lyrically-wise is one of the most awful thing Cave penned in his entire career... This said, Wonderful life and Right out of your hand are absolute gems, poised to please any lover of great, melancholic song-writing.What has really changed on this record is the freedom left to the Bad Seeds. When No more shall we part was recorded, all the arrangements were written before the band got in studio, leaving them inhibited, with no space for their own creativity. This time around, the main structures of the songs had been written down before getting in the studio, but all the arrangements had to be done with the band. It was a shame really that the Bad Seeds abilities hadn't been used to the max on the last two recordings as the talents of the lads can't be put in doubts: Blixa Bargeld (Einstürzende Neubauten), Mick Harvey (PJ Harvey producer), Warren Ellis (Dirty Three) to name but a few, have proven often enough their qualities.Recorded in seven days during an Australian tour break, the regained freedom of the Bad Seeds on this album can be heard easily. Tracks such as Bring it on and the explosive Dead man in my bed rock like Nick Cave hasn't in years... Martyn P. Casey grooves like hell, Thomas Wydler drumming is exceptionally varied, it is the work of musicians on their full potential. My fav songs on Nocturama are Dead man in my bed (another fine example of a rocking_like_in_the_good_old_days tune) and There is a town, a really tense track, sounding as if it was coming straight from the Let love in album.The last song on the album, Babe, I'm on fire, has been much talked about. And rightly so. A 14 minute mammoth, this piece twists and shouts, yell, explodes in a frenzy... Blixa brings the noise with his guitar, Punk Blues his born! If you're lucky enough to get the limited edition, you will be able to see the video for that song in which the Bad Seeds play all the characters named in the lyrics. Funniest video of the year already (check out the silicon addict...)I might seem a bit harsh towards Nocturama. It's just because I feel that I can ask more from Nick Cave. Both the music and the lyrics are not what I would have dreamt of. Now don't get me wrong... This album is an excellent record, full of good moments. I'm really looking forward to hear the Bad Seeds' 13th album due out in early 2004 to make sure that Cave is still a force to be reckoned with in this new millennium .Shall I give Nocturama 4 kudos because it's Cave? Shall I give Nocturama 5 kudos because it's Cave? Well as it is Nick Cave, I will give it the number of kudos you can see below...






François Monti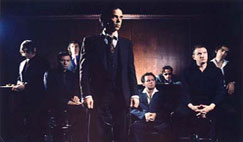 Nick Cave and the Bad Seeds - Noc...
Nick Cave is a survivor. From Sidney to Berlin to Sao Paulo to London, he has lived all around the world. With the Birthday Party, the Bad Seeds or solo, he ...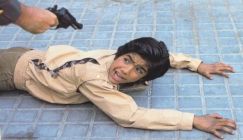 Dr Tom Whittaker - The notoriou...
Late last year Severin released Eloy de la Iglesia's Quinqui Collection- a two Blu-ray set bringing together three brutal and provocative Quinqui (deli...