Christoph Korn and Lasse-Marc Riek - Series invisible - Collection II( book) [Gruenrekorder - 2014]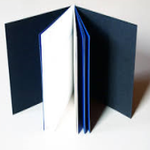 In a recent review, I bemoaned the run of poor Gruenrekorder releases I had written about; before submitting deservedly glowing words about Peter Kutin's 'Burmese Days'. 'Series invisible - Collection II', by Christoph Korn and Lasse-Marc Riek, doesn't so much drag Gruenrekorder back down again, as take it to a different world altogether.

The release is comprised of fifty tracks, each a field recording, made across Europe. I say 'tracks', but here's the clever bit: the release comes in the form of a small booklet, within which the tracks are collected and notated thus, 'Location – Meadow near Jossgrund/Oberndorf (D). Recorded from a row of bushes. Record – 17.10.09, 11.41 AM Delete – 19.10.09, 1.24 PM Duration 2' 04"' (This isn't a direct quote, as such, more a 'paraphrase' - the book uses a typographical device which I can't reproduce here.) So, to quickly unpack this, Korn and Riek have made various field recordings, noted their time and place of recording, then deleted these recordings; also noting the time of deletion. There is thus no audio element to the release, merely the text information for each piece. These 'tracks' are proceeded by an introductory spiel from Korn/Riek, and a short text by George Imdahl which provides a theoretical/philosophical underpinning for the release.

The word 'underpinning' is perhaps best read as 'justification', since the release does what it does with or without Imdahl's words. Yet again, we bang up against 'field-recordists and their texts' – this need to justify and 'explain' works with theoretical words. So Imdahl quotes Barthes and Sebald, to funnel our reactions down routes which we may well have circumvented without assistance. The issues, ideas and concerns which all three of the book's protagonists (Imdahl would seem to carry equal weight in this measure) wish to raise are, indeed, interesting areas: memory, existence and non-existence (for example). The question is, is this release the most effective way to explore these things? I would simply answer, 'probably not'. Instead we are left with a clever-clever release: a one trick pony with little aesthetic value in itself. I would ask two questions of it, though. Firstly, why is the place of deletion not noted for each recording? It seems to me, that - given the project - the time and place of deletion is of more interest than the time and place of the recording itself; or that, certainly, the latter would require the former. Secondly, what do we mean by 'deletion'? With the current day's preoccupation with security and privacy, how deleted is 'deleted'? We know that a deleted file can be recovered, and that a drive is advised to be wiped several times before it can be securely disposed of – and even then, physical destruction is recommended. So, again, how deleted is 'deleted'? Given the lack of information concerning this in the release itself, the tracks might have been simply 'one-click' deleted, or they may have been removed to a secure standard - but it isn't addressed in any form by the book, despite clearly being a key part of the project and process. To jump to wild accusations, this brings to mind the god-like egotism of some notions of field recording: the idea that the recording device is a simple, perfect mirror to the world and that it captures and encapsulates a 'slice' of this world in perfect, transparent entirety. This 'slice' can be thus equally easily deleted and removed from existence, as if it had never existed – all at the whim of the god holding the recording device. However, as Korn, Riek and Imdahl rightly state, memory remains. The question is, does the device and the surrounding technology also remember?






Martin P