Churner - As the Eyes Starred Back At Me [VNA Recordings - 2010]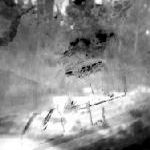 Consisting of two full length tracks of 26 minutes each, this is the latest in a prolific run of independent, limited releases from the 'Harsh Noise' musician Churner, on his own label Violent Noise Atrocities. His music could also be labelled, variously, as Dark Ambient, Power Electronics, or Industrial Noise, although none of these terms can adequately describe the amorphous, ever-shifting templates of sound and noise which the one-man Churner employs and manipulates. It is a good thing that his music can't easily be pigeon-holed.

If you know the Japanese Noise acts like Masonna and Merzbow, or even old-timers like Whitehouse and Non, then you will probably love this release. If you cannot stand planet-heavy, dissonant feedback loops of gut-crunching static and catastrophic, atonal drones, then this wont really be your cup of tea! You would probably dismiss it as just talentless, random 'noise'. Of course, in one sense you would be correct - it is just 'noise', but it is actually a brilliant synthesis of electronically improvised, random wave fluctuations and subtly guided drone distortions, be they purely mechanical, through the use of oscillators, multiple effects processors, or vocal pre-amps; or through more tactile 'instruments' like chalk boards, sheet metal, nails and lawn-mowers. This jet-black, extreme noise takes the listener into an incredible, multi-layered panorama of dense, apocalyptic, yet poetic and strangely tender soundscapes. If you have ever put your head out the window of a speeding car, this is what Churner partly sounds, and feels, like.

Churner's latest missile from the earths core works at both low and high volumes - when it is high, it almost takes the roof off with its blistering, earth-shattering intensity; when low, it becomes a soft, ambient hum in the background - like the low-frequency vibrations of subterranean tectonic plates slowly grinding together. I can only manage it on low volume as I write this, as I have toothache, but it somehow chimes with the dull, throbbing pain the nerve in my tooth emanates, manifesting my feverish, melancholic reveries into audio artistry.

Track one - The Eyes Starred Back At Me - starts off with whooshing, watery sounds - as if a tsunami was straining to unleash its enormous, destructive power through the speakers. This gradually coalesces into a rhythm of subtly changing waves of drones and crackling, thunderous feedback, with multifarious, subtle sounds and musical shifts gently appearing, disappearing, and then re-appearing on the crest of the wave.

Track two - No Longer Alone - in many ways continues the first instalment. Again, there are shimmering cliffs of drone-static and feedback-heavy rumblings and sounds, but with slight differences - at one point, what sounds like a few brief, twisted notes from a keyboard enters the sprawling cyclone of the sound-inferno. This track seems slightly harder and darker than the first, sometimes with almost imperceptible, screeching, nails-on-the-blackboard noises, and then what sounds like the fiery exhaust of a rocket taking off. The tonal shift changes a lot more in this track, with distinct swings between heavier cacophonies and lighter rhythms.

Of course, there could have been more discernible changes in tone or atmosphere with this album as a whole, but then, as with any minutely detailed and dense piece of art, perhaps that isn't the point - it is a variation on a theme: the more you focus on the tiny fissures in the rock, the larger and more varied those cracks become. It is, seemingly, a top-down structural philosophy, rather than the opposite.

This is music for a metaphorical apocalypse - not necessarily an externalised, physical realm of chaos and destruction, but an internal, existential maelstrom of mind and soul. It can be interpreted as dark, aggressive and nihilistic, or, as something calmer and light - a meditative, prolonged noise-orgasm - a giving over - a full release and abandonment of the minds tethering, to wander aimlessly and free into the higher strata of all-encompassing, comforting sound. I favour a - paradoxical - combination of the two.

Perhaps this is what it feels like to be unconscious in the womb. When you close your eyes and actually listen to this album, you are falling and floating, in slow-motion, over the precipice of nothingness, into dark, icy eternity. Maybe a new term is needed for Churner: Sublime Ice Noise.






James DC