Masks Behind, Masks...Walls Behind, Walls [2014-07-02]Inanition are mysterious & anonymous project who summon up a dense, sometimes subtly shifting & mostly compelling take on walled noise- the project also weaves in elements of drone based noise, and horror sci-fi singed 'n' slow harsh noise texturing into thier sound. Inanition keeps both it's location in the world & it's number of members firmly under-wraps. The project started at some point in 2009, and so far has released around sixty or so releases, which have taken in a lot of digital releases, some strand alone CDR releases, and a host of splits. I managed to get in contact with the entities(?) behind the project for an email interview

m[m]:Please explain why you have kept the origin & the number of members connected with inanition so secret?
Inanition In all seriousness these things were not meant to be known. To have been unseen or unimportant to any listener or observer. INANITION strives to be more about the what than the who. Already too many factors tinge meanings or the absence of meanings. Even still, this is narrowed to sound samples and wall noise. Human beings with nuanced personalities are irrelevant on one side. Somewhat some..what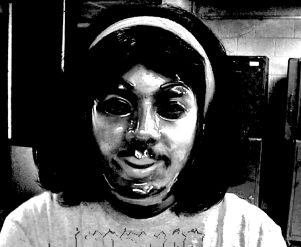 m[m]:Can you give us any information about how & why the project came about?
Inanition bn,m,! clearly for this understanding there were only 2 or 3 wall noise projects in this world. shinings! Just this deficiency forced Inanition to exist. To continue also from last question it is that the thing can be itself. devoid of ego / no associations with members or other projects either positive or negative in nature. Inanition was meant to be a wall project without entanglement.
m[m]:Is inanition the first sonic project the members have been involved with( HNW or other wise)?
Inanition There is no reference before Inanition

m[m]:Tell us a little bit about what type of set-up you use when creating a 'wall'?,
and how often do get together to create noise?
Inanition Very often typical cliché items are in use as with: Sustain and Fuzz, Distortion and Death Metal, Pitch, and other Pedals. Methodology has always been in flux. This is the truth since 2008. Inanition material is nearly always being recording at some place. More on this should not be said, perhaps.

m[m]:The first inanition release I was aware of was 2011's "Antonym"- this release had quite a horror filled & sci-fi tinged edge to it's walled sound. What was the concept behind this release?
Inanition Antonym was original all untitled work for Toxic Industries in specific. The reflections were darker then, with many different ways this releases have could sounded, but there is no time for this sort of thing now. Inanition is thankful for Toxic Industries for release this thing at this earlier time. Many of Inanition's recorded materials are focused in on horror themes, more than science fiction really. This theme is often present at the time of creation, even if there is no blatant indication as with samples from film or other media. More material from this period will be heard with up-coming splits.
m[m]:You mention the project has a keen interest in horror- how is this interest shown? In the form Horror movies? Horror books? Horror comics? Horror games? Or horror art?
Inanition In all of these ways. sometimes we start with one form, and then it spreads into others.
m[m]: As you're clearly all based in other counties- how do you go about creating HNW? And do each of you contribute to each & every 'wall'?Inanition It tends to differ, most times...
m[m]:one of your most rewarding works thus far has been 2013's "Persecution", which saw you creating a highly captivating single seventy six minute track that moved from malevolent ambient noise though to subtly shifting brutal intensity. How long did it take to construct this track?
Inanition(It should be noted that this is in total different release from earlier recording "religious persecution" 2010) The track is based around a few hours worth of water sounds which we recorded in early 2013 (artwork shows some of this process), then of course we slowly worked & manipulated the sound into a 'wall', releasing the finshed product on Skum Rex at the end of 2013. So it only took a few months from start to end, but less in construction it though.
m[m]:Other than the projects anonymous nature, what else do you see as the themes/ influences behind your releases?
Inanition All theme indications are provided by the name Inanition. The indictment of humanity and its religions. Strain, trance, spiritual intellectual drone matters. Media horror nothing everything typical and cliche in HNW external and also some more internal being fetish focus thrust but this is sometimes more subtle. all sometimes are only implied.

m[m]:Would you ever consider performing live as a collective, and if so how would you envisage your live show?
Inanition This has already been done in some way in the past. This notion is exciting though for a venue of any size, and for best live experience it's very unlikely- the distances that would need to be travelled by members in most cases would make it difficult too. Inanition members all have masks to help though. If we did play live the sound would be attempt (across all lines) to make more solid harsh walls simlar to past releases such as "I Saw Mommy Killing Santa Claus", "Hold It On The Tongue", "4 8 15 16 23 42", the split with VOMIR, or DISGORGED FAECES split, or recent split with DROMMORD loudly.
Also with slow buildings. There are sometimes exciting fantasies and sometimes perhaps exciting to have secrets also
m[m]:So far inanition has released quite a few split releases- what attracts you to this form of release? And what have been some of your favourite split thus far?
Inanition All aspects of the split format are attractive. others are listening. others are listened to from many places. some times there are changes. 'no' there are no favourites.


m[m]:What's next for the project?
Inanition Stream-lining.
BORED BEAR RECORDINGS releases "Torschlusspanik (cdr)" in a ltd.ed. of 12 sometime soon in 2014.
A split CD of RAVEN and INANITION has been recorded and artwork complete since 2012, but the occasional label interest has yet to get this released. It is hoped this will be released this year, or some time not too distant.
A long planned split with solid HNW artist PHANTOM CADAVER this year
A split with the great CARRION BLACK PIT soon also
TOXIC BLISS & INANITION did a 2xcd release, one cd per artist (live one/dead one) and there will be a follow up remix disc where each remixes the other. mostly finished* a very exciting prospective compact disc or mayhaps some digital sort.

Also there is some split for REDSK (or some of his other project for sound) will happen sometime it is hoped. material also for this has been finished since last year. things are forgotten here in this moment of course.
Also there will be more strange things... like a second chapter to DNW and more sounds of DNW sounds like this from earlier also may be......
As well as many compilations with Inanition (ex:jarring cacophony recs compilations) more splits.... or maybe inanition dies this year.
more of the same. less of the same. eventually less, much less. everything is unwinding for all.
https://archive.org/details/Inanition-submission

m[m]:What's do you see as the meaning behind the projects name?
The name was chosen very specifically. to see some of these definitions from some sources should impart meaning(s) enough.
2. mental, social, or spiritual weakness or lassitude
1. Exhaustion, as from lack of nourishment or vitality. 2. The condition or quality of being empty.
: the quality or state of being empty:
a : the exhausted condition that results from lack of food and water
b : the absence or loss of social, moral, or intellectual vitality or vigor
First Known Use of INANITION-14th century

1. Severe weakness and wasting as occurs from lack of food, defect in assimilation, or neo-plastic disease. in relation to the name INANITION definitions sometimes sound strange
Thanks to Inanition for their time/ efforts with the interview. The projects bandcamp page can be found here here & their facebook page here here
Roger Batty