Tense & unwell psychosexual touched sonics [2021-10-26]

Himukalt is a female-fronted,necro-fed and often uneasily psychosexual venture that blends elements of old school industrial, noise, and searing 'n' unsettling electronica. Behind the project is Nevada based Ester Kärkkäinen, and in the last year or so the project's popularity,within and beyond, the noise scene has grown in leaps 'n' bounds. With many reissues of early releases from the project appearing on labels such as Cold Spring and Helen Scarsdale Agency, with new releases appearing on the likes of Tesco Organisation, Malignant Records, and Total Black. We tracked down Ester for an email interview- discussing the projects past, present and future.

M[m]: Please discuss some of your early sonic memories and do any of these link into your love of unsettling/ jarring sound-making?

Ester: I grew up in the northern Nevada desert around Reno. Small towns with a slow demise as their future. It was actually rather quiet in a lot of those places. Those silences were broken by any number of disturbances. Gunshots that were usually just men (pretty much always men) engaged in target practice. The US military also used parts of the desert as training grounds for fighter jets. These sounds were always very startling, but never really filled me with any sense of dread. It was just part of the landscape. But there would also be domestic disturbances - the screams and yelling from couples living in a depressed economy and blaming each other for their poor choices or their shitty conditions.

M[m]: What was your first experience with more extreme/ noise sound- and was there any particular album/ track that had a real impact on you?

Ester: The first experience would have been with listening to Whitehouse. I think it was 'Thank Your Lucky Stars.' That would have been when I was an angsty teenager listening to the Deftones, The Distillers, Razed In Black, Nine Inch Nails, and wanting to sink into something darker and more intense. I heard SPK and Sleep Chamber around the same time (Leichenschrei has way more staying power than Whitehouse, in my opinion); but the impact of Whitehouse was way more intense. The overt masculine sexuality of Whitehouse felt really transgressive for me to experience. Even as a teenager who didn't know shit, I felt this presentation of noise was theatre, not anything that should be taken at face value. It made me uncomfortable, and I think I must have liked that feeling. I'm still somewhat unsure how to place myself within the listening context of Whitehouse, especially when I was that young (I was probably 15 at the time.) Now, I listen to it with a detachment, experiencing the extremes of volume, rage, and sexual violence. But as I mentioned, I think it felt very immediate but at the same time, a false mirror. I run the risk of rewriting my own history as there were lots of my own transgressions with violence, sex work, drug addiction, and it's hard to uncouple those very real forms of abjection with an artifice of it. But the first record that really SPOKE to me, and DIRECTED me to make art on my own was the first Fehjed tape. That was the project of Frederikke Hoffmeier (Puce Mary) and Jesse Sanes (Hoax). The smeared vocals, especially from Frederikke, and the intensity of the noise. More than anyone, she gave me permission to think that I could make noise too. Soon I began to discover that other women had been making good noise (Master/Slave Relationship, She Spread Sorrow, Rusalka, Maria Zerfall, Obsidian Needles, etc,) but Puce Mary has been and always will be a huge inspiration on my work.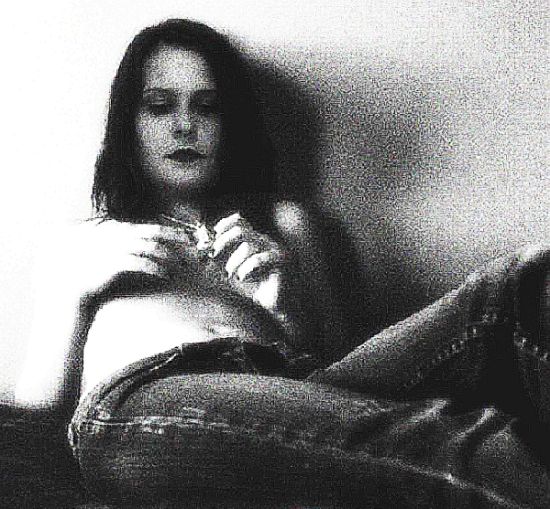 M[m]: How did you come about with the Himukalt project name, and what does it mean to you?
Ester: The word himukalt translates from Estonian as to English as 'lustfully.' I found an Estonian / English translation dictionary in a thrift store outside of Reno in my early '20. Any number of weird things can show up in pawn shops and thrift stores in Nevada, as so many people end up losing their possessions when they fail to hit the jackpot at the casinos. I had created a whole story behind the person who got rid of this book - a girl from Tallinn who met an American man online and he promised her everything that she wanted out of America, only to have those dreams crash in the reality of unclean motel rooms and never-ending benders on meth and booze. Somehow, she lost that book which helped her navigate; and now where is she? In a brothel in Ely? Dead & forgotten somewhere outside of Tonopah? Married to the most boring man in Las Vegas? Is that my fate too?
M[m]: As far as I can gather you started the project in 2016- is that correct?. And please could you discuss how you started the project and was it your first sonic venture?
Ester: Yes, the first Himukalt album was published in 2016. That was 'Conditions Of Acrimony.' Those recordings date back to 2014, with some rough experiments on a 4-track and a limited array of gear. I had no concept of sequencing or programming really, though I had some understanding of digital editing and a pile of frenzied recordings on analogue synths made during a botched attempt to go back to community college. There were also a lot of tapes made with an ex-girlfriend that made it onto that album. Us messing around with micro-cassette recorders. Laughter. Screaming. Sexual activity. That album was definitely the springboard for everything else to come later. 'Conditions Of Acrimony' was the first thing I ever published, and I actually didn't think there would be a second album. But an offer came from Angst Records in Italy, followed by others.
M[m]: Please talk about your present set-up, and discuss how it's changed/ developed since you started?
Ester: Gear talk doesn't interest me. I feel like I've gotten more comfortable with the techniques of sequencing and drum programming, and I feel that I've gotten my noise to better carry its attack with a more directed focus.
M[m]: one of the key/ effective elements to Himukalt sound is the brutally smeared and unpleasantly warped vocal sounds- please discuss how you create these?
Ester: Pitchshift. Flange. Delay. Reverb. Distortion. The patches are variable. As I said, I don't care to discuss gear. I'm more interested in how the vocals work with the electronics and with the noise. It doesn't matter how I got there, but what's important is the visceral and emotional impact of the vocals, or the noise, or the electronics, or the rhythm, etc.
M[m]: What do you personally see as the key focus of your work?
Ester: Himukalt is an exorcism of negative energy. Rage. Blood. Flesh. Sexual addiction. Mania. Depression. A lot of this energy is forced upon me, the conditions of being a woman in this society. But I am also the source for much of these negative thoughts and energies too. My bad habits. My bad decisions. My shame of my past. My shame of my own body and what I've done to it. My genetic predisposition to terrible mental health. How I commodify my own sexuality, my own body in relation to others. How much violence I enact on my own body.
M[m]: A lot of your release artwork sees you utilizing female nudity- please discuss the use of this in your work, and I take a lot of these pictures are of yourself?
Ester: Yes, there are a lot of images of myself. But there are images of my former lovers. Of women who look like me. Of women who don't. I'm not particularly interested in the iconography of pornography that tries to eliminate every flaw of the female form down to some unattainable ideal. I'm more interested in a visual eroticism that embraces the uniqueness of each body, with hips, tits, pubic hair, fat, thick thighs, angular bone, taut muscle, an active brain, and certainly an intelligence that is capable of so many other emotions added into the equation with lust. All of this is recapitulation of the falsehoods and complications about my own internalization of the female body, with my own desires, my own jealousies, my own insecurities played out across my subjects, including myself.
M[m]: Recently we've seen reissues of Himukalt back catalogue releases- most recent of these been Between The Teeth on Helen Scarsdale Agency, and Knife Through Spine by Cold Spring. Please discuss how/ why each of these came about, and what would you like to see been reissued next?
Ester: There has been talk of reissuing 'Conditions Of Acrimony' and 'See One Dark Eye.' I will be working with Found Remains for both of those, but there's no ETA. I've not started working on those. As for how and why anything gets reissued, it's rather boring: somebody asks, and if the terms are good, then I'll do it. Right now, I'm working with some very good labels, especially Found Remains. With that label, it feels like an equal partnership, and often times a good friendship.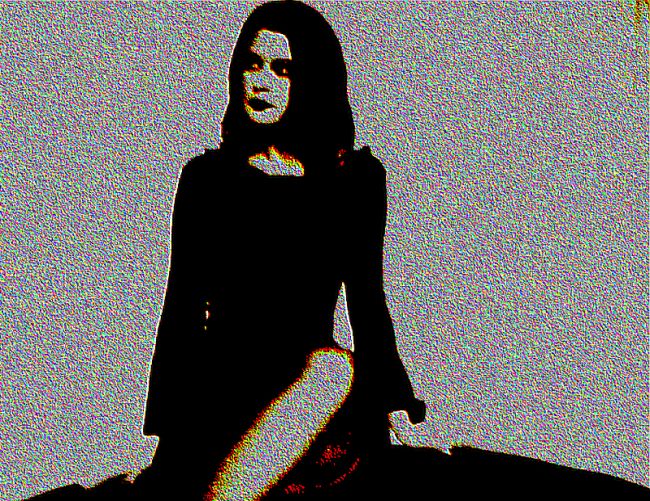 M[m]:Any news on new Himukalt material? And if so what can we expect?
Ester: There is a new album from Scopophilia that is coming out on Old Europa Cafe very shortly. This is a collaboration with Harriet Kate Morgan / Military Position. This project emphasizes the industrial rhythm more than in either of our respective works, but we tap into the shared experiences and attitudes towards sexual violence that is reflective in both of our work. She has been a big inspiration for me over the years, and I am really happy that we were able to work together.
As for Himukalt, there are two LPs currently in production. One of which will be out on Found Remains. That one will be called 'A Third Fantasy,' loosely inspired by and partially stolen from Kathy Acker. The other is scheduled for release on Tesco, entitled 'Dreaming Of A Dead Girl.' Not sure of an ETA on either of those. I've been told by numerous sources that vinyl production around the globe is very slow.
M[m]: Ahh yes Kathy Acker, I recall reading some of her work years back and found it quite impactful- are there any other writers who influence your work?
Ester: Jesse ball, Audrey Szasz, Sylvia Plath, and Sofi Oksanen are a few that have impacted my work, along with those I've already mentioned. I'm a very slow reader, and I have tended to get distracted with working on music or collages instead of reading. there's a stack of books that I want to read, but I've not gotten to them yet (Anna Kavan, Elizabeth Aldrich, Jean Genet, Kobo Abe, etc.)
M[m]: Tell us a little bit about Scopophilia came to be? And is there anyone else you'd like to collaborate with?
Ester: That process came about very easily. Harriet and I got to become friends online. she had been a big influence on me as this towering, powerful woman making horrifically good noise. her work has a lot of facets to it, it can feel immediate, it can feel fragile, it can feel harrowing, it can feel way smarter than I could imagine. and she also had a career as a sex worker. there's a lot of emotional damage that can come from that work, and we bonded over our scars, our histories of broken relationships, our mental health struggles. I initially proposed the idea of trying to do something, and the process of recording the Scophophilia material took way longer than me recording Himukalt. the logistics are one thing, as we had to swap files back and forth; but also neither of us wanted it to sound like a military position plus Himukalt. we wanted it to be something other than those two projects. our voices are very evident in the project, but we did manage something more sequence heavy, more song-oriented. there's plenty of noise, lots of femme rage. maybe it's apt to think of Himukalt as being really mournful, where Scopophilia is all anger.
Is anybody else I would like to collaborate with? no. not right now. when I was first starting, I daydreamed about who I might want to collaborate with. there is a list in a journal somewhere with a handful of people I wanted to work with. interestingly enough, military position was on that list. but I'm keeping the rest a secret.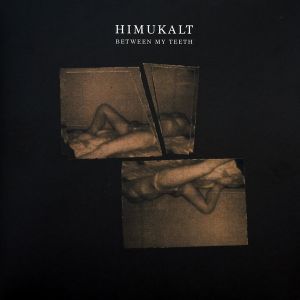 M[m]: Your work is very much about creating shocking and uneasy sonics- when was the last time you were truly shocked/ distributed by art- be it sound, film, or art?
Ester: Truly shocked? Hmmm. I'm currently reading Isabelle Nicou's 'Paresis' which is a tale of a woman in the throes of emotional turmoil in conjunction with a partial paralysis of part of her body, which may or may not be imagined. In turn, she is obsessed with her (former?) lover, who doesn't appear to give a shit about her, and she engages in all sorts of self-destructive behaviour (fucking other people, self-mutilation, starvation, excessive chemical intake, etc.). It all seems very close to home, so it's not terribly shocking. But altogether brutal and sad. Recently, I have really grown to love the work of False Maria, a noise project that deals with a lot of uncomfortable truths about the economy of sex (on that fluid continuum from sex work to 'normal' relationships). I recently watched 'Requiem For A Dream' and really bummed out for a couple of days. I hate needles, so that movie was really hard to watch.
M[m]: You mentioned Requiem For A Dream- are you a fan of more extreme/ transgressive films in general, and if so what do you see as some of your favourites?
Ester: I gotta say that Meg McCarville's tick was pretty hard to watch. it's a super low budget, and it reminded me in spirit of a really good Nick Zedd films, but it's way more fucked up. the plot follows meg's character as she tries to get into a methadone clinic, and she believes that the quickest way to jump the very long line to get into the clinic is to get pregnant. so the bulk of the film is of her trying to get laid by all these awful specimens of humanity. at the end of the movie is a short that is totally amazing though. she's naked, covered in blood, huffing an insecticide and singing along to some french song (maybe Edith Piaf, idk.). oh yeah, she also has also has an empty bottle of liquor that appears to be shoved inside of her pussy. that's it. and it is so fucking amazing.
I should also point to Julia Ostertag's sex junkie, as a very bleak, personal document on sexual addiction. it's been a while since I've seen it, but she narrates her damaged psychological states of mind while she is engaged in various sexual activities in rather grim locations. that was of considerable import when I was conceiving of the sex worker project. the final part of that trilogy will be started later this year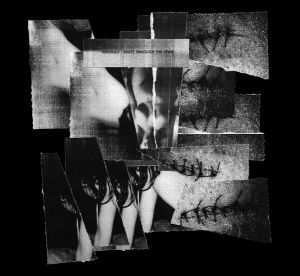 M[m]: You are located in Nevada- do you think your location influences your work at tall, and are there any other local projects you enjoy?
Ester: I was born in Nevada; and despite my wishes, I will probably die here. The desert has a raw beauty that few appreciate. The requirements to live in the desert are non-negotiable. You need water. You need shelter. You need to figure out your survival on your own. I've gotten a little soft in my ability to meet those requirements as I currently live in Las Vegas, but I still feel the pull to return to the desert and experience the vastness of that landscape. The mania of Vegas can be addictive when you first get here; but it's always the same sleight of hand, the same illusions, and I feel no affinity for this city. My connections are to the noise community extend beyond my immediate surroundings. In particular, I have a very good relationship with Found Remains in NYC, who has been very supportive of me and my work over the years. But as far as projects in Nevada, I can only speak to my deepest admiration of the women who work at the strip clubs and the brothels.
M[m]: I'm guessing there are a fair few pawn shops in both Reno and Vegas- are there places you still check out now, and if so what's the oddest items you've come across?
Ester: The strangest thing I came across was an Elvis karaoke machine. it was housed inside a bust of Elvis, dressed in the leather jumpsuit from the 1968 comeback special. the only songs it would play were a couple of his songs, but there was a wireless microphone so you could sing along to those songs. the microphone's channel was drenched in reverb. to make it stranger, the Elvis bust also mouthed the words in this creepy, mechanical fashion. very strange.
M[m]: Of Course both Reno and Vegas are known for their casino's- do you ever spend time in any of them, and do these rather fake pleasure places impact/ inform your work in any way?
Ester: The casinos and the brothels of Nevada are honest in acknowledging that everything that is conducted within is an illusion. but people still get sucked into wanting to find love or success (when that's really just lust and greed). those projections have a sorrow that impacts my work. but as for the slick surfaces, polished chrome, and the fake tits, not so much.

Thanks to Ester for her time and effort with the interview. The projects Bandcamp can be found here . And recent reissues/ new releases take in Between My Teeth(Helen Scarsdale Agency), Knife Through Spine( Cold Spring), Dream Of A Dead Girl(Tesco Organisation)
Roger Batty