Live show review Electric Ballroom, London 23 March 2010 [2010-03-25]"I'm here to play some music" asserts Alexander Tucker unassumingly as he announces himself on the stage of Camden's half-filled Electric Ballroom. His one-man show, a brave experiment in self-accompaniment, is fascinating to watch as he creates loops on the fly out of a cello and then weaves his guitar in and out of the results.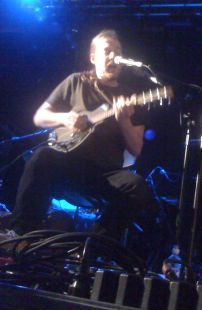 Once a cosmology of such sounds has been looped and cast, Alexander occasionally brings his strong, emotive vocals into the mix, creating a further layer for manipulation using pedals on the floor. The results are more often than not sombre affairs, where mournful chords coalesce with layers of feedback, a sound that is markedly different from his recent recorded output, travelling away from nimble, psychedelic folk stylings back to a darker, heavier, more primitive riffage. By the end of his set, multiple voices were flying around the venue as he crouched on the floor with microphone inside mouth creating bold, strong tonal patterns whose colliding harmonics had the floor and walls vibrate.
A Silver Mt. Zion Orchestra (ASMZO) reduced to a five piece for their recent album 'Kollaps Tradixionales' and tonight, being just the seventh of a grand total of 51 dates, sees them in full health as they play together with a telepathic passion and the force and virtuosity of a more conventional orchestra.
Although no band member is positioned centre stage or in a spotlight, vocalist and guitarist, Efrim Menuck, is very much the helmsman of this otherwise egalitarian troupe. He sits still on his haunches with eyes closed to prepare for the journey ahead, as his fellow minstrels position themselves across the stage. They launch with 'Metal Bird', the most rocking number on 'Kollaps…', as the twinned violins of Jessica Moss and Sophie Trudeau soar together weaving a klezmeric dance. Drunk down with enthusiasm by the now packed out crowd, it is a powerful opener, both catchy and cinematic - surely this has to be the next James Bond theme? .
'There Is A Light' showcases ASMZO's signature sound that starts by using each instrument sparingly to evolve with measured confidence into an epic powerhouse, forming contrasts that take the listener from gentle introspection to a piquing exorcism and back again. Throughout this extended bluesy waltz about "bad electricity in the head", the frequent hushed troughs are met with a silent reverence from the audience.
Between tracks, Efrim provokes the crowd into a bit of jovial banter to cut through this obeisant behaviour. While reminiscent in intent of the open mic democracy of early US hardcore bands, the results are often frivolous receiving politely humorous replies to questions like "what shampoo do you use?" ("dog urine and dog ends"), or "bring back Godspeed!" ("you fucking bring them back!") and "why don't you go pop?" ("[because we] don't look like something a paedophile would love"). As the band patiently looks on, "play some music" someone cries, breaking the tangential musings of their leader
Building up from insistent violins, a slow march plays on Thierry Amar's rich, resonant double bass firing off a Stooges beat full of swagger by new drummer, David Payant as they dive into God Bless Your Dead Marines (from 2005's 'Horses In The Sky'). Ultimately, all dips out to leave just a single violin and Efrim's vocals as he confidently wails two feet away from his microphone, lamenting "When the world is sick / Can't no one be well? / But I dreamt we was all beautiful and strong".
More musings from Efrim follow, this time culminating in improvised slang such as "lady bugaroo" (vagina) and "Dunkirk" (flaccid penis) before reassuring everyone that "we're the political band" with a shameful smile. 'Piphany Rambler, the closing track on 'Kollaps…' followed by 1,000,000 Died To Make This Sound from '13 Blues from Thirteen Moons' calm things down. The guitar whines like an alley cat amidst sly violin drones and darting plucked bass that build into slow, steady melancholic burners. So stately are the strings that the more subdued moments can feel at odds with a beer-soaked, unseated venue, but this is easily forgotten as the crescendo everyone's waiting for rears up and carries all away in its wake.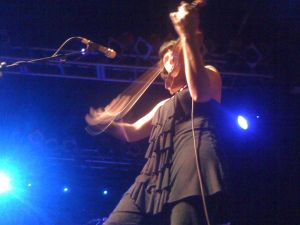 The night's final offering, Microphones in the Trees from 2004's Pretty Little Lightning Paw, is preceded by Efrim's request to the audience for statements as opposed to questions. In return one spectator suggests we use the upcoming general election as an opportunity to 'spoil the ballot' instead of just not voting, finally providing a sentiment that is wholly congruent with the desire for change that their anthemic, folk-fuelled brew has so deftly and affectingly shared with everyone tonight.
Russell Cuzner