The Dark Heart Of the Forest [2007-02-22]Ruhr Hunter have been weaving nature influenced sonic alchemy thats offen dark since the late 1990's. Mixing dark ambience, folk, soundtrack elements, unusual instrumentation and found sound elements to make a potent and heady dark and mysterious brew. The Project is the work Chet Scott, whom also runs Glass Throat Records which has released most of Ruhr Hunters back catalogue, as well the music of by like minded souls. Chet kindly agreed to give me an interview via email.

m[m] what first made you become interested in making sound and music? What are some of your earliest musical memoirs?
Chet Spending the 1970's & 1980's listening to my family's vast vinyl collection. My Uncle's with their Hard Rock & Metal records & my folks with their own diverse tastes. The arts have always been a strong part of my family's life. Not just music, but painting, sculpture & folk craft. I'll always love my Father's tale of him experiencing a 1971 Black Sabbath performance...I can only imagine.

Chet Spiritually speaking, growing up as an only child playing in the woods of Maine, certainly attributed to my musical development. Even at a young age, I would sit amongst the Birch & Pine, just listening to my surroundings. The flora & fauna beautifully unobstructed, by any sort of man made drone. There is so much to hear & understand through Nature. I believe the Forest seeded my spirit this lifetime & gave me that audible & compositional understanding, which later forged a path I now craft today as Ruhr Hunter.


m[m] your early work had noise tendency; this edge has all but gone now. Can you see your self every returning to it?
Chet No, this was simply the birth of a craft in need of nurturing. The beginning of something much grander for me personally. The exploration of sound on a more abstract scope, made sense back in the day. It provided me the freedom artistically to explore a cauldron of moods, giving me the understanding of how soundscape composition has a beneficial cleansing power on a spiritual level. Like the sounds of the Forest, beautifully free, yet so in tune. Experimental composition helped me to develop a craft, eleven years later, I am just now beginning to wield.

m[m] Much of you work is very forest and dark natural based. Where did the interest in this spring from?
Chet Beyond interest my friend. I've grown to understand it comes from many lifetimes ago. From blood, from Earth, from moss & memory! But most importantly, from one's own personal awareness.

m[m] What made you decided to form a label in the first place?
Chet Initially to establish & guard my own sacred artistic destiny.

m[m] Your cd package design has become, both with Ruhr Hunter and the label, more and more towards artistic items. what plans do you have for future releases?
Chet Something I wish to not give away just yet. However know the White Birch Tree will provide Ruhr Hunter with a comforting visual rite to say the least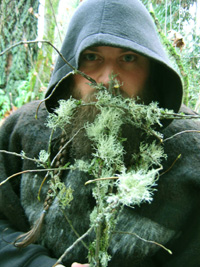 m[m] What are you working on at the moment & what's next in the pipeline for the label?
Chet Currently, I just finished up a double album with my other endeavor the Elemental Chrysalis. This will mark the second studio album for James W. Woodhead & I. We have discussed contacting a select few publishers for it's release. However in the end, we have a feeling the collection may be a big pill to swallow. Thus, my own Glass Throat Recordings is looking towards Summer Solstice (2007) for a potential release. We shall see how this leaf will turn.
Also, my solo Metal project Blood of The Black Owl, recently found it's debut full length released on Bindrune Recordings from the US. The response to this endeavor has been positive thus far. I'm currently planning new material for future releases.
Glass Throat may also see (but not confirmed) the release of James W. Woodhead's debut solo endeavor. We have also shown great interest in working with "rain." from Cascadian soil here in the States & featuring Joshua J. Phillips from Alethes.
As for Ruhr Hunter, I'll begin composing the next album sometime later this year. I've also begun preparations for my first ever live rite to unfold when the Earth sees fit. This has been an ongoing process for years now. But as of late, the vision has become more clear.
m[m] How did the idea come about to do the Black Metal project Blood of The Black Owl? Chet Well, it's been of interest since 1995. Regarding the debut album, I've had most of the Black Owl's guitar composition written since that time. It's just something that has never manifested till now. Blood of The Black Owl is a strong vehicle for me to explore more darker & masculine themes throughout Nature. Through transcending Metal, I'm able to seek a more abrasive side of my spirit, while still paying homage to my Metal forefathers!

m[m] I've seen some pictures of your live show with the Elemental Chrysalis. How difficult has it been to try and recreate your sound live & do you add any visuals to each show? Chet James & I have come to understand that we must enact our live craft, with the use of flame & the color Red. Not to mention performances within the Autumn & Winter months, seem very beneficial for our live release. Cedar & Fir branches are gathered for each performance now & keep us close & comfortable in such a publicly urban settings.
It's been difficult at times, depending on the specific composition we're trying to convey. However, we are still growing together & getting comfortable with our live display of energy.

m[m] You've worked with Scott E. Candey of Gruntsplatter on your early releases. How did this come about? Chet I met Scott through Rachel back in 1996. He helped us to establish Glass Throat & in the process, we both found common ground artistically. Thus the early split release, then later the Triage collaborative record. Scott has been a wonderful support for eleven creative years. But more importantly, he has been a good friend. I'm honored to know his spirit.

m[m] How do you go about creating a track? will it be purely from trying to make a certain mood or vibe or does it run deeper than that?
Chet It's an extremely deep affair I have with my craft honestly. Without it, I'd have nothing to offer myself, the spirits & the Earth. I'm blessed to have realized this now. Ruhr Hunter is my Temple, my cleansing & I can only hope others will find a connection to the energy I put forth. With the teachings & inspiration of Northern European & Native Indian shamanic sound, I need my compositions to help me transcend on many different levels. Specific tones, lengths of movements & ritual instrumentation. A shamanic understanding of inner strength, through audible transcending composition. My path is forged for me now. I seek this healing, an inner peace & growth within Ruhr Hunter. The very same i've always found within & throughout Nature. Ruhr Hunter is deeply rooted in connecting with Nature's feminine powers as well. This is all I'm willing to share.

m[m] I read mention of a DVD based project. how far has work gone on this already?
Chet Actually it hasn't. For personal reasons, I've had second thoughts regarding a Ruhr Hunter conceptual DVD. However, all of that focus has been directed towards video projects for The Elemental Chrysalis & quite possibly Blood of The Black Owl. So expect something of this nature to surface in due time.

m[m] Name your top ten favorite records & why?
Chet Ah, I just can't do that sorry Roger. I mean who can really? I suppose if your narrow minded within a genre specific world of art, you could pull it off. I always like to joke around regarding my top 10 favorite films of all time. I could say Jim Jarmusch's "Deadman", E. Elias Merhige's "Begotten", Jodorowsky's "The Holy Mt." & Bruce Beresford's "Black Robe" would certainly be in the top list for films. But fuck i don't know! I'd have to break it all down by bullshit genres, then...MY HEAD WILL EXPLODE TRYING TO FIGURE IT ALL OUT! If you don't mind, I can give you two albums right off the top, that have changed my life emotionally, spiritually & artistically: Neurosis -Souls At Zero(1992) & Algarnas Tradgard's -Framtiden ar ett svavande skepp, forankrat I forntiden(1971).
m[m] where did the Labels name come from? Also were did the Ruhr Hunter name come from?
Chet Thats amazing, your the first person ever to ask where the Glass Throat moniker came from. It's been ten years too. "Glass Throat" was initially a song (title) written in 1991, for my early solo craft TORN OF THIS. TORN OF THIS later became known as Ruhr Hunter. When Rachel & I were discussing a record publishing moniker, I had remembered the name & it's inspiration. Glass Throat was simply a metaphor for just how fragile, words (music) can be received & interpreted on a negative & positive level. Coming from someone who is extremely sensitive towards one's verbal approach, I'm constantly analyzing how words are conveyed and how they can break an individual's spirit apart & confuse. Their use in manipulative practice (organized Religion & Politics). Yet on the other hand, how absolutely beautiful words can be delivered through the throat that carries said message.
Chet When I began composing harsher based noise soundscapes back in N.Y.C. around 1995/96, I had been researching various topics of interest such as psycho-pathology, sociology & serial killers from around the world. I came across a German man by the name of Joachim Kroll. He was a 22 year old German necromantic sex offender, rapist, cannibal, and sadomasochist. Yes, all the worst rolled into one vicious spirit. I had also read a source stating he allegedly collected random electronic gadgets and sometimes even made audio recordings of his sadistic murders. In 1955, the local authorities of the RUHR river community dubbed him the "RUHR HUNTER". Obviously from the German geographical location of his crimes.
Chet It's interesting that i've stayed with this moniker for so long, considering it's initially discovered roots have absolutely nothing to do with the craft I conjure. However, growing up around rivers in Maine, fishing them & hunting, I've grown to personalize it on a deeper, spiritual level. I think of it's intent & translation to truly mean "The RIVER HUNTER". More importantly, knowing this moniker has such a brutal history, I find it even more relevant today than ever. With the healing process in the forefront of my craft, it just seems fitting now to have something known to be so horrible, representing something so beautiful & peaceful.
m[m] You've done a few collaborations now. how did these come about? And is there anyone else you'd like to collaborate with? Chet Personal friends all sharing common ground artistically & spiritually. Not to mention a love & deep respect for one another's vision.
Well, yes there are a specific few i've considered. I'm pretty much done with collaborations at this time, as I need to really focus now on my own blooming endeavors. However, it would be a dream come true to journey with: Tyva Kyzy (The Daughters of Tuva). They are the first and only women's group in Tuva, that performs all styles of Tuvan throat-singing. This ancient spiritual art has been practiced mostly by men in Tuva and prohibited for women. However Tyva Kyzy dares to perform their unique, strong & powerful feminine style publicly & I honor them for that. Also Steve Von Till from Neurosis, Warren Ellis of the Dirty Three & Master Wu Ziying to name a few.
Chet In honor of the one true collaborator, featuring Hammered Dulcimer with a strong focus on my Native Crow Flute, Shaman's Drum & Rattles, the next collection of rituals will all be written & composed outdoors within the Woodlands. I need the smell of Earth now, the Lichen & the Moss, the Trees! The sounds I spoke of before. All of my senses needing to be filled with this converge of Earth bound spirits. When the initial foundation has been finally gifted, i'll then bring all of this back to my den & will begin the recording & compositional scope of the record. In my heart, this is a truly inspirational & ultimate collaborative union with nature. This is how it must be done from now on.

m[m] Is your present home very country based and do you miss NYC?
Chet I suppose I miss certain material aspects of N.Y.C. Old haunts, the underground music & arts culture. However I have no use for that city anymore.
Chet Our home is currently urban. However in due time, we hope to sell this house & find a substantial amount of land with a home nestled in the woods.
m[m] How do you go about recording your material, is it purely studio based or do you ever record out side or in certain locations for their atmosphere? Chet The vast majority of my craft has been studio based to date. Captured in my own den of "Glass Throat Recordings". However, things are about to change. I've always had an extensive archive of original & stock environmental recordings to coincide with my compositional themes. It just takes time on many levels. Finding the right individual to assist me in this natural process. One whom truly understands the ritual & spiritual intent behind this journey. Not just some engineer with a name, expensive gear & skills. One who does not expect money for this process. Something that would simply tarnish the energy for me. I've NEVER worked with anyone, on any level regarding Ruhur Hunter before. It's just to damn personal. So as you can see, the individual to assist my process is crucial. Equipment & location are obviously more than important as well. However, that's something already planned out for myself & shouldn't be a difficult task to achieve.

m[m]What Pattern is the new Elemental Chrysalis album following? Will it tread similar ground to the first? Can you give us any more info about it? Will it once more have the wonderful artwork of James Woodhead like the first album? How did you and James first meet and decide to Form the project?

Chet Similar ground perhaps, but compositional leagues beyond! The album is called A Dark Path To Spiritual Expansion. The collection is a double album. Four pieces each disc, totaling just over two hours worth of music. Our loose, yet running conceptual theme is more present with this effort. Yes, James has conducted some serious visual alchemy this time around! I'm honored to have such a visionary represent our craft.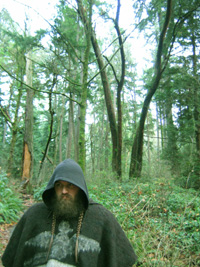 Chet Well, I met James at his place of work (thank the Gods), a local Seattle delicatessen I often frequent. We exchanged solo musical endeavors & enjoyed each others work immensely. I then presented James with this ever evolving musical idea. He agreed to explore my trip with me. The connection between us was instant & obvious. Our third album "Journey: A Capricorn Transcendence" is already being planned out.
m[m] You mentioned the possibility of a live Ruhr Hunter performance. Can you tell us when this might happen and what it would consist of? It would be great to see you work performed in an ancient woodland.
Chet There are specific ritual items, animal totems & instrumentation that must be gathered prior to my first live journey. It's very important to have these items for when I'm ready to share a personal healing energy live. It's already taken me sometime to obtain most of my craft. As mentioned before, it's becoming more clear to me now. In due time this process will take it's natural shape.
ChetI'm honored you feel that way Roger...An Ancient Woodland indeed! It is extremely important where a Ruhr Hunter rite will take place. The location's energy is crucial. I've already had to turn down several amazing performance opportunities, due to this overwhelming process that must see it's self through. I feel as though folks are beginning to understand my intent & I'm honored for their warm support over the years. I've been asked to perform in Germany, in the forests of Sweden, Norway, Italy & of course the States. I've even received an invitation to perform within a Buddhist Temple. Throughout the years e-mails have surfaced from wonderful & supportive folks, expressing how they're willing to fly anywhere, in hopes of experiencing my efforts. I'm truly honored by all of you & can only hope that this will come to bloom sooner than later.

Thanks to Chet for taking the time to answer my question and supplying the pictures used through out the picec.To find out more about Ruhr Hunter and Glass throat recordings go to their website here or Ruhr Hunters myspace there.

Looking back into the forest
The Ruhr Hunter Backcatalogue reviews
Ruhr Hunter/Gruntsplatter –Split (1998)
This features two long tracks Ruhr hunter tracks running near on at 15 to 20 minutes a piece, so this could almost be counted as a mini album . The first track Dust & ashes utilizing mainly guitar and feedback to make an eerier and often violent burning white hot desert vibe, like electrolyzed country come folk music with a deeply sinister tone, almost seems cast by the shadows of hung bodies cooking in the unforgiving heat. The Second track The Darkling uses guitar once more but with more elements like chanted and odd ritual like voices and more noise like vibe, and an almost oriental picking vibe in places. Both tracks highlight a more raw and disturbed sound than latter works.
Ruhr Hunter -Ritual Before The Hunt (1998)
Ruhr hunter's first full length- a few tracks based around wolf type concept and sounds hence the title. The tracks musically are in a ritual dark ambient vein with touches almost wondering towards noise elements, which on later tracks like Great Awakener literal explodes into industlized noise, in a wonderfully seething manner. There's a rather effective use of piano for drone and eerier repetitive type elements, almost going towards avant classical prepared piano elements on some occasions. Less varied instrumentation used here than on later releasers, but it still has one hell of an atmosphere, but possible not as focused as it would become in later work. Never the less very worthwhile and very developed and consistent for a first releases.

Triage- The Cessation of spoil (1999)
Ruhr Hunters first collaboration project here with Scott E. Candey of Gruntsplatter. For the most part this is pretty standard dark ambient/ death industrial with some interesting and disturbed using of layered samples, this feels more like the work of Gruntsplatter than Ruhr Hunter. All a passable dark collaboration, with some enjoyable moments.

Ruhr Hunter & Chaos As Shelter- One (2001)
A true collaboration between Ruhr Hunter and Israeli two piece dark ambient/ neofolk project Chaos as A shelter. Offering up eight untitled tracks, which shift through a surreal and bending dreamscape, taking in lots of interesting and strange instrumental textures. Mixing drone work, sound elements and darkly spirtal msic in a hypnotic whole.

Ruhr Hunter- Torn Of This(2002)
Ruhr Hunters second full length is a mix of grim strummed guitar work, eerier drone work and other instrumental greys, all lit by inventive and eerier Sound element use. This is One of the projects darkest works thus far like music for grim cowboy film, or gloom ridden trips across grey unchanging desert landscape that are littered with decaying cattle carcass and squawking vultures. For me this seems to have less of a forest based feel and more of a lonely and shadowy American of small town's homicides and broken down ghost towns. I guess musically it's a mix of dark folk/ doomy country music, eerier soundtrack work and dark ambience, with a few hits at post rock/ instrumental rock along the way. Stand out moments would be the eerier, erratic duel machine purr and thermin like wail of Brichwood- which brings to mind been slowly stalked by a shadowy hunched finger on a chugging tractor across dead grey corn fields. Also A Colony of Bees , Asunder which mixes disquieting bee sound with vibe like tones and eerier streached ambience and sound elements. Almost giving a supernatural un-easy feeling like been placed on a sacrificial alter between realities to a strange buzzing god.
Ruhr Hunter- Moss & Memory(2006)
You'll find my review of last years third album here.
Roger Batty