The strange and often scary world of Andy Ortmann [2006-10-17]Andy Ortmann is one of the key figures in the American noise/experimental underground, as well as producing his work under his own name, collaborations with the likes of John Wiese and the bizarre noise collective Panicsville, he also runs his own label nihilist records. I first became aware of his wonderfully twisted work, with the Recorder out of time Collaboration with John Wiese(reviewed here) and his deeply twisted solo album Nightmania(reviewed here) that put Ortmannís strange surreal dreams into sound form. Andy kindly agreed to answer some questions. m[m] How and when did you first become interested in making music and noise?
Andy I first started playing clarinet in elementary school. Probably around that time when I saw The Plasmatics on Solid Gold, thatís when I realized what I wanted to do.
m[m] How did the idea for Nightmania come about?
Andy It came to me in a dream.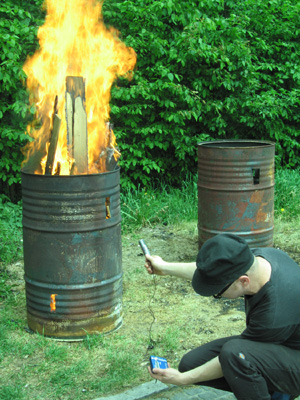 m[m] I note from album that you got funding from city of Chicago department of cultural affairs to make Nightmania, how did this come about and what did they think to the finally results?
Andy There is an annual arts grant for Chicago residents (CAAP) that I applied for, apparently they felt it was strong enough a proposal to fund. As far as their thoughts... it's not the type of thing where the final work actually gets critiqued. They're more concerned with you proving that you spent the money on what you say you did...
m[m] How did you go about writing the tracks for Nightmania- did you use the illustrations as inspiration or was it notes you?d taken from your dreams?
Andy The drawings were first rendered, the sounds came afterwards. All notation (or note-like exercises) were laid down in sketches, resulting in varying visual compositions.
m[m] do you dreams still inspire your work now?
Andy Yes. I recently acquired a ďdream pillowĒ, which has greatly increased the sensitivity and details of my dreams. New works are constructed on a nightly basis. A future recording is being detailed to synthesize a dreamworld experience utilizing 16 separate audio channels that, under the proper conditions, should transport the listener into the otherworld.
m[m] how did the collaboration with John Wiese come about?
Andy Well, I've been collaborating with John since about 1993. We were in a band (if you could call it that) back in St. Louis together in 1994. We've had several collaborative projects in that time. There'll be more where that came from.

m[m] How was the collaboration recorded? Did you swap
material or were you both working on it in the studio.
Wherever together?
Andy Would it change your opinion one way or the other...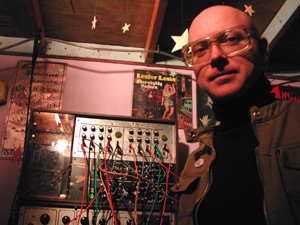 m[m] tell us a bit more about the Panicsville project; from the pictures on your website you seem to have had quite bizarre stage presences? Is the project still going now?
Andy Yes, Panicsville is still going strong! Each live show is pretty different from the previous. Weíll use different equipment, come up with new sketches for every show & involve a various number of collaborators. I have a bit of a short attention span, and would grow dreadfully tired of having to play the same set night after night.
That type of rehearsal is best left to the musicians. I feel it important to try new things & push boundaries in whatever medium Iím working in. The first Panicsville LP (Four Notes in Search of a Tune) was based on the idea of the vinyl record itself, and different/new ways to play & listen to them. Hence they were smashed apart pieces reassembled in a fashion that they would actually play (despite early critic's reviews). Some of those LPs would play endlessly! The first CD(Floccinaucinihilipification) was based on the idea of a seemingly limitless combination of playback possibilities, by means of making an album with an excessive number of ID tracks which are intended to be played in shuffle mode.
The latest example of this level of media experimentation will be seen in the forthcoming A Dragonfly for Each Corpse LP (on the ambitious Rococo Records label). It is going to be a 13" record, so it may not be playable on some turntables. I quite fancy the absurdity of the involved effort that goes into making a record that is, not necessarily unplayable, but more of a challenge for the listener.
m[m] Why did you start a label in the first place?
Andy Well, I thought it might help fetch the attention of the females.
m[m]Whatís in the pipeline for yourself and the label?
Andy As far as the Nihilist schedule goes, the next batch of releases will include a collaborative LP betwixt Kevin Drumm & John Wiese, Mlehst Notes of Obscure Origin LP, Prurient Starvation 7", a split LP of Panicsville & irr. app. (ext.), a CD by Glass Bath, the new Nora Keyes CD and a collaborative LP of Evil Moisture & Panicsville. The 50th Nihilist release is to be a box-set of Dave Phillips, Sudden Infant and Runzelstirn & GurgelstÝck. There are a number of cassette releases in the works as well, by the likes of Oakeater (featuring Jeremy of Panicsville and Seth from Coughs), Mystic Occult and Ceremony, Power Circus and Beau Wanzer.
As far as releases for other labels, there's the aforementioned A Dragonfly for Each Corpse LP (Rococo), a split picture disc 10" with Hive Mind (Release the Bats), a Panicsville 7" (Ownness), a deluxe CD-r of Panicsville (Scrotum), a split Andy Ortmann/Panicsville cassette (stentorian), a limited edition lathe LP (Mattin) a collaborative LP of SIXES, Loach Fillet & Panicsville, and a collaboration something or other with Blossoming Noise's Graham Moore. I just finished a remix for Fire in the Head & will be working on another for Aosuke (Germany) for their new 7".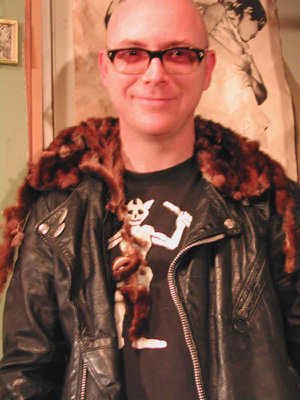 Panicsville will also be playing the NO TREND festival in November as part of a week long UK tour and somewhere in there, I'm recording continuuing editions of my radio show The Eternal Now on WFMU.
m[m] list your top ten favourite albums and why?
Andy 10.) The Sounds of Love ...A to Zzzz (Yorkshire 1972)
This was the first LP I had heard that had mixed
sex sounds with synthesizer sounds (combining two of my favourite things. It is really fantasdick.
9.) Caroliner Rainbow - I'm Armed With Quarts of BloodLP (Subteranean 1986)
This was my first exposure to Caroliner, I still think it may be my fave of theirs. So weird; organs, wild monstrous vocals, banjos, ridiculous lock grooves. Not to mention the LP covers that were covered in emptied out vacuum cleaner bags.
8.) The Paris Sisters - Old Enough to Cry/The Story of the Paris Sisters (Imperial 1957/Marginal 1966)
I very much fancy female vocalists. Especially the tragic and saddest of girls. Well, the Paris Sisters are about as sad as it gets. Just hopeless and bleak songs of unfulfilled love and longing. Beautiful.
7.) Leonard Nimoy - The Way I Feel LP (Dot 1968)
"Quite a capable singer" boasts the liner notes. Capable indeed! Nimoy is a renaissance man, dabbling in poetry, photography, acting and singing! His records can pull me out of the deepest depression, and that is saying quite a lot. Coincidentally, this was the inspiration behind Boyd Rice's The Way I Feel LP.
6.) Pierre Henry - Variations for a Door & a Sigh
(Limelight 1963)
I hadn't heard this album until recently, but damn it's great! Lots of creaking, a whole album's worth of organized creaking sounds. I want more albums like this in the world. Just symphonies of organic sounds, aural bliss.
5.) Butthole Surfers - Locust Abortion Technician LP
(Touch & Go 1987)
I think this album is perfect. So fuckin weird, but rocking at the same time. Probably the best live band I saw in the 80's! Sweat Loaf, Kuntz, Graveyard... the whole thing just rules. I have no idea as to how many times I have listened to this, and you know what? I can still listen to this and feel all fuzzy-wiggly.
4.) Whitehouse - Right to Kill / Cream of the Second Coming LP/2LP (Come Organisation 1983/Susan Lawly 1990)
Well, this is a toss up... Right to Kill is just so damn brutal & raw, it's brilliant! Cream... is such a great title, I know it's like a best of... but it IS! Cock's on Fire, I'm Comin Up Your Ass, Shitfun...C'mon! Definitely the best band I saw live in the 90's. I feel remorse that I sold my copy of Right to Kill, but I still have the bootleg Connelly made!
3.) Nurse With Wound - Psilotripitaka 4LP Box (United Dairies 1990)
First three Nurse albums, PLUS the collab with Foetus & Bennett. Totally rules! I wish I had the edition that came in the "leather embossed bondage bag" but, whatcha gonna do!? I love these records, really in tune with how I feel about music in general, and it comes with a dead spider.
2.) The Portable Altamont - V/A CD (Shock 1990)
This CD almost single-handedly got me into noise music. I paid the $25 just for one unreleased Drunks With Guns song. I was completely oblivious to Skullflower, Coil, Current 93 & Nurse With Wound (this was St. Louis, MO mind you...) So this disc blew my mind and I immediately scooped all titles by all these bands. Really opened the floodgates for me.
1.) Runzelstirn & GurgelstÝck - RunzelstÝck & Gurgelstirn LP (Nihilist 2005)
So for some time I had thoroughly enjoyed the records by this Rudolf Eb.er. I very much like what he does & who he is. This LP was sort of an excuse to contact him, and what it turned into blew me away!
Thanks to Andy for the interview. You can find out more about Mr Ortman and his lable here. All pictures kindly supplied by Andy Ortman ©Roger Batty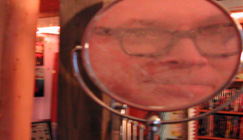 The strange and often scary world...
Andy Ortmann is one of the key figures in the American noise/experimental underground, as well as producing his work under his own name, collaborations with ...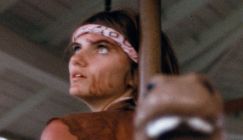 Death Screams - Death Screams( Bl...
Death Screams is an early 1980's North Carolina set slasher- featuring corny 'n' camp dialogue/ characters, some neat brooding stalk scenes...